20 DIY Christmas Tree Plans You Can Make Today (With Pictures)
Whether you're looking for a unique way to add a second Christmas tree to your home or you simply don't want a real tree or a fiber-optic alternative in your home, there are plenty of ways of making DIY trees that look the part and still have the festive spirit. Whether it's old fence panels, pallets, any other leftover wood, or even, in some cases, an unused mannequin, you can upcycle and turn existing items into a festive display.

The 20 DIY Christmas Tree Plans You Can Make Today
1.

Driftwood Christmas Tree by Kids of the Wild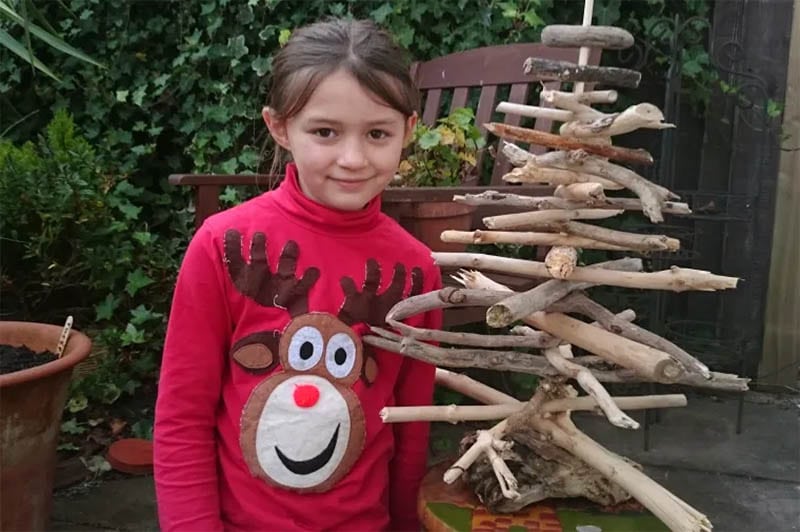 Wood is a natural choice to make any DIY Christmas tree, having the same natural appearance as a real tree would. It is also easy to work with and relatively easy to get hold of. Getting driftwood can be a little more challenging, but it is available in stores if you don't have a plentiful supply of your own. Other than the driftwood itself, you only really need a few tools that most people have laying around, to make this DIY driftwood Christmas tree.
---
2.

DIY Driftwood Christmas Tree by Sustain My Craft Habit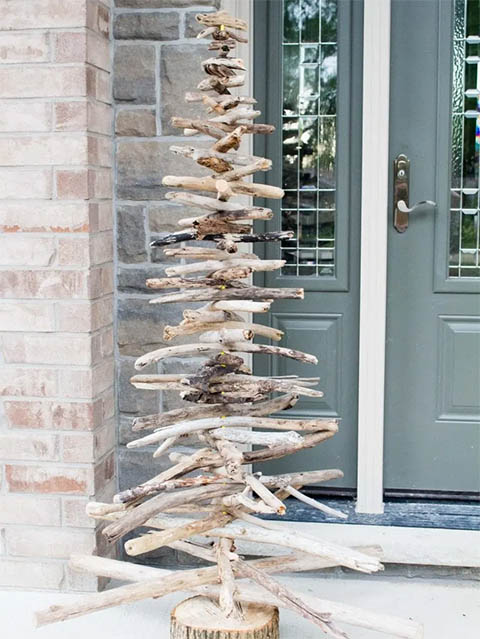 Rather than a wooden dowel, this DIY Christmas tree uses a metal rod, which can be rebar or a shower curtain pole. Other than that, the design is fairly similar, and the end result is just as impressive and festive looking. Driftwood is naturally suited to be used for an outdoor tree, but it can also be brought indoors and used in place of a spruce or other traditional tree.
---
3.

2-Foot Driftwood Christmas Tree by Instructables
We don't all have room for large Christmas trees, and some houses put trees in multiple rooms. If you can't lay your hands on pieces of driftwood large enough to make a full-size tree or are looking for something to adorn the sideboard or table, a 2-foot driftwood Christmas tree can be just as appealing and effective.
---
4.

Driftwood Christmas Tree With Starfish Topper by DIY Driftwood
Christmas tree toppers can range from angels to stars, while some homes have truly unique pieces that they drag out every Christmas. If you're making a driftwood tree, then you can use pieces of driftwood to craft your own star, or, like this design, you can use a starfish or another piece of detritus from the beach to make a beautiful Christmas tree topper.
---
5.

Conical Driftwood Christmas Tree by Stylish Revamp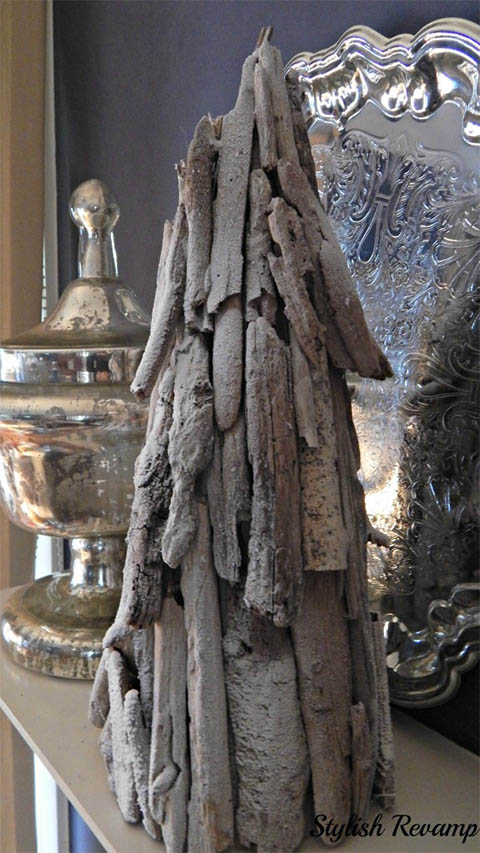 There is more than one way to use driftwood to make an attractive and functional Christmas tree. Rather than drilling through every piece of driftwood, this conical driftwood Christmas tree has you securely glueing the pieces to a cardboard cone. The effects are equally excellent, but the look is quite different.
---
6.

Rustic Pallet Christmas Tree by The Craftiest Workshop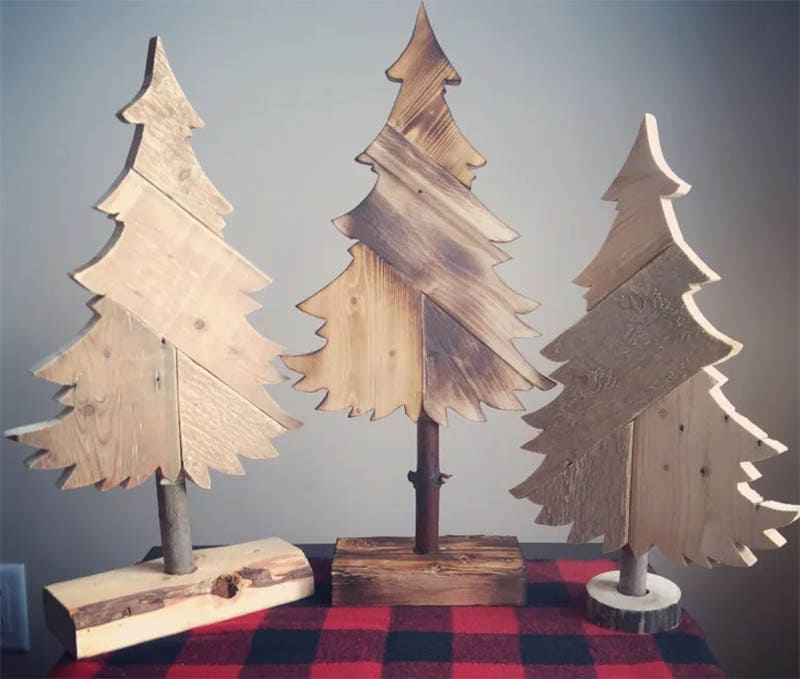 Pallets are another great resource for making anything from wood. A single pallet typically contains enough wood to make at least one rustic pallet Christmas tree and because pallets have usually been weather-treated, the resulting decoration can be placed indoors or outdoors, according to where you want to share the festive spirit. The angling of the boards is what sets this design apart, almost giving the flat boards a three-dimensional appearance and lease of life.
---
7.

Easy Pallet Christmas Tree by Our Home Made Easy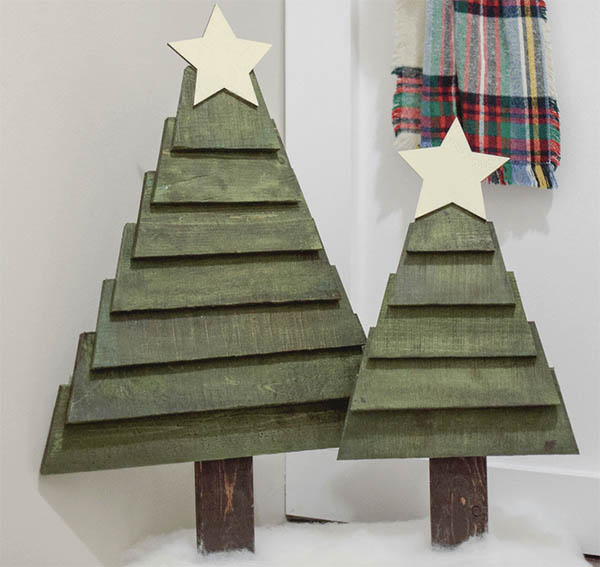 These easy pallet Christmas trees have a more simplistic appearance, slatting one piece on top of another and using an upright piece of pallet wood to create the trunk. Paint the branches, add a star or other topper, and you have a really simple but festively appropriate and good-looking tree for your home.
---
8.

Another Rustic Pallet Christmas Tree by The Whimsical Wife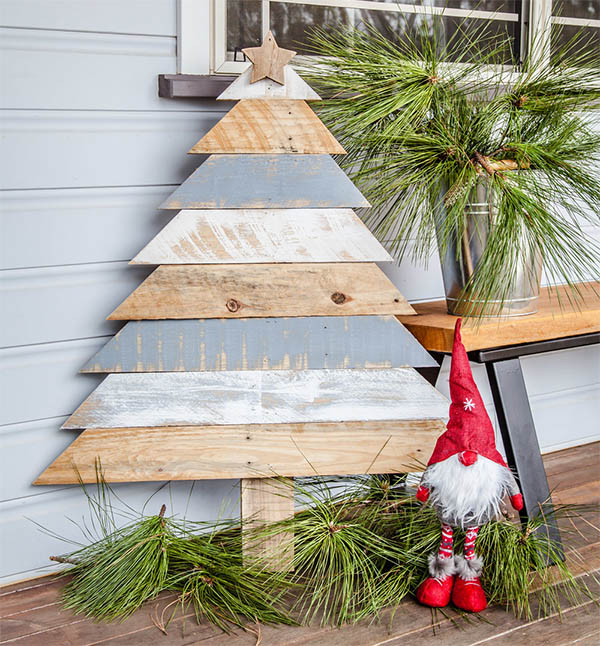 Pallets have a naturally rustic appearance. They are rough cut, have not been sanded or smoothed down in any way, and they only tend to get more beaten up during use. As such, they lend themselves perfectly to use in the creation of rustic pallet Christmas trees. This design is slightly different from those above but it uses sample pots of paint to give the tree a more traditionally decorated look.
---
9.

Easy Pallet Christmas Tree by 1001 Pallets
This geometric design cost less than $15 to make and its neat lines and gaps between the branch lines give it a unique appearance. What's more, it is free-standing, having been made with a square base that easily holds the tree's weight while it is in place.
---
10.

Easy DIY Pallet Tree by Wilshire Collections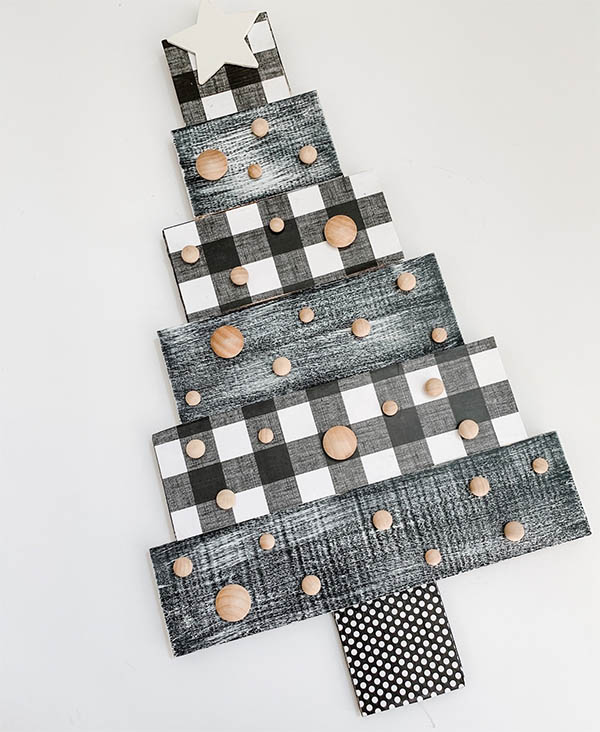 There is a lot of usable wood on a pallet, but that doesn't mean you have to create an 8ft monster Christmas tree for your living room. As these easy DIY pallet tree plans suggest, you can effectively create your own forest of trees. The plans also show that you don't have to opt for a traditional green or tinsel-color finish and can choose something that will fit with your décor.
---
11.

Christmas Tree With Pallet Leftovers by 1001 Pallets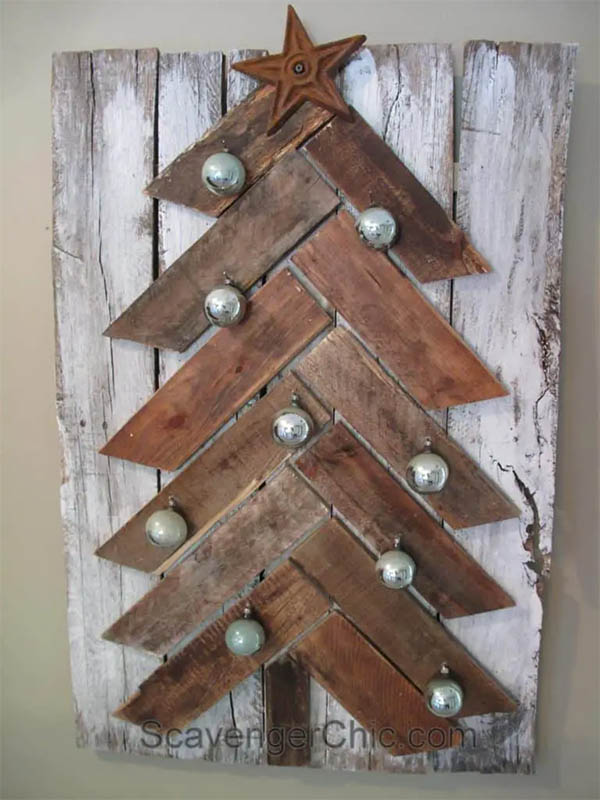 Pallets aren't always in the best of condition and while you don't need much structural integrity when crafting a pallet Christmas tree, you do need to use pieces of wood that are free from mold and don't look too rough. This may mean cutting the wood down into smaller pieces to avoid the worst-looking sections. This Christmas tree made with pallet leftovers utilizes scraps and leftovers, which makes it ideal if you have some bits left from a previous design or have had to tear a pallet apart.
---
12.

Old Fence Christmas Tree by Home Talk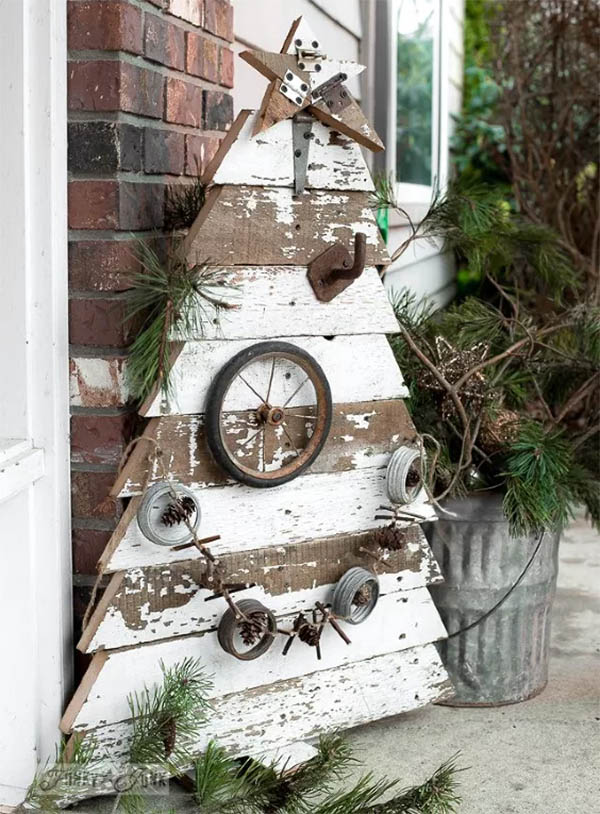 Pallets and driftwood aren't the only viable sources of wood to make your own tree. Old fence panels may not be useful as a border or boundary any longer, but they can be repurposed and turned into this old fence Christmas tree. The star topper is also made from the same wood and looks great with the hinges as decorative additions.
---
13.

Scrap Wood Christmas Tree by Marty's Musings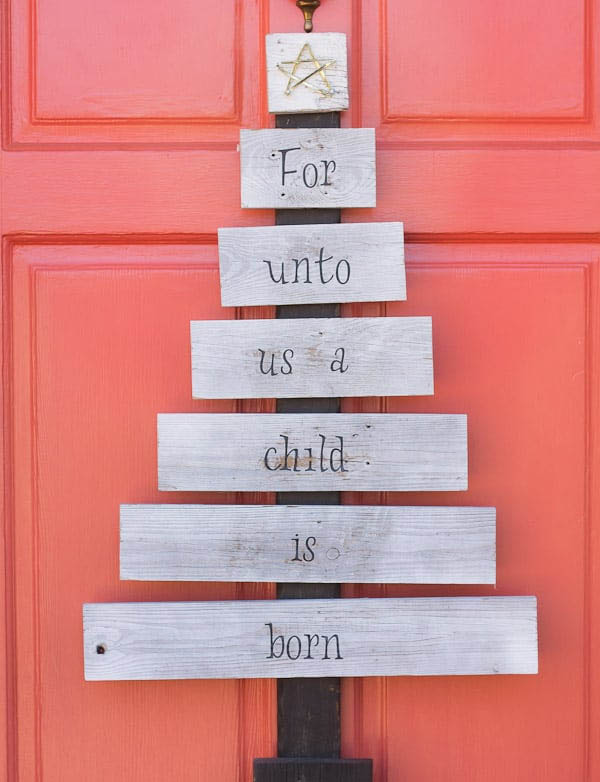 In fact, virtually any scrap wood can be used, whether it be fence panels, an old shed, or a pallet that has already been repurposed and enjoyed several lives as different ornamental objects in your home. This scrap wood Christmas tree plan uses old fence boards combined with vinyl letters to create a tree that can be hung on your front door.
---
14.

Modern Farmhouse DIY Wooden Christmas Tree Shelves by Leap of Faith Crafting
DIY wooden Christmas tree shelves not only look festive but they make it easy to hang or rest Christmas decorations. Alternatively, they can be used to put up Christmas cards and create a festive area in any room of the house. You can use existing supplies of wood or buy new pieces and paint them according to your décor.
---
15.

Stackable Tree Shelf by Wood Shop Diaries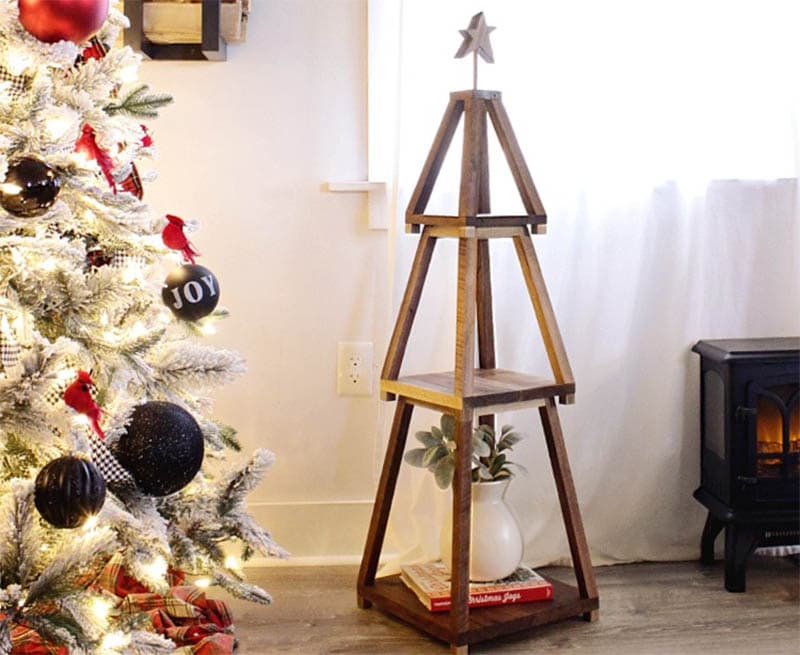 If you're feeling a little more adventurous, these stackable tree shelves do require a little more precision and some more work, but they give a three-dimensional effect and the resulting shelves can be stacked according to how tall you want your tree shelves to be. The pieces also fit inside one another so the shelves can be stored until next year.
---
16.

Ladder Christmas Tree by Instructables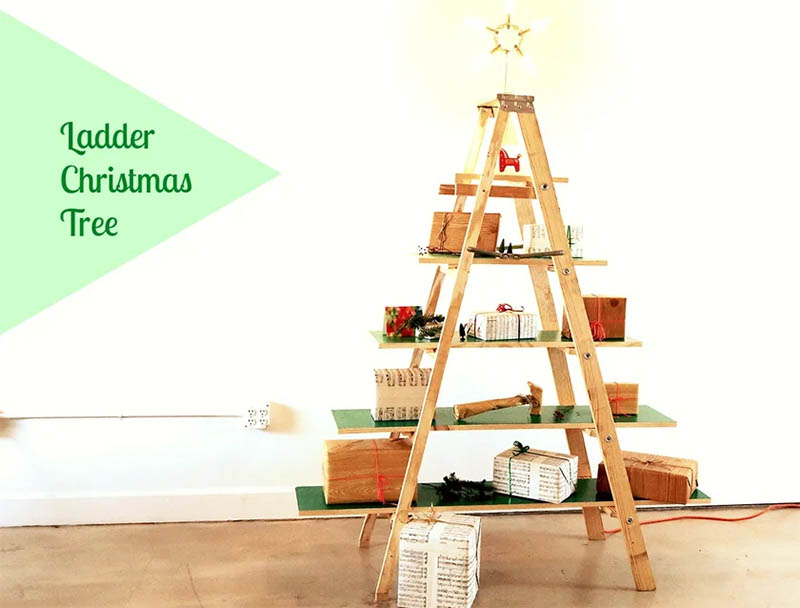 If you can't have or don't want a real tree and don't have access to 2x4s or fence panels but you do have a wooden ladder, you can temporarily repurpose the ladder and turn it into a ladder Christmas tree. Once Christmas is done and the tinsel is back in the attic, you can repurpose the tree as a set of ladders.
---
17.

DIY Mannequin Christmas Tree by Wow Thumbs Up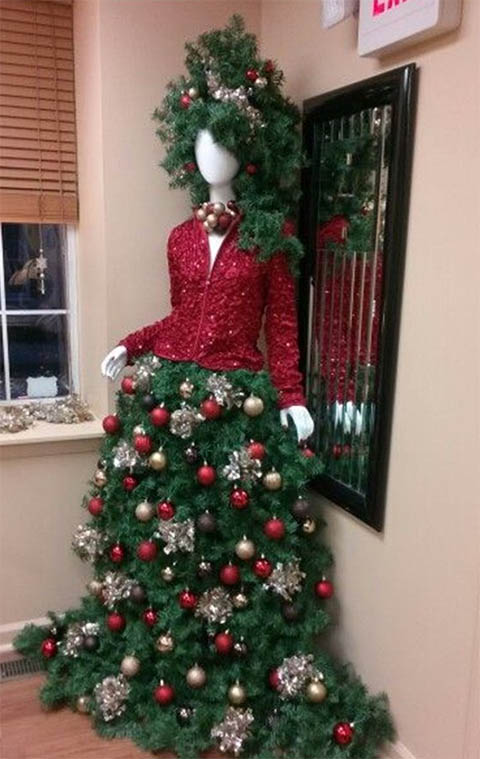 Clearly, this design isn't going to be for everybody, but it is certainly bold, and it will make an impact. You do need a mannequin and some evergreen boughs. But, once made, you can decorate the DIY mannequin Christmas tree in exactly the same way you would decorate a real tree with the added benefit that you don't need a fairy on top because the tree kind of looks like a giant Christmas tree fairy already.
---
18.

DIY Hanging Wall Christmas Tree by Home Talk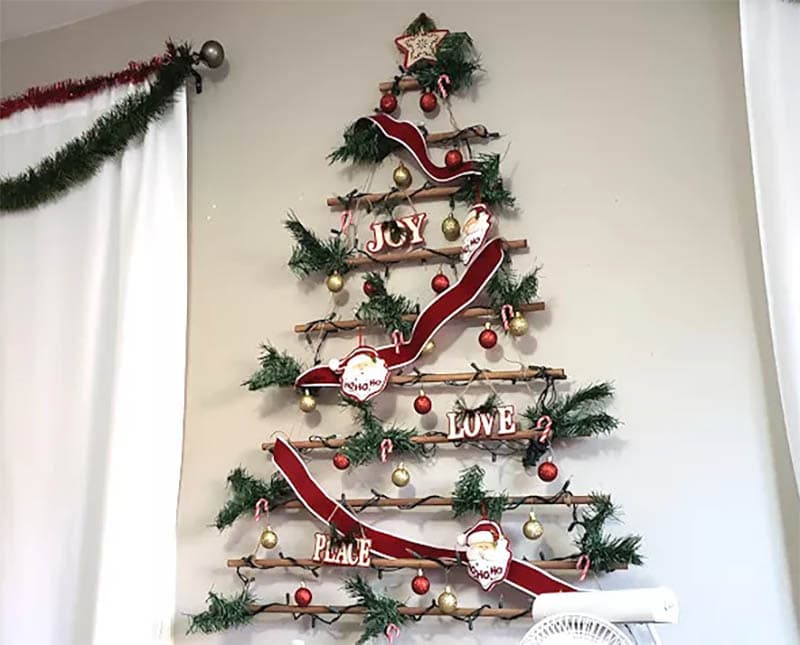 Really, making a Christmas tree shape is simple, and by adding a few sprigs of spruce or other greenery, it really solidifies the representation of a tree. Incorporate some lights or baubles and you can make one out of almost anything. This DIY hanging wall Christmas tree is great for those with limited space and budget, and it looks effective.
---
19.

DIY Christmas Tree Made of Firefly Lights by Home Talk
This one is a little more abstract but it's also pretty and effective. The firefly light Christmas tree uses a ton of firefly lights, an MDF wood base, and a few ornaments to place inside the tree structure, and that's pretty much it. Firefly lights are inexpensive and come in reels of several hundred or more, so this isn't an expensive idea either.
---
20.

DIY Birch Christmas Tree by Ryobi Nation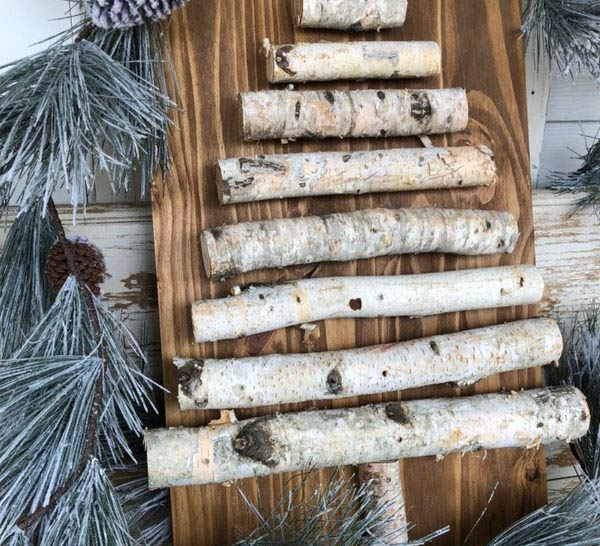 If you have leftover tree cuttings in your garden or know where you can get some, you can turn the logs and branches into an effective Christmas tree and festive design. Again, this is a great way to give your DIY Christmas tree a natural look and the bark of the birch tree makes the DIY birch Christmas tree especially attractive.

Conclusion
Many of us have leftover wood, typically in a pile in the shed or under the decking, that we've yet to find a use for. Using the plans above, you can turn your leftovers and scraps into beautiful, festive-looking Christmas trees that will brighten up any home or porch.
---
Featured Image Credit: Studio.G photography, Shutterstock