7 DIY Tree Bookshelf Plans You Can Make Today (With Pictures)
If you are looking for an exciting project to take on, we've gathered some plans for handmade tree bookshelves that will be ideal for those artists within you that are looking to be creative and imaginative. What's great about these bookshelf plans is that you can always experiment and follow your inspiration. You can customize these projects and create an entirely new and unique approach—we are here to provide you with some inspiration.
In the article below, we gathered seven of the most interesting DIY tree bookshelf plans you can make today with the help of your friends and family.

The 7 DIY Tree Bookshelf Plans
1.

Elegant Tree Bookshelf by Instructables
| | |
| --- | --- |
| Materials: | Three sheets of plywood, one box of 2-inch screws, wood glue, paint primer, brown paint, polyurethane |
| Tools: | Table saw, Miter saw, drill, clamps, sander, paintbrush, roller, disposable brushes, countersink bit, pre-drill bit |
| Difficulty Level: | Moderate |
This elegant bookshelf in a tree shape is excellent for all those creative souls out there looking for a fun hobby that can be done in no time. The instructions are easy to follow and will help you make this beautiful bookshelf on your own. It doesn't require special skills or experience, and you can do it in only one day. After following this tutorial, you'll have a gorgeous tree bookshelf that will give any space a bold and sophisticated look.
It is versatile, as you can put it in any room—the living room, bedroom, kid's bedroom, or your office—and it will look stunning anywhere.
---
2.

MDF Sheets Tree Bookshelf by Walls Under Construction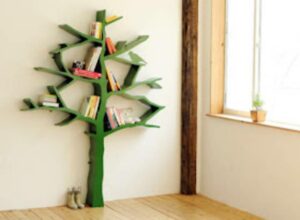 | | |
| --- | --- |
| Materials: | Four sheets of ¾-inch MDF, brackets, wood glue, spackle, white paint |
| Tools: | Jigsaw, clamps, sander, drill |
| Difficulty Level: | Difficult |
Making a tree bookshelf out of MDF sheets is a creative project you could do on your own or include your family and friends. It is excellent for children's bedrooms as it will make the room fun and charming. It takes a bit of time and effort to craft this tree shelf, although, with some experience and a helping hand, it can be an easy project. You can customize the design of the shelf however you desire, playing with colors, shapes, and textures. You can add this lovely tree bookshelf into the corner of your kid's bedroom and make it a calm place where your kids can relax with their favorite books.
---
3.

Minimalistic Tree Bookshelf by Hall Mark Channel
| | |
| --- | --- |
| Materials: | ½-inch plywood sheet, 1-inch plywood sheet, 4-6 pieces of wood shelves, paint, wood glue(optional), 4-5 nails |
| Tools: | Jigsaw, nail gun, tape measurer, pencil |
| Difficulty Level: | Easy |
This minimalistic tree bookshelf is a fantastic project in which you can even include your children. Once you gather all the tools necessary, it is straightforward to make this shelf, and it will take you only a few hours. This project will make any space liven up with character and charm, and is a great way to store books, boxes, toys, sculptures, or anything you desire. Once you gather the basic materials needed, you will get a stunning tree bookshelf suitable for any room.
---
4.

Oak Tree Bookshelf by For Reading Addicts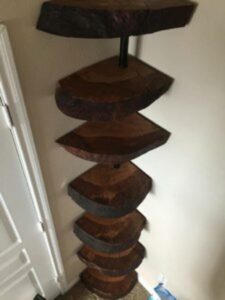 | | |
| --- | --- |
| Materials: | Four 2-inch slices of an oak tree, a 1-inch pipe, self-treading screws, linseed oil |
| Tools: | Drill, saw, sander, tape measurer, screwdriver |
| Difficulty Level: | Moderate |
This breathtaking oak tree bookshelf is an incredible way to incorporate natural and organic elements into your everyday living area. This bookshelf will make any room seem elegant and sophisticated. Its exquisite appearance enriches the room and adds uniqueness. Although this bookshelf requires knowledge, experience, and high-quality tools, it will still be a fun project. Crafting a handmade oak tree bookshelf is much more valuable than spending a lot of money on a finished product.
---
5.

Children's Tree Bookshelf by GW Prints
| | |
| --- | --- |
| Materials: | Four sheets of MDF, primer, paint, wood glue, bracket |
| Tools: | Jigsaw, tape measurer, black marker, screwdriver |
| Difficulty Level: | Moderate |
For this children's tree bookshelf, you need minimal materials and tools. This project is similar to others on our list, although it is modified to be much easier and requires less time. This bookshelf will look great in a children's bedroom, as it can provide your kids with a creative way to store their books and toys in a neat and organized manner. By following this tutorial, you will save plenty of money on finished products and end up with a handcrafted design. The best part is you can modify this shelf to fit your desires and your kids' desires, experimenting with different colors and shapes.
---
6.

Christmas Tree Bookshelf by Jaime Costiglio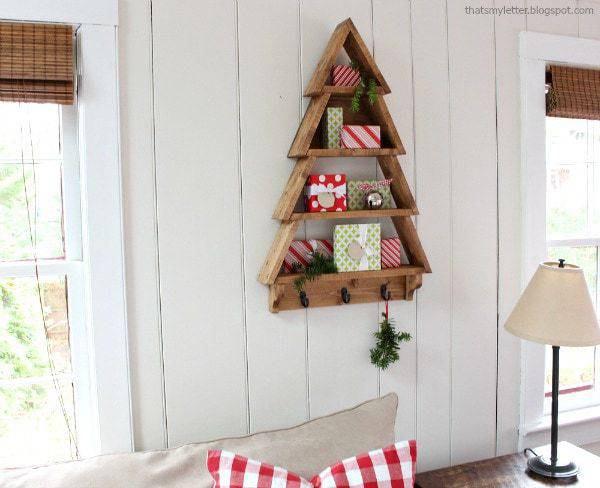 | | |
| --- | --- |
| Materials: | 12 feet of 1×4 boards, ¼-inch plywood 6×15, brad nails, three hooks, hanging kit |
| Tools: | Miter saw, circular saw, sander, tape measure, pencil, nail gun |
| Difficulty Level: | Moderate |
This Christmas tree bookshelf is a beautiful way to connect the holiday spirit with a little fun DIY project for the whole family. It is a creative and innovative bookshelf that will make any room light up with charm, character, and warmth. This tree shelf is an excellent way to incorporate multiple purposes into one—it can work as a bookshelf, a coat hanger, and as Christmas decor. It is relatively easy to make this tree shelf on your own, all you need to do is gather the essential supplies and tools, and you'll have a unique bookshelf in no time.
---
7.

Simple Tree Bookshelf by Girlinair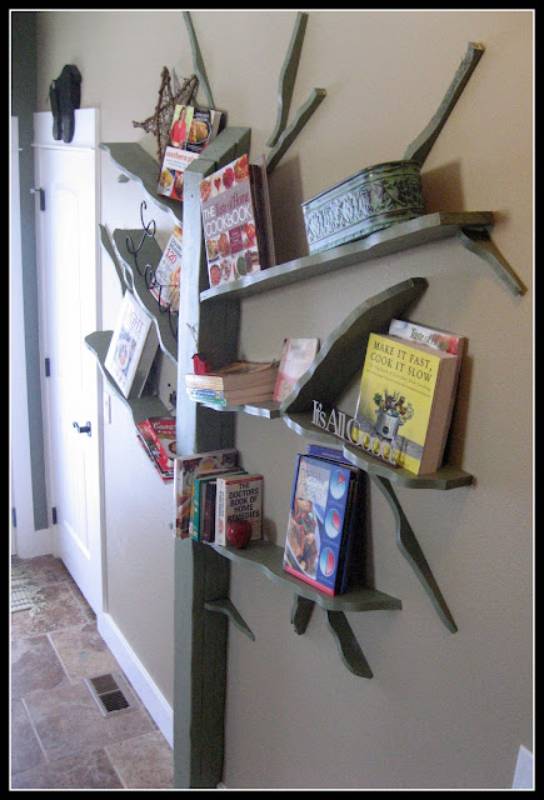 | | |
| --- | --- |
| Materials: | Three pieces of 2×4-inch lumber cut to 7 feet (for the trunk), six different sized pieces of lumber (for the shelves), glue, screws, nails |
| Tools: | Jigsaw, tape measure, sharpie, sander nail gun |
| Difficulty Level: | Easy |
This simple tree bookshelf is a perfect project for those who enjoy being crafty but lack the skills to do so. This DIY project is straightforward and will make an ideal family project you can do with your kids. It doesn't require any exceptional experience other than being able to use the tools needed. You can experiment with the design of this shelf and use it for many different purposes. It can look great as a kid's bookshelf or in a kitchen to hold all your cookbooks.

Final Thoughts
Hopefully, you've found a tree bookshelf plan that suits you and your home best. Indeed, all of these projects are creative and fun, and you don't have to choose only one—you can mix and match and create an entirely new tree bookshelf, guided by these incredible ideas.
---
Featured Image By: Pawel Czerwinski, Unsplash