10 DIY Wall Christmas Tree Plans You Can Make Today! (With Pictures)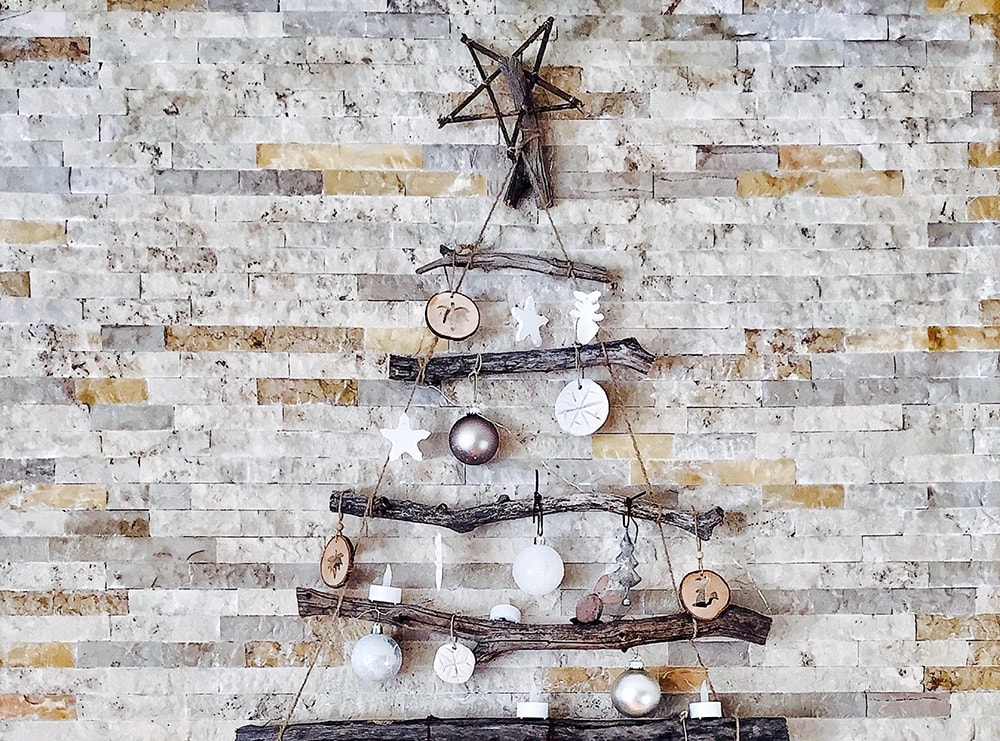 Everyone knows Christmas isn't the same without a tree, but not everyone can bring a fresh-cut arbor into their living room. Christmas trees take up tons of space and are a general pain to take out at the season's end. If your home calls for an alternative solution for the seasonal centerpiece, we have the perfect answer—making a wall Christmas tree!
A DIY wall tree provides all the Christmas cheer without all the hassle. Here is a chance to flex your creativity, spend time with the family, and make a unique, out-of-the-way decoration to complete your holiday-themed home. Start warming up your creative muscles and get inspired with these 10 DIY wall Christmas tree plans you can make today!

The 10 DIY Wall Christmas Tree Plans You Can Make Today
1.

Easy Hanging Wall Christmas Tree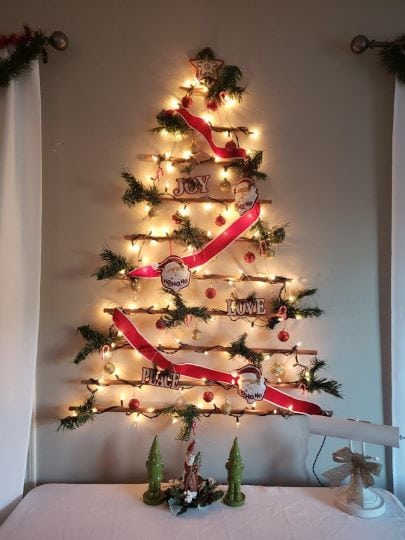 Tool and Materials
Hand saw
36" wood dowels
Twine
Lights and decorations
Stain (if desired)
Make a long-lasting yet effortless decoration with this easy hanging wall Christmas tree tutorial. The designer uses a collection of ¾" dowels cut into different lengths and then laid parallel a few inches apart to make the triangle shape of the tree. Next comes a bit of stain for color, some twine to fix the dowels together, and you now have a blank template to decorate as you see fit!
---
2.

Mess-Free Christmas Tree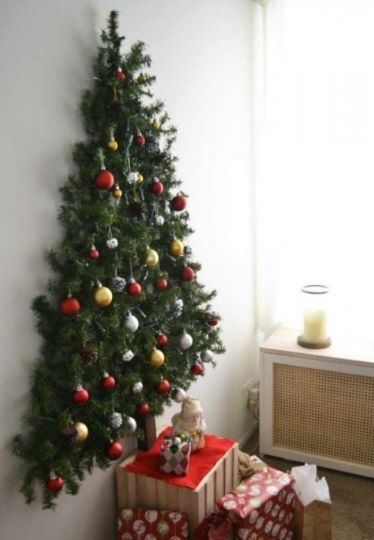 Tools and Materials:
Painter's tape
Flexible stick-on hang tabs
9' garland
Decorations
Apartment life is a challenge during the holidays. There isn't much space to put a tree, and now that you've found these alternative wall trees, you're worried about sticking a bunch of holes in the wall.
If you need a space-saving tree without the stress of cleanup, this mess-free Christmas tree is the perfect solution. A triangle of painter's tape forms the base of the tree. Then, a few hang tabs and garlands running between them create a high-relief tree jutting out of the wall. Finish up with decorations, a base, and presents underneath. At the end of the season, pull the tape off the wall to leave no trace that it was up.
---
3.

Green Garland Christmas Tree
Tools and Materials:
Garlands
Double-sided foam tape
Decorations
All you need is double-sided tape to pull off this super-simple garland Christmas tree. Cut the tape into squares to hold the green garland as you zig-zag it higher and higher up the wall. Top it with a star and adorn some hanging ornaments to complete the look.
When the holidays have passed, all you have to do is peel off the tape to remove the tree. There are no holes to fill or paint to patch, and everything stores easily in a tidy box until next season.
---
4.

Flat Christmas Tree
Tools and Materials:
Wooden dowels
Wire
(4) garlands
Lights and decorations
The best part about DIY wall Christmas trees is that the installation is fast and straightforward. The worst part is that the simplicity means they're often temporary solutions that need a re-hash every year. It isn't challenging, but it's always more convenient when you have a ready-made tree you can throw on the wall and decorate.
In truth, this flat Christmas tree is easy to pull off, but it is relatively more time-consuming because of the hole drilling. Two long wooden dowels create a triangle that serves as the structure for the tree. You give the garland a frame to follow and form a tree shape by looping the wire through pre-drilled holes.
Your tree can be free-standing, or it can hang on the wall. At the end of the season, you can put it in storage and have it handy for many Christmases to come!
---
5.

Christmas Tree Door Hanger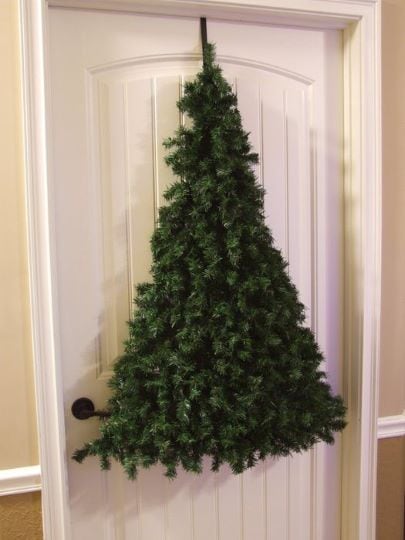 Tools and Materials:
Wire cutters
Utility knife
Wreath hanger
Masking tape
24-gauge green wire
18-gauge floral wire
(3) 9' garlands
18' tinsel
(4) garlands
1'x 3' foam core board or cardboard
Lights and decorations
The door hanger tree in this tutorial may be a secondary decoration, but you can apply the same concepts to make a wall-hanging tree.
The foam core board acts as a hidden backing. It gives the structure depth at the bottom, making it look more tree-like as it tapers to the top. It can take some time to assemble the garland, but the results are as authentic as one could hope for in an inexpensive homemade Christmas tree.
---
6.

PVC Christmas Tree
Tools and Materials:
Miter saw
4'x6' plywood
White paint
Paintbrush
PVC pipes in different widths
Painter's tape
Gold spray paint
Popsicle sticks
Decorations
Make a statement this holiday season with this off-beat PVC Christmas tree. There are no garlands or hanging hooks to be found in this plan. Instead, PVC pipes of different sizes create a triangular honeycomb of ornament holders.
A plywood backing keeps the tree together, while a simple stencil provides a textured trunk. Use gold or silver metallic spray to coat the PVC pipe pieces, or get even more creative with multiple colors.
---
7.

Floating Pine Garland Christmas Tree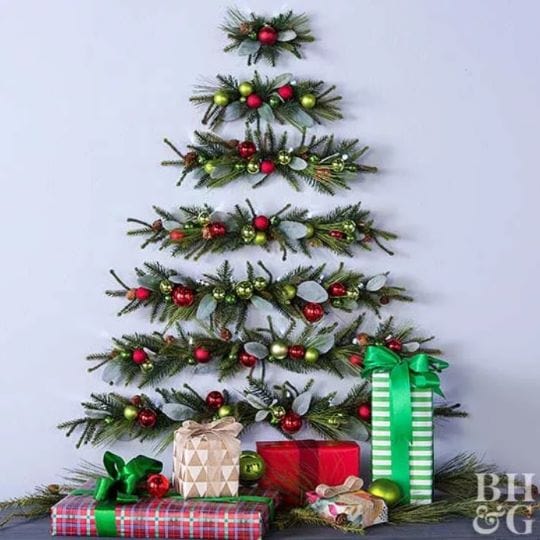 Tools and Materials:
Utility knife
Scissors
Miter saw
Glue gun
Cardboard
Pine garlands
Double-sided adhesive tabs
Pine lattice
Level
A modern home calls for a clean look, and if you need an undersized yet stylish wall decoration this year, the pine garland Christmas tree is the tutorial to try. Hidden wooden strips provide the structure for pine garlands and ornaments held in place with hot glue. The final product is a multi-piece tree, with sections arranged to give each tier a floating appearance.
A cardboard spacer and a level put the construction beyond reproach. It peels right off the wall, leaving no holes to mend, and you benefit from having a pre-decorated reusable wall tree for future Christmases.
---
8.

Felt Christmas Tree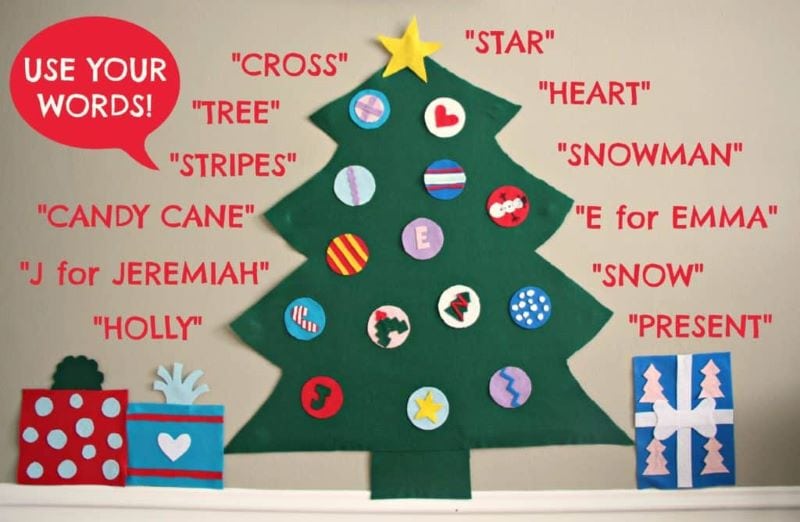 Tools and Materials:
Scissors
Sharpie
Glue gun
Felt
Poster strips
If you want a fun crafts project that lets your kids flex their creativity, this felt Christmas tree makes a great addition to the decoration collection. All you need is a large piece of green felt cut into a tree shape to give your kids a blank template to decorate their way.
Make festive and unique ornaments out of different felt colors, but be sure to use plenty of glue to withstand the destructive power of toddlers. The tree becomes a fun game of decorating and un-decorating to entertain the kids all season long.
---
9.

Wall Corner Christmas Tree
Tools and Materials:
Fabric scissors
Scotch tape
Sewing pins
6' green felt
Lights
Stick-on hooks
Poster strips
Yellow paper or fabric
Print paper
It doesn't take much effort to create this clever 3D wall corner Christmas tree. Start by cutting a Christmas tree out of felt paper and fixing it in the corner, with half the tree on one wall and half on the other. Lights then connect the tips of the branches, pulling away from the wall for a multi-dimensional aesthetic. A backlit felt star adds a finishing touch to the tree's glorious glow.
---
10.

Tree Branch Christmas Tree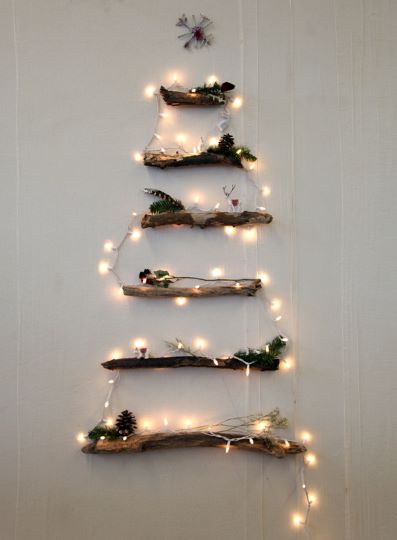 Tools and Materials:
Glue gun
Tree branches
Thumb tacks
Lights
Decorations
There's a certain satisfaction in felling the family Christmas tree straight from the forest. For the space-restricted, you can feel the same swell of pride by foraging for the ingredients that go into this tree branch Christmas tree.
Like the floating Christmas tree, these branches stack on the wall in a tiered fashion. The creator used hot glue and thumb tacks to position the pieces, but you could try double-sided tape to save on patches. A run of Christmas lights and a few well-placed ornaments complete this cheap and easy DIY project.

Final Thoughts
A wall Christmas tree lets you retain space to move around and remove the pesky maintenance and cleanup chores of a traditional setup. Plus, they're cheap! After all the expenses of gift-buying, a wall tree is a pleasant relief from the high cost of fake or lot-bought trees.
These DIY wall Christmas trees are sensible alternatives for the real thing, whether you have a small room or not. They're fun, festive, and a great way to spend creative time with the family, exactly what the holiday season is all about!
See also:
---
Featured Image Credit: Pascal Claivaz, Pexels