12 DIY Compost Bins (With Pictures & Instructions)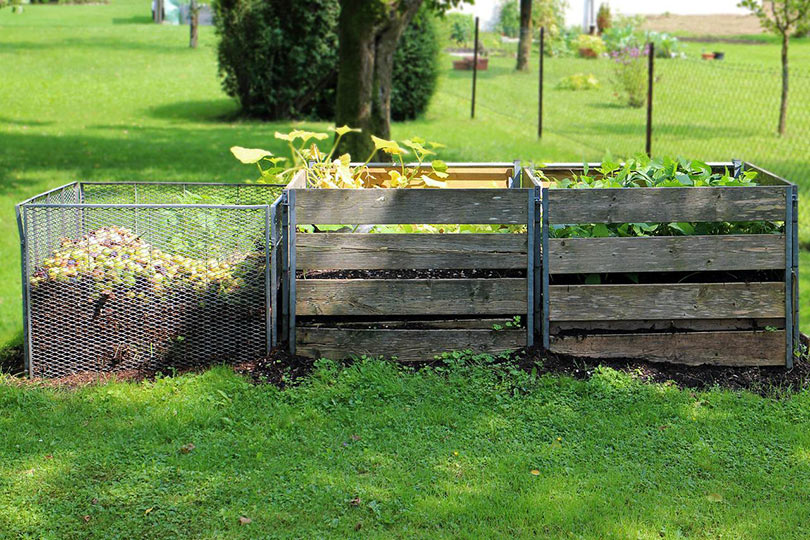 Gardening enthusiasts that prefer leading a more eco-friendly lifestyle can reduce their reliance on chemical fertilizers by using a compost bin. The simple structure accelerates the decomposition of organic matter generated at home, like vegetable peels, coffee grounds, and even wood shavings.
If you want to enrich your gardening soil with homemade compost, you can conveniently order a compost bin online or opt to do in-ground composting. Even better, build a DIY compost bin uniquely designed to match your needs and preferences!
If the latter seems like an attractive project to indulge in over the weekend, here are some excellent compost bin plans. Get crafty!

The 12 DIY Compost Bins
1.

DIY Compost Bin by Practically Functional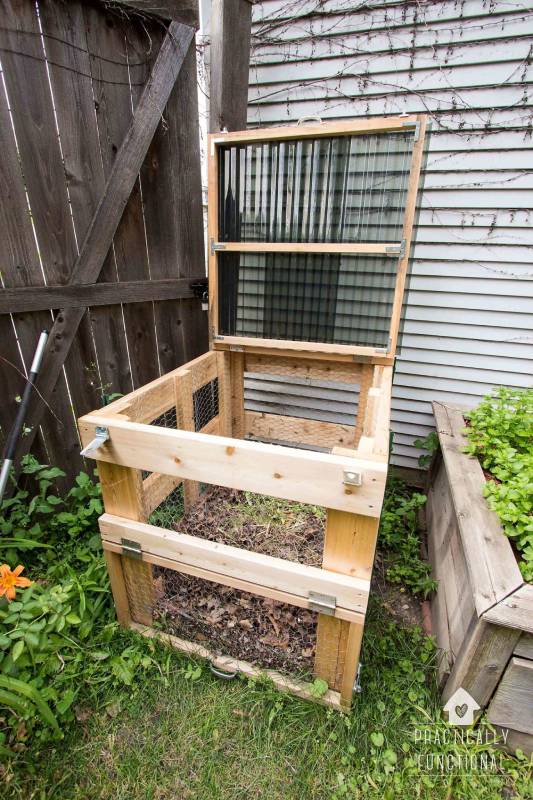 | | |
| --- | --- |
| Materials: | (2) 12′ 2×6 boards, (3) 10′ ×6 boards, (1) 12′ 2×4 board, (1) 10′2×4 board, (2) 12′ 2×2 boards, chicken wire, 2-1/2″ deck screws, corrugated polycarbonate panel, clear silicone sealant, gate handles, flat corner braces, T-plates, latch post safety hasps, door hinges, and fence stakes |
| Tools: | Drill, circular saw, driver bit, 1/8″ drill bit, staples and staple gun, diagonal pliers, carpenter's square, fence post driver or hammer, tape measure, and pencil |
| Skill Level: | Intermediate |
If you are an avid gardener with some space in your backyard, this is a sturdy DIY compost bin you can build yourself. You don't need to be highly skilled in woodworking and can complete the project in 4 to 6 hours with intermediate skills. Because lumber can drive up the cost of the project, don't be shy to repurpose old pallets or leftover lumber from your fencing project.
---
2.

Shipping Pallets DIY Compost Bin by Joe Gardener
| | |
| --- | --- |
| Materials: | 7 pallets, 3-inch all-weather deck screws |
| Tools: | Drill |
| Skill Level: | Beginner |
Do you have some shipping pallet boxes lying around? This cheap, simple, and easy DIY compost bin is for you. It's a pretty strong structure that you can use for decades with little maintenance. Depending on your pallets, you can create three compost bins with separate sections for new, in-process, and mature compost.
Once the structure is complete, you should prepare for minimal repairs in the future. Keep any extra pallets in your garage and use them to fix unwanted gaps or replace weak lumber.
---
3.

$10 DIY Compost Bin by Homesteading Where You Are
| | |
| --- | --- |
| Materials: | Rubbermaid container, chicken wire, duct tape |
| Tools: | Box cutter, scissors, knife, and drill |
| Skill Level: | Beginner |
If you want a DIY compost bin but don't have much of a budget, you can make this  $10 compost bin in minutes. While it's not the most aesthetically pleasing feature you can have in your backyard, it works!
This compost bin plan allows you to cut down your budget further by using an old plastic tote you might already have at home. Just ensure your container of choice has a lid and is at least 24 inches tall.
---
4.

DIY Compost Tumbler by Growseed
| | |
| --- | --- |
| Materials: | 225-liter plastic drum with lid, plywood or cardboard, 40mm pipe, pallets or other thick wood blocks and screws |
| Tools: | Drill, vibrating saw, and marker |
| Skill Level: | Beginner |
If you like creating quality organic matter for free but dread the chore of rotating your compost, here is the perfect project for you.
To build this DIY compost tumbler, you need a 225-liter plastic drum with a lid. The wood blocks will get the drum off the ground for easy rotation. If you start recycling your yard debris and kitchen scraps now, you may have mature compost by the start of the planting season!
---
5.

Garbage Can DIY Compost Bin by Home Talk
| | |
| --- | --- |
| Materials: | Garbage can |
| Tools: | Drill |
| Skill Level: | Beginner |
Have you got an old garbage can in your garden? You can put it to use and turn it into a small compost bin. This DIY project is perfect for gardeners with small backyards. You can even make several compost bins and have them hanging off the ground for better aeration and access to heat from the sun.
Provided you have a garden where you grow your produce; you should be composting to have a steady source of organic matter for your leafy friends. This project is relatively inexpensive and fast to accomplish. Even if you don't have an old garbage can, ordering one online will not cost you more than $10.
---
6.

Vertically Stacked Milk Crate Composter by Instructables
| | |
| --- | --- |
| Materials: | (3) Milk crates, metal mesh/screen, rust-proof screws, wood, and old drawer handles |
| Tools: | Saw, drill, scissors, and hot glue gun |
| Skill Level: | Beginner |
Even with a $0 budget, you can make this functional vertically stacked composter using old milk crates you have at home. This compost bin is ideal for small spaces and gardeners who need a relatively small amount of compost for their leafy friends. The vertical design ensures plenty of aeration for quality compost that can reward you with a healthy garden and bountiful harvests.
---
7.

Bucket Compost Bin by Momma on the Homestead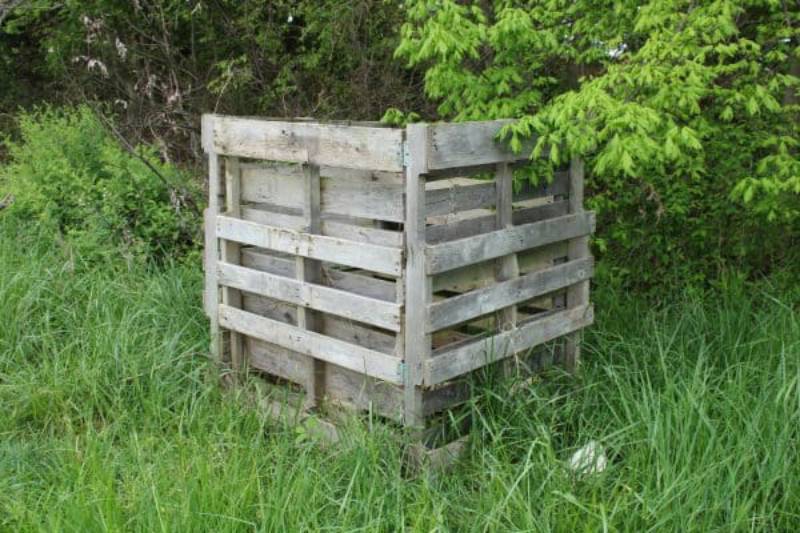 | | |
| --- | --- |
| Materials: | (1) 5 Gallon bucket with a tightly fitting lid, small sticks for drainage |
| Tools: | Medium to large sized bit and drill |
| Skill Level: | Beginner |
Making a homemade compost bin doesn't have to be expensive, time-intensive, or challenging. When making this compost bin, you only need a 5-gallon bucket with a tight-fitting lid. Even if you have to purchase one, it's pretty affordable, not to mention that your composter can last for years with little need for maintenance.
Moreover, there is no need for any special tools or advanced skills. If you don't have a drill and drill bits, it's perfectly okay to use a hammer and nails!
---
8.

Triple Compost Bin by Instructables
| | |
| --- | --- |
| Materials: | (4) 12-foot 2x4s, (3) 10-foot 2x4s, (1) 12-foot 2×6, (2) 10-foot 2x2s, (6) 8-foot 1x6s, hardware cloth, 16d galvanized nails, poultry wire staples, (12) 1/2-inch carriage bolts, plywood and 6 hinges |
| Tools: | Drill with a 1/2-inch bit, circular saw, hammer, tape measure, socket wrench, carpenter's square, wire cutters, pencil, and paint brush |
| Skill Level: | Intermediate |
If you have always wanted to build a large compost bin that can hold enough compost for your spacious garden, now is your chance. As complex as this triple compost bin may seem, it's easy and inexpensive to make. You don't have to depend solely on new materials, and you could use old pallets. The wire hardware cloth also helps to keep costs low, especially when you have to buy lumber.
---
9.

Tumbler DIY Composter by GardenFork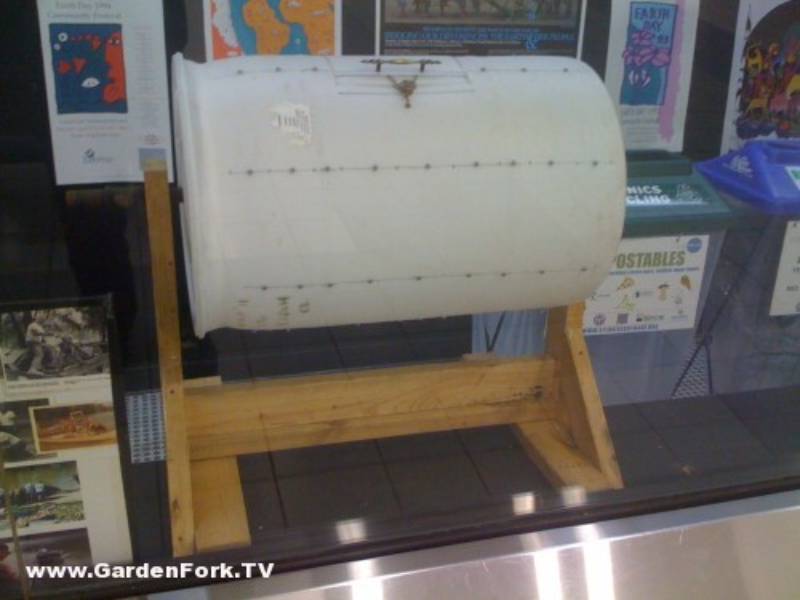 | | |
| --- | --- |
| Materials: | Used barrel, 2x4s for the stand, pipe |
| Tools: | Saw and drill |
| Skill Level: | Beginner |
If you like composting but don't want to break your back when turning your compost with a fork to ensure effective aeration, this tumbler DIY composter is an excellent project to attempt. You can use a small or large barrel, depending on your gardening needs and the size of your backyard. Give the tumbler a spin every 2 to 4 days to allow organic matter to cook down.
---
10.

Inexpensive Wooden Compost Bin by Create With Mom
| | |
| --- | --- |
| Materials: | 2×2 lumber, deck screws, and wood glue |
| Tools: | Drill and saw |
| Skill Level: | Intermediate |
To build this simple and inexpensive wooden compost bin, you can use old landscaping timber or leftover lumber from other woodworking projects. Even if you have to buy the wood, a budget of less than $50 will suffice!
If you want to live more sustainably and reduce the amount of materials that go into your green bin, you will enjoy handling this project. Get crafty and personalize the composter's exteriors to turn the structure into a functional and aesthetically pleasing feature.
---
11.

Wire Mesh Composter by Ideas2live4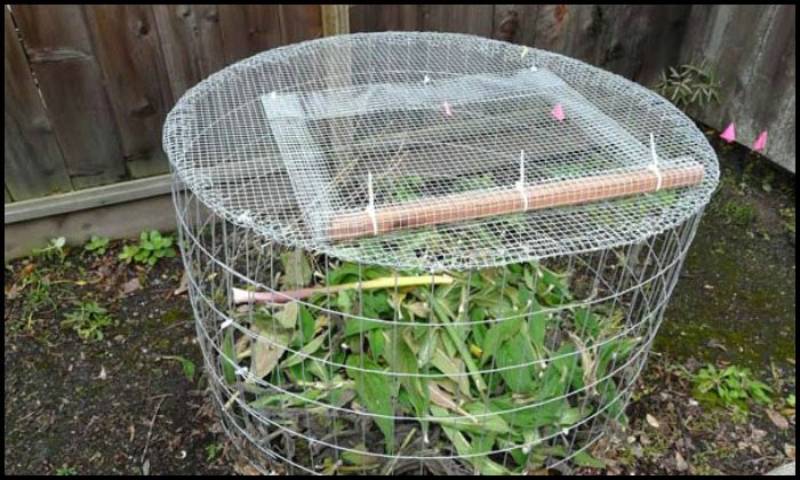 | | |
| --- | --- |
| Materials: | 12′ Galvanized hardware cloth/wire mesh, 2×1 lumber, cable ties/zip ties |
| Tools: | Wire cutter |
| Skill Level: | Beginner |
Building a large composter doesn't need to be expensive. You can depend on wire mesh as your primary material. Wire mesh is inexpensive and can be used to create this simple yet practical composter that can hold as much compost as you want.
Ensure that your hardware cloth has no more than 1/2″ squares to prevent your compost from falling out. Also, purchase additional mesh if you want your compost bin to have a mesh cover to lock out rodents.
---
12.

Classic DIY Compost Bin by Fine Gardening
| | |
| --- | --- |
| Materials: | (24) 2″ x 2″ x 36″ wood furring strips, (4) 36″ x 39″ hardware cloth, 3″ deck screws, galvanized metal staples, (8) 2 1/2″ gate hook-and-eye latches. |
| Tools: | Drill and drill bits, circular saw, sandpaper or sanding block, pencil and tape measure, hammer, staple gun, pliers, wire cutter |
| Skill Level: | Intermediate |
Let's wrap up with this classic DIY compost bin that checks out all the boxes for proper aeration and easy access to your pile when turning it. Because the sides are held together using hook-and-eye latches, you can remove them when turning the compost and even store them indoors once you are done composting for the season!
Also, the bin is about one cubic yard in size. This size promotes the efficient decomposition of organic matter, ensuring you have plenty of compost for your garden all year round. You may even have some left over to share with friends and neighbors.

Final Thoughts
If you love farming, have reasonable outdoor space, and generate sizable amounts of yard waste and food scraps, we hope you find pleasure in attempting our recommended projects. You can always twitch your preferred DIY compost bin plan to suit your needs and goals.
Once you start composting, don't forget to keep track of what you throw into the bin. Also, tend to your pile regularly to ensure the organic matter doesn't develop an awful odor or attract unwanted rodents.
With proper management, the compost should be ready for use in 2 to 5 weeks!
---
Featured Image Credit: Antranias, Pixabay