5 DIY Contemporary & Modern Coffee Table Plans You Can Make Today (With Pictures)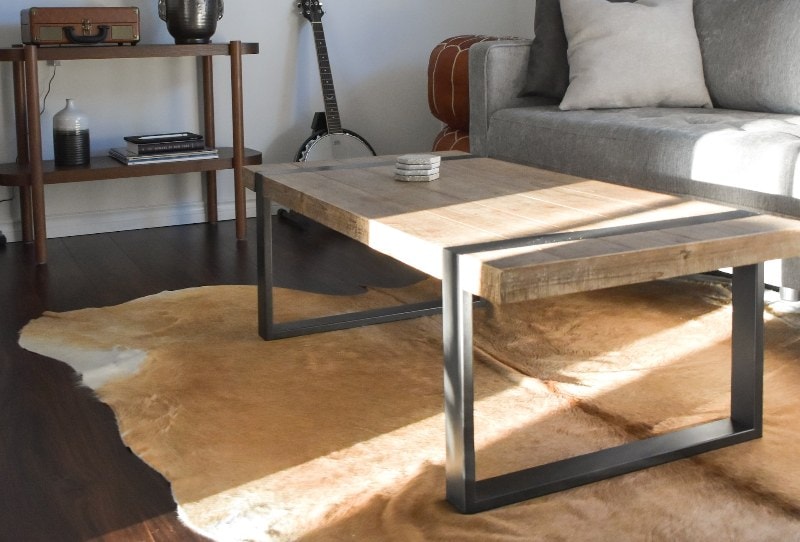 Coffee tables are an essential part of any living room or den, but it can be hard to find one that fits your home perfectly. If you don't mind getting your hands dirty and doing some work, it's not that hard to make your very own DIY coffee table that fits your home's aesthetic and unique needs. Let's dive in below with the plans and what you'll need.

The 5 DIY Contemporary & Modern Coffee Table Plans
1.

DIY Concrete Coffee Table by DIY Pete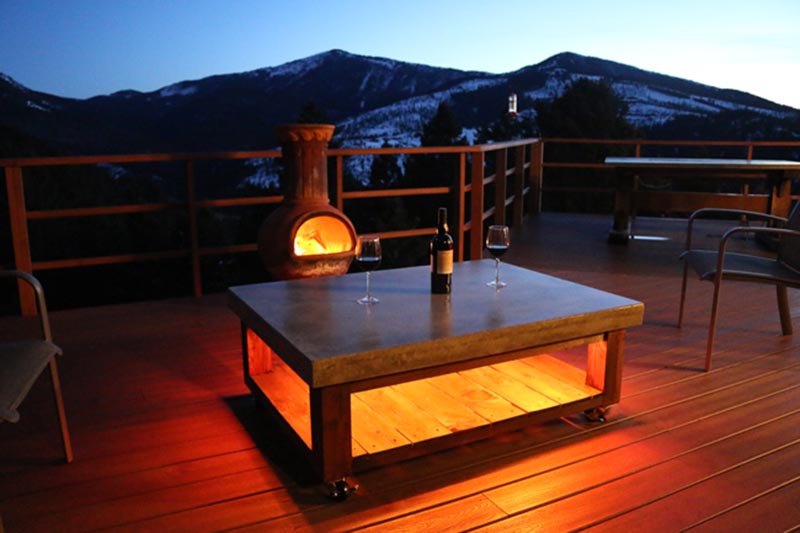 | | |
| --- | --- |
| Difficulty: | Expert |
| What you'll need: | Miter saw, table saw, impact driver, orbital sander, jigsaw, dust mask, concrete trowel, mallet, bolt cutter, concrete, concrete sealer, 2x4s, 4x4s, knife, melamine form |
This is a fairly complex project, but it yields a very pretty, polished concrete table. You can use any type of wood for the base, but the instructions add estimates for cedar and pine. Optionally, you can also mount a battery-operated LED light on the bottom of the tabletop for accent lighting on dark nights. Again, this project is very involved and requires concrete and power tools, so attempt with caution.
---
2.

DIY Mirror Infinity Table by Family Handyman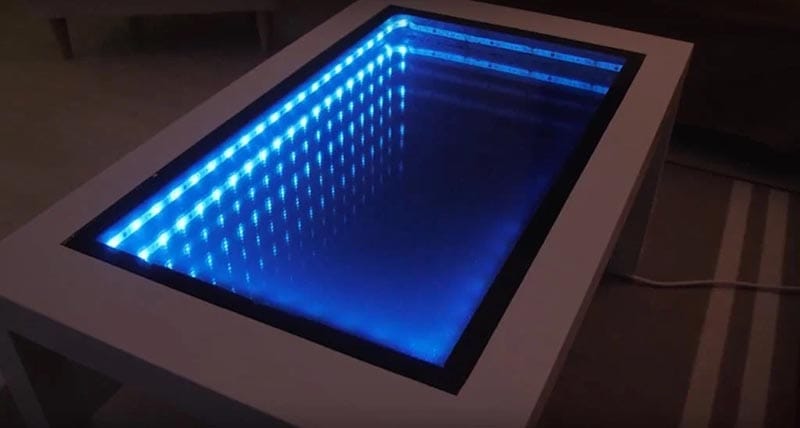 | | |
| --- | --- |
| Difficulty: | Intermediate |
| What you'll need: | Miter saw, router, safety glasses, table saw, tape measure, chisel, 1/4in. hardboard, 3/4in. hardboard, LED strip lighting, low-voltage wiring kit, mirror, tape, two-way mirror, wood glue |
Although it requires some tools, this mind-bending infinity table isn't actually that hard to construct. It takes some basic woodworking, assembly, and wiring, but it's nothing especially difficult. Without light, it appears like a normal glass top table, but with light, the mirrors produce a really cool, repeating mirror illusion. If you'd like to amp up the 70s feel in your house or perhaps light a game room, consider undertaking this project.
---
3.

DIY Board Game Coffee Table by Kreg Tool
| | |
| --- | --- |
| Difficulty: | Intermediate |
| What you'll need: | Circular saw, drill, tape measure, screws, sander, clamp, ¾" oak sheet, ½" pine sheet, 2×6, 1x2s, drawer slides, drawer pulls, furniture legs |
If you like to play a lot of puzzles but find yourself with little storage space, try making a puzzle table! This DIY project comes with precise instructions that make it feel like you're simply assembling a boxed coffee table. You do need some tools, but nothing too heavy. It's entirely possible to finish this table yourself in a day or two, at most.
---
4.

DIY Factory Cart Coffee Table by Rogue Engineer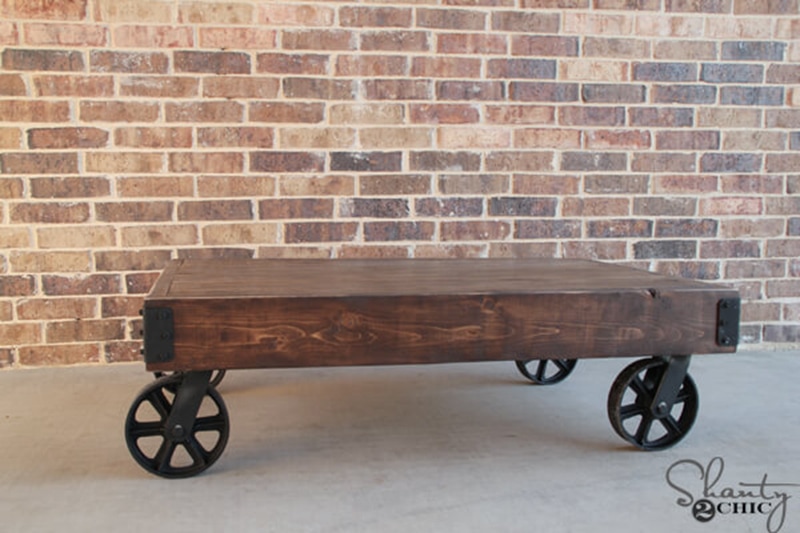 | | |
| --- | --- |
| Difficulty: | Expert |
| What you'll need: | Miter saw, pocket hole jig, drill, tape measure, 8" diameter casters, specified lumber, screws |
You can use any type of wood you want for this coffee table on wheels, which is great for board games, meals, or nearly any occasion. They're also handy for transporting objects throughout the house with ease, so long as you construct it sturdily. Using swivel casters will help ensure the table has a full range of movement.
---
5.

DIY Clock Coffee Table by Woodshop Diaries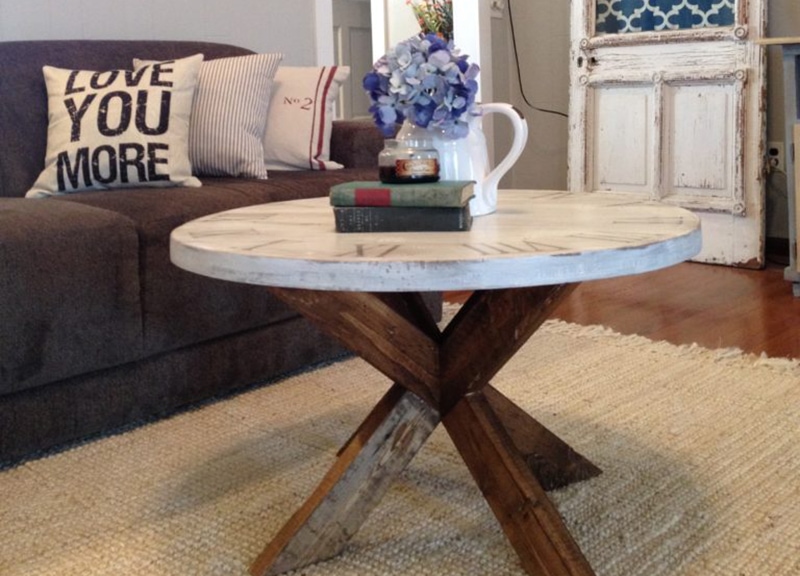 | | |
| --- | --- |
| Difficulty: | Intermediate |
| What you'll need: | Miter saw, drill, router/jig saw, wood glue, clamps, pocket hole plugs, measuring tape, specified lumber |
This project creates a beautiful, crisp clock-faced coffee table for very cheap. You'll need a few tools to start, but it's not terribly complex and the plans are printable for extra convenience. The most striking part about this coffee table is the clock face tabletop, which is created using a basic stencil. The results are undeniable, though, creating a slightly higher coffee table suitable for breakfast.

Conclusion
If you're tired of the same old furniture in your house and want to spice it up with something you built yourself, look no further than the plans listed above. While most of them are fairly straightforward, a couple are tricky and call for a lot of tools. If you're handy, though, print out one of these plans and get to work.
---
Featured Image Credit: Jake Goossen, Unsplash