7 DIY Bread Box Plans You Can Make Today (with Pictures)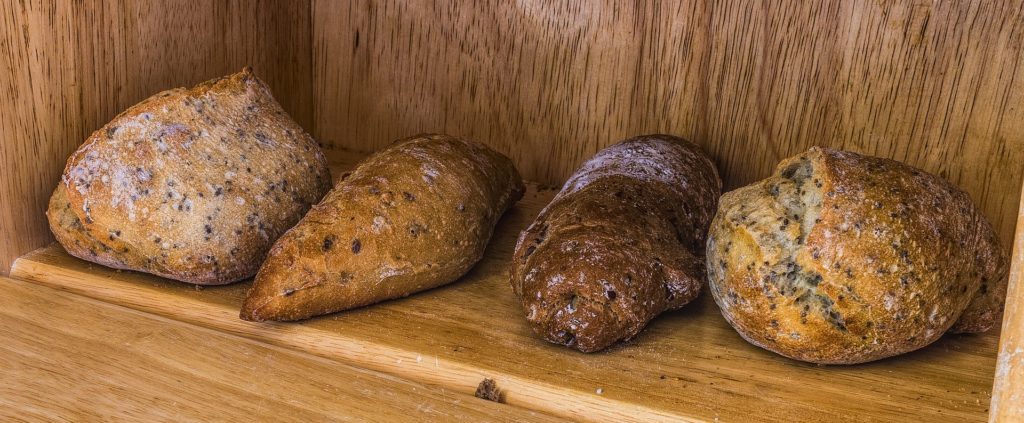 The breadbox was once such a ubiquitous household utility that people used to use it as a rough unit of measurement.
With the advent of refrigerators and modern preservatives that can keep bread fresh for weeks, the breadbox has become a rare sight in most kitchens today.
As such, having a breadbox today will make your kitchen stand out. The good news is that you can learn how to build a breadbox yourself with the help of the following DIY breadbox plans.

The 7 DIY Bread Box Plans
1.

Lee's Wood Projects DIY Bread Box
This stylish yet simple wooden breadbox will ensure that your bread products stay fresh and sweet for several days. The design of this box allows air to enter and circulate, thereby reducing the amount of moisture surrounding it.
Additionally, it features a lift-type lid for easy access. The size of this breadbox allows you to have sufficient space for storing large quantities of bread. It requires basic carpentry skills to construct and will be a great addition to your kitchen décor.
---
2.

DIY Breadbox by The Owner Builder Network
As you can see, this is not your typical run-of-the-mill breadbox. It has an aesthetic appeal that makes it double as an ornament. You will also be pleased to learn that despite its great looks, it is a project that most DIY enthusiasts can handle comfortably. The Owner Builder Network has made this step-to-step video guide to making this beautiful breadbox.
---
3.

DIY Breadbox Makeover by Love Create Celebrate
You do not always have to make a breadbox from scratch. If you have a humble breadbox lying around, you can get creative and give it a makeover. This allows you to have a fancy breadbox without having to spend as much time, energy, money, or even carpentry skills. Here is how to go about it.
---
4.

DIY Breadbox by Amateur Woodworker
Breadboxes differ in complexity, and the one featured in this guide is based on common designs that are simpler to construct.
The Amateur Woodworker has taken into account the fact that some people prefer their breadboxes with holes, while others do not. As such, their plan allows you to decide whether you want the holes.
---
5.

DIY Breadbox by Jay Custom Creations
The great thing about this artistic breadbox by Jay's Custom Creations is that Jay has used two different methods to create this bread box, so you can have creative options. Get the free downloadable plan here.
---
6.

DIY Pine Bread Box by Instructables
Instructables call this breadbox, "the Bread Bin," due to its simple design. If you have laminated pine shelving lying around, follow this plan to make your pine bread bin. What we love about this design is that it allocates a slot for a cutting board, as well as a holder for the knife.
---
7.

DIY Bread Box by Hunker
This classic breadbox by Hunker is made out of hardwood to enhance its durability. Another reason for using hardwood is because unlike softwoods, such as pine and cedar, hardwood does not affect the bread's flavor.
This particular breadbox is also quite easy to construct. Follow this guide to build yourself one.

Conclusion
Even though the breadbox cannot surpass the preservation capabilities of a fridge, it is still a great feature to have in your kitchen. You can use it to preserve your loaf for a few days, or you can simply use it for decorative purposes.
The DIY plans offered in this article are quick and easy to follow, so learning how to build a breadbox is simple! Make sure to share a picture of your breadbox with us when you are done. Good luck!
Related Reads:
---
Featured Image Credit: Pixabay