20 DIY Fairy Garden Plans You Can Make Today (With Pictures)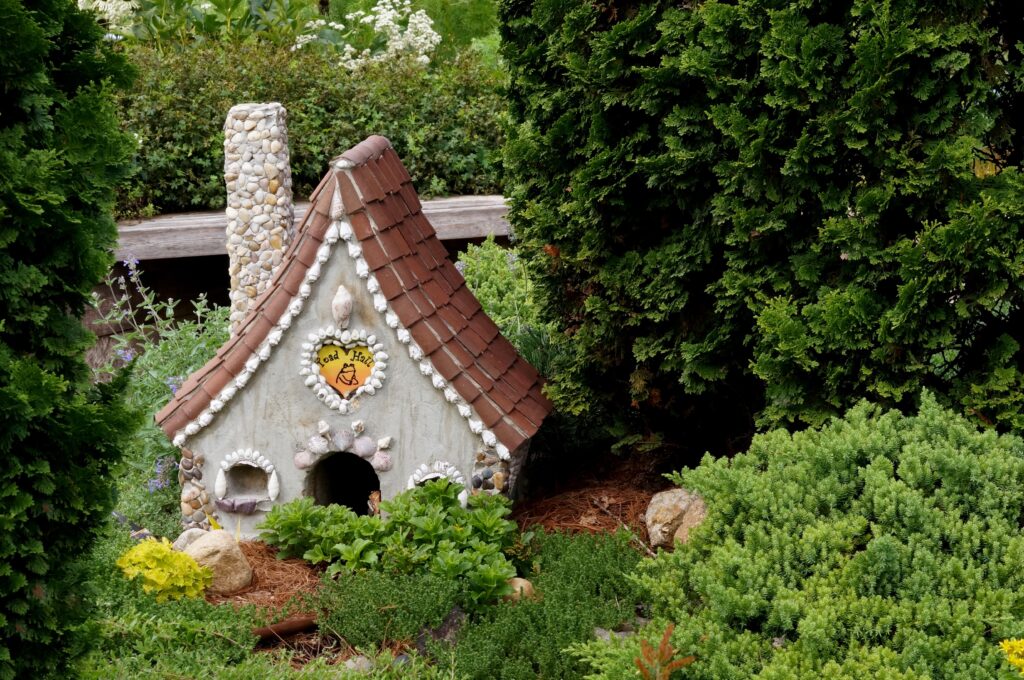 Fairy gardens are irresistible! They're fun for both kids and adults alike. So, if you're looking for an enriching activity that the whole family can enjoy, DIY fairy gardens might just be what you're looking for!
There's something special about creating miniature fairy gardens. They'll transport you immediately to a fantasy-like world of your own making. Whether it's a small flower pot filled with beautiful stones or larger planters, the imagination runs wild with ideas when trying to create your fairy garden.
And what's even more amazing is that these projects are simple enough for almost anyone to do. It means it could be a great learning project for school-aged children as well! So, whether you're a beginner or a seasoned gardener, there's always something new and inspiring to try.
Here are our favorite DIY fairy garden plans you can make today to help you get started.

The 20 DIY Fairy Garden Plans
1.

Tiny Teardrop Camper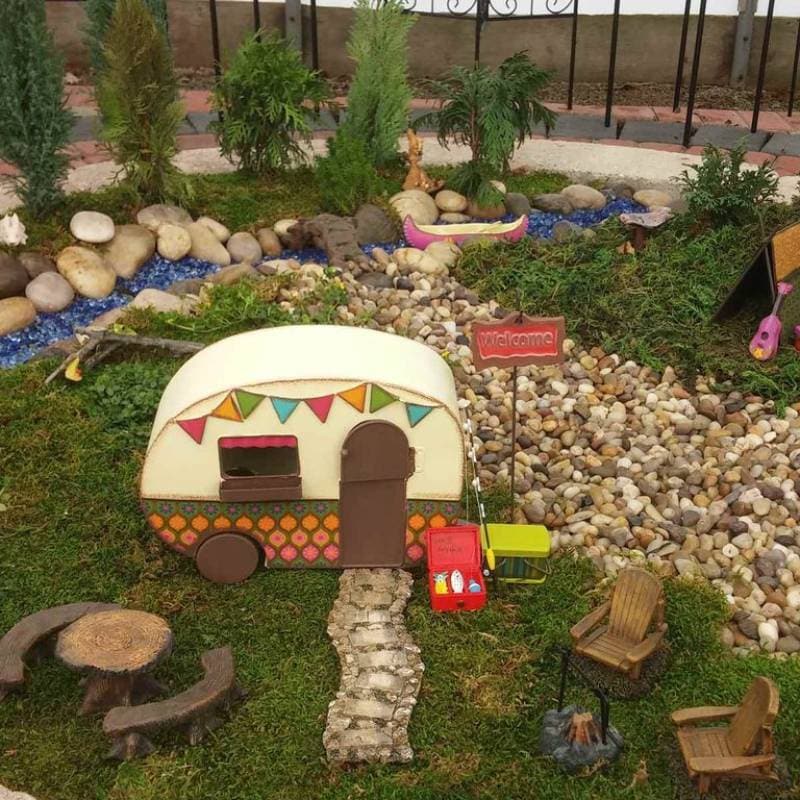 | | |
| --- | --- |
| Materials: | Watercolor paints, wood, and paper |
| Tools: | Adhesive or glue for wood or paper, paintbrushes, craft knife, pencil or lead pencils, ruler or straight edge, and scissors |
| Difficulty Level: | Easy |
This tiny Teardrop Camper Fairy Garden is the cutest thing! It's got a little fire pit, some flowers, and a tiny table. And, of course, it's got a tiny teardrop trailer that you can make from scratch. It's an excellent project for kids to do as well!
The detailed DIY plan features a whimsical tiny home on wheels complete with solar panels, an outdoor area rug, metal chairs, and even a screened door that opens and closes.
The teardrop camper looks just like a real one, only smaller. The instructions are easy to follow, and there are great pictures of each step. You can make this one yourself in just one afternoon.
---
2.

Fairy-Sized Tractor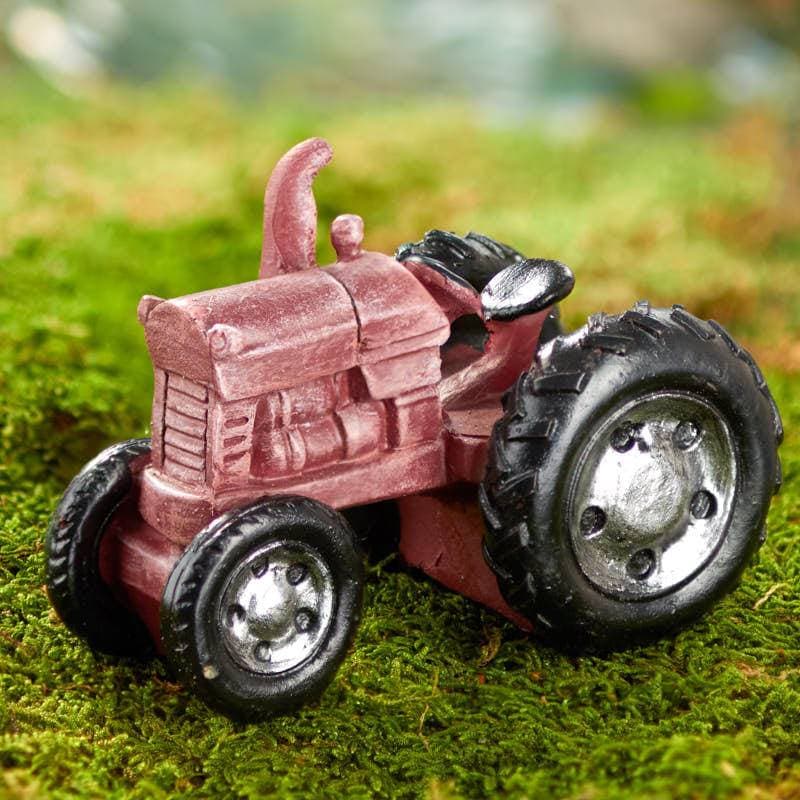 | | |
| --- | --- |
| Materials: | Small stones and pebbles, coarse sand such as play sand, and a small piece of wood for the base |
| Tools: | Drill with a 1/8th inch drill bit and sandpaper |
| Difficulty Level: | Moderate |
You're just in time for spring! This flowerbed tractor is an excellent way to add some color to your fairy garden. It's made of polymer clay and features an awesome paint job.
The Fairy-Sized Tractor fairy garden plan is for you if you enjoy making miniature figurines. A homemade tractor is the focal point of this DIY plan. But there are plenty of other elements that will keep you busy, including a birdhouse and stepping stones.
For a whimsical fairy garden plan, use this tractor idea. You can use an old toy for the structure or order a miniature from Amazon. Then, add the plants and magic!
---
3.

Barn and Silo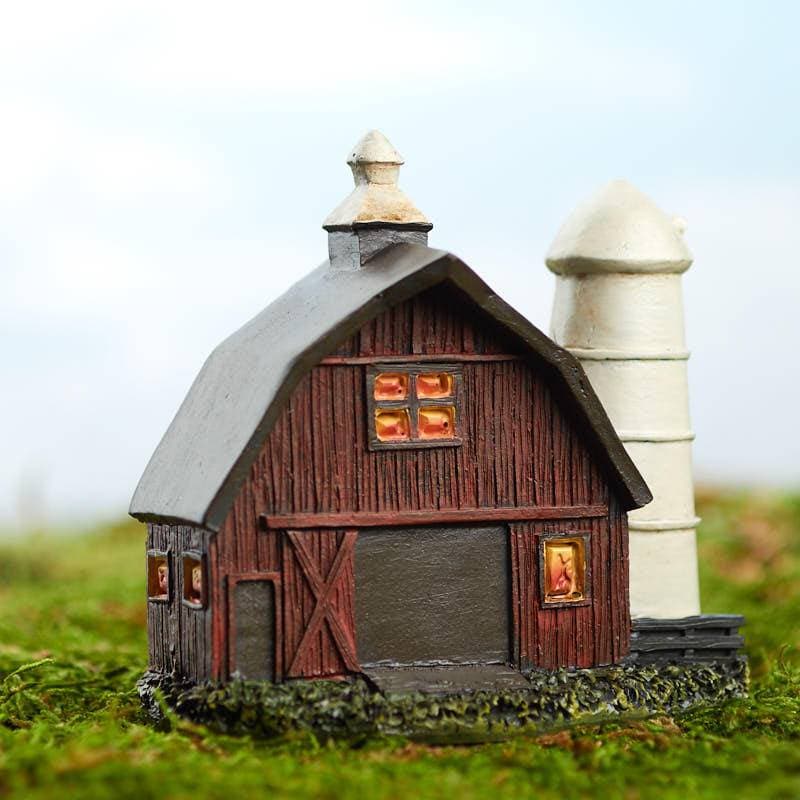 | | |
| --- | --- |
| Materials: | Small rocks, sand, and gravels |
| Tools: | A small trowel or spade, scissors, a small watering can, and a spoon or knife (optional) |
| Difficulty Level: | Easy |
This DIY fairy garden plan is fun because it includes a little barn and silo for your gnomes to play in. It also has some great mushroom mountings that fit perfectly with the woodland theme.
This is one of the more complex fairy gardens on this list, but it shouldn't take you too long to build if you have the supplies at hand.
You can make this using wood. You can even save money by using reclaimed wood for the base or building it all out of cardboard. If you have limited space in your yard, this is an excellent option because it fits right onto your porch or balcony.
---
4.

Farmer's Market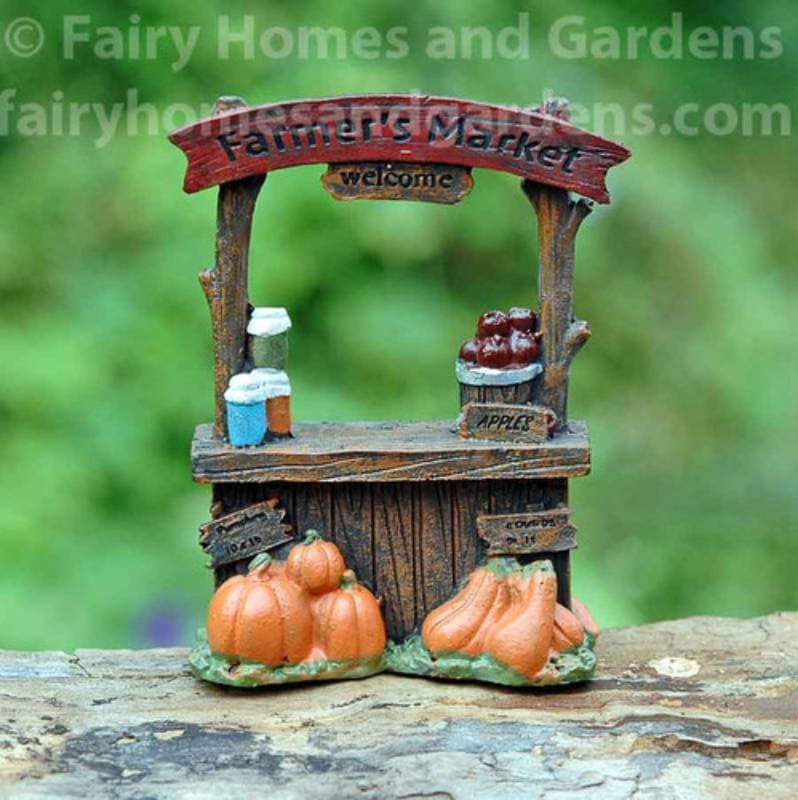 | | |
| --- | --- |
| Materials: | Large flower pot, potting soil, plants and flowers, miniature fruits and vegetables, miniature farmer's market sign, and small table and chairs |
| Tools: | Shovel, pruners, and a trowel |
| Difficulty Level: | Easy |
Everyone needs to eat, and even fairies need to go to the farmer's market for something fresh! This fairy gardening idea is perfect if you have some play food around the house. You can use a wide range of fruit and veggies for this. But apples, tomatoes, carrots, and peppers are the best options. They look great and will last a long time.
This farmer's market fairy garden has all that your fairy loves to do! There's a market stand for her to sell her goods and tables for her to relax. Also, there's a water pump for the days when it gets hot outside.
---
5.

Teacup Fairy Garden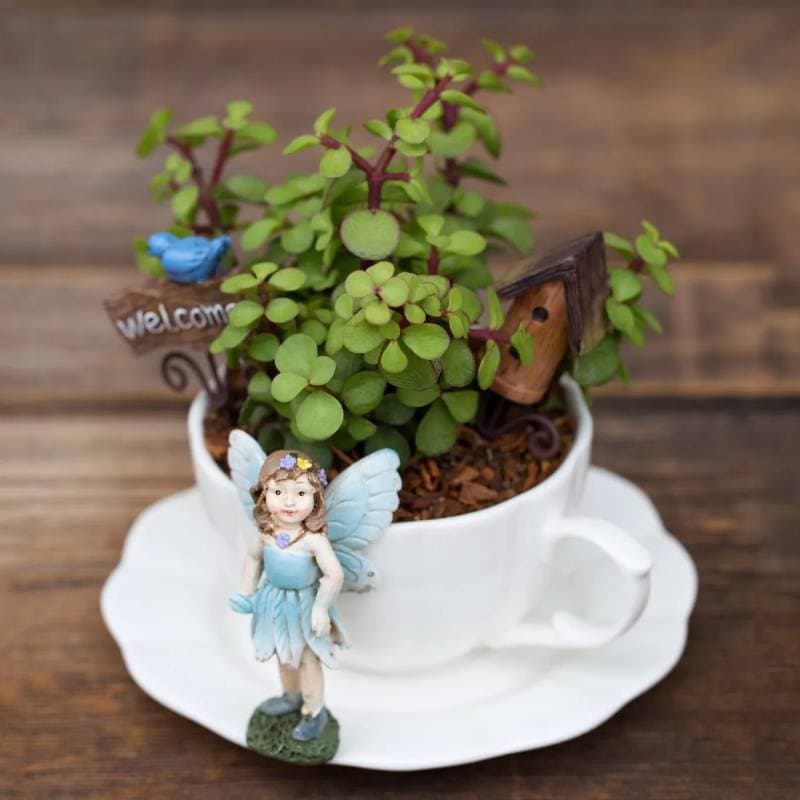 | | |
| --- | --- |
| Materials: | A small teacup, planting media such as potting soil or cactus mix, small plants such as succulents or herbs, fairy garden accessories such as a birdhouse, fountain, or fairy figurines, and moss |
| Tools: | Spoon, butter knife |
| Difficulty Level: | Advanced |
Before you let your teacup and saucer collect too much dust in the cupboard, transform them into a charming fairy garden! Take a trip back in time with this super cute teacup fairy garden.
This project is quick to assemble and easy to maintain. The teacup provides a quaint place for the little fairies to live. The moss and plants make it look like it's been there for years.
This would be an excellent addition to your front yard as a conversation starter or maybe as a centerpiece on your kitchen table.
---
6.

Birdhouse Fairy Garden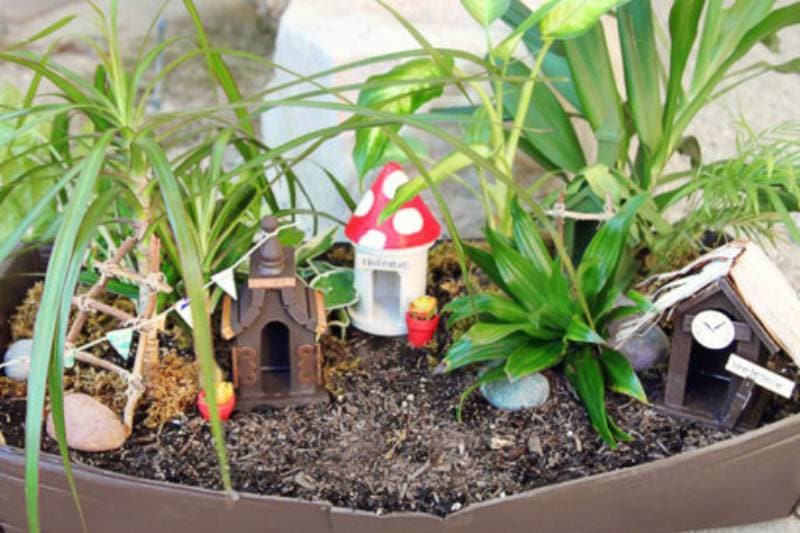 | | |
| --- | --- |
| Materials: | Birdhouse, two cedar shingles, three small to medium logs or round branches, moss, gravel or sand, small cover plants, and succulents or small houseplants |
| Tools: | Spade, pliers, shovel, and pencil |
| Difficulty Level: | Beginner |
A birdhouse fairy garden is an excellent way to combine your love for gardening, bird-watching, and all things magical. It's a great fairy garden container perfect for adding a miniature world to your front porch or back deck.
Little ones will love this sweet little birdhouse-turned fairy home! It's the perfect size for tiny hands. Also, it's an excellent way to teach your children about the importance of leaving space for wildlife in our gardens.
It's also easy to put together. The small birdhouse doubles as the home, while you can use moss as grass and add flowers and other greenery to make it look like a real garden.
---
7.

Magical DIY Fairy House Planter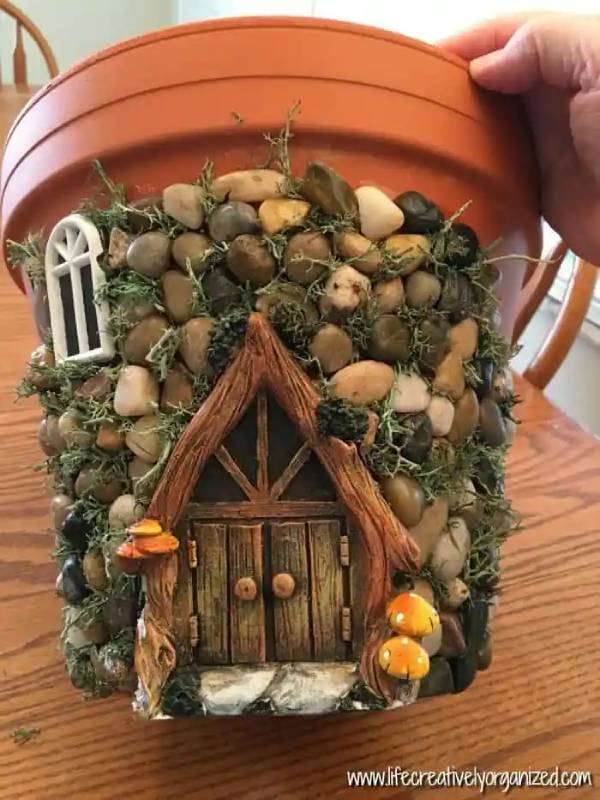 | | |
| --- | --- |
| Materials: | A wooden planter box, garden soil, potted plants, fairy house ornaments, moss, rocks, and other fairy garden accessories |
| Tools: | Small glass bowl or jar, paintbrush, white paint, hot glue gun, and glue sticks |
| Difficulty Level: | Easy |
This is a miniature version of the magical world full of tiny creatures and houses. You can recreate this magical fairytale world in your backyard or patio through a DIY fairy garden.
The world of fairies is not just for kids; you can even create a fairyland for yourself! If you have a small space in your backyard or on your balcony, you can use it to create a perfect DIY fairy garden.
It's an excellent project for those who have a small patio or steps that need some beautification. You can make this cute fairy garden planter using several items you may have on hand. Buy from a flower shop if you don't have the plants to complete this fairy garden.
---
8.

Tree House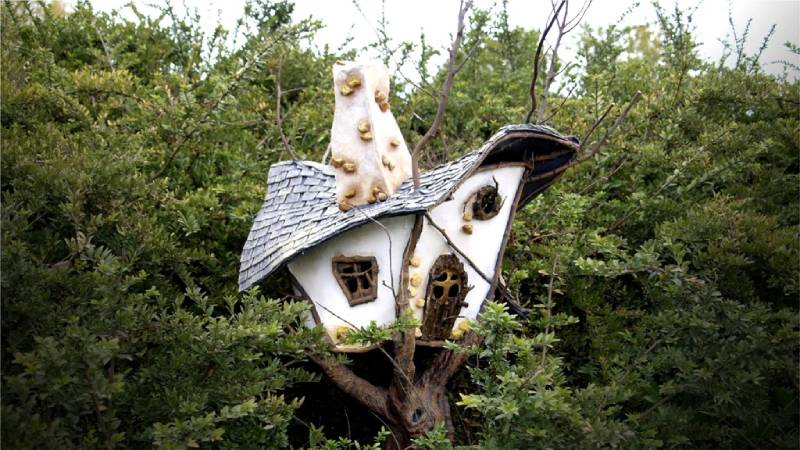 | | |
| --- | --- |
| Materials: | Fairy Garden Accessories, potting soil or compost, plants of your choice, small pebbles or gravel, and moss |
| Tools: | Glue gun, glue sticks, sandpaper, and a hammer |
| Difficulty Level: | Easy |
If you have a tall tree in your backyard with sweeping branches, you can create a magical fairy garden on the trees. This DIY fairy garden plan includes the tree and a garden swing for fairies to enjoy the view.
With a little bit of DIY expertise and some simple supplies, you can create this stunning treehouse fairy garden. It has a real rustic feel, with all the trimmings you'd expect to find in a magical place. And who doesn't love a treehouse!
While this is a larger project, it's cheap and easy to make. This treehouse is made from a terracotta planter, broken pieces of pots, and other odds and ends. You can use materials you have at hand or pick up a few items from the craft store.
---
9.

Summer Escape Fairy Garden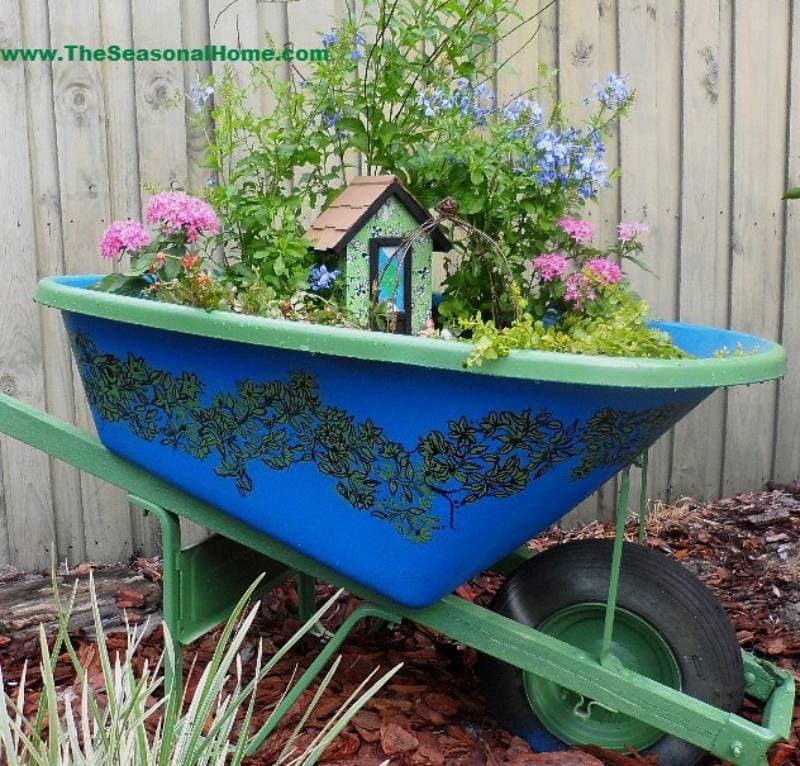 | | |
| --- | --- |
| Materials: | A container, potting soil, small plants (succulents work great), moss, gravel, and decorative items for your garden (small figurines, rocks, sticks, and stones) |
| Tools: | Easy |
| Difficulty Level: | Sandpaper, caulking gun, and scissors |
Fairy gardens are a fun way to get children interested in gardening. They can also be a great way to recycle some of your junk! This one is especially fun for the beach-lover in your life.
This DIY fairy garden is a summer-inspired theme. It can be an adorable addition to your garden or patio decor. The idea is simple, but it's loaded with fun features.
You can use a large flower pot or the hollowed-out stump of a small tree for this project. It makes it an excellent choice for those looking for DIY fairy garden plans for the outside.
---
10.

Broken Pot Fairy Garden
| | |
| --- | --- |
| Materials: | A pot, a broken pot saucer, plants, succulents, moss, pebbles, stones, or rocks, and fairy figurines |
| Tools: | Wire cutters, 2-inch wood hole saw, drill, jigsaw or reciprocating saw (optional), and sandpaper |
| Difficulty Level: | Easy |
This idea of a broken pot fairy garden is creative. You can do it using several different pots and plants. It looks like you can use any broken terracotta pots for the house or other building, so you can make it as large or small as you want.
You will need some plants to fill out your little fairy world. Don't forget the fairy door and some furniture for your little friend to sit on.
It's such an eye-catching way to make a fairy garden. Everyone will love seeing it in your yard. Once you get started with this one, you may need to make one for each of your kids.
---
11.

Half-Wine Barrel Fairy Garden by rhythms of play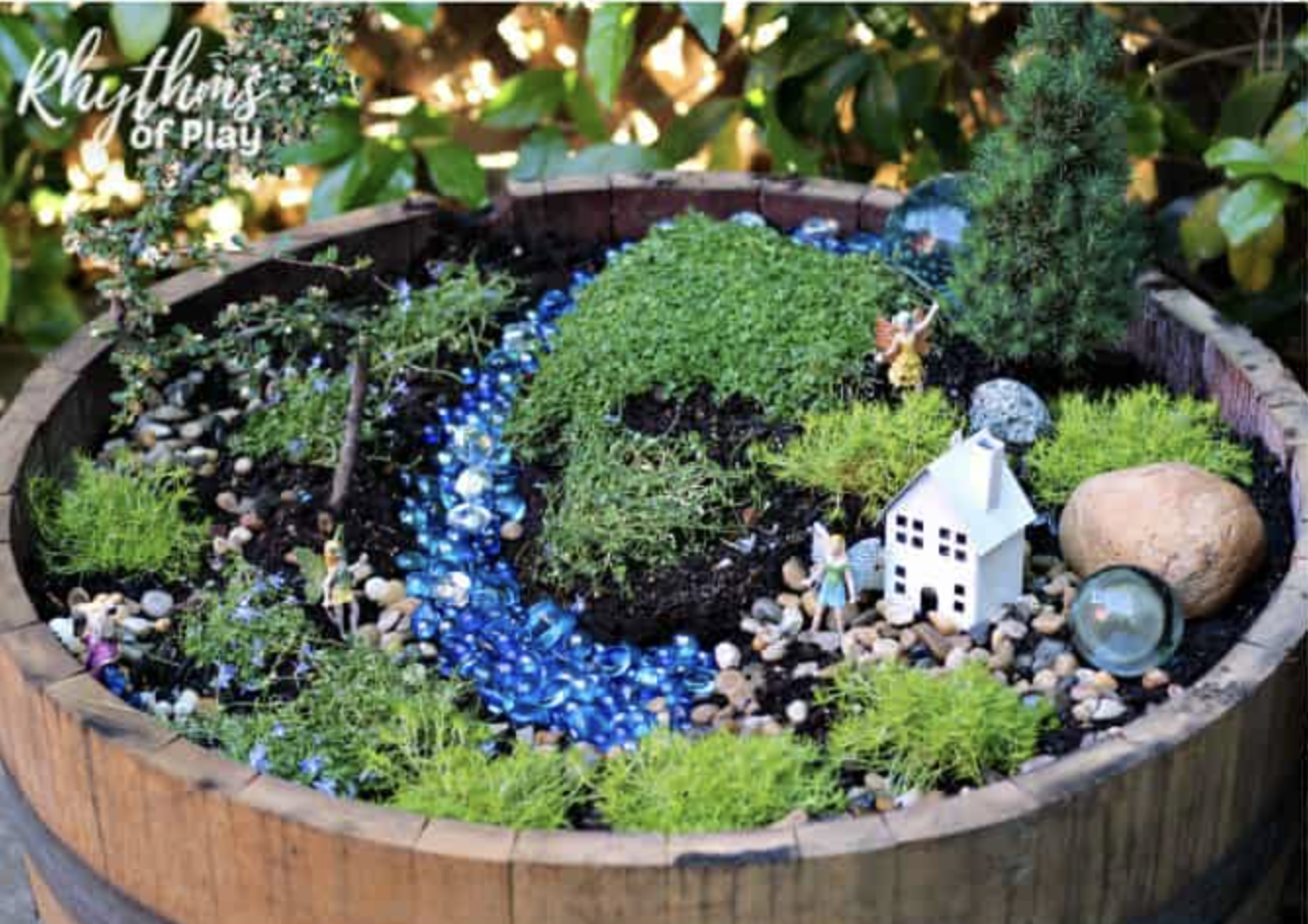 | | |
| --- | --- |
| Materials: | Potting soil, peat moss, small plants, fairy accessories, stones, pebbles, marbles, wood slices, sand, and a half-wine barrel |
| Tools: | Gardening trowel |
| Difficulty Level: | Easy |
Half-wine barrels aren't always the most affordable thing to come by, but there's no denying that they're a signature piece for just about any setting. If you already have one on hand or you don't mind spending a little more to build an excellent fairy garden, this half-wine barrel fairy garden is the way to go.
It's super easy to build and doesn't require any advanced tools, meaning once you have everything you need, there's no doubt that you can make it yourself!
---
12.

Super Simple DIY Fairy Garden by install it direct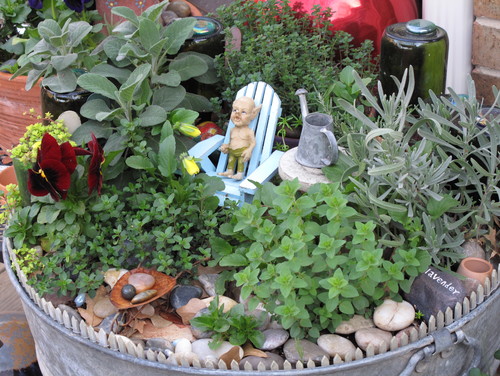 | | |
| --- | --- |
| Materials: | Container with drainage holes, potting mix, plants, twigs, flowers, pea gravel, pebbles, glass marbles, and mini garden decorations |
| Tools: | None |
| Difficulty Level: | Easy |
There's no reason building your own fairy garden needs to be a super complex job. This DIY fairy garden is super simple and looks great, giving you the best of both worlds if you're not an advanced DIYer.
This plan does a great job of showing you everything you need to know to transform your environment into a stunning fairy garden, and it walks you through it all step by step!
---
13.

Mushroom Pot Fairy Garden by mod pod gerocks blog
| | |
| --- | --- |
| Materials: | Clay pots, paint, mod podge, wood accent pieces, wood slices, floral moss, outdoor glue, gnomes, fairies, and garden embellishments |
| Tools: | Paintbrush |
| Difficulty Level: | Easy |
Is there anything cuter and more classic than this mushroom pot fairy garden design? All it takes is a regular terra cotta pot, a little paint, and a little persistence, and you can create these classic fairy gardens for your décor.
Whether you want a decoration for a larger garden or want to use these as a standalone piece, they're as cute as it gets for fairy gardens!
---
14.

DIY Integrated Fairy Garden by crafts by amanda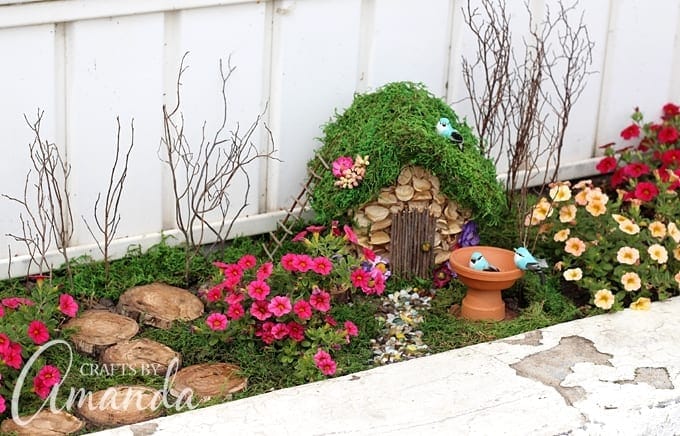 | | |
| --- | --- |
| Materials: | Wooden birdhouse, dried pots, twigs, silk flowers, moss, artificial birds, terra cotta tray, and a terra-cotta pot |
| Tools: | Hot glue gun and wire snips |
| Difficulty Level: | Moderate |
If you're like us, you want your fairy garden to seamlessly integrate into your existing outdoor décor. That's exactly what this guide walks you through how to do it. It gives you a ton of versatility on the smaller details, but that gives you the necessary creative freedom to come up with the perfect fairy garden for your outdoor décor.
---
15.

DIY Budget Fairy Garden by our hopeful home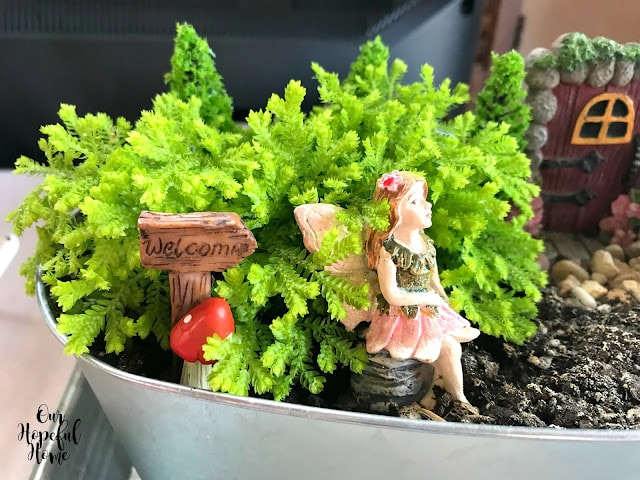 | | |
| --- | --- |
| Materials: | Container, moss, potting mix, succulents, floral designs, and small decorations |
| Tools: | None |
| Difficulty Level: | Easy |
Do you want a fairy garden but don't want to spend a ton to build it? If so, you're not alone. The great news is that this design walks you through everything you need to know to build this outstanding fairy garden even while you're on a tight budget.
In fact, if you already have some small succulents, a container, and a bit of soil, there's a good chance you can build this fairy garden without spending a dime.
---
16.

Creative DIY Fairy Garden by gardening
| | |
| --- | --- |
| Materials: | Planter, potting mix, plants, small wood birdhouse, natural materials, silk flowers, hot glue, paint, and mulch |
| Tools: | Scissors and a paintbrush |
| Difficulty Level: | Easy |
While this creative DIY fairy garden does a great job of walking you through everything you need to build it, there's a ton of creative flexibility in the design. You get to pick your own pot and some of the décor, which lets you match it with everything else you already have in your garden and outdoor décor.
It also means you can't simply rely on the guide without putting a little creative input into it.
---
17.

Garden Pot Fairy Garden by not just a housewife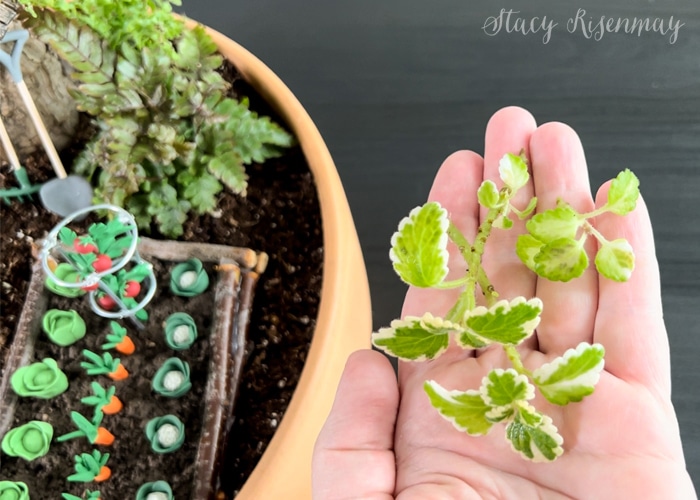 | | |
| --- | --- |
| Materials: | Planter/pot, soil, small plants, pebbles, fairy accessories, polymer clay, and popsicle sticks |
| Tools: | Hot glue gun |
| Difficulty Level: | Easy |
This is a classic garden pot fairy garden, which allows you to put a classic design piece into your existing décor. Even better, it's super simple to build, so you don't need to have super in-depth DIY skills to build it. In fact, as long as you have a hot glue gun and a good attitude, that's all you need to make it!
---
18.

Super Simple Fairy Garden by the spruce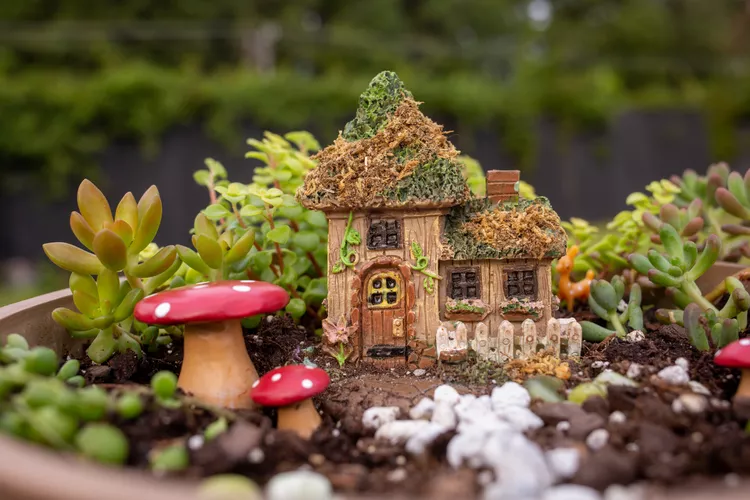 | | |
| --- | --- |
| Materials: | Varies |
| Tools: | None |
| Difficulty Level: | Easy |
Part of the fun of making your fairy garden is having the creative freedom to turn it into everything you want it to be. That's great because this guide doesn't walk you through any one individual design. Instead, it walks you through how to incorporate a few classic designs into any fairy garden you want to build.
It still gives you all the necessary materials for each option, but it also gives you the creative flexibility to build exactly what you want for your home!
---
19.

Classic Pot Fairy Garden by franz witte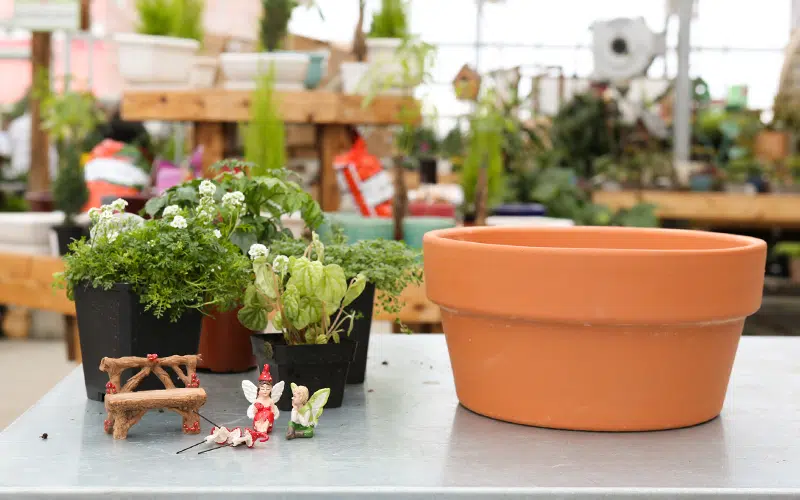 | | |
| --- | --- |
| Materials: | Terra cotta pot, small plants, soil, moss, rock, and fairy decorations |
| Tools: | None |
| Difficulty Level: | Easy |
This is another classic pot fairy garden you can build yourself by transforming a typical terra-cotta pot into a great-looking fairy garden. It'll be up to you to fill in all the finer details, but this guide walks you through the bigger stuff without forcing you into a cookie-cutter fairy garden you can't customize yourself.
It's easy to build, and you don't need any tools, making it the perfect DIY project for an amateur DIYer.
---
20.

DIY Indoor Fairy Garden by hgtv
| | |
| --- | --- |
| Materials: | Bark, interesting container, twigs, and craft supplies |
| Tools: | Hot glue gun |
| Difficulty Level: | Moderate |
Just because you're making a fairy garden doesn't mean you have a great spot outside to put it. If you want a fairy garden but need to put it inside your home, this DIY indoor fairy garden is just what you're looking for.
Not only does the guide do a great job of helping you make the fairy garden, but it also walks you through how you can make some great decoration pieces for the garden too!

Conclusion
Fairy gardens are an excellent way to add creative and fun decor to your yard or even inside your house. There's no need to break the bank buying professional fairy garden decor when making them yourself can be much fun.
You can customize the details of your fairy garden to suit your taste. Fairy gardens are popular among gardeners who want to plant a small garden but have minimal space and resources.
You can make them using natural materials and plants taken from your yard. Also, you can create different themes for your backyard or even indoors. The above plans are a great place to start.
You Might Also Enjoy:
---
Featured Image Credit: Jumpstory