16 DIY Fairy Garden Plans You Can Make Today (With Pictures)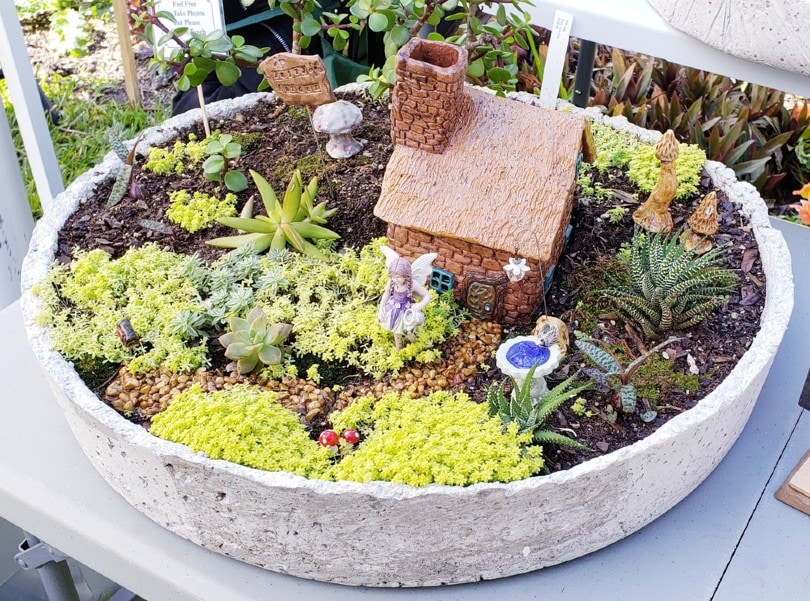 Fairy gardens are irresistible! They're fun for both kids and adults alike. So, if you're looking for an enriching activity that the whole family can enjoy, DIY fairy gardens might just be what you're looking for!
There's something special about creating miniature fairy gardens. They'll transport you immediately to a fantasy-like world of your own making. Whether it's a small flower pot filled with beautiful stones or larger planters, the imagination runs wild with ideas when trying to create your fairy garden.
And what's even more amazing is that these projects are simple enough for almost anyone to do. It means it could be a great learning project for school-aged children as well! So, whether you're a beginner or a seasoned gardener, there's always something new and inspiring to try.
Here are 16 DIY fairy garden plans you can make today to help you get started.

The 16 DIY Fairy Garden Plans
1.

Tiny Teardrop Camper
| | |
| --- | --- |
| Materials: | Watercolor paints, wood, and paper |
| Tools: | Adhesive or glue for wood or paper, paintbrushes, craft knife, pencil or lead pencils, ruler or straight edge, and scissors |
| Difficulty Level: | Easy |
This tiny Teardrop Camper Fairy Garden is the cutest thing! It's got a little fire pit, some flowers, and a tiny table. And, of course, it's got a tiny teardrop trailer that you can make from scratch. It's an excellent project for kids to do as well!
The detailed DIY plan features a whimsical tiny home on wheels complete with solar panels, an outdoor area rug, metal chairs, and even a screened door that opens and closes.
The teardrop camper looks just like a real one, only smaller. The instructions are easy to follow, and there are great pictures of each step. You can make this one yourself in just one afternoon.
---
2.

Fairy-Sized Tractor
| | |
| --- | --- |
| Materials: | Small stones and pebbles, coarse sand such as play sand, and a small piece of wood for the base |
| Tools: | Drill with a 1/8th inch drill bit and sandpaper |
| Difficulty Level: | Moderate |
You're just in time for spring! This flowerbed tractor is an excellent way to add some color to your fairy garden. It's made of polymer clay and features an awesome paint job.
The Fairy-Sized Tractor fairy garden plan is for you if you enjoy making miniature figurines. A homemade tractor is the focal point of this DIY plan. But there are plenty of other elements that will keep you busy, including a birdhouse and stepping stones.
For a whimsical fairy garden plan, use this tractor idea. You can use an old toy for the structure or order a miniature from Amazon. Then, add the plants and magic!
---
3.

Barn and Silo
| | |
| --- | --- |
| Materials: | Small rocks, sand, and gravels |
| Tools: | A small trowel or spade, scissors, a small watering can, and a spoon or knife (optional) |
| Difficulty Level: | Easy |
This DIY fairy garden plan is fun because it includes a little barn and silo for your gnomes to play in. It also has some great mushroom mountings that fit perfectly with the woodland theme.
This is one of the more complex fairy gardens on this list, but it shouldn't take you too long to build if you have the supplies at hand.
You can make this using wood. You can even save money by using reclaimed wood for the base or building it all out of cardboard. If you have limited space in your yard, this is an excellent option because it fits right onto your porch or balcony.
---
4.

Babbling River
| | |
| --- | --- |
| Materials: | Aquatic plants, aquarium rocks, moss, and glue sticks |
| Tools: | Small flat-head screwdriver, wire snips/cutters, needle-nose pliers (optional), scissors, and hot glue gun |
| Difficulty Level: | Beginner |
Babbling River fairy garden is perfect for the beginner. It includes a house, bridge, and plants.  It's an excellent way to recycle an old birdbath. It has a river running through the center. The river is made from clear marbles. But you can also use sea glass for a more natural look.
There are many rocks and some great little trees that you can make. It's such a fun garden to build, and the whole family will enjoy helping with the project. You can make this babbling river fairy garden in a large planter or even a large bowl.
---
5.

Farmer's Market
| | |
| --- | --- |
| Materials: | Large flower pot, potting soil, plants and flowers, miniature fruits and vegetables, miniature farmer's market sign, and small table and chairs |
| Tools: | Shovel, pruners, and a trowel |
| Difficulty Level: | Easy |
Everyone needs to eat, and even fairies need to go to the farmer's market for something fresh! This fairy gardening idea is perfect if you have some play food around the house. You can use a wide range of fruit and veggies for this. But apples, tomatoes, carrots, and peppers are the best options. They look great and will last a long time.
This farmer's market fairy garden has all that your fairy loves to do! There's a market stand for her to sell her goods and tables for her to relax. Also, there's a water pump for the days when it gets hot outside.
---
6.

Fairy Garden Chicken Coop
| | |
| --- | --- |
| Materials: | A chicken coop, a wide range of small plants, potting soil, moss, pebbles, rocks or wood chips, and small figurines |
| Tools: | Drill, a pair of scissors, watering can, and a wire cutter |
| Difficulty Level: | Moderate |
This whimsical miniature chicken coop is more like a mini house than a traditional chicken coop, but it's the perfect place for your fairies to nest.
If you love the thought of a fairy garden but don't think you have enough space, this adorable little chicken coop plan is just what you need.
This isn't a real chicken coop and is too small for an actual chicken. But it's the perfect size for a fairy garden.
---
7.

Teacup Fairy Garden
| | |
| --- | --- |
| Materials: | A small teacup, planting media such as potting soil or cactus mix, small plants such as succulents or herbs, fairy garden accessories such as a birdhouse, fountain, or fairy figurines, and moss |
| Tools: | Spoon, butter knife |
| Difficulty Level: | Advanced |
Before you let your teacup and saucer collect too much dust in the cupboard, transform them into a charming fairy garden! Take a trip back in time with this super cute teacup fairy garden.
This project is quick to assemble and easy to maintain. The teacup provides a quaint place for the little fairies to live. The moss and plants make it look like it's been there for years.
This would be an excellent addition to your front yard as a conversation starter or maybe as a centerpiece on your kitchen table.
---
8.

Fairy Garden Pedestal
| | |
| --- | --- |
| Materials: | A pot with a hole in the bottom, a shallow bowl, rocks, broken pottery, or gravel, potting soil, plants, and decorations for your fairy garden |
| Tools: | Pencil, drill bit, tape measure, nails, hammer, screws, and a screwdriver |
| Difficulty Level: | Moderate |
A fairy garden pedestal is a delightful way to display your favorite fairy garden. It's a conversation piece. It will add interest to even the smallest of spaces. This project is easy, fun, and inexpensive!
This beautiful pedestal fairy garden is built upon a raised stone base. It has a tiny pond, bridge, and garden path that lead to a miniature cottage surrounded by lush plants and greenery.
Also, you can make it in a terracotta pot, but it's not the usual kind of pot you see. Instead, it's a tall pedestal planter. It's perfect if you want to make a vertical fairy garden.
---
9.

Miniature Flower Pot Fairy Garden
| | |
| --- | --- |
| Materials: | Flowerpot with a drainage hole, soil, moss, two small rocks, miniature plants, a small wooden picket fence, and miniature fairy garden accessories |
| Tools: | Scissors or a knife, hot glue gun and glue sticks, paintbrush, a spray sealant (optional) |
| Difficulty Level: | Advanced |
You can grow a little fairy garden in a flower pot. It's easy to do, and it's great for small spaces or as a way to get kids involved in gardening. Just use some dirt and your favorite miniature plants to create a charming little garden that will attract fairies.
This miniature garden is perfect for those who want to put together a fairy garden without putting in a lot of work. All you need is a pot and a small plant. You can use whatever decorations you have on hand.
If you're looking for a portable fairy garden, a small flower pot makes a perfect home. Also, this project is excellent for beginners.
---
10.

Birdhouse Fairy Garden
| | |
| --- | --- |
| Materials: | Birdhouse, two cedar shingles, three small to medium logs or round branches, moss, gravel or sand, small cover plants, and succulents or small houseplants |
| Tools: | Spade, pliers, shovel, and pencil |
| Difficulty Level: | Beginner |
A birdhouse fairy garden is an excellent way to combine your love for gardening, bird-watching, and all things magical. It's a great fairy garden container perfect for adding a miniature world to your front porch or back deck.
Little ones will love this sweet little birdhouse-turned fairy home! It's the perfect size for tiny hands. Also, it's an excellent way to teach your children about the importance of leaving space for wildlife in our gardens.
It's also easy to put together. The small birdhouse doubles as the home, while you can use moss as grass and add flowers and other greenery to make it look like a real garden.
---
11.

Magical DIY Fairy House Planter
| | |
| --- | --- |
| Materials: | A wooden planter box, garden soil, potted plants, fairy house ornaments, moss, rocks, and other fairy garden accessories |
| Tools: | Small glass bowl or jar, paintbrush, white paint, hot glue gun, and glue sticks |
| Difficulty Level: | Easy |
This is a miniature version of the magical world full of tiny creatures and houses. You can recreate this magical fairytale world in your backyard or patio through a DIY fairy garden.
The world of fairies is not just for kids; you can even create a fairyland for yourself! If you have a small space in your backyard or on your balcony, you can use it to create a perfect DIY fairy garden.
It's an excellent project for those who have a small patio or steps that need some beautification. You can make this cute fairy garden planter using several items you may have on hand. Buy from a flower shop if you don't have the plants to complete this fairy garden.
---
12.

Pinecone Fairy House
| | |
| --- | --- |
| Materials: | Fine glitter, paper plate, one pinecone (about 4 inches tall), small twig, one small silk flower, and two bead caps with holes |
| Tools: | Hot glue gun, hot glue sticks, and scissors |
| Difficulty Level: | Moderate |
You can make a pinecone fairy garden in a matter of minutes. This beautiful DIY fairy house is easy to make. You can create one in a pot or the ground. Use some of your kids' favorite toys as accessories and they'll have tons of fun playing with them after you're done.
The house is made from a pine cone. But you can use any small log or even a cardboard box to create a mini structure.
There are also some cute little plants and flowers surrounding the home, which is fun for the kids to help you plant.
---
13.

Tree House
| | |
| --- | --- |
| Materials: | Fairy Garden Accessories, potting soil or compost, plants of your choice, small pebbles or gravel, and moss |
| Tools: | Glue gun, glue sticks, sandpaper, and a hammer |
| Difficulty Level: | Easy |
If you have a tall tree in your backyard with sweeping branches, you can create a magical fairy garden on the trees. This DIY fairy garden plan includes the tree and a garden swing for fairies to enjoy the view.
With a little bit of DIY expertise and some simple supplies, you can create this stunning treehouse fairy garden. It has a real rustic feel, with all the trimmings you'd expect to find in a magical place.
While this is a larger project, it's cheap and easy to make. This treehouse is made from a terracotta planter, broken pieces of pots, and other odds and ends. You can use materials you have at hand or pick up a few items from the craft store.
---
14.

Summer Escape Fairy Garden
| | |
| --- | --- |
| Materials: | A container, potting soil, small plants (succulents work great), moss, gravel, and decorative items for your garden (small figurines, rocks, sticks, and stones) |
| Tools: | Easy |
| Difficulty Level: | Sandpaper, caulking gun, and scissors |
Fairy gardens are a fun way to get children interested in gardening. They can also be a great way to recycle some of your junk! This one is especially fun for the beach-lover in your life.
This DIY fairy garden is a summer-inspired theme. It can be an adorable addition to your garden or patio decor. The idea is simple, but it's loaded with fun features.
You can use a large flower pot or the hollowed-out stump of a small tree for this project. It makes it an excellent choice for those looking for DIY fairy garden plans for the outside.
---
15.

Enchanted Fairy Garden
| | |
| --- | --- |
| Materials: | 8-inch clay pot, terracotta saucer, potting soil, flat river rocks, moss, and pebbles |
| Tools: | Scissors, a hammer (for nails), a drill (for screws and holes), glue gun, and glue sticks |
| Difficulty Level: | Advanced |
Most of us are guilty of having too many trinkets, knickknacks, and just plain old junk to deal with. But this fairy garden plan is the answer to your problems.
Create this whimsical fairy garden with your child. Then, use it as a way to display all of those gifts you've been given or other items that you just can't get rid of.
You won't need any special equipment or tools to make this plan happen. You should only have some cute little trees, a house, and other decorations that you may have at home.
---
16.

Broken Pot Fairy Garden
| | |
| --- | --- |
| Materials: | A pot, a broken pot saucer, plants, succulents, moss, pebbles, stones, or rocks, and fairy figurines |
| Tools: | Wire cutters, 2-inch wood hole saw, drill, jigsaw or reciprocating saw (optional), and sandpaper |
| Difficulty Level: | Easy |
This idea of a broken pot fairy garden is creative. You can do it using several different pots and plants. It looks like you can use any broken terracotta pots for the house or other building, so you can make it as large or small as you want.
You will need some plants to fill out your little fairy world. Don't forget the fairy door and some furniture for your little friend to sit on.
It's such an eye-catching way to make a fairy garden. Everyone will love seeing it in your yard. Once you get started with this one, you may need to make one for each of your kids.

Conclusion
Fairy gardens are an excellent way to add creative and fun decor to your yard or even inside your house. There's no need to break the bank buying professional fairy garden decor when making them yourself can be much fun.
You can customize the details of your fairy garden to suit your taste. Fairy gardens are popular among gardeners who want to plant a small garden but have minimal space and resources.
You can make them using natural materials and plants taken from your yard. Also, you can create different themes for your backyard or even indoors. The above plans are a great place to start.
See Also: 6 Amazing DIY Toad House Plans for Your Garden
---
Featured Image Credit: Nikki Hirschmann, Shutterstock