6 DIY Garden Arbor Plans You Can Make Today (With Pictures)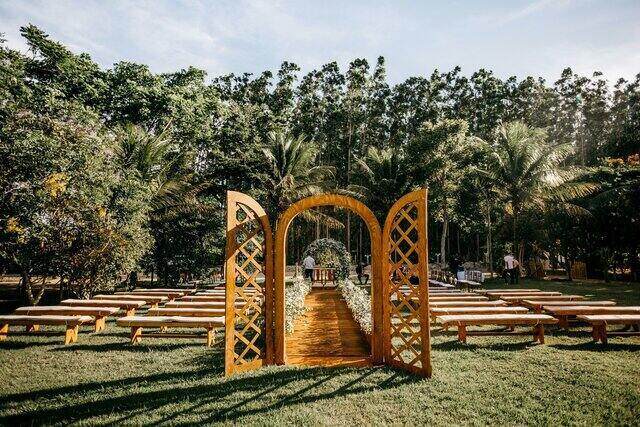 Arbors are an essential part of any garden, and they add a touch of curb appeal to your garden. You can have practical arbors designed to support fruiting plants or more fancy ones that support vines and create a tropical portal. Arbors aren't terribly difficult to build as long as you have some DIY experience under your belt. Even if you don't, it's as easy as following a guide.
No matter the style you're going for, there's an arbor for every garden. Let's explore some of the garden arbors you can DIY today, what you need, and how to go about building them.

The 6 DIY Garden Arbor Plans
1.

Arched DIY Garden Arbor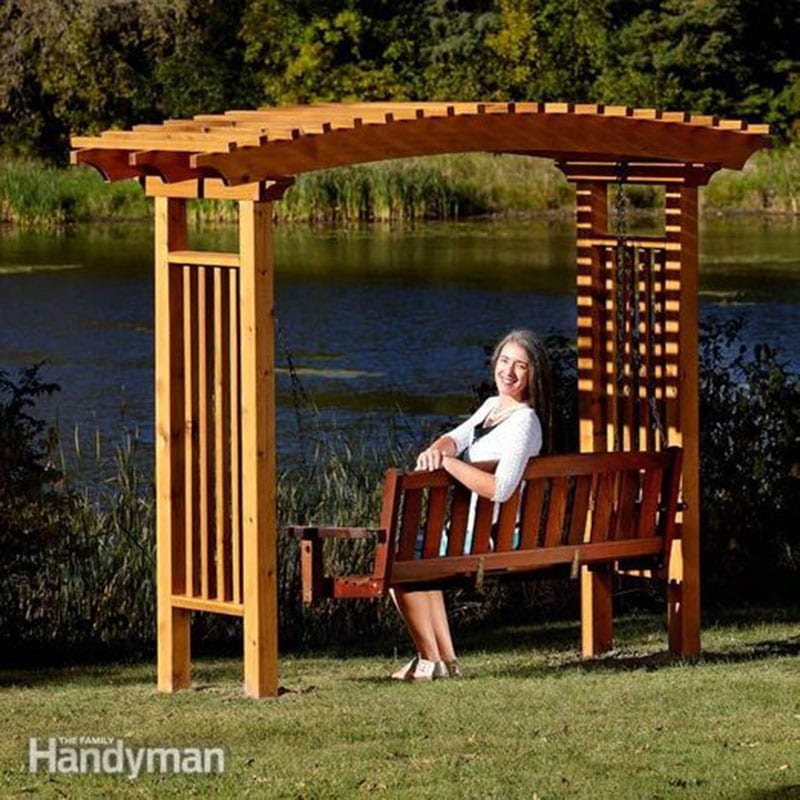 Materials: Wood, screws, concrete
Tools: Circular saw, jigsaw, drill, miter saw (optional but helpful), wheelbarrow, belt sander, chalk, pencil/marker, post hole digger
Difficulty: Expert
This classically elegant arbor has a swing for you to relax on and enjoy the scenery you've grown. You might be intimidated by installing a swing on top of the arbor, but it's not as difficult as you may think. Still, this is ideally for people with a bit of DIY familiarity, because it does require handling tools and cutting wood to spec.
The plan calls for cedarwood but notes that you can use pressure-treated lumber instead at a fraction of the cost, which is probably a good idea if you're on a budget.
---
2.

Timber Frame Garden Arbor
Materials: Wood, screws, concrete
Tools: Circular saw, handsaw, jigsaw, drill, chisel, belt sander, tape measure, pencil/marker, chalk, post hole digger
Difficulty: Intermediate
This rugged arbor has two benches for you and your loved ones to relax and enjoy the Zen ambiance of your beautiful garden, and it's not even that difficult to build. As with any woodworking project, though, it does involve multiple types of saws and other power tools. Be certain you know how to operate these kinds of tools safely and properly before committing to the project.
This project calls for pressure-treated lumber, and it's important to watch out for deformed wood when material shopping. You want dry wood that's free of dents, knots, large cracks, or twists.
---
3.

Metal Garden Archway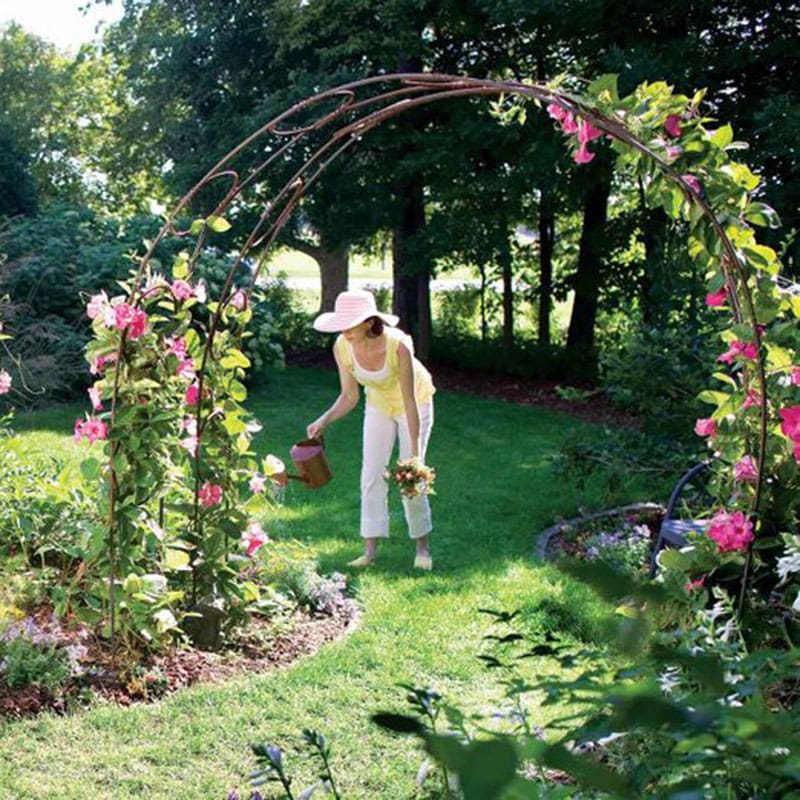 Materials: 18-gauge copper wire, cable ties, rebar,
Tools: Chalk, clamp, conduit bender, handsaw, pencil/marker, mallet, twine, tape measure, post hole digger
Difficulty: Beginner
Don't jump ship at the mention of metal — this DIY arch doesn't involve welding or any other complicated tools. In fact, this project is extremely beginner-friendly for anyone who doesn't want to mess with power tools. The most strenuous part is cutting the rebar to length, to be honest.
When complete, this arch is the perfect way to add a rustic charm to your garden. For best results, cover it with climbing vines or ivy!
---
4.

Twisted Sapling Arbor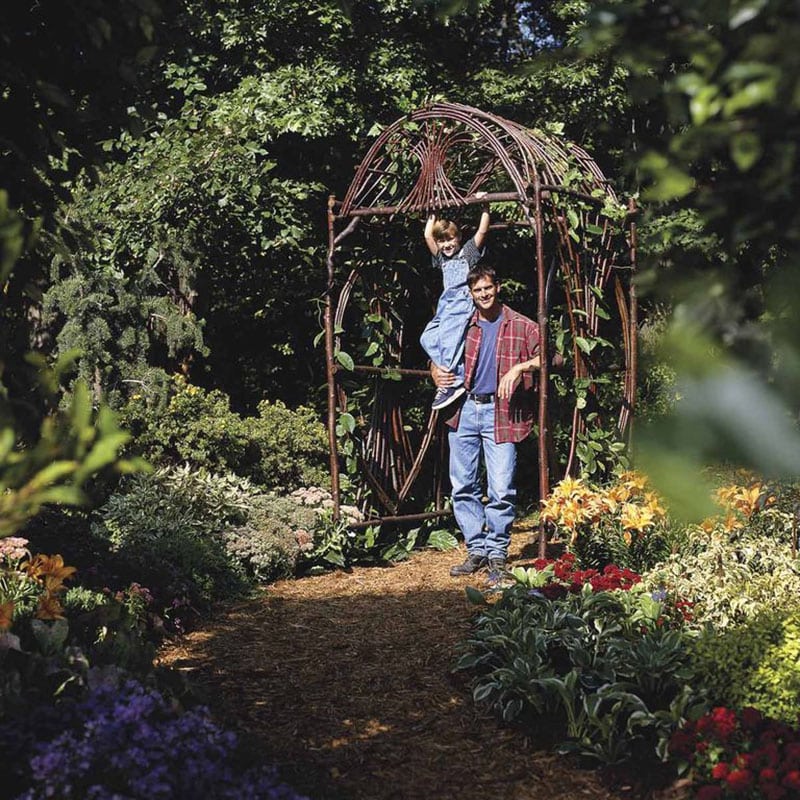 Materials: Saplings, galvanized drywall screws, perforated drain tile, gravel, nails
Tools: Hammer, drill, spray paint, post hole digger
Difficulty: Expert
To get in touch with nature, consider creating your own twisted sapling arbor. This is a very ambitious undertaking that requires some experience with live wood, which behaves differently from processed lumber. Using saplings is key because they have a great deal of flexibility, which you'll be using to bend them into arches, crossbars, and other critical structural components.
Because of the complex nature of working with live wood, we don't recommend this one for beginners unless you have an experienced partner to walk you through the finer parts of the work.
---
5.

Grape Arbor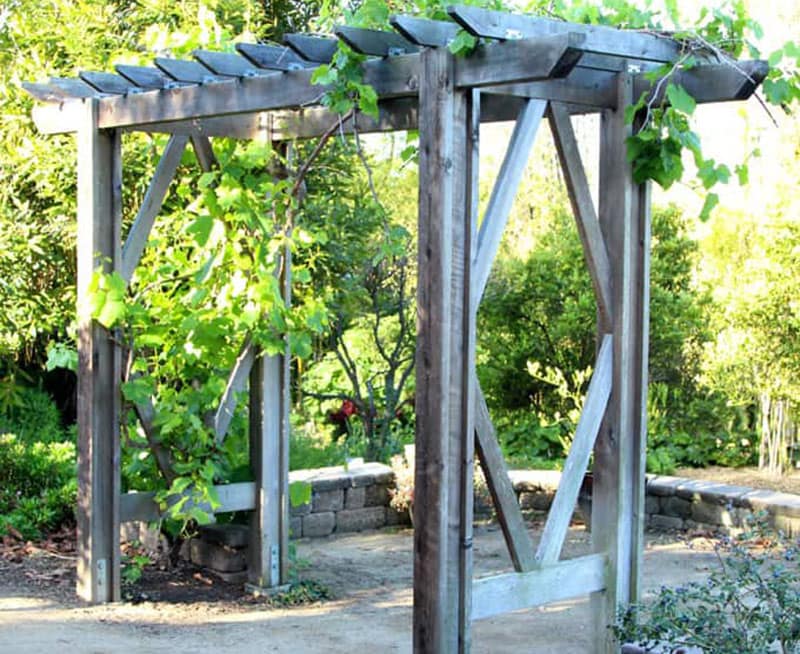 Materials: Wood, concrete, screws, runners,
Tools: Drill, post hole digger, circular saw, pencil/marker, tape measure
Difficulty: Beginner to intermediate
This simple grape trellis is relatively simple to construct on a weekend afternoon and provides a great shady area to relax when you're finished. Use this trellis to grow grapes, roses, or any other climbing plant.
If you want something easy to build for your plants, this is one of the best options to start with. You can move on to more complex trellises when you have a more solid idea of what type of aesthetic you want for your garden.
---
6.

Copper Trellis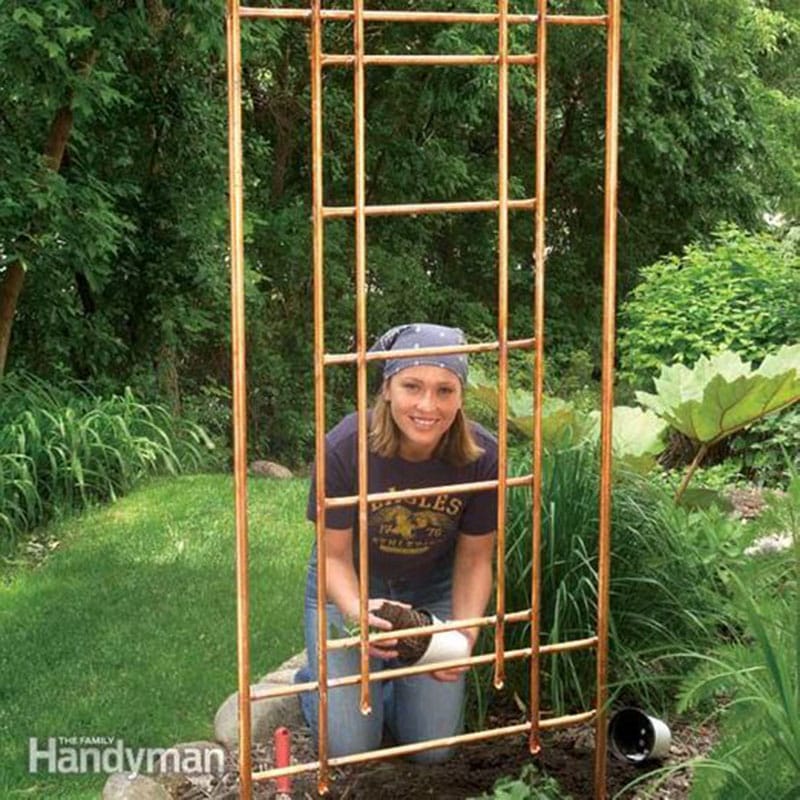 Materials: Copper pipe
Tools: Propane/MAPP torch, emery cloth, soldering gear (solder, gun, flux, etc.), hammer, handsaw, electrical conduit, steel wool
Difficulty: Expert
For a more ornate twist on a classic trellis, this copper trellis offers a sumptuous yet natural alternative to wood arbors. If you despise woodworking and happen to be a dab hand at soldering, this is the perfect trellis for you.
This copper trellis plan uses a repeating ladder design, but you can customize that with more arches or other fancy trimmings if desired. As long as your metalworking skills are up to snuff, you can create any number of styles.

Conclusion
Trellises are an essential addition to any garden, and there are numerous styles you can choose from. Whether you want something plain and functional, something natural-looking, or virtually anything you can dream up, you can probably build it yourself.
---
Featured Image Credit: Jonathan Borba, Pexels