7 Amazing DIY Folding Stairs You Can Construct Today (With Pictures)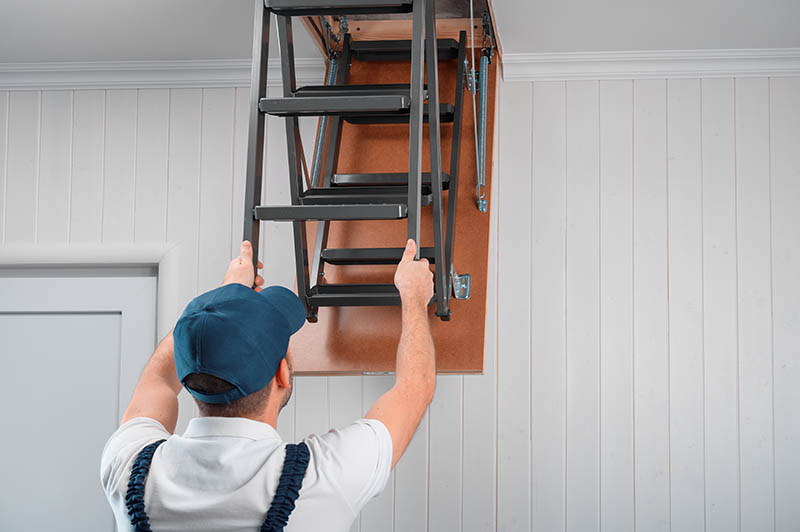 Every square inch of living space matters, especially if you live in a tiny flat or apartment. Moving bulky items like furniture or luggage up and down your house is also challenging. But with a little creativity, you can build retractable folding stairs for attics, lofts, galleries, and bunk beds.
The latest trend of folding stairs is catching on, as they can be easily folded and stored away when not in use. It's a fixture that also acts as a focal point for your décor, except that installation prices may make you shy away from this functional idea.
While there are benefits to buying folding staircases, you can save money and take on the job of building yourself a set with plans proliferating the web. You'll make the most of your space while leaving it accessible.
Here are the DIY folding stairs you can construct today:

The 7 DIY Folding Stairs
1.

DIY Folding Loft Stairs by Do It Yourself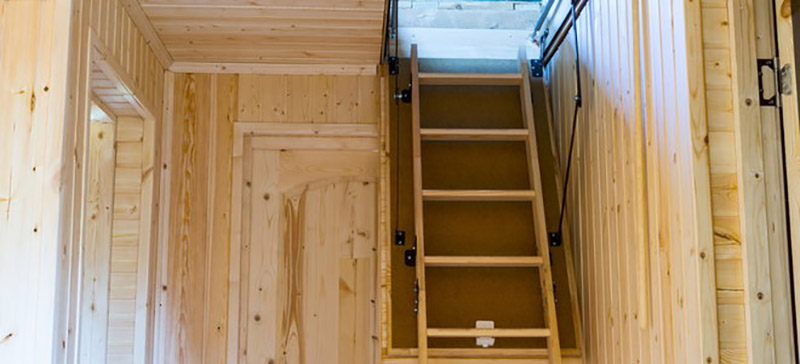 | | |
| --- | --- |
| Materials: | Wood panels, teak screws, hinges, trim board, plywood |
| Tools: | Circular saw, drill, bits, impact driver, nails, screws, hammer, tape measure |
| Difficulty Level: | Moderate difficulty and requires advanced carpentry skills |
You can access your walk-in attic or loft using folding loft stairs, which also create extra storage space in your living area. The plan design allows you to install the staircase in any room for accessing the space above, whether as an extra bedroom or storage space.
It's easy and quick to install folding loft stairs using their simple instructions as a DIY project for your home. You'll create this piece from materials like wood, metal strips, plywood, or tough plastic, so it's robust enough to hold maximum weight.
The procedure involves many precise measurements and drilling, but you can opt for a pre-assembled set. You'll also need the best position on your wall or ceiling so that the retractable ladder pulls up and down without obstacles.
---
2.

DIY B Compact Hybrid Stairs by Good Design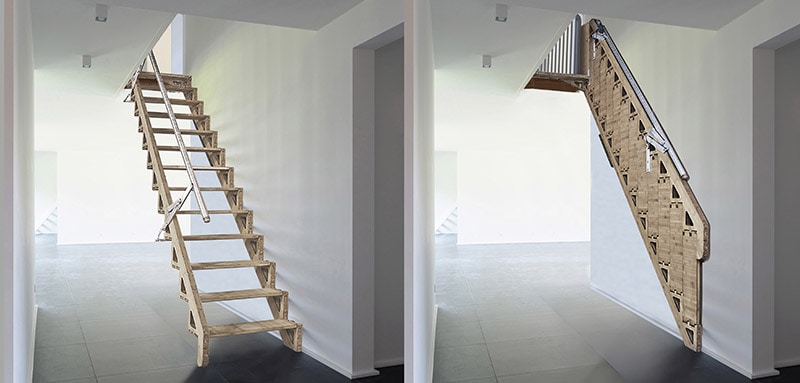 | | |
| --- | --- |
| Materials: | Modular pieces of precise bamboo composite wood cuts, hinges |
| Tools: | Screwdriver, tape measure, installation instructions |
| Difficulty Level: | Easy |
An award winner, the B Compact Hybrid Stairs is a space-efficient and easy-to-install modular staircase made with a steel frame and aluminum thread. These stairs are convenient and sustainable, fitting effectively in any space. The frame and treads have spring connections that offer flexibility.
The stairs are side-folding, so they attach to the wall, and the bi-folding handrail makes it easy to close and reopen them. You can also add a sprung closing gate as a safety catch so you'll never leave the upper end open while in storage.
The innovative B Compact Hybrid stairs have won awards, including the Dutch National Design Prize in 2001 due to their ability to fit in unconventional spaces. All these sets are customized and handmade, and their height will vary according to your requirements. However, lengths come between 3.11 feet to 11.15 feet with a standard width of 28.15 inches, but narrow variants of 22.63 inches are available.
These foldable stairs are made of bamboo, a composite ply material that is lightweight, highly flexible, and sustainable. You can install them outdoors, but be sure to treat the materials with a suitable finish.
---
3.

DIY Flat-Pack Stair by World Architects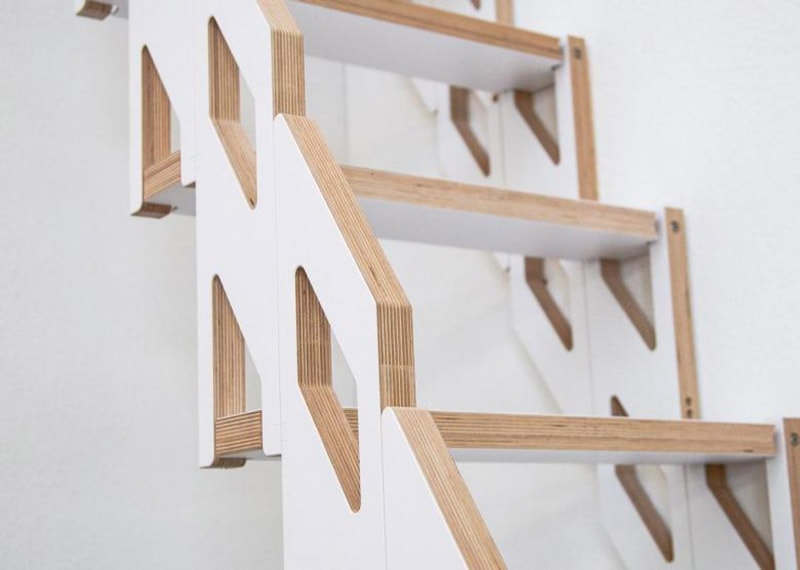 | | |
| --- | --- |
| Materials: | Modular pieces, rope, hinges, lever arms |
| Tools: | Screws, nails, drill, drill bits |
| Difficulty Level: | Easy joinery and installation |
The A Flat-Pack Stair, also called the Leapster, is a space-saving staircase that folds neatly against the wall when in storage. Its modular system suits city flats and apartment dwellers due to its customizability and effectiveness.
The stairs come flat-packed, accompanied by detailed DIY manuals and installation instructions. Depending on the model, you can master building this staircase with little crafts skills as the set is sized according to its dimensions.
The Leapster folding staircase has three variations: the Slim, Ultra-light, and Comfort. Step depth on these models starts from 5.1 and 3.9 inches deep to depths of 7.28 inches.
One downside of the Klapster Stair is pricing, as the comfort model costs nearly $3,000, while the Ultra-light is priced half that much. Installing the A Flat-Pack Stair requires joining up the pieces with adjoining stringers like a puzzle and then lifting the staircase.
---
4.

DIY Eclettica Folding Stairs by In The Know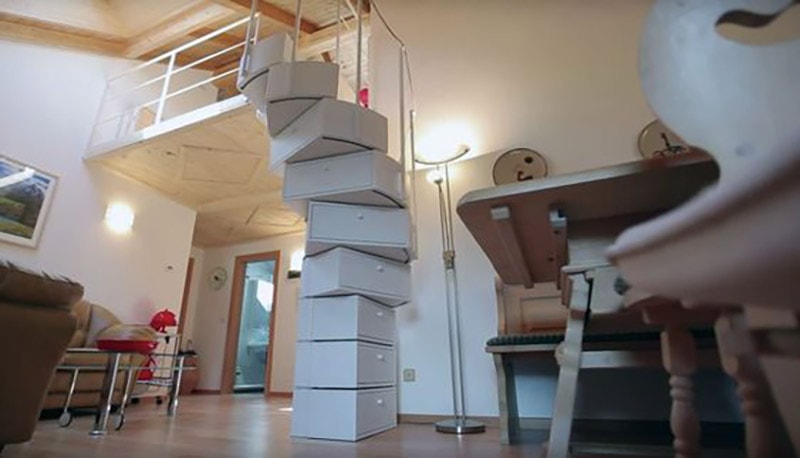 | | |
| --- | --- |
| Materials: | Modular stair pieces, install instructions, rope, hinges, pivot arms |
| Tools: | Drill, screwdriver, hammer |
| Difficulty Level: | Moderate difficulty in joinery and installation |
Soluzioni di Ferro or "Iron Solutions," is the Italian company responsible for the Eclettica Folding Stairs design that's eye-catching and multifunctional. It looks like a stack of containers that manually or automatically transform into the twisting and turnings of a straight or spiral staircase.
While some models come with blocks and runners, Eclettica folding stair steps can serve as storage space for shoes, books, or wine. There's a rope safety handrail, and the vertical adjustment mechanisms let this staircase fit different ceiling heights.
The Eclettica design is equally versatile, as you can integrate different decorative panels with various colors or even mirrors or picture frames. While easy to install for straight stairs, its spiral system involves intricate construction and assembly.
---
5.

DIY Attic Stairs by The Craftsman Blog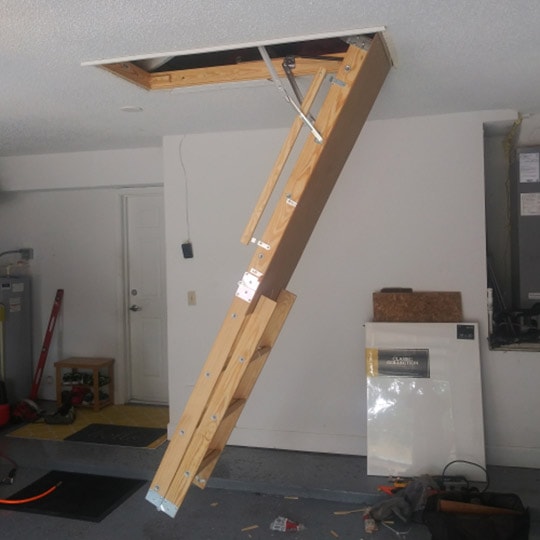 | | |
| --- | --- |
| Materials: | Wood casing or trim pieces, steel lag bolts and nuts, shims, 2 1×4 boards |
| Tools: | 2 ½" screws, impact driver, tape measure, hand or jigsaw, angle finder |
| Difficulty Level: | Moderate DIY expertise required |
You can either build or purchase to install a pull-down ladder to act as a DIY attic staircase, especially if you have an access panel in the ceiling. Depending on the size and function of the stairs, you can source a lot of the materials needed in any big box or home improvement store.
Typically, your foldable attic stairs will consist of two or three parts that fold into themselves for storage in the attic. You'll do many measurements to cut the wood pieces.
Use the retractable attic stairs plan for direction in cutting pieces and attaching the steps for uniformity, robustness, and safety. It's necessary to have a second pair of hands when mounting this project, especially as you're installing it high enough, so it's pulled down without obstructions.
Once finished, you can apply two to three coats of a water-based wood sealant and polyurethane paint finish. If your foldable attic stair's length touches the floor, ensure that you've set the base with rubber contacts for excellent functionality and durability.
---
6.

DIY Bunk Bed Foldable Wood Stairs by Instructables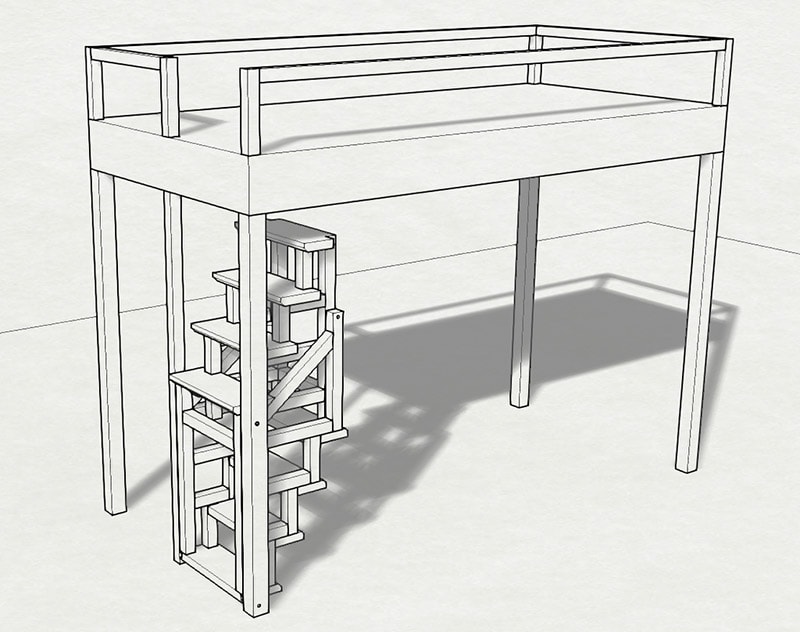 | | |
| --- | --- |
| Materials: | Wood pieces, hinges, screws, and nails |
| Tools: | Reciprocating saw, hammer, drill, utility knife, tape measure, flat pry bar |
| Difficulty Level: | Moderately difficult, requires precision carpentry skills |
Perfect for bunk beds, Bunk Bed Foldable Wood Stairs aren't very complicated to build and are perfectly safe for your kid's room. They're easy to install using readily available wood materials to allow your child to have fun while getting in and out of bed, plus they save space.
Following excellent crafts blueprints, you can fold your bunk bed foldable wood stairs into a nightstand or under the bed. Ensure the wood material you settle on is robust and flexible, with building-wide steps sturdy enough to support the weight of an adult.
Another version of bunk bed foldable wood stairs folds into the bed frame, but that requires precision on all the joints, openings, and individual movements. Your staircase must also have a locking mechanism, as it shouldn't move horizontally when pushed or weight is applied.
---
7.

Smart DIY Folding Staircase by Instructables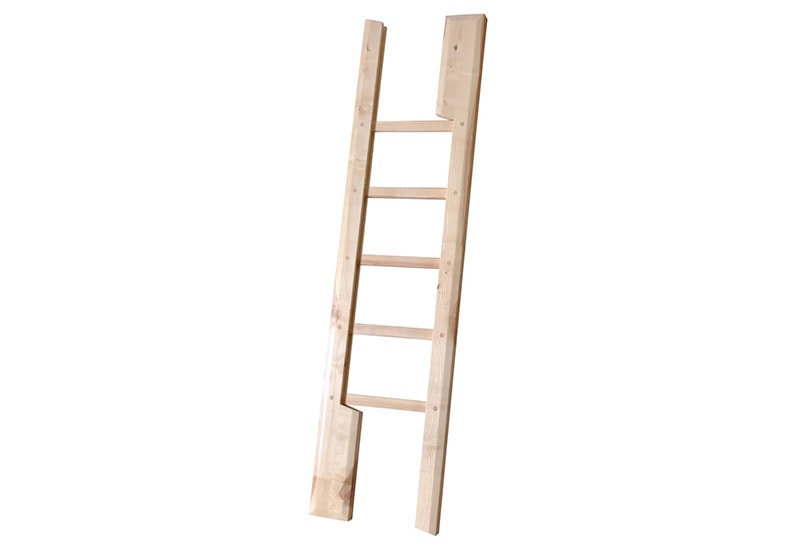 | | |
| --- | --- |
| Materials: | A-frame wood panels, hinges, hydraulic arms, rubber covers |
| Tools: | Angle finder, hammer, drill, utility knife, tape measure, flat pry bar |
| Difficulty Level: | Moderate but skilled installation required |
While designs will vary, a smart folding staircase adds mobility for safer home access. It is a low-maintenance solution, and it doesn't keep dirt and grime like traditional stairs. It's a practical woodworking project that adds accessibility to your patio, deck, or front and back porches.
Smart folding stairs are a space-saving idea that allows you to maximize the available yardage while creating efficient storage areas under or over the staircase. Your DIY foldable stairs project takes available plans and web instructions, and other resources to create it as modified to your living area.
Many smart folding staircase designs feature a reducing pivot of either rung alongside the stiles or returns to give folds that help open and put the staircase away. Its construct involves wood, aluminum, or other material that can safely handle a person's weight when going up or down the desired elevation.
A DIY project of this nature consists of the typical furniture-making processes, with steps that involve accurate marking and cutting to lay a successful foundation. For instance, for the rungs, you can choose a resilient wood like hickory, oak, or ash for their ease to machine and durability. Your stiles or columns can be of aluminum to keep down the overall weight of your staircase.

Factors to Consider When DIYing Folding Stairs
As a space-saving hack, folding stairs are convenient, easy to build, and beautiful. You can either mount your DIY retracting staircase against the wall, on an attic hatch, or hide within a ceiling or loft segment. While they aren't used all the time, your folding stairs must focus on quality and whether they'll suffice for the amount of expected use they'll receive. Your retractable ladder must hold enough weight and withstand the wear that results from being folded and unfolded.
Remember that your DIY folding stairs should comply with prevailing building and safety standards for code valuations and insurance purposes. While easier to build and install than pull-down ladders, a folded staircase can prove unstable and less durable if not well-built.
You'll find plans and instructions that contain step-by-step instructions and a definitive list of tools, including saws, tape measures, drills, hammers, and wood glue. Many folding stairs designs for DIY will require that you have moderate to excellent skills in carpentry, joinery, machining, or working with materials like aluminum and steel. You'll also need to work in tight spaces, especially when installing staircases that pull down from walls and ceilings.
Benefits of DIY Folding Stairs
Besides saving money, constructing DIY folding stairs is a hobby that helps create a unique customized look for your living space. You'll also pick the materials that you see fit, whether concerning compatibility with your house's décor, sustainability, or availability.
When you build your DIY folding stairs, you have control over their size, depending on the parameters of the space you're installing. Besides having a staircase that fits your plan, you can decide how steep, shallow, or deep the stair's rungs and elevation are, and you can adjust to your unique situation.

Conclusion
Folding stairs are a brilliant DIY project that showcases your ingenuity with construction skills and is easy to install within a day. You can have your staircase made of wood, metal, or plastic or have a mix of functional and durable materials to ensure rigidity and safety.
Add efficient access to your living space areas like lofts, attics, or the top bunk in your child's bed. DIY folding stairs projects are best done with a helper. It's a fun family activity that can involve everyone, including the kids.
See also:
---
Featured Image Credit: Malikov Aleksandr, Shutterstock