14 DIY Zen Gardens Plans You Can Make Today (With Pictures)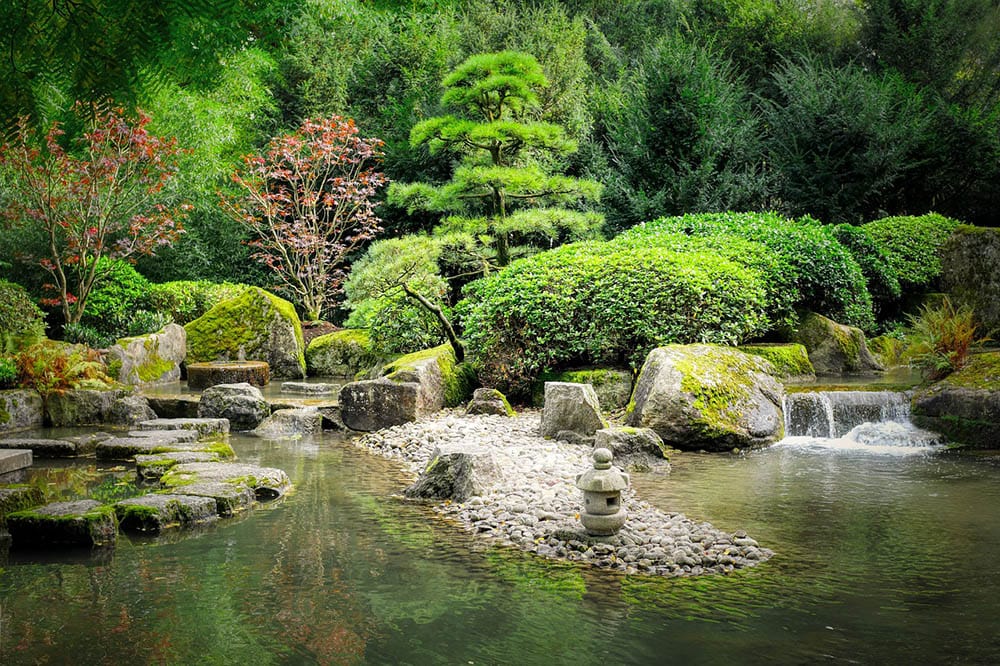 Native to Japan, Zen gardens date back to the 13th century and are known for their unique, miniature style. Gravel, sand, water, and moss are at the heart of any Japanese Zen garden. If you're a big fan of the Buddhist philosophy of harmony, tranquility, and unity with nature, the following DIY plans will be right up your alley! They are all (relatively) cheap, user-friendly, and look the part.
And you won't have to spend thousands of dollars or hire contractors to build them. After going through hundreds of different ideas and concepts, we picked 14 DIY Zen garden projects that you can make right now. Pagodas, bamboo fences, brides, and stone pathways are just some of the exciting plans that we'll cover!

The 14 DIY Zen Gardens Plans
1.

Small DIY Bridge
| | |
| --- | --- |
| Materials Needed: | Hardwood planks, treated pine post, wood nails + screws, bendable conduit, paint/stain |
| Tools Needed: | Circular and jigsaw, pencil, brush, electric drill + bits, screwdriver, hammer, wood clamps, wood planer |
| Difficulty Level: | Moderate |
A short, large wooden bridge with big handrails is one of the biggest symbols of Zen gardens. And you can build it manually without hiring any third parties. You will need a saw, drill, hammer, and screwdriver, along with a planer and clamps. As for the materials, get some hardwood planks, a set of screws, and a conduit. When built from hardwood and stained, these bridges last for many years.
The hardest part of the small DIY bridge plan is making an even, perfectly-shaped archway, but if you use the guide nail technique, it will take little effort to form the arches. At a moderate pace, you should finish this project over the weekend.
---
2.

Spiral Rock Garden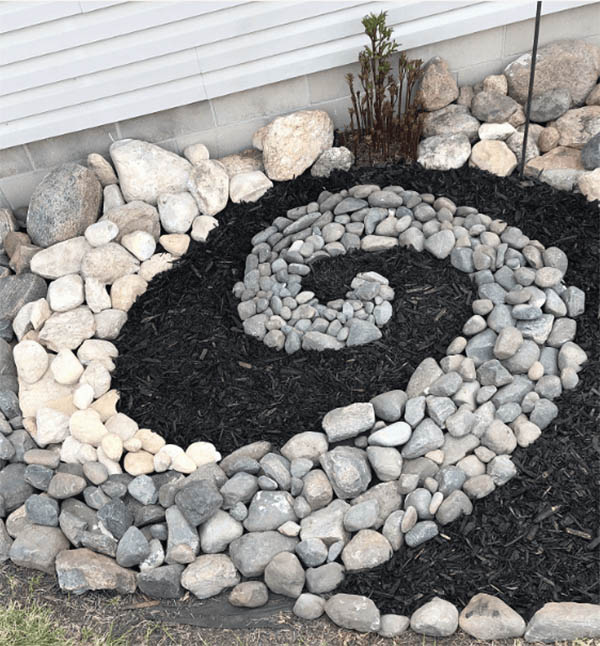 | | |
| --- | --- |
| Materials Needed: | Landscape bark, landscape fabric, stones (different in size), plants |
| Tools Needed: | Pencil/marker, garden gloves, garden cart (optional) |
| Difficulty Level: | Easy |
Just like bridges, spiral rock gardens are an eye-grabbing element that screams Zen. Bags of stone, decent-quality bark, and landscape fabric—that's all you'll need to build a spiral rock garden. Put a set of protective gloves on and get to work! If you have lots of flower beds that require regular maintenance, turning one of them into a rock garden will be a great idea.
It symbolizes a person's journey through life. We recommend using stones of different sizes, shapes, and colors, as that will add character to your garden. Prepare a template, place the stones accordingly, cover the rest of the area with landscape bark, and that's it! If you want, add some plants/flowers for an even better garden.
---
3.

Stepping Stones Path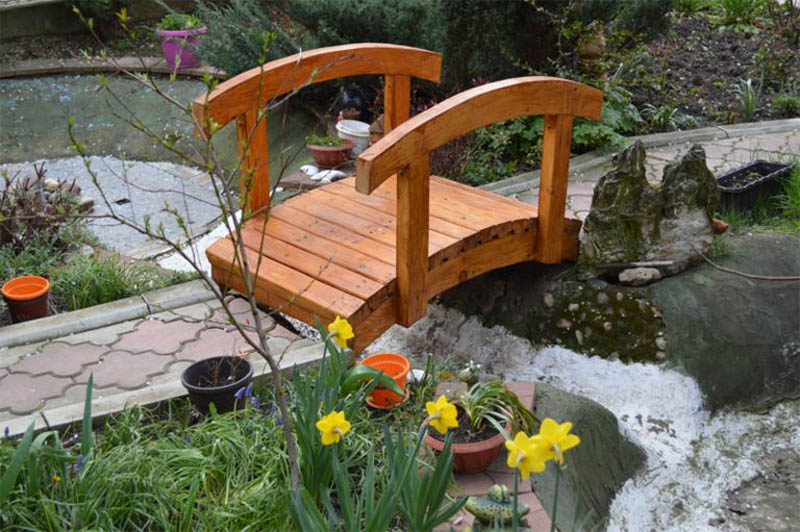 | | |
| --- | --- |
| Materials Needed: | Crushed stone, marble chips, garden stakes, edging, landscaping fabric, stepping stones |
| Tools Needed: | Shovels (round and square-pointed), steel tamper, metal bow rake, cart |
| Difficulty Level: | Easy/Moderate |
With this stepping stones path, you'll be able to add a lovely touch of Japanese culture to your backyard. The project involves a lot of hauling, so if you have a cart, put it to good use. A shovel will help dig a trench for the pathway (about 6–7 inches deep). Next, use a tamper to get the dirt ready and place the first layer of rocks/chips. You'll need 15–20 cubic feet of stone.
When going for an authentic Japanese garden path, edging is a must. And before you add the main layer of stones, don't forget about the landscaping fabric. Finishing up, place the stepping stones however you please and enjoy!
---
4.

Reclaimed Wood Bench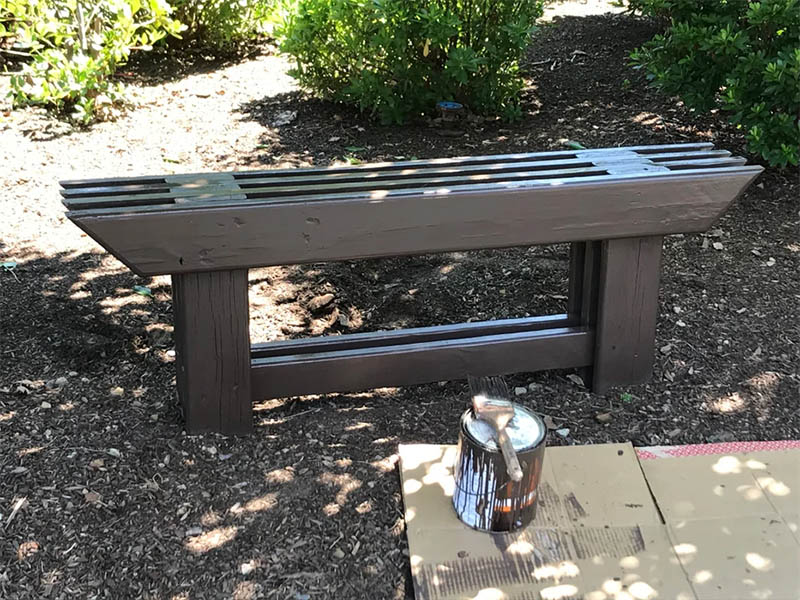 | | |
| --- | --- |
| Materials Needed: | Reclaimed lumber (pine), wood screws, galvanized nails, glue (polyurethane), crushed stone, ready-mix concrete, stain) |
| Tools Needed: | Hand or skill saw, square, level, electric drill, screwdriver, pencil/marker, tape measure, shovel, router, bucket, brush |
| Difficulty Level: | Moderate |
Here, we've got a lovely reclaimed wood bench that goes hand in hand with Zen garden vibes. If you have access to some old pressure-treated wood, this DIY project will cost almost nothing. And the whole thing will take 2–3 hours tops—that includes building, installing, and staining the bench. Just don't forget to dig 18–20 inches for the feet. Next, put crushed stone and ready-mix concrete at the bottom so bench doesn't wiggle or sway.
---
5.

Cheap Pagoda Lantern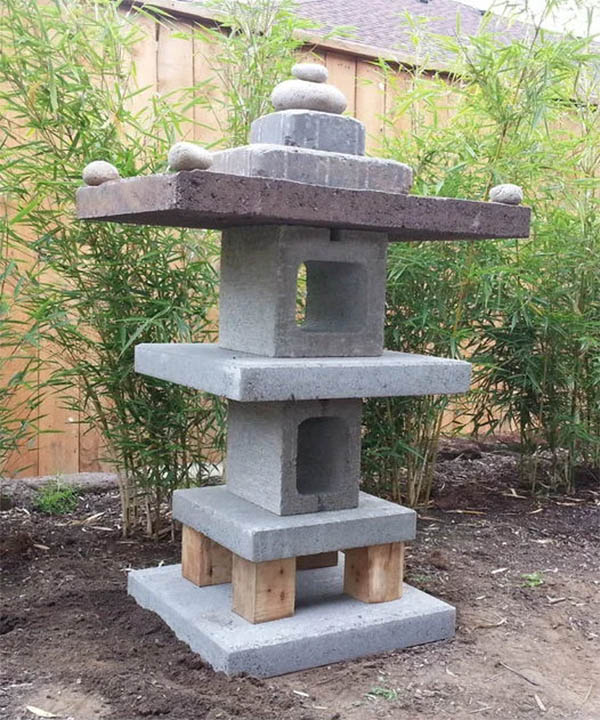 | | |
| --- | --- |
| Materials Needed: | Stepping stones, rocks, pressure-treated wood, concrete blocks, patio stone, paver |
| Tools Needed: | Protective gloves, garden cart, level, shovel, rake (optional) |
| Difficulty Level: | Easy |
Japanese/Chinese pagoda lanterns cost quite a lot but building one will only set you back $20–35. Essentially, you'll be putting stones of different shapes and sizes on top of each other. A level is necessary to make sure the cheap pagoda lantern is even. With that out of the way, use a shovel and a rake to get the soil ready. Then, start putting the stones in place. Imagine how great a set of pagodas will look when installed all over the garden with tiny lanterns lighting the way!
---
6.

Small Pond + Water Feature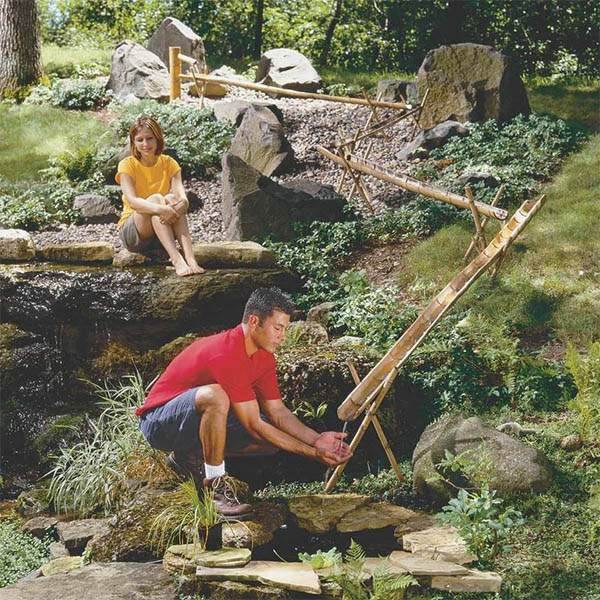 | | |
| --- | --- |
| Materials Needed: | Sand, PVC pipe, water line, wire (#8), drywall screws, pond liner + pump, bamboo, pinch valve |
| Tools Needed: | Hacksaw, jigsaw, cordless drill, hammer, level, hand maul, utility knife |
| Difficulty Level: | Easy/Moderate |
To build a small pond + water feature, you'll need to spend 1–2 days and $100–250. The soothing sound of water running across your garden will be well worth it, though. Besides, bamboo is an excellent choice for spouts and sluices, and it has a Zen feel to it, which is exactly what we're going for today. The water feature is very simple and easy to build. As for the pond, if you already have one in the backyard (or, let's say, a catch basin), you can just skip this part.
In any case, you don't have to be a skilled craftsman to handle this project. Some motivation, a jigsaw, hacksaw, and a hand maul should help get the job done.
---
7.

Low-Effort Bamboo Fence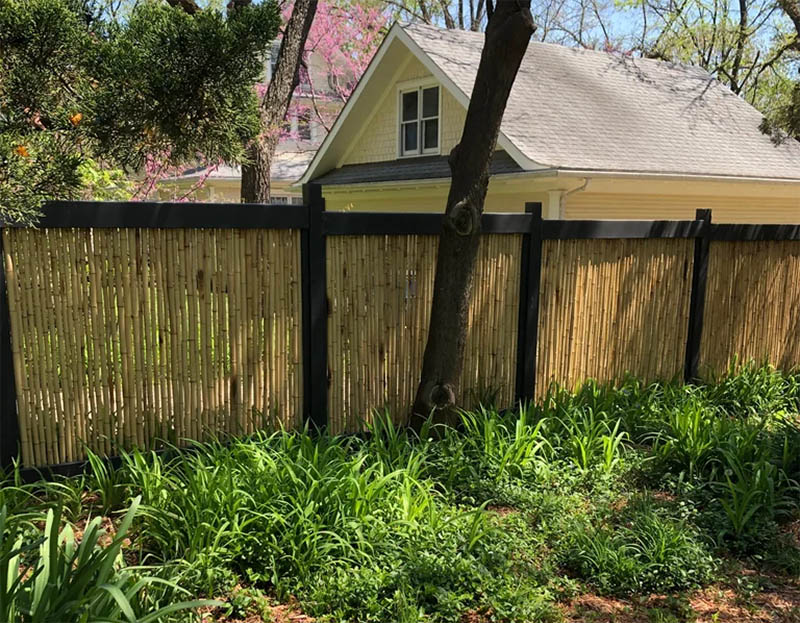 | | |
| --- | --- |
| Materials Needed: | Bamboo (lots of it), cedar lumber, deck screws, ready-mix concrete, black paint |
| Tools Needed: | Gloves, miter saw, level, drill, shovel, brush, screwdriver, drill |
| Difficulty Level: | Moderate |
We're not done with bamboo just yet! These wonderful perennial plants can serve as an ideal foundation for a Japan-inspired fence. For the frame, we recommend cedar lumber, as it's weather-resistant, easy to work with, and comes at a reasonable price. Putting the low-effort bamboo fence together is the easy part. Digging holes and hauling ready-mix concrete for the posts—that's what you'll spend most of your time and energy on.
Also, don't forget to paint the cedar black to get a more authentic look. The bamboo will have to be cut and shaped, but that's not at to do with a miter saw.
---
8.

Zen Moss Garden
| | |
| --- | --- |
| Materials Needed: | Soil, moss, plants/shrubs, stones |
| Tools Needed: | Garden, gloves, cart, shovel, rake |
| Difficulty Level: | Easy |
Moss might not be the most popular plant in the US (although it is turning into a trend), but the Japanese do very much appreciate it. And the best part about a Zen moss garden is that there are no strict rules. As long as you've got enough space in the backyard, and it's a smooth, "naked" surface with no grass, you can turn it into a moss garden within hours! To take the idea to the next level, be sure to add some stones and shrubs/plants.
And remember: moss is a low-maintenance plant that doesn't have any stems, roots, or leaves. Finally, while moist and dark spots are preferable, it flourishes in dry, sunny areas as well.
---
9.

Eye-Grabbing Torii Gate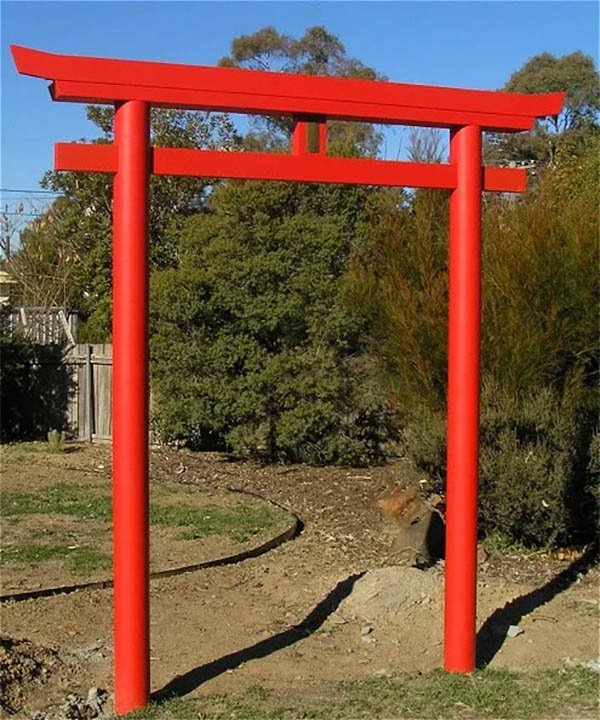 | | |
| --- | --- |
| Materials Needed: | Treated pine posts, red paint, coach screws, quad screws, washers, nails, dry rapit-set concrete, mortise |
| Tools Needed: | Shovel, gloves, eye goggles, miter saw, hammer, chisel, drill, brush |
| Difficulty Level: | Moderate |
Bridges, paths, and fences are great and all, but what about an eye-grabbing Torii gate? Almost 8 feet long, it will serve as the perfect entrance to your Zen garden. According to Japanese legends, this gate sits right between the physical and the spiritual realms. Now, despite the formidable size, it won't be very hard to build. Essentially, you'll need two strong supporting pillars (preferably treated pine) and three horizontal components.
Paint the pillars red, dig a hole for each, fill them with rapid-set concrete, and carefully install the gate right into those holes. It would be best to ask a friend to help you out at this stage, as the Torii gate can be quite heavy.
---
10.

Traveling Tea House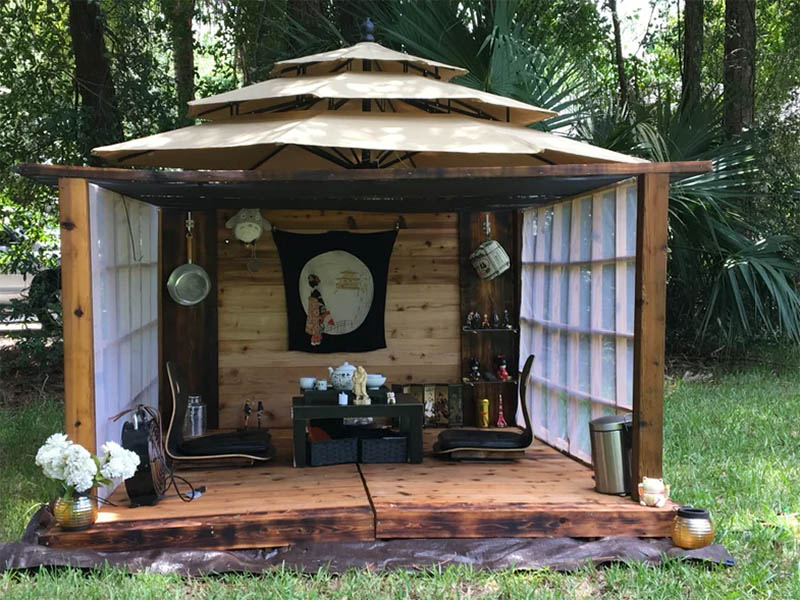 | | |
| --- | --- |
| Materials Needed: | Cedar lumber, pine, screws + holders, nails, glue, netting, door latches, hooks, brackets, screen panels, tarp, plastic roofing, umbrella, waterproof seal |
| Tools Needed: | Miter saw, electric drill, scissors, protective gloves, goggles, measuring tape, level, hammer |
| Difficulty Level: | Moderate/High |
Tea houses are incredibly popular in Japanese culture. So, if you have the necessary skills, the time, and the budget for it (around $800), we encourage you to take on this traveling tea house DIY plan. As the name suggests, it can be transported by car, which is a huge pro. What's the best wood for this project, though? The answer is cedar and pine, as these species are flexible and easily handle environmental factors. A layer of water seal, in turn, will protect them from rot and decay.
---
11.

Backyard Japanese Garden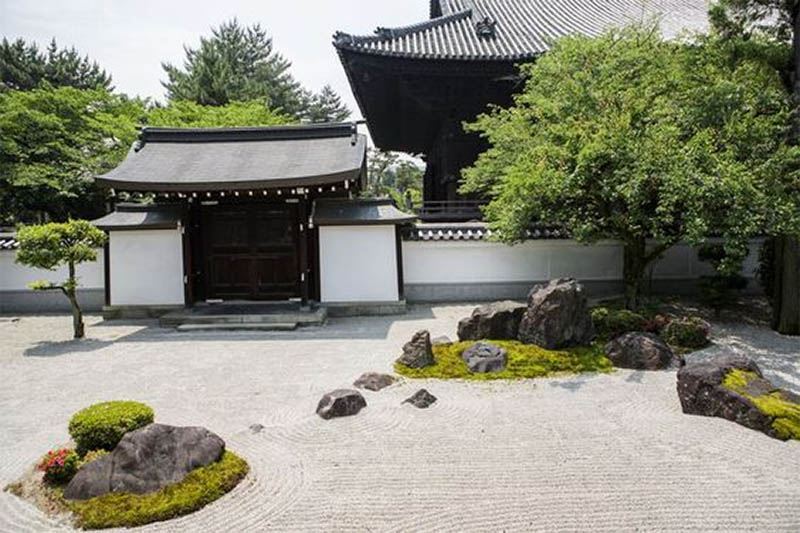 | | |
| --- | --- |
| Materials Needed: | Gravel (white), rocks (different in shape and size), edging stones, landscape fabric, plants |
| Tools Needed: | Zen rake, steel rake, shovel + hoe, tape measure, string + stakes, hand tamper, work gloves |
| Difficulty Level: | Easy |
Looking to create a space in your yard where you can relax and meditate? Then this backyard Japanese garden plan deserves your attention. It incorporates a little bit of everything yet only takes 2–3 hours to build. Gravel, rocks, plants, a shovel, and a combination of steel and Zen rakes are enough to get started. The most important thing here is to find a flat surface in your yard (usually, a 12-feet by 18-feet area, but you can go for something smaller).
See that this space is free of weeds and stones. Avoid symmetrical patterns for the rocks and stones. As for the plants, pick them depending on how much sun they'll get during the day.
---
12.

Miniature Zen Garden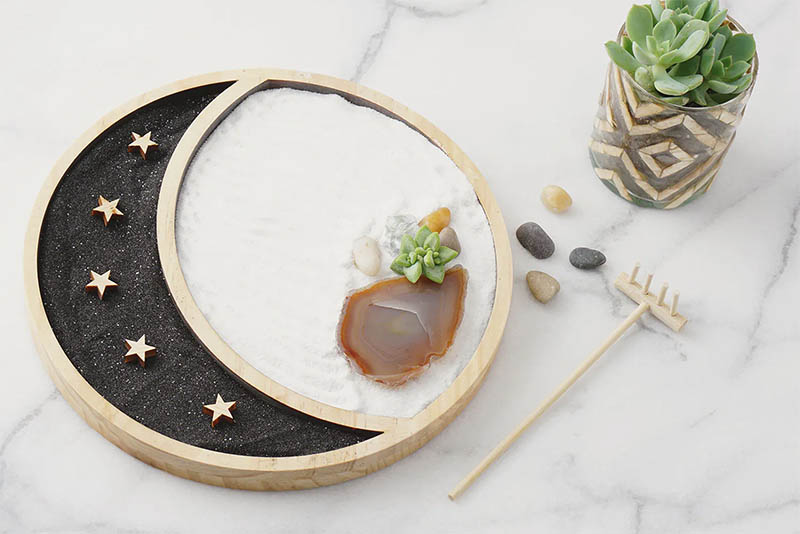 | | |
| --- | --- |
| Materials Needed: | Container, sand, stones, plants, essential oil |
| Tools Needed: | Mini rake, scissors |
| Difficulty Level: | Easy |
Ready to try something new and exciting? Well, what about a miniature Zen garden? This is one of the easiest yet most satisfying projects on the list. It won't cost a pretty penny, yet it will do a great job of helping you relax after a busy day. Just put it on your desk and use it to unwind. Always keep the rake around. With mini Zen gardens, you can (and should) change the sand patterns freely and create different patterns with the rocks.
Again, that's a great way to take your mind off things and play a little game.
---
13.

Privacy Screen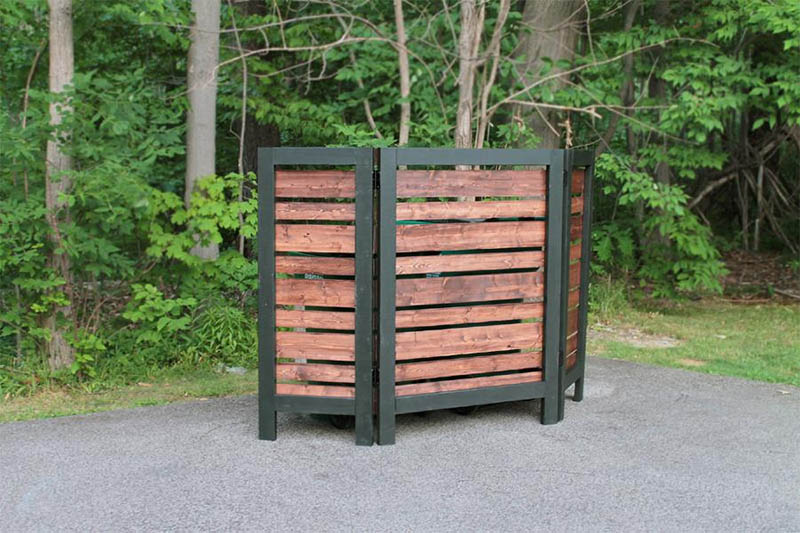 | | |
| --- | --- |
| Materials Needed: | Wood boards, coarse-thread screws, nails, wood glue, wood sealer, a set of hinges |
| Tools Needed: | Nail gun, miter saw, corded drill, sander, tape measure, clamp, jig |
| Difficulty Level: | Easy/Moderate |
Wait, what's the difference between a full-fledged fence and a privacy screen? Aren't they the same thing? No, not quite: screens are much cheaper and easier to build, as they only cover a relatively small part of the garden. Called shoji in Japanese, privacy screens can be used to divide the backyard into different parts. Or place them "strategically" to hide garbage cans, old panels, or peeled-off paint.
Use the cut list to, well, make precise cuts, carefully drill the pocket holes, put the framework together, and stain it. After that, just nail/screw the slats to the frame, and enjoy your privacy!
---
14.

Pruned Japanese Maple Trees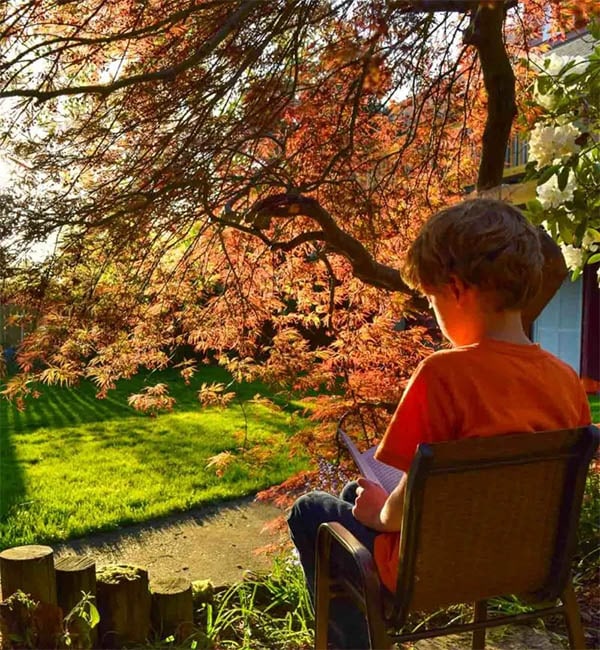 | | |
| --- | --- |
| Materials Needed: | Fertilizer, water, dormant oil spray |
| Tools Needed: | Handheld pruning shears, bypass loppers, pruning saw, work glove |
| Difficulty Level: | Easy |
No Zen garden will be complete without at least one Japanese maple tree. The eye-catching, colorful foliage and the relatively small size (mature trees are 4–30 feet tall) make them a wonderful addition to any garden. And to make these trees "fit the profile", you'll have to be very thorough with the pruning and choose the tools carefully. For thin branches, go with pruning shears; thicker branches, in turn, will require bypass loppers or even a pruning saw.
Do this at least once a year (usually, in early spring), and the pruned Japanese maple trees will look gorgeous 365 days straight!

Are Zen Gardens Suitable for Small Yards?
Zen gardens can technically be made for any yard size, but they are especially great for small yards. Zen gardens have a way of expanding the space to make your small yards feel a bit larger. So, you can create a Zen garden that is perfect for your small yard.
What Should Be In a Zen Garden?
A Zen garden should mainly be comprised of natural elements, such as rock, sand, and wood. A few plants should be added, but not too many. You can use man-made components such as bridges or statues to separate the space from the outside world.
Other than that, it is up to you to decide what should be in your Zen garden. Create a Zen garden that is relaxing to you and matches your ideal decor designs to get the best results.

Conclusion
Zen is more than just exotic rocks and plants. It's a way of life, a state of focus, meditation, and serenity. And the best thing about Zen gardens—even the tiniest changes can have a huge impact. That's exactly what makes the 14 plans from today's list so great. They aren't at all expensive and can be brought to life with your own two hands.
A Japanese garden is all about trying new things, combining different ideas, and finding perfect harmony. So, if this is your first time going for a Japanese style, our plans will be perfect for introducing some of that much-needed Zen in your life. Start slow, gain confidence in your own building skills, and go from there!
See Also:
---
Featured Image Credit: fietzfotos, Pixabay