5 DIY Garden Shade Structure Plans You Can Make Today (with Pictures)
Gardens are a place to relax and contemplate, giving you space away from the stress and tribulations of daily life. Although plants need lots of sunshine, shade can help reduce their temperatures and improve water retention. It's also a way of showing off your beautiful garden!
Especially during vicious summer heatwaves, adding shade can protect your plants and keep you more comfortable while you work in the garden. Let's check out some of the best DIY garden shade structures you can build yourself today.

The 5 DIY Garden Shade Structure Plans
1.

Freestanding Shade Canopy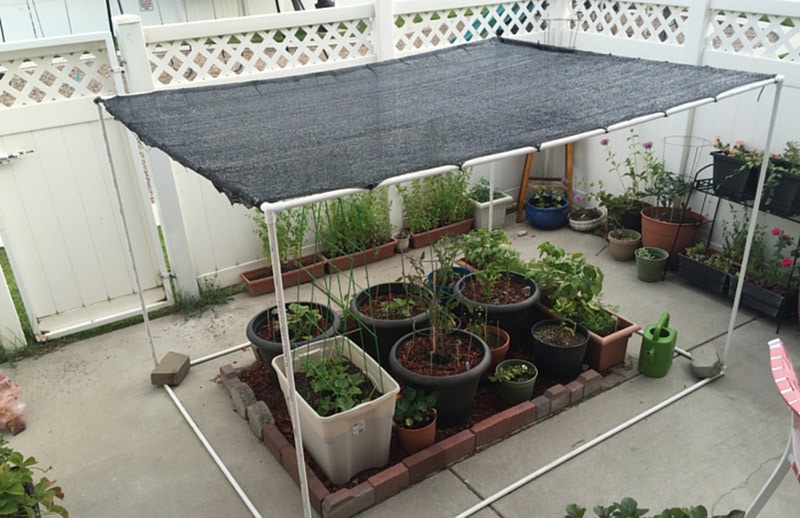 | | |
| --- | --- |
| Materials | 30%-50% shade cloth, PVC piping, PVC side outlet 90-degree elbows, zip ties |
| Tools | Hammer, scissors, handsaw, tape measure |
| Difficulty | Novice |
This is one of the easiest shade structures you can build in your garden, but that doesn't mean it's ineffective. Placing one of these canopies over your garden can help reduce the amount of direct sunlight they get and keep them cool in the summer heat.
This plan requires some basic hand tools and measurement, but nothing overly complex. For fruiting plants that are lagging on fruit production, this might be just the thing you need to accelerate growth.
---
2.

Garden Arch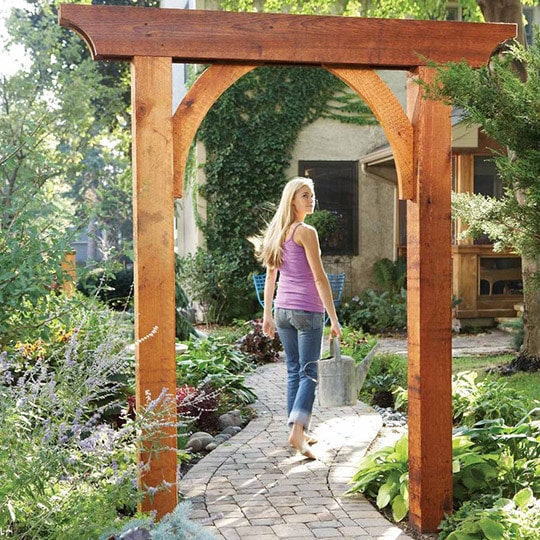 | | |
| --- | --- |
| Materials | Wood, galvanized deck screws, posts, concrete |
| Tools | Circular saw, speed square, drill, handsaw, jigsaw, sander, posthole digger, spade, wheelbarrow |
| Difficulty | Intermediate |
This garden arch plan requires some standard power tools, but it's still not terribly complicated to build yourself or with a helper. Once built, you can train vines or other climbing plants to climb the arch, which will produce much-needed shade for your garden.
Always use galvanized deck screws for outdoor wood projects because they'll withstand rain and other adverse weather without rusting. Accordingly, you should also look for treated lumber that won't rot out after a summer storm or two.
---
3.

DIY Vegetable Arbor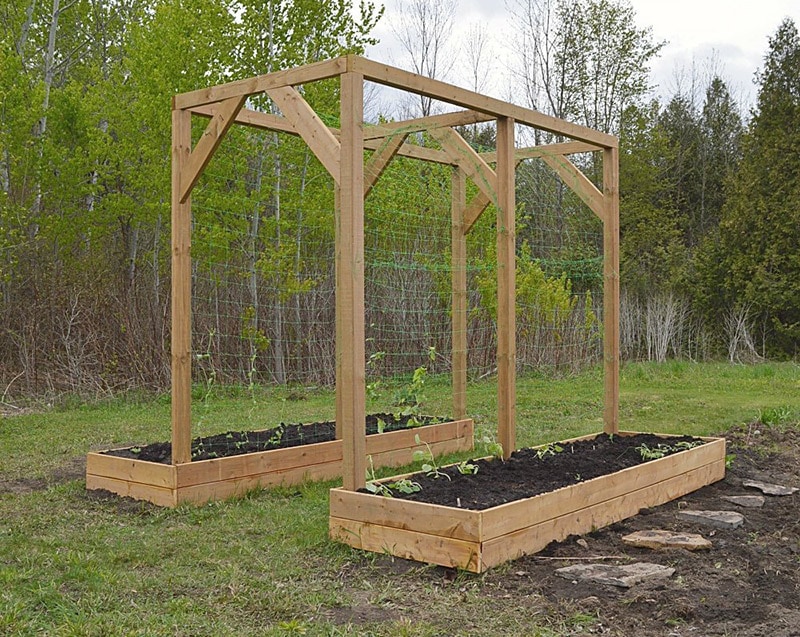 | | |
| --- | --- |
| Materials | Wood, posts, galvanized deck screws, garden trellis net |
| Tools | Miter saw, drill, level, tape measure, stapler, ladder |
| Difficulty | Intermediate |
This functional arbor comes equipped with raised garden beds, which dramatically cut down on weeding your garden. All you need to do after building this arbor is to get your climbing plants to climb the arbor, where they'll suck up all the sunshine you want.
This is a great weekend project if you've been on the fence about starting a vegetable garden, or if your green thumb demands another batch of veggies. Either way, you'll have plenty of shade. Consider adding cucumbers, tomatoes, or other climbing vegetables.
---
4.

DIY Garden Pergola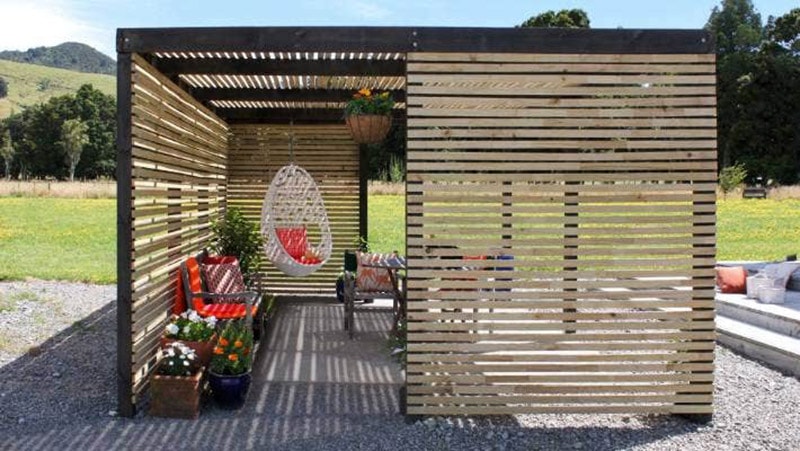 | | |
| --- | --- |
| Materials | Wood, posts, concrete, galvanized deck screws, washers, stain |
| Tools | Level, handsaw, hammer, drill, screwdriver, skill saw, drop saw, clamps |
| Difficulty | Expert |
This beautiful DIY pergola is buildable as a weekend project, and it provides both a great shady spot to relax as well as support for climbing plants. Set up a tranquil garden retreat with a table and some chairs, or set it up as a shady garden barbecue spot.
Train your ivy or climbing veggies to climb the wood slats on the side for maximum shade, or use the wood to frame a great view of your garden.
---
5.

Simple Bamboo Pergola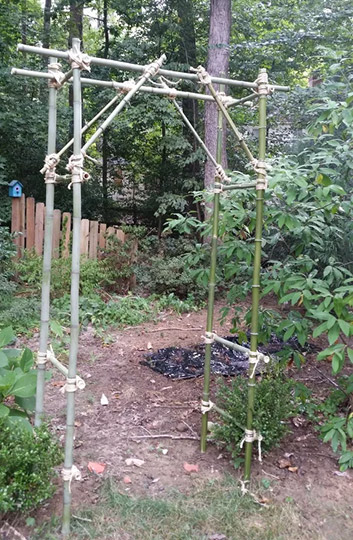 | | |
| --- | --- |
| Materials | Bamboo, sisal rope |
| Tools | Reciprocating saw, pliers |
| Difficulty | Novice |
Bamboo is an invasive species in many areas of the US, but many people don't realize it's an amazing building material that gives a unique look. It's a little tricky to work with, but the beauty of this plan is that the pergola is solely made of bamboo and rope.
You can throw a tarp over the top to provide maximum shade, but we suggest using 30%-50% shade cloth so any plants nearby can still get some sun. A garden trellis net would work too if you're planning on growing climbing plants to act as your shade.

Conclusion
Gardens are some of the most beautiful spaces we can maintain ourselves, and shade structures help break up the space and provide gorgeous eye candy. For some veggies, it can even help to accelerate growth and water retention.
---
Featured Image Credit: abimages, Shutterstock