9 DIY Greenhouses Made from Old Windows (With Instructions)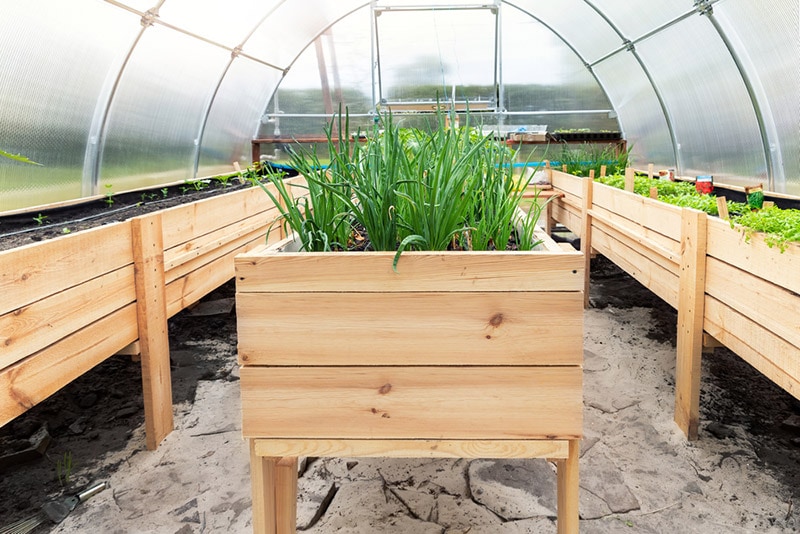 Many people have old windows lying around or have the ability to buy them from local sources for very little money. Old windows are the perfect thing to use to build do-it-yourself greenhouses right in your own backyard. Greenhouses can help extend your growing period, keep your plants from dying in a frost, and can help plants grow larger and longer than exposed plants. You can create your very own greenhouse using old windows in just a couple of hours with the right plans and materials.
Here are nine excellent DIY greenhouses made from old windows that you can build today.

The 9 DIY Greenhouses Made from Old Windows
1.

The Classic Greenhouse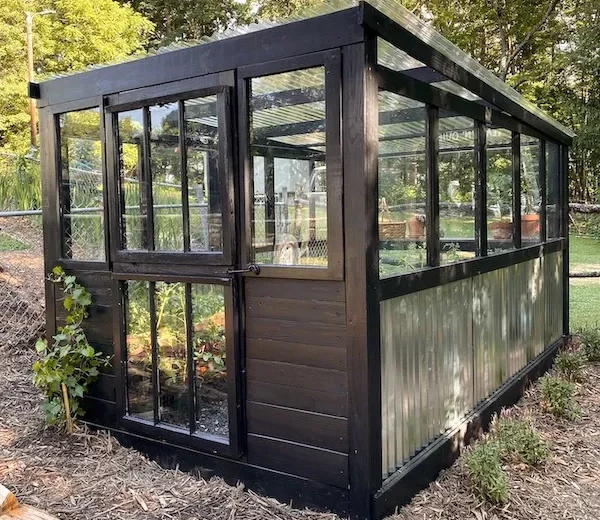 | | |
| --- | --- |
| Materials: | Old windows (x14), corrugated metal panels (x4), roofing lumber, corrugated plastic roof panel (x1), wood screws, storm door |
| Tools: | Circular saw, miter saw, drill, speed square, hammer |
| Complexity: | Intermediate |
These plans help you build your very own classic greenhouse. This is a traditional design using a plethora of old windows to create the light that you need to keep plants healthy. This design is not too complicated as it is just a box. The hardest part is getting windows that fit the project and finding enough of them. The creator of these plans got their windows from Habitat For Humanity Resale stores which resell old building materials at low prices for people to use. With a little help, some construction knowledge, and a free day, you can build this greenhouse for yourself and elevate your gardening game.
---
2.

Small Affordable Greenhouse Box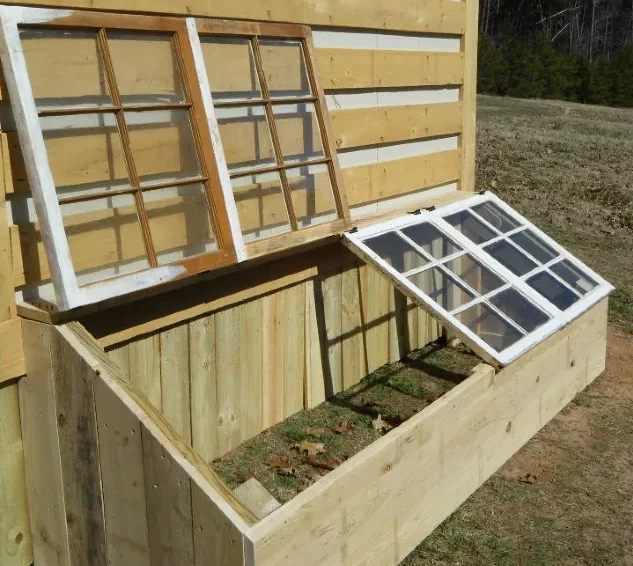 | | |
| --- | --- |
| Materials: | Old window (x1-2), hinges, wood screws, 2×6 lumber for the sides, handle |
| Tools: | Circular saw, drill |
| Complexity: | Basic |
This small greenhouse box can easily be built with some basic lumber and one to two old windows. All you have to do is build the sides, similar to a raised garden bed, and then put the windows over the top. If you can build a raised garden bed, you can build this greenhouse. Attach the windows with hinges and add a handle, and you quickly have an affordable cold frame box. You can use cedar or pine lumber for the best results. This project can be finished in a matter of hours and doesn't require too much construction knowledge to complete.
---
3.

Large DIY Greenhouse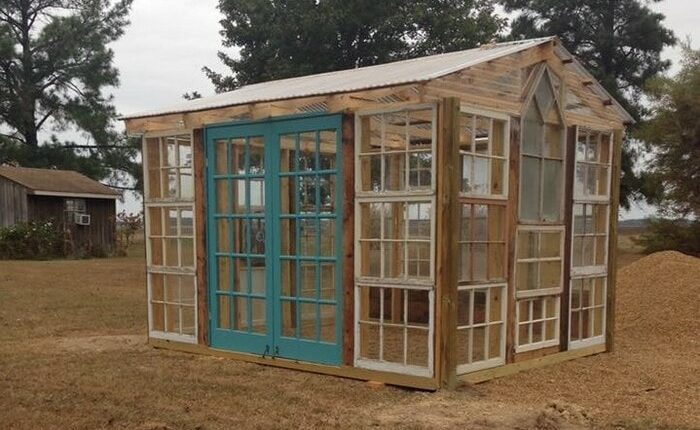 | | |
| --- | --- |
| Materials: | Salvaged windows, 4×4 lumber (x4), 2×4 lumber, gravel, cinder blocks, wood screws, paint, corrugated metal sheets (x4) |
| Tools: | Hand saw, hammer, drill, shovel |
| Complexity: | Intermediate |
These plans will walk you step-by-step through the process of assembling this large greenhouse using a pile of old windows. The result is a great feature for your garden that will stay warm year-round. You can adapt these plans to create a greenhouse of almost any size, depending on the number of old windows that you have in your possession. Large greenhouses allow you to store more plants, add shelves and heating elements, and give you room to work out of the elements. This greenhouse can be built by anyone with a little bit of knowledge and experience building similar structures.
---
4.

Freestanding Cold Frame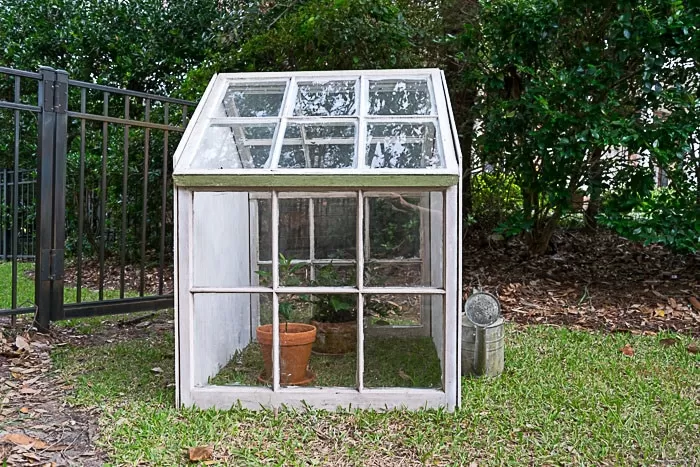 | | |
| --- | --- |
| Materials: | ¼" sheet of plywood, old windows (x4), hinges, exterior nails, paint |
| Tools: | Hammer, drill, circular saw |
| Complexity: | Basic |
This plan turns four old windows into an adorable cold frame in a matter of hours. This cold frame is rustic, functional, and affordable. The windows make up two sides, while the plywood makes up the other two sides. The last two windows are hinged for an easy-to-open top that allows you to set your plants or pots inside. The result is a box that lets in plenty of light, uses upcycled materials, and has plenty of room for your plants. This freestanding cold frame will fit almost any home and can be used in a variety of locations.
---
5.

Versatile Heated Greenhouse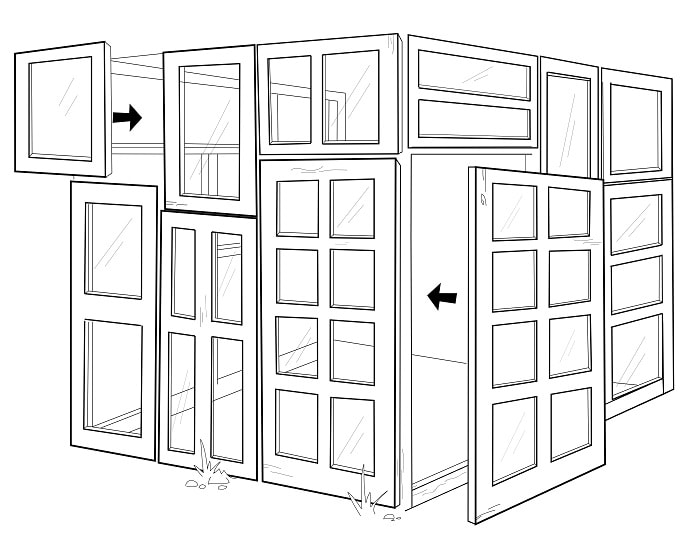 | | |
| --- | --- |
| Materials: | Old windows, corrugated metal sheeting, gravel, cinder blocks, wood screws, fan, heater, paint, caulk |
| Tools: | Miter saw, circular saw, drill, hammer, shovel, caulk gun |
| Complexity: | Intermediate |
These plans give you the opportunity to build a versatile heated greenhouse to keep your plants toasty through the cold winter months. The plans can be adapted to fit a variety of different windows and will give you a useful outline to follow. You can customize this greenhouse in a number of different ways, including with paint, shelving, window type, and more. The plans can easily be worked to finish the project with a variety of different types of materials. The heater and the fan ensure that the greenhouse stays plenty warm in the winter. Don't forget to account for a power source to run the heater and the fan.
---
6.

Architectural Greenhouse Idea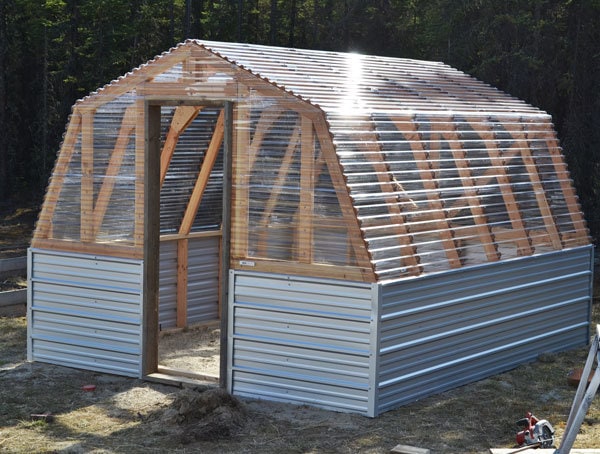 | | |
| --- | --- |
| Materials: | 2x4x12 (x8), 2x4x8 (x32), tin panels (12', x3), tin panels (8', x1) tin screws, framing nails, a door, wood glue, wood screws |
| Tools: | Framing nailer, circular saw, miter saw, impact drill, hammer |
| Complexity: | Advanced |
Not all greenhouses need to be small boxes. Some greenhouses that you can build yourself can be larger and more visually striking. This architectural greenhouse is very large and has a more complex shape than a standard box. The plans call for using corrugated plastic paneling, but you can easily swap these for old windows if you have some basic construction experience. You can add old windows to any part of this build and use panels for the rest if you so choose. This gives you the option to customize this build any way you like. However, it will require some knowledge, time, and money to complete.
---
7.

Upcycled Window and Door Cold Frame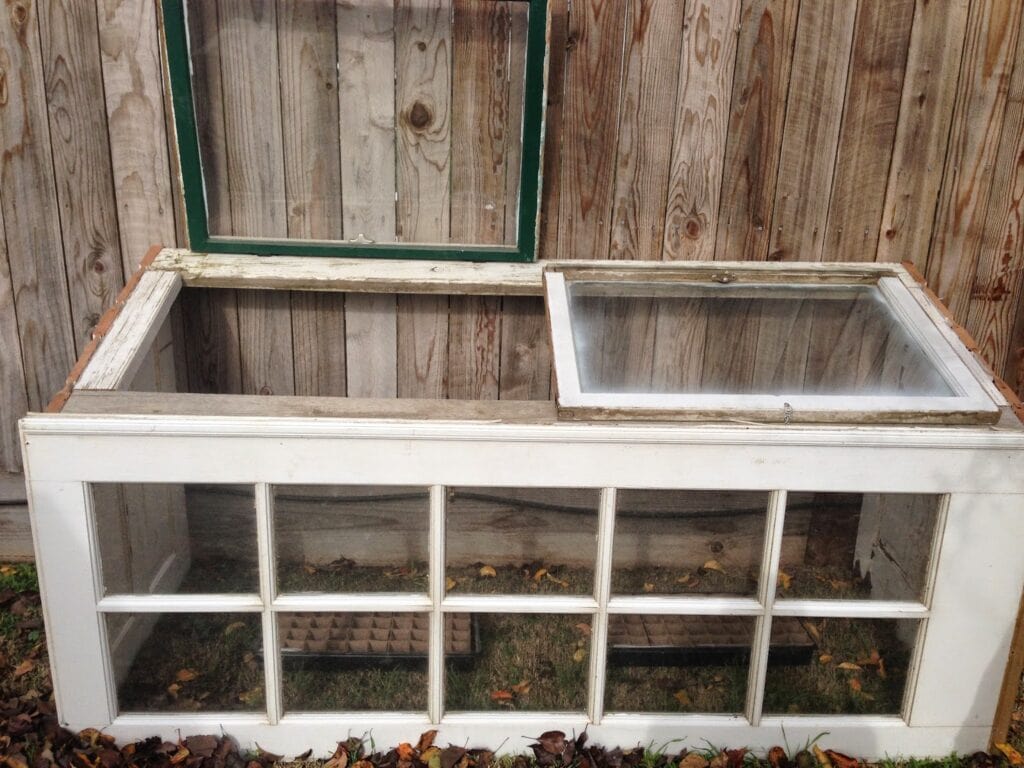 | | |
| --- | --- |
| Materials: | Old windows (x2), old door (x1), hinges (x4), length of chain, wood screws |
| Tools: | Circular saw, drill |
| Complexity: | Intermediate |
This small greenhouse box uses old windows and an old door in a stylish and useful way. This is the perfect project for people to upcycle materials they may have lying around. Using the door as the face, plus some miscellaneous framing lumber, you can build a box with plenty of glass to let in the warm light of the sun. You can use a solid door or a French door with glass in it to create your perfect cold frame. Be careful securing the windows and the doors together and while attaching the hinges. You do not want to crack the glass. That is the trickiest part of this project.
---
8.

Quick Hay Bale Cold Frame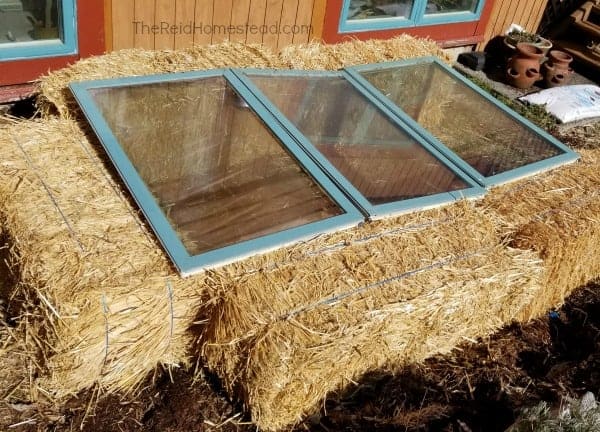 | | |
| --- | --- |
| Materials: | Square hay or straw bales (x6), old windows (x3) |
| Tools: | Shovel |
| Complexity: | Basic |
This cold frame idea is perfect for a rural property. Using simple and affordable hay bales, you can create a greenhouse box to help harden your seedlings during cool planting seasons. Simply arrange the bales into a rectangle and set the windows on top. You might need to replace the hay bales periodically if they start to mold or rot. You can use the old hay to help fertilize or mulch your garden beds. If you have access to old windows and affordable hay this can be an extremely budget-friendly option for a DIY greenhouse that can be assembled in mere minutes.
---
9.

Cheap Cinder Block Cold Frame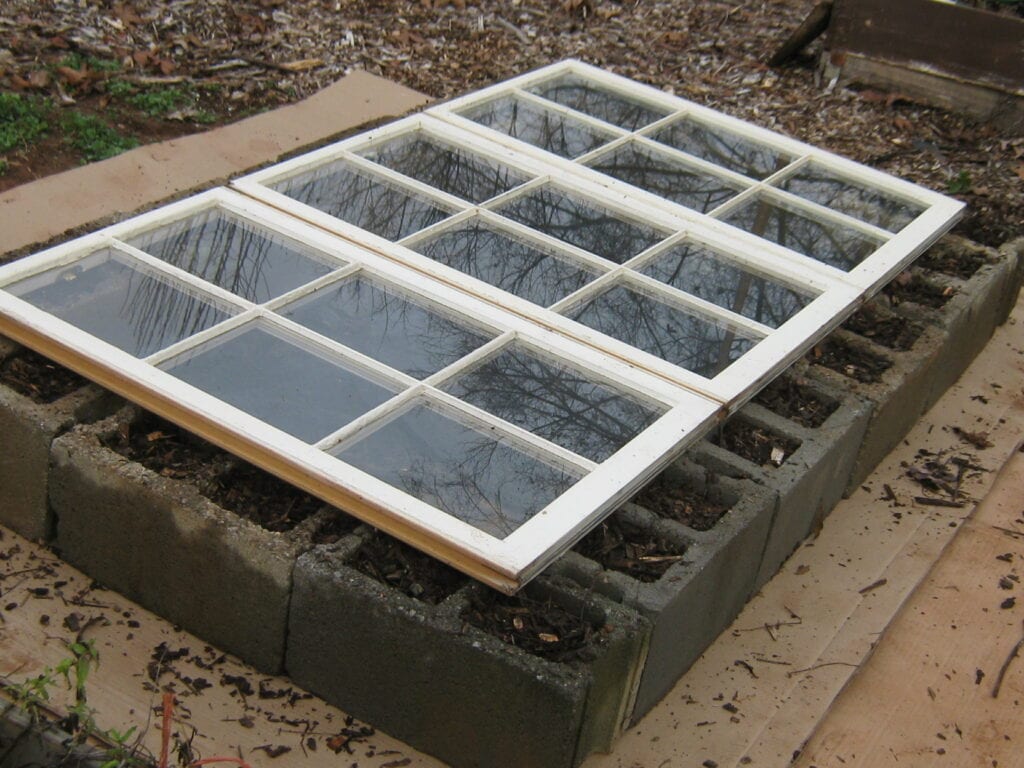 | | |
| --- | --- |
| Materials: | Cinder blocks (x12), plastic tarp, old windows (1-3 depending on final configuration), spray paint or sealer |
| Tools: | Shovel, razor blade |
| Complexity: | Basic |
These cinder block cold frames are some of the easiest greenhouses you can build on your own. All you have to do is create a perimeter of cinderblocks over your tarp and then set your window over the top. Be sure that your window(s) fit your block configuration on the ground. Then, fill it with dirt, plant your plants, and put the window over the top. You can add handles to the windows to make it easier to move them when you need to. This project can be completed with leftover materials from another job, is very easy to do, and will give you a warm place to keep your plants when the temperatures drop.

Where to Get Old Windows
Old windows can be obtained from a number of places if you don't have any of your own. You can find old windows at antique stores, architectural salvage shops, and estate sales. You can also save your windows if you ever replace your current windows. If you request that the contractors save the windows, they will do their best to remove them without damaging them.
Make Sure to Keep the Sides Equal
When building your greenhouse, one of the biggest things to keep in mind is to keep the sides even. If you have unmatched windows, you could end up with walls and panels of different sizes, which can make completing your build challenging. Try to keep your windows similarly sized and make sure your walls are of equal dimensions for the smoothest build possible.
Mind the Glass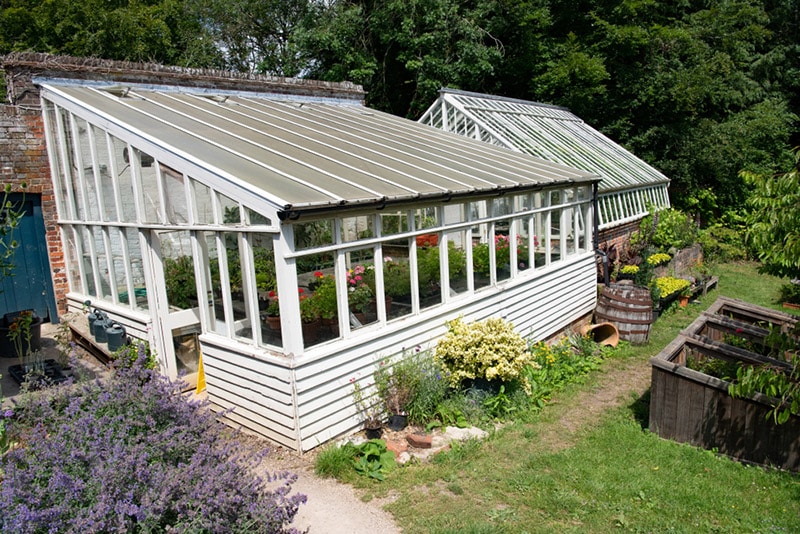 Antique windows typically have a single pane of untempered glass. That means they are prone to breaking and cracking. When handling antique windows, be careful not to damage the glass. Untempered glass can shear and leave extremely sharp and dangerous edges when broken. Antique windows often break during transport and during the mounting process.
Cold Frame vs. Greenhouse
You might see the terms greenhouse and cold frame used interchangeably or together. But what is the difference between the two? Traditional greenhouses are warmed with artificial means. A true greenhouse uses electric heat to stay warm during the winter months. A cold frame is completely warmed by the sun. If you have a greenhouse without any heating elements, you actually have a cold frame. Both serve the same purpose, and the difference lies entirely in what they use to heat themselves.

Conclusion
There are a variety of different styles of greenhouses you can build from old windows right now. From small cold frames to large elaborate structures, there is a greenhouse for everyone on this list. Old windows are an affordable and stylish material that is perfect for building viable greenhouses on a budget. All you have to do is pick the plans that you are most comfortable with and set some time aside to build your very own.
---
Featured Image Credit: Gorloff-KV, Shutterstock