12 DIY Hose Reel Plans You Can Make Today (with Pictures)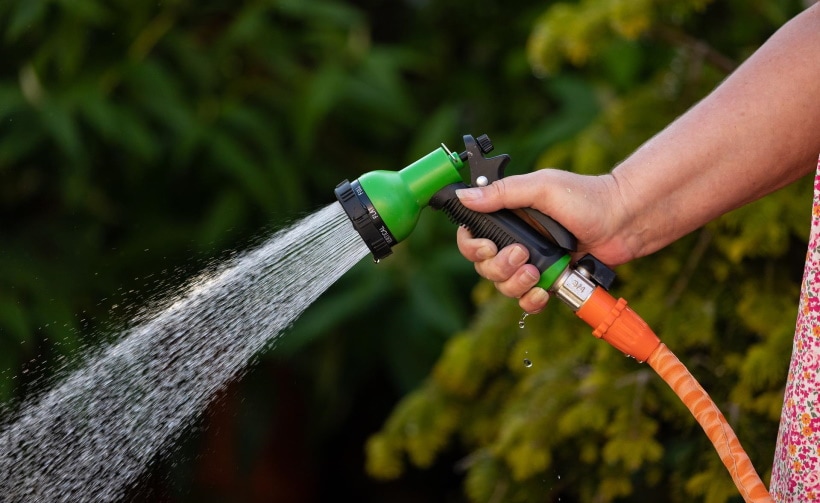 Whether it's extension cords, air hoses, or water hoses, they all get tangles and can be a giant pain in the butt at times. There are some costly options on the market for fancy reels with all sorts of features. However, if you're a person who likes to get their hands dirty once in a while, we've compiled a list of 15 different DIY hose reels to inspire you. As any good DIYer knows, you can modify any project to fit your particular needs or style. So, let's get into it!
The 12 DIY Hose Reel Plans
1.

Instructables – Air Hose Reel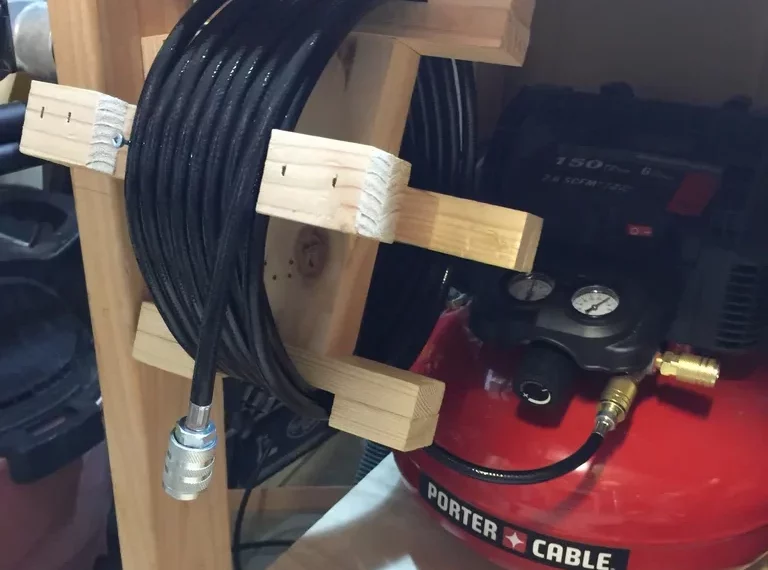 Materials: Dimensional lumber, nuts, bolts, washer, glue
Tools: Table saw, nail gun, drill, tape measure,
Difficulty Level: Easy
With this air hose reel, you can easily store your air hose when you have an air compressor that you don't move very often. You can probably accomplish this project with wood and materials you have lying around your shop already. Not every DIYer has access to a table saw, and the plans even specify that it's unnecessary. Any saw will do—the table saw is just the easiest option if you have one.
---
2.

Sub Tech DIY – Air Hose Reel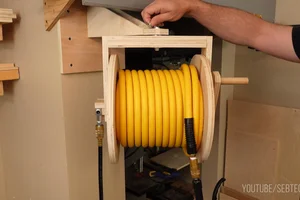 Materials: ⅝ sheet of plywood, wooden dowels, trim screws, up to 100' of air hose, various hose fittings
Tools: Drill, router, circular saw, hammer, drill press,
Difficulty Level: Moderate
This air hose reel is mounted up out of the way and swivels. Like the first one we looked at, this one also connects to a stationary air compressor. The main difference is how this one mounts up high to enable you to organize your shop better. Instead of tripping over that air hose all the time, you can coil it up above your head. Another bonus to these plans is that they offer a video if you prefer to follow along that way.
We list this one as moderate because the plans show a few advanced tools that not everyone has, like a drill press or router. With a little bit of ingenuity, you can get around using these tools.
---
3.

Family Handyman – Air Compressor Cart
Materials: Lag screws, nuts, washers, closet dowel, ½ plywood, air hose reel, caster wheels, ¾ plywood
Tools: Drill, circular saw, jigsaw
Difficulty Level: Easy
The only thing better than an air hose reel is an air compressor cart with a hose reel attached to it. Unlike most of the plans on this list, you will purchase a mountable hose reel for this project. Once you've built this cart, you'll wonder why you ever packed an air compressor and an armful of hose without it.
For the experienced DIYer, this will be an easy project to complete. It will be a little more challenging if you're new to DIY or woodworking projects. However, the directions are very clear and easy to follow.
---
4.

This Way Home – Extension Cord Winder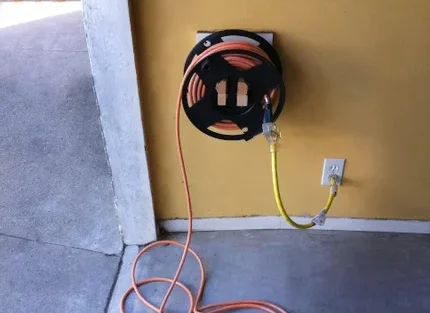 Materials: Dimensional lumber, plywood, screws, drywall screws and anchors, cord wheel, extension cord
Tools: Hand saw, drill, chisel
Difficulty Level: Easy
Who is actually good at coiling up an extension cord? Save yourself the trouble with this extension cord winder. With minimal materials and a couple of hours on a Saturday, you'll never have to mess around trying to coil up a stubborn extension cord again.
The plans specify a hand saw and chisel for making the piece to mount the cord wheel on. You can use those, for sure. But a jigsaw and circular saw would make this project way easier. Also, rather than use drywall screws and anchors, use a stud finder and woodscrews to mount the whole system.
---
5.

100 Things to Do – Central Vac Hose Reel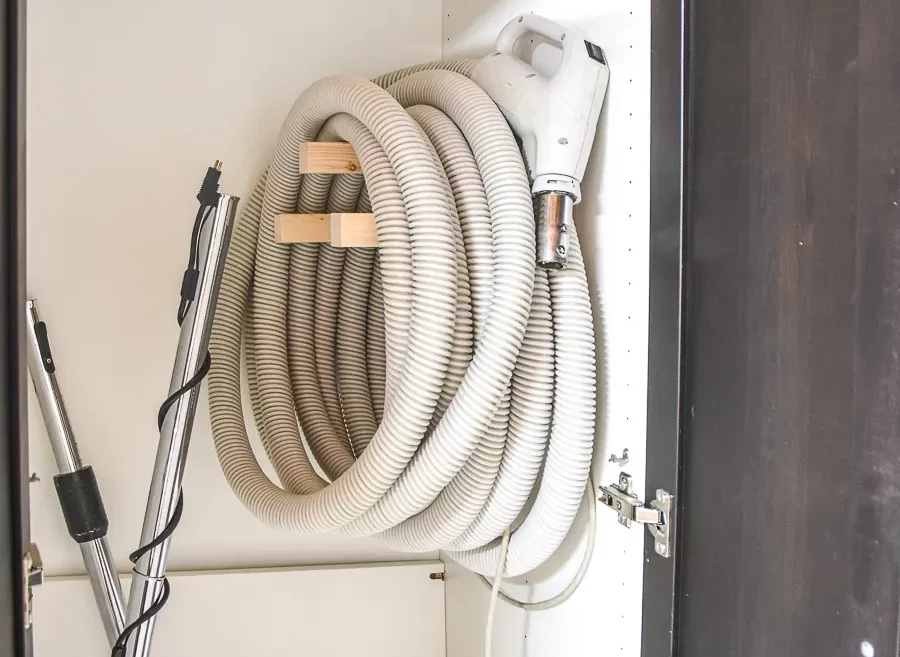 Materials: ¾ plywood, 2"x2" lumber, wood glue, screws
Tools: Drill, circular saw
Difficulty Level: Easy
If you're trying to figure out how to store your central vac system, this central vac hose reel will solve the problem. It doesn't offer the most beautiful finished product, but it is functional and super easy to do. If you do any DIY projects already, you'll likely have the materials you need kicking around. Or, if you have materials similar to what the plan lists, you can likely make them work.
---
6.

Family Handyman – Retractable Hose Reel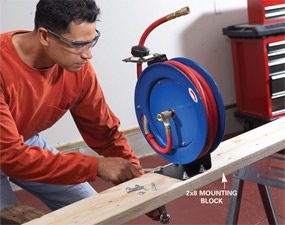 Materials: Air hose reel, air hose, copper tubing, fittings, dimensional lumber
Tools: Adjustable wrench, air compressor, circular saw, drill, soldering torch, stud finder tape measure, tube cutter
Difficulty Level: Moderate
This retractable hose reel assumes you will purchase the retractable hose reel from your local building center. Then instructs you on mounting the reel on the roof and copper piping that runs from your air compressor up to the reel. This way, your compressor is always accessible, and so is your air hose from above. Overall, this project is pretty straightforward. However, assembly of the copper piping does take a little bit of advanced knowledge.
---
Gardening Reels
7.

Homestead Heroine – Hose Reel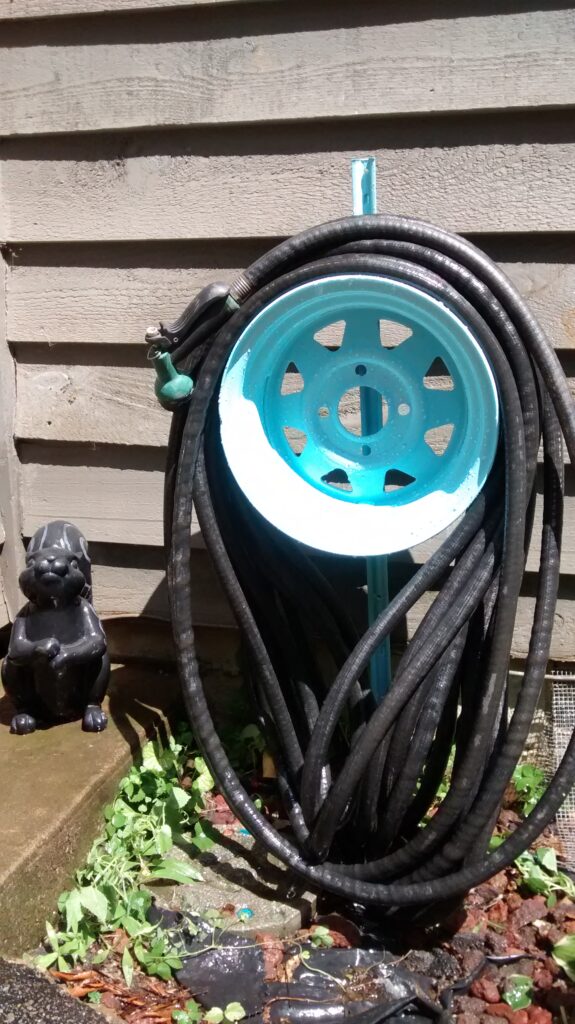 Materials: Tire rim, T-post, metal spray paint
Tools: Welder or JB weld
Difficulty Level: Easy
If you want easy, it doesn't get easier than this hose reel. You may not have the materials lying around, but the rim and T-post metal are pretty easy to salvage for free or dirt-cheap. Most people don't have a welder either. However, you can pick up a tube of JB weld from just about anywhere, like Wal-Mart or Home Depot. It won't be as long-lasting as welding, but the JB weld will hold for a long time if done properly.
---
8.

Hometalk – Hose and Sprinkler Winter Storage
Materials: 5-gallon bucket, screws, metal plumber's tape
Tools: Drill
Difficulty Level: Easy
When winter rolls around, you don't want to leave your hose or sprinkler outside. This super easy hose and sprinkler storage idea will give you storage for your garden watering tools in minutes. There are ways this idea can be improved upon, but sometimes simple is all you need. With a less complex design, there isn't as much to fix if something happens to go wrong.
---
9.

The Shed and Beyond – Hose Reel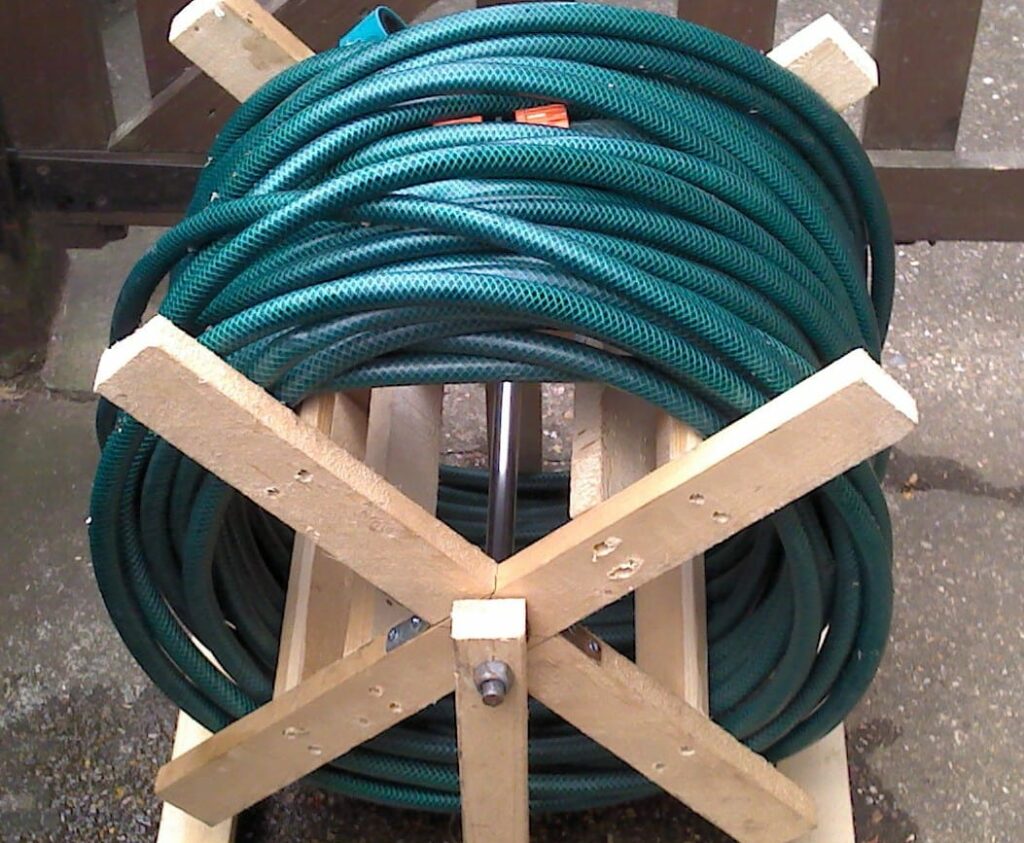 Materials: Dimensional lumber, screws, threaded rod, washer, nuts
Tools: Circular saw, chisel, adjustable wrench
Difficulty Level: Easy
Unlike most reels on this list, this hose reel isn't mounted to anything. As a standalone unit, you can move it anywhere you need your hose. This is an ideal solution if you have multiple water sources on a larger piece of property. Rather than dragging your hose around in a pile, you can have it neatly coiled on a transportable reel.
---
10.

Newly Woodwards – Upcycled Hose Storage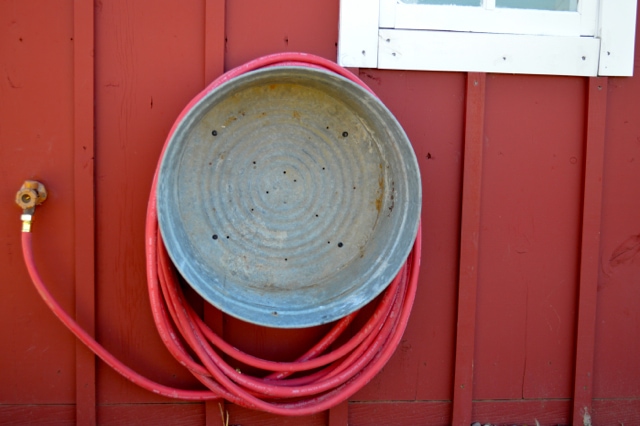 Materials: Metal washbasin, screws
Tools: Drill
Difficulty Level: Easy
Not only is this upcycled hose storage rustic, but it's also effortless to do. All you need is a metal washbasin. There are numerous sizes and styles of these old basins—pretty much any of them would do the trick. If you want to elevate this project a little bit, you could always grab a can of metallic spray paint of your choice in color.
---
11.

Sawdust Sisters – Garden Hose Holder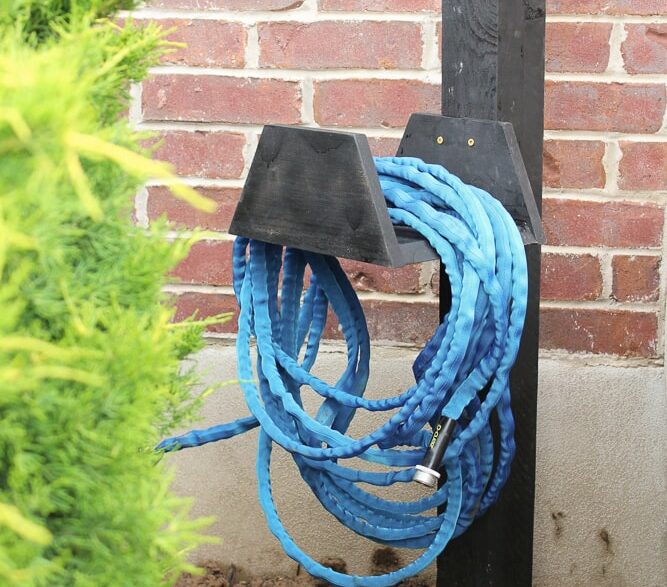 Materials: Cedar post, post cap, 1×12 board, 1×6 board, spray paint, concrete, level, water
Tools: Miter saw, Kreg jig, sander, drill
Difficulty Level: Moderate
This garden hose holder is a great addition to any garden, and it's not hard to do. Keep in mind that it can get difficult if the frost line is deep where you live. If it is and you only dig the specified foot into the ground, it will push the post out of the ground when the ground freezes. So, you're better off tamping with dirt if that's the case. Also, pay attention to the end of the guide where they show a brace under the reel rack.
---
12.

DIY Candy – Hose Holder with Wooden Planter
Materials: Pallets, 2×2 boards, screws, glue, sealer, hinges, latch, L-brackets, right-angle brackets
Tools: Miter saw, planer, Kreg jig, nailer, tin snips, drill, staple gun, scissors
Difficulty Level: Moderate
The nice thing about this hose holder with a wooden planter is that much of the lumber required is from pallets, which are usually free. The rest is all reasonably priced, so this project won't cost you much other than your time. It's only moderate due to some of the tools needed. Most casual DIYers won't have a planer, and a planer is the quickest and easiest way to get pallet wood into usable lumber.
See Also:
Conclusion
There are options galore, no matter what water hose or cord you're trying to reel up. Now that the creative juices are flowing, what will you create? Sometimes all it takes is looking through a list like this, and suddenly you remember that old "something" you have lying around in the garage. The lightbulb goes off, and now you're on your way to creating your own DIY project. Don't forget to share your creation with the world once you're done.