9 DIY Keepsake Box Plans You Can Build Today (with Pictures)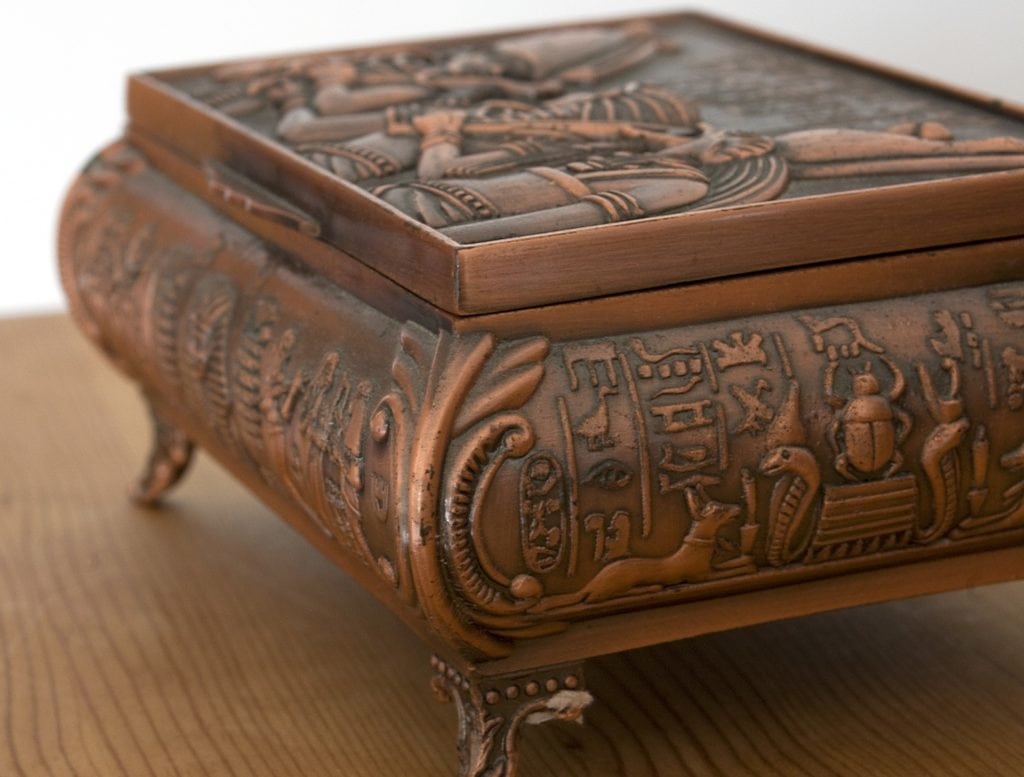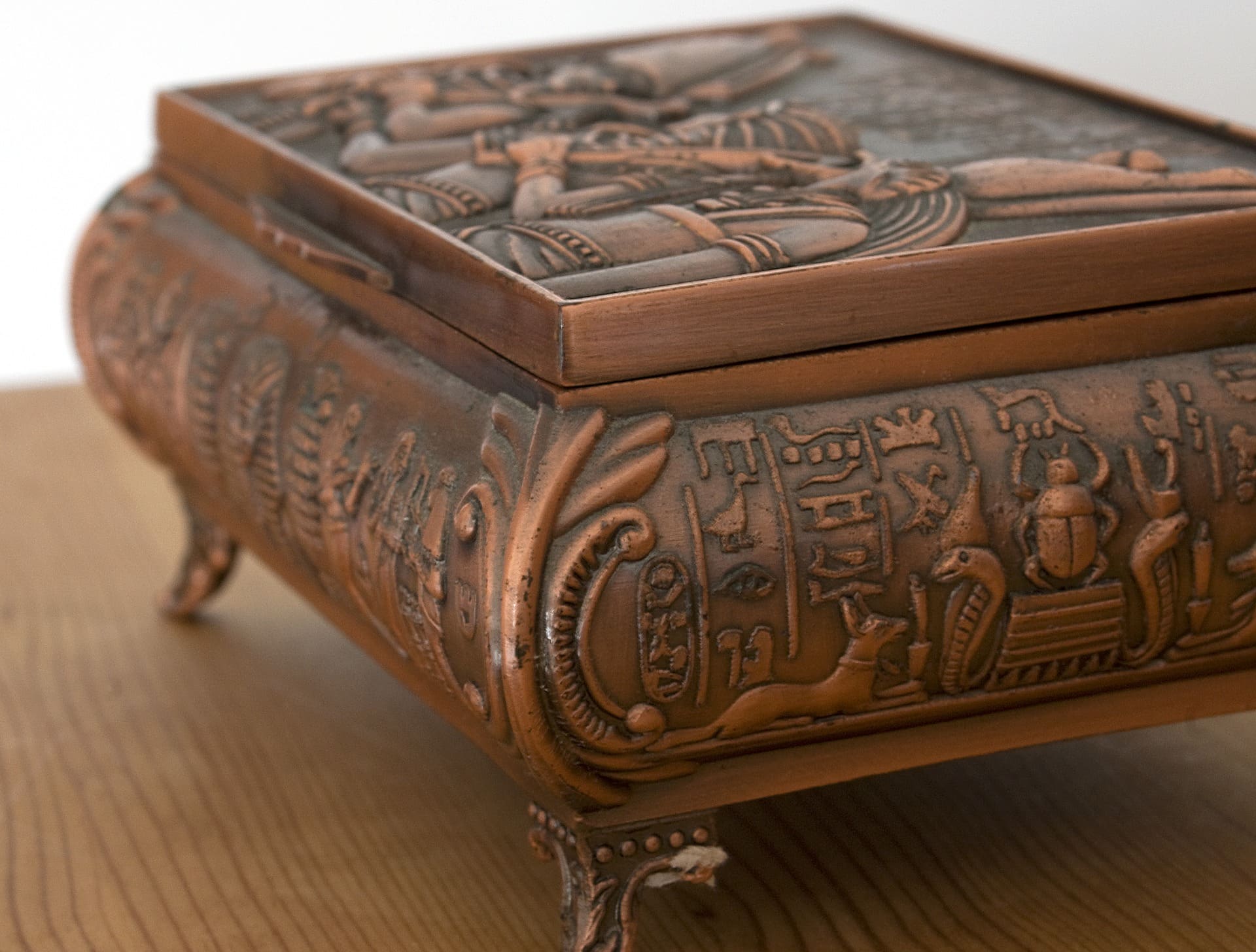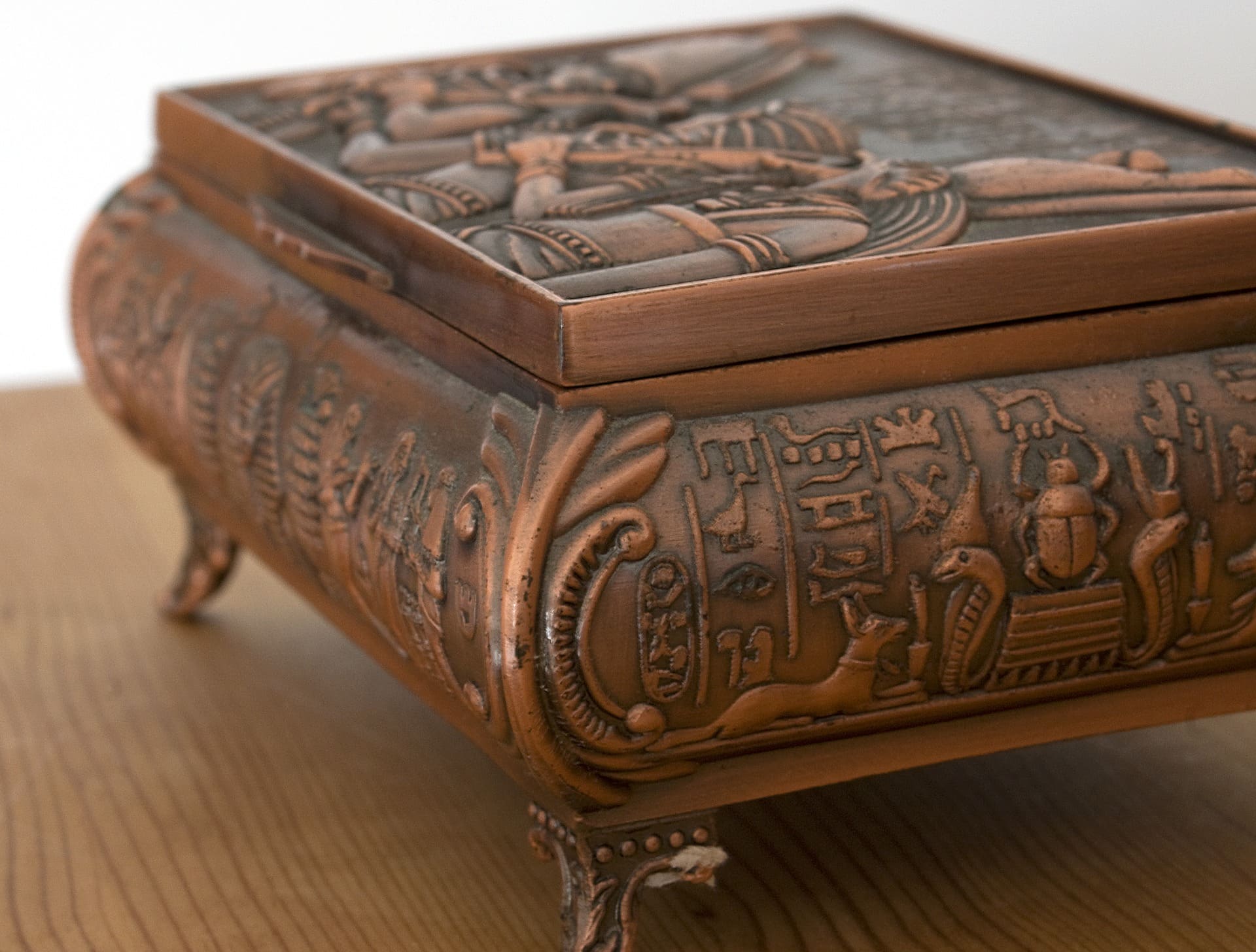 A keepsake box is one of those items that truly deserve the title of "priceless."
Imagine how you would feel if your parent or guardian presented you with a simple box containing your first picture, first tooth, or first of anything; you would probably find this quite sentimental. Learning how to build a keepsake box of your own can truly add to this sentiment.
A keepsake box has also been shown to help patients with Alzheimer's remember things.
The best part is that keepsake boxes are quite easy to construct. The following is a collection of DIY plans for keepsake boxes to help you make one for your loved one.

The 9 DIY Keepsake Box Plans
1.

DIY Keepsake Book Box by HowDoesShe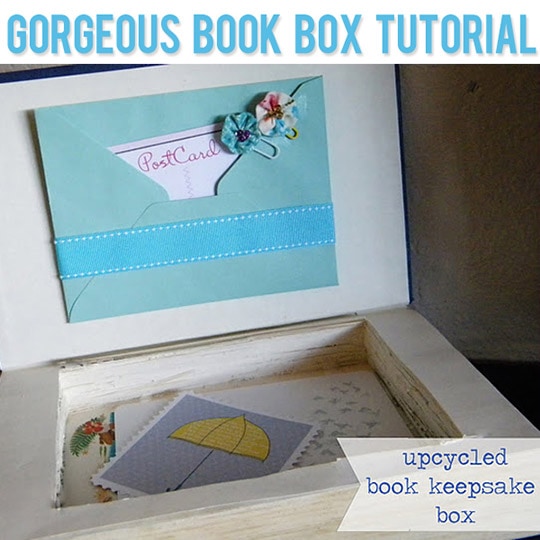 Even though most keepsake boxes are made out of wood, this does not mean that wood is the only material that you can use to make this box. This point cannot be more clearly illustrated than with the use of an old hardcover book to make a keepsake box.
It is cute, charming, and unique. Additionally, you do not have to worry about carpentry skills. If the keepsake book box tickles your fancy, here is a DIY plan to help you make one.
---
2.

DIY Box by the Family Handyman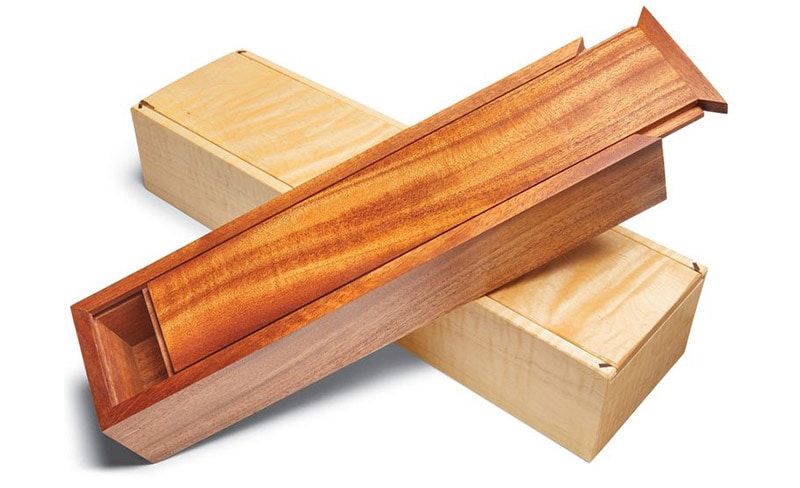 If you were worried that you would not find a DIY keepsake box plan that utilizes your carpentry skills on this list, you can rest easy, as this small keepsake box by the Family Handyman is a simple piece that you can create from your leftovers from other projects.
In fact, this plan's owner says that they used mahogany scraps that were too small to be used in other projects yet too valuable to be thrown into the fireplace.
Basic carpentry skills and a few hours is all you will need to make these priceless pieces. Here is how to do it.
---
3.

DIY Plan by Popular Woodworking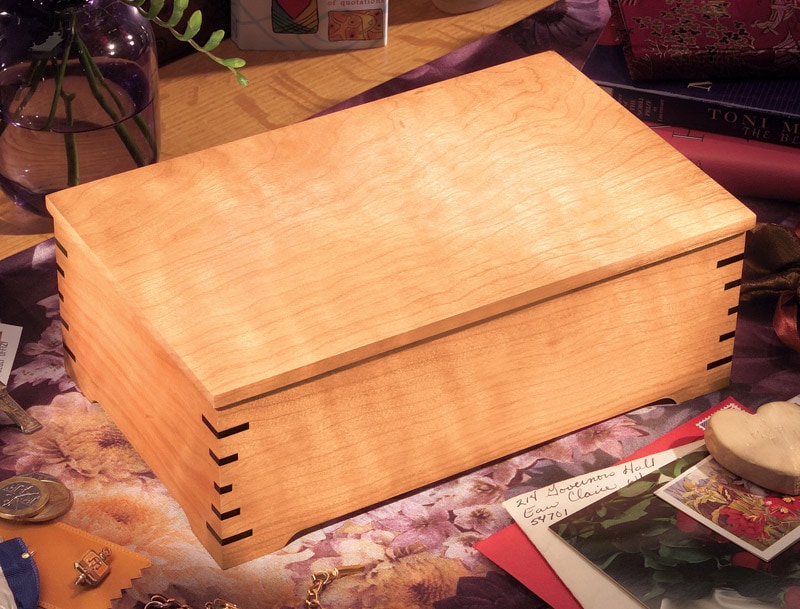 The initial appearance of this keepsake box might suggest that it needs a lot of skill and work to create. However, our friends at Popular Woodworking insist that they are incredibly easy and fast to make.
Additionally, the materials used in the making of these boxes are quite cheap. A box should not cost more than $25 to construct, as long as you stick to common species of wood, such as cherry, oak, or maple.
Here is the DIY plan for this keepsake box.
---
4.

DIY Splines and Picture Frame Top by Woodshop Diaries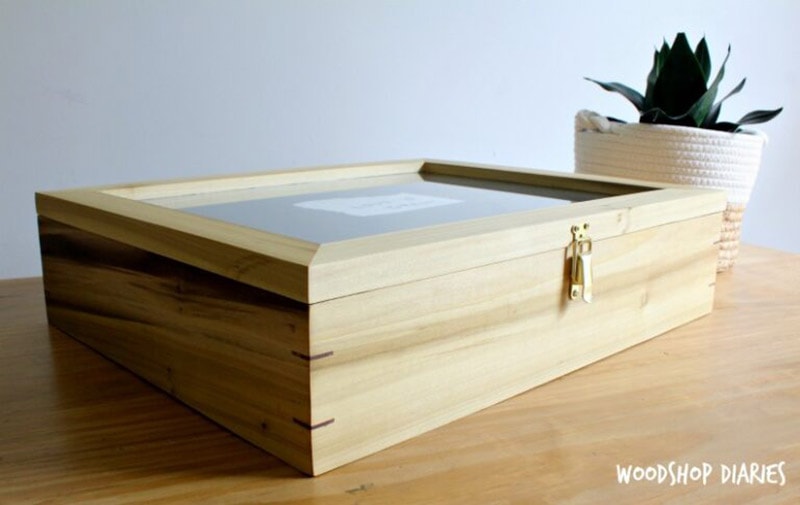 The picture frame top is an ingenious idea for a keepsake box. That frame does not have to necessarily contain a picture, even though that would be a good touch, but any image, cutting, or even a piece of paper that resonates deeply with your loved one can be used as well.
In addition to being quite stylish, it is also quite easy to make. In fact, it is one of our favorite DIY keepsake plans on this list. Here is how to make it.
---
5.

DIY Scrap Wood Keepsake Box by Woodshop Diaries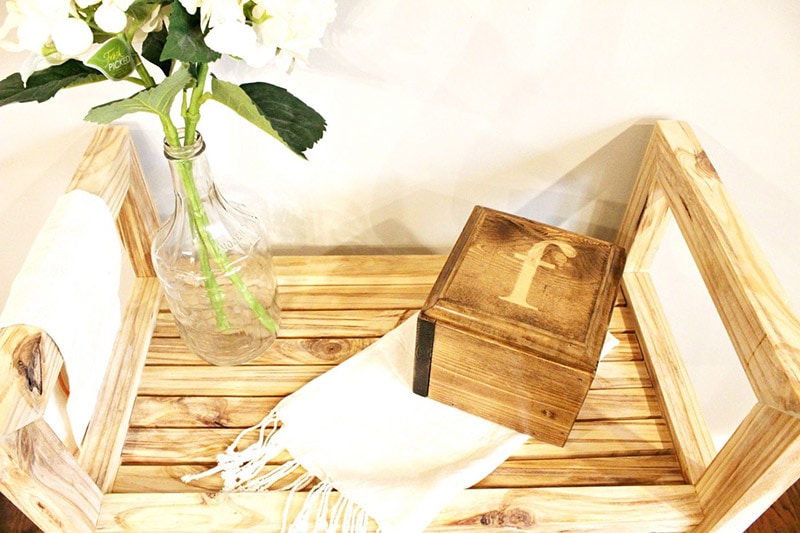 If you have scrap wood lying around, basic carpentry skills, and an hour to spare, you can easily make this cute little keepsake box. In addition to storing keepsakes, this box's unique design allows it to be converted into a storage box for jewelry and other accessories.
Here is how to go about it.
---
6.

DIY Keepsake Gift Box by Kregtool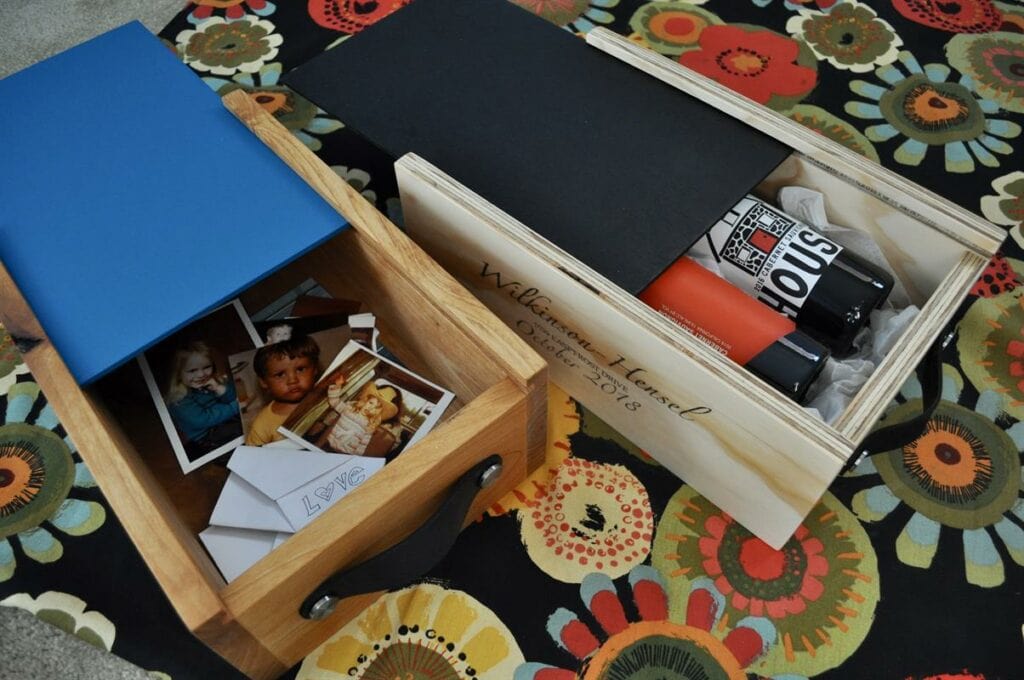 More experienced DIYers will have no problem making this DIY keepsake gift box with the help of a thorough step-by-step plan. You'll need some woodworking staples like a miter saw, table saw, nail gun, and sander, but those are fairly common in most workshops. Wood glue and clamps would come in handy but aren't strictly required.
The end of the plan notes that you're free to add your own embellishments as desired. You can engrave a loved one's name on the lid, add decorative designs around the edges, or even paint on a personalized message. Like all keepsake boxes, the thought is what counts.
---
7.

DIY Upcycled Keepsake Box by WoodShopDiaries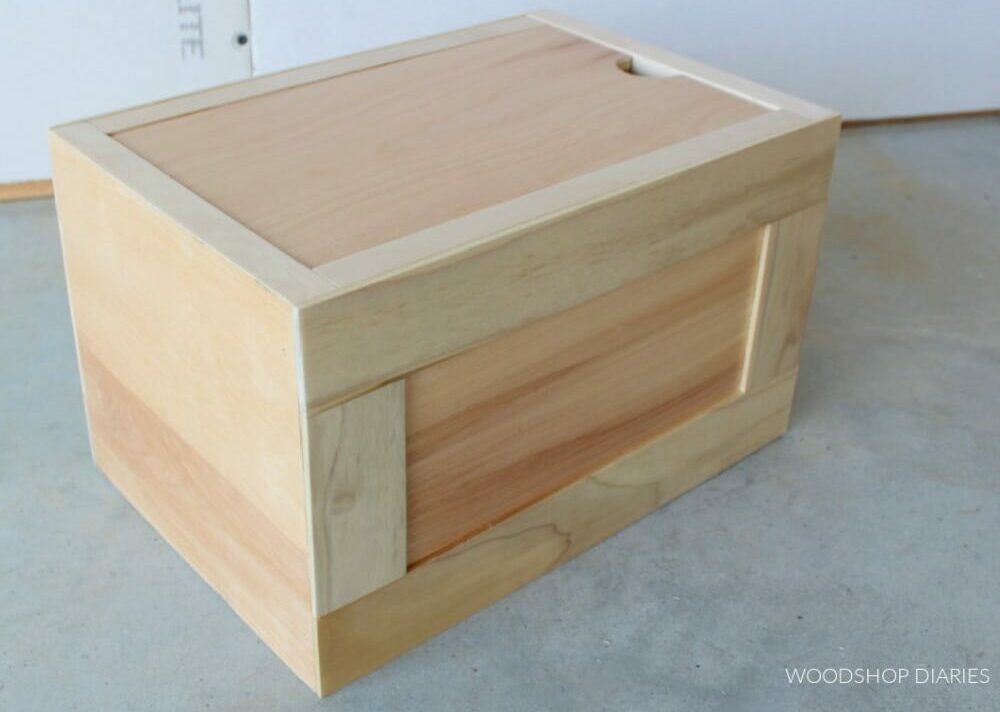 For workshops overrun with scrap wood, this upcycled DIY keepsake box is a fantastic way to use up that scrap and make a priceless gift in the process. You just need scrap pieces big enough to shape them into squares with your saw, and you can adapt the dimensions in the plan if your wood is too small. Cove molding adds a gorgeous touch, so don't be afraid to go crazy.
The plan suggests stenciling initials on the box, but you can take that further and put a loved one's name if you want. Just use some spray paint and alphabet stencils. Stain is optional, but always a good idea to keep your box looking great for a long time to come. Lastly, an ornate knob or pull adds a cozy antique touch your loved one will love.
---
8.

DIY Memory Box by Instructables
You can get extra crafty with this memory box. The best part about it is that you can decorate it however you'd like. Seriously, you can get crazy with this one. The plan is about as easy as it gets, so this is excellent for various skill levels.
---
9.

Decoupage Wood Memory Box by TheCentSableShoppin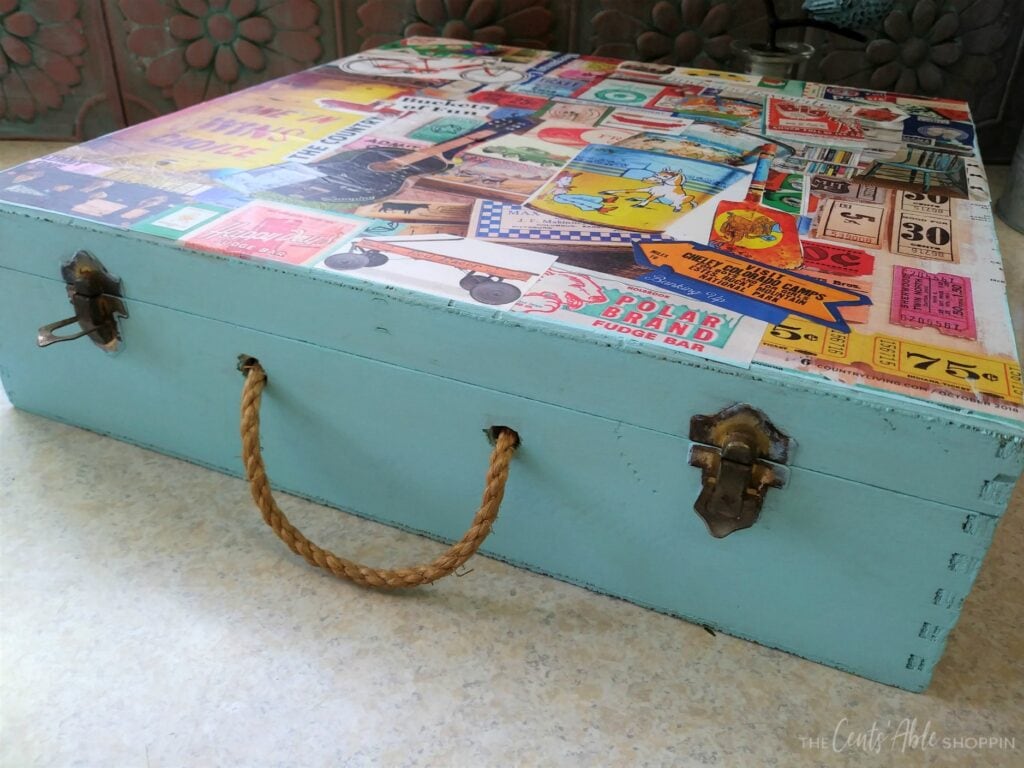 Last on our list is the beautiful memory box ready to be decorated with your favorite art. Perfect for storing vacation memories, the vintage closures and rope handle give this box something special. The materials consist of many things that you already have, such as scissors, paper, glue, and paint, so it's just a matter of finding a box and decorating it. This also makes it a perfect project for children.
Tips for Keepsake Boxes
To help ensure that your keepsake box has a powerful impact on the person that it is meant for, here are a few things to ponder.
Include Photos
Photos allow us to travel back in time and relive memories. Therefore, if you have special photos of your loved one, put them inside. However, make sure that you cover them with a bag or any other form of protection to enhance their longevity.
Capture Your Relationship
Since it will be coming from you, you should include mementos that remind the other person of you. It could be the ticket to a movie that you watched together or a receipt from a place that you loved hanging out together.

Conclusion
Keepsake boxes are all about precious memories and less about the design or build material. But high-quality materials such as hardwood are also bound to last longer, which will ensure that all the memories will be preserved. If you are interested in learning how to build a keepsake box, all the DIY plans in this guide are worth trying out!
You might also be interested in:
---
Featured Image Credit: Pixabay