14 DIY Liquor Cabinet Plans You Can Build Today (with Pictures)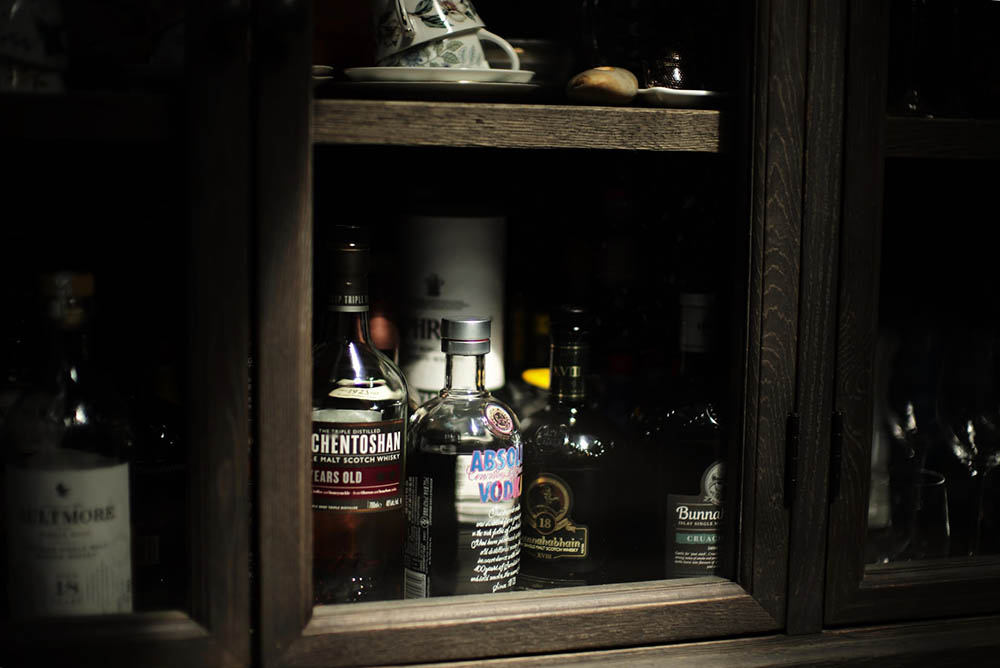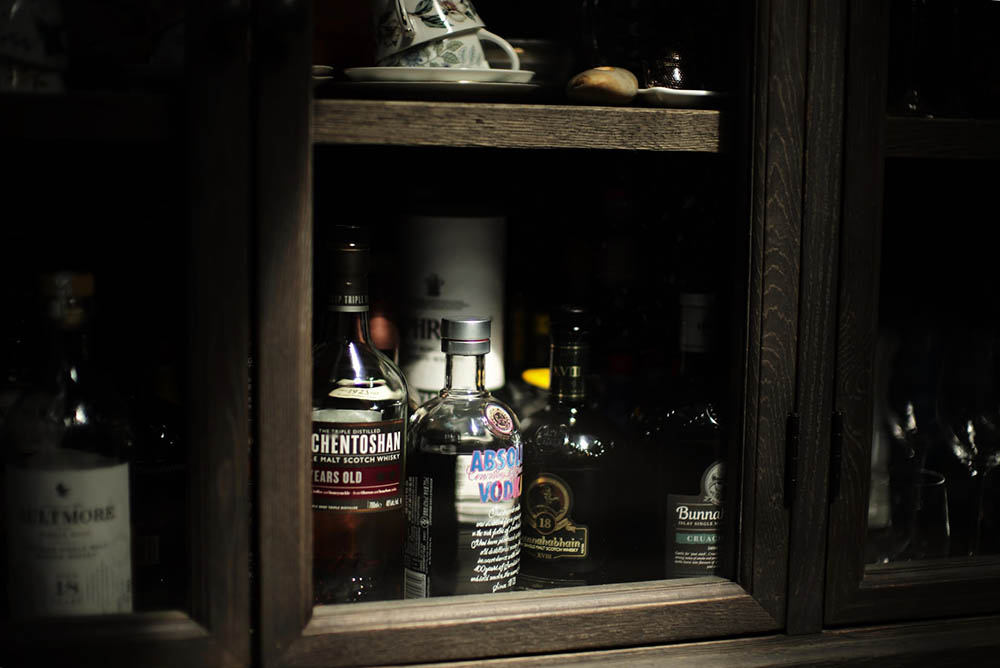 Liquor cabinets are often considered "optional." However, you have to put your liquor somewhere. If you don't have a set-aside cabinet, it'll spill over into your kitchen cabinets and take up much-needed room. Wherever possible, you may want to consider adding a liquor cabinet to your home, especially if you like to keep many varieties on hand.
That doesn't necessarily mean you have to go out and purchase one, though. Instead, you can learn how to build a liquor cabinet of your own. Of course, this will require a bit of time on your part, but there are many straightforward plans that just about everyone can build.
We'll take a look at some of those plans in this article so that you can get to building your liquor cabinet as quickly as possible.

The 14 DIY Liquor Cabinet Plans
1.

Simple Liquor Cabinet
If you're looking for something that is simple and doable, this is going to be your best option. It is very straightforward and easy to put together, making it perfect for those who only care about practicality. Plus, it is perfect for smaller spaces and can easily be adjusted to the size you want. What's more, its simplistic design also means that you can easily adjust it to fit your style. You can paint it white or stain it to match your kitchen cabinets.
---
2.

Reclaim a Console
Consoles are full of cabinets and all sorts of small storage spaces, making them perfect for bars and liquor cabinets. If you happen to have a console lying around, you can easily paint it, add some more shelves, and adjust it to fit your particular style and needs. How you go about doing this depends on what console you have and your needs.
The best part about this method is that you already have the base of the console, so you won't have to build anything from scratch. It may take a bit of know-how to get it done, though, which is why you may want to choose a different option if you're a beginner.
---
3.

Barn Door Liquor Cabinet
If you have a farmhouse-style or rustic home, this is a great liquor cabinet idea. This is also a reclaimed console that was made into a wine cellar and liquor cabinet. However, this cabinet has a barn door on it, which gives it a bit more character than most other options on this list.
This requires a bit more skill since barn doors can be a bit complicated to put on. However, the plan is straightforward to understand and straightforward, so even a beginner may be able to figure this problem out. We particularly recommend this plan for those who care about the liquor cabinet's style, as this one has more style than most of the other options on the market.
---
4.

"Coffee" Cabinet
Technically, this is a coffee cabinet. However, it can easily be used for a liquor cabinet as well. It would fit nicely into a kitchen, though it would work well in a bar area too. This is a very sophisticated liquor cabinet and would fit best in rustic or farmhouse-style homes. You can leave glasses on top of the counter or put glass racks inside.
This is a pretty straightforward design, but you should follow the plans closely. It is a bit more complicated than many of the other plans on this list, but it isn't so confusing that we believe beginners would have trouble getting it done.
---
5.

Wine Rack
Often, if you're keeping liquor, you're probably keeping wine too. If you play it smart, you can even keep liquor next to your wine. This cabinet is perfect for doing just that. With places to keep glasses, bottles, and miscellaneous items, this is a perfect option for bars or basement hangouts.
The main downside of this rack is that it is rather large. You can keep a lot of liquor and wine on it, which is always an added bonus. However, you do need somewhere to put the actual rack. It will likely be too large for most kitchens, so it is best for bar-dedicated areas.
Related Read: 15 Free DIY Wine Rack Plans You Can Make Today 
---
6.

Pantry Cabinet
Fetch by Dodo
https://www.fetchpet.com/locations/al-pet-insurance
Fetch by Dodo is an excellent option for pet insurance as they have very affordable premiums that cover quite a bit. Their base plan covers the usual illness and accident-associated costs, along with more unique items like every tooth in your pet's head, alternative therapies, and more. However, they don't cover items such as preventative care, and they don't have an add-on for that. So, if that's important to you, you'll need to look elsewhere.
The company also has fewer customizations than other companies (only three options for annual limits, deductibles, and reimbursement rates), but those options should be enough to configure a plan for your budget.
One area where Fetch really seems to shine is in customer service, as there are several excellent reviews from consumers about the great (and timely) help they received when needed.
Pros
Affordable
Covers some non-routine items
Excellent reports about customer service
Cons
No add-ons for preventative care
Fewer customizations than many companies
Pumpkin Pet Insurance

Pumpkin is a company that's quite excellent all around, as they provide tons of coverage (not just for accidents and illness, but also prescription food, diagnostics, microchipping, and more). Plus, they have a 90% reimbursement rate across the board (though you can choose from three levels of annual limits and deductibles), which is pretty impressive. That high reimbursement rate does mean monthly premiums are a touch higher than companies such as Bivvy or Lemonade, but they also aren't insanely high either.
And you can choose a wellness add-on for minimal preventative care coverage, like in most places. There's also a nice 10% discount on any plans purchased for multi-pet homes!
The biggest downside to Pumpkin is likely the fact that some specific dog breeds will automatically have more costly premiums due to their breed.
Pros
90% reimbursement rate
Loads of coverage that includes out-of-the-ordinary items
Multi-pet discount
Cons
Plans are a bit pricier due to high reimbursement rate
Certain dog breeds will automatically have higher premiums
Trupanion Pet Insurance
https://trupanion.com/
Trupanion only has one single plan, but it has such a broad range of deductibles to choose from that it's easy to choose one that fits well into your budget. And because the deductible is what's known as lifetime per condition, then once you meet that deductible for a specific condition, you won't have to pay out any more for it for the entirety of your pet's life! Though there are no add-ons for preventative care, such as vaccines or exam fees, you do have two add-on options. The first covers complementary and holistic care; the other covers items such as unexpected boarding fees.
One of the great things about Trupanion is that rather than reimbursing you directly, they make life easier by directly paying your vet (so long as your vet has the software to do this, at least).
Pros
Lifetime per condition deductibles
Easy to find a plan that fits your budget
Can reimburse some vets directly
Cons
No coverage for preventative care
A pantry cabinet is simply the perfect place to keep liquor. While these things are often designed for food and such, their larger size and large doors make them perfect for liquor. This plan is straightforward to follow and very simple. You can make it match the other cabinets in your home and adjust the shelf heights to your needs.
This plan is absolutely functional and easy to make. We recommend it for beginners who want something a bit larger to keep their liquor in or those who want to keep their liquor in their kitchen area.
---
7.

Above-the-Fridge Cabinet
Many people keep their liquor above their fridge. These cabinets are out of the way but accessible when you need them. However, not everyone has an over-the-fridge cabinet. This plan provides all the information you need about building and attaching an over-the-fridge cabinet to your home and therefore getting a great place to store your liquor.
The main problem with these cabinets is that they are quite short, making it impossible to fit taller bottles in them. However, they can be useful for smaller bottles and accessories.
---
8.

Simple Cabinet
This plan is designed for a wine cabinet, but you can just as easily use it for all sorts of liquor bottles. It is effortless to make and can be thrown together in only a few hours, especially if you've DIYed something like this before. It is simple for beginners but should also be plenty stylish for most homes. You can adjust the design to fit into your kitchen or an at-home bar area.
This design is also very inexpensive. If you're working with a strict budget, this is likely a solid plan for you to work with.
---
9.

Sideboard
This elegant cabinet can be used for just about anything – including liquor. It is quite large. So, if you have a lot to store, this is an excellent option for you. It would look great in a bar area, though it would also look nice in your kitchen if you had the room. It is quite large, so be sure to account for its larger size before deciding to put it together.
This is a straightforward cabinet that can be designed to fit into nearly any home style and space. You can paint it or stain it to match your kitchen cabinets.
---
10.

Simple Wall Cabinets
If you're only looking for a small place to put your liquor, you can easily add it to your kitchen area with this plan. Build another kitchen cabinet and designate it to be for your liquor. That's it! This is a straightforward plan that can be done by just about anyone, including beginners who have little DIY experience.
Most experienced DIYers will be able to get this plan done in only a few hours. Beginners can expect to get it done within the day. It's that simple.
---
11.

Another Coffee Cabinet
Coffee cabinets are strangely perfect for liquor cabinets. This DIY option is designed to be a coffee cabinet. However, you can make it as-is and easily use it for your liquor as well. It even has places for glasses and other accessories you'll need to have on hand. The counter space is the perfect area for mixing cocktails and getting drinks ready.
There is even a fancy hook on the side for cutting boards!
---
12.

Sheet-Metal Cabinet
This cabinet is extremely aesthetically pleasing and is perfect for your bar. It can easily be the centerpiece of any space. The counter on top can be used to mix drinks and prepare cocktails, while all your bottles are safely behind the sheet-metal doors.
This cabinet is designed with a rustic feel. However, it can easily be changed to fit whatever style you're going for. Paint it white for a more modern look or leave it as is for a farmhouse-style.
---
13.

Pallet Cabinet
If you have some extra pallets lying around, then this is an inexpensive option. Many local businesses may allow you to take their pallets off their hands for free, allowing you to build this for practically just the price of the handles and hinges. While it isn't designed explicitly for liquor, you can easily design the shelving inside to be used for liquor bottles.
This is a pretty simple cabinet that can quickly be done by beginners and experienced woodworkers alike.
---
14.

Custom Liquor Cabinet
This plan teaches you how to build a liquor cabinet that is completely customized that can display a variety of bottles and hold all of your accessories and glasses. This plan is a bit more complicated than some other options, so it may not be the best choice for beginners. However, if you're set on this cabinet, go ahead and give it a shot (just bring your patience).
Related Reads:
---
Featured Image Credit: Tony Wan, Unsplash