5 Best Gas Chainsaws – Top Picks & Reviews 2023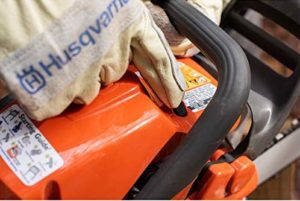 You respect chainsaws. Maybe you're a veteran brush-clearer. Or maybe you've just gotten your first five-acre property, and are looking for a tool to start pruning the woods. Whatever part of the spectrum you fall on, you're here because you understand that chainsaws are powerful, versatile tools.
With our reviews of the best gas-powered chainsaws, we want to show you the same respect you show your tools, by helping you find exactly the right gas-powered saw for the job at hand. We've ranked some of the finest gas chainsaws on the market by power, usability, price, lifespan, and other factors.
Gas-powered chainsaws can be tough to shop for. Get the wrong one, and the motor could break down, the blade could wear out, or the fumes could ruin your day. Our reviews are here to help you focus your search to find the perfect tool to conquer whatever cuts you're staring down.
---
A Quick Comparison of Our Favorites in 2023
Rating
Image
Product
Details

Best Overall

Remington RM4214 Rebel Gas Chainsaw

Lightweight
Automatic oiler
Easy to start
CHECK PRICE

Best Value

Husqvarna 455 Rancher Gas Chainsaw

Powerful 20-inch saw
Runs for a long time
Holds a straight line
CHECK PRICE

Premium Choice

Poulan Pro 20" Gas-Powered Chainsaw

Easy to start
Good for its size
Simple to maintain
CHECK PRICE

Blue Max 8901 Gas Chainsaw

Two blade lengths
Good
clean cuts
No fumes or oil leaks
CHECK PRICE

Poulan P3314 Gas Chainsaw

Very inexpensive
Lightweight
Great for small jobs
CHECK PRICE
The 5 Best Gas Chainsaws
1.

Remington RM4214 Rebel Gas Chainsaw – Best Overall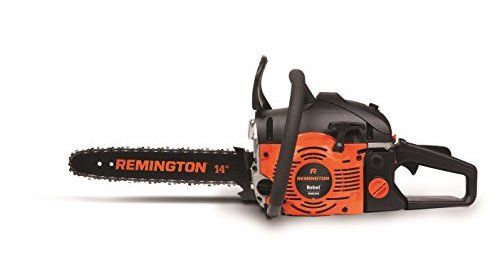 The Remington Rebel RM4214 tops our list of favorite gas-powered chainsaws. It's perfectly balanced, starts on a dime, and combines intense cutting power with surprisingly good vibration dampening. Holding this, you won't feel like it's as strong as it is, but take it to a log and you won't have any doubt left.
For specs, the Remington Rebel has a 42cc two-cycle engine and a 14-inch bar, which might not seem like a lot, and it's true that the Rebel is a compact chainsaw. Its small size is both an asset and a liability: it's easier to carry around, fit into small spaces, and use for cuts you can only reach awkward angles. That said, it does take longer to cut through larger limbs and trunks.
Other things we like about the Rebel include its automatic chain oiler and tool-free maintenance access panels. In our tests, it sawed quickly through tougher woods.
All in all, we think that this is the best gas-powered chainsaw of the year.
Pros
Lightweight and portable
Automatic oiler
Powerful cuts on all wood
Easy to start
Hardly any vibration
Relatively low price
Cons
Smaller and less powerful than some gas saws
2.

Husqvarna 455 Rancher Gas Chainsaw – Premium Choice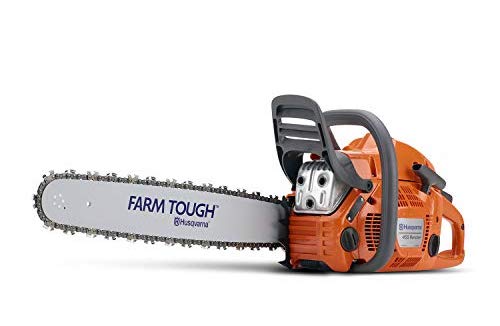 For those willing to pay a little more, the Husqvarna 20 Inch 455 Rancher Gas Chainsaw offers superior heavy-duty power. Husqvarna is a brand we're always excited to try out, and the 455 Rancher did not disappoint, earning its value by making fast rip cuts and working continuously for an hour before we needed to refuel it.
The 20-inch bar and chain are long and heavy enough for just about any job in the field, though it does make the 455 Rancher a bit less portable and maneuverable than our #1 pick. Its 55.5cc 2-cycle engine is capable of 9000 RPM unloaded. What really makes it premium is how well-calibrated it is: through all our cuts, this saw didn't jump, wander, or spit out an excess of sawdust, leaving behind big, useful wood chips.
It's got the usual drawbacks of a power saw, of course. It's loud, so you'll need ear protection, and it's a little heavy for people with motion restrictions. It also starts much less smoothly than the Remington Rebel, and might require a spark plug change on arrival.
Pros
Powerful 20-inch saw
Runs for a long time on one tank
Holds a straight line
Cons
Loud
Heavy
Difficult to start, might need spark plug replaced
---
3.

Poulan Pro 20″ Gas-Powered Chainsaw – Best Value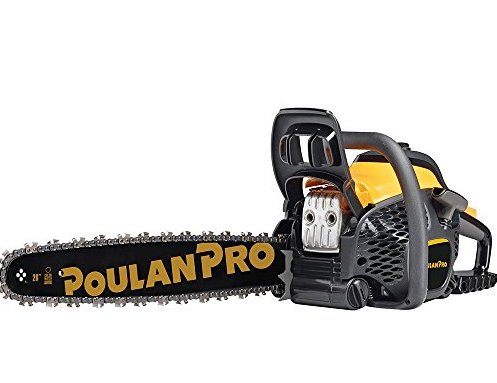 Gas-powered chainsaws aren't as expensive as you might think, but it's still important to be budget-conscious. If that's on your mind, the Poulan Pro 20-inch is easily the best gas-powered chainsaw for the money. Its blade boasts heavy cutting power, helped along by a durable 50cc engine.
Despite being longer and more powerful than our #1 pick, the Poulan Pro 50cc is only third on our list, mostly for one reason: it's way too easy to flood. The instruction manual suggests way too much priming, and for that reason, lots of people will find this saw difficult or impossible to start. The auto-oiler also runs through an excessive amount of oil.
Yet if you take caution when starting it up (and prepare to replace a spark plug or two), you'll be rewarded with some of the quickest, smoothest cuts you've ever seen, as the blade slices through limbs with near-zero kickback. Don't let the plastic body fool you, either — it's as tough as steel. With that being said, this is the best chainsaw for the money we have reviewed this year.
Pros
Easy to start
Good for its size
Simple to maintain
Cons
Budget model
Very heavy
Long idle time
---
4.

Blue Max 8901 Gas Chainsaw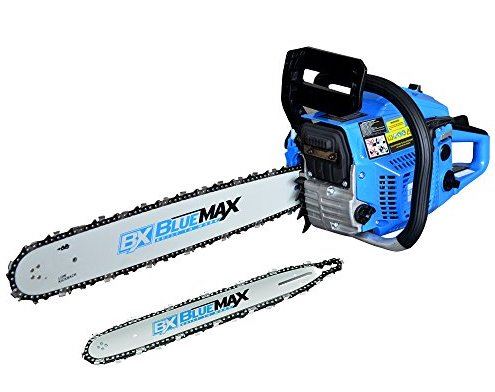 The Blue Max 8901 is a phenomenally useful 2-in-1 chainsaw, selling with both a 14-inch and 20-inch blade. They're easy to change out, and the versatility doesn't stop there, as Blue Max includes additional teeth you can install for extra cutting power. Tensioning and auto-lubricating each blade is easy.
Technically speaking, it's got 45cc engine that idles at about 3000 RPM, and reaches a maximum unloaded speed of 10,500 RPM. Despite those decent specs, the engine is amazingly tight, with no oil leaks and hardly any fumes to speak of. The 8901 is a great choice for anybody who can't stand the usual smoke and stench of gas-powered chainsaws.
The big issue we have with this saw is lifespan. It works great for the first few jobs, but starting it quickly becomes a chore, even though it doesn't lose anything in cutting power. Similarly, the included blade teeth wear through quickly. This is a saw you really have to baby, or it won't work for long.
Pros
Two blade lengths make it very versatile
Good, clean cuts
No fumes or oil leaks
Cons
Starting it gets much harder after the first few uses
Extra teeth wear out fast
---
5.

Poulan P3314 Gas Chainsaw
First things first: the Poulan PL3314 is one of the cheapest gas-powered chainsaws we've ever tested, and definitely the cheapest we'd recommend buying. Not only is the price low, but it's currently backed by the Amazon Renewed guarantee of a replacement or refund if it breaks within 90 days.
Saving money sacrifices power, as you might expect. With only a 33cc motor, this saw isn't powerful enough for tough, professional-grade jobs. For smaller jobs, though, it reminds us a bit of the Remington Rebel — easy to maneuver around tight corners and carry for miles through the woods.
The other downside of going with a cheaper chainsaw is construction. The tensioning screws come loose easily, and so does the chain itself: use extreme caution, as you'll find it slipping a lot. Generally, while the PL3314 makes good cuts, using it feels shaky, as though it's always on the verge of falling apart.
Pros
Very inexpensive
Lightweight
Great for small jobs
Cons
Less powerful motor means cuts take longer
Construction feels cheap
Chain and tensioning screws regularly come loose
---
Buyer's Guide – Purchasing the Gas Powered Chainsaw
Let's get one thing out of the way right off the bat: chainsaws are terrible weapons for the zombie apocalypse. After it runs out of fuel, you're hosed. If you found this article because you're being menaced by hordes of undead, we suggest a machete, broadsword, or katana instead. Make sure to sharpen it regularly.
Now that we're clear on that, let's talk about the most important questions to ask when shopping for a gas-powered chainsaw.
Do You Need A Gas Chainsaw?
The first question to clear up is whether or not a gas-powered chainsaw is the best choice for you, or whether you should go with a corded, battery-powered, or manual saw instead. Take a look over this list of pros and cons.
Gas Chainsaw Pros
Totally mobile — no need for an extension cord
Faster chain speeds for easier cuts
Can clear more area in one workday
Better at cutting through larger trees
Gas Chainsaw Cons
Heavier and bulkier than electric chainsaws
Require special mixed fuel and regular service
More noise and fumes
Harder to start
How Much Engine Power Do You Need?
The power of a gas chainsaw's motor is measured in revolutions per minute (RPM) and engine displacement (cc). Usually, more displacement equals more RPM, though this isn't always true.
Engine power determines how fast your chainsaw blade can move, which in turn decides how fast you can cut logs that are tougher, larger, or both. It also influences how long the chainsaw blade can be.
Engine power is the easiest way to split chainsaws into three classes: homeowner, farmer/rancher, and professional.
Homeowner chainsaws have the least powerful engines, but make up for it by being lightweight, maneuverable, and affordable.
Farm and ranch chainsaws land in the middle. Their engines have higher RPM than a homeowner chainsaw's, but not as high as a professional chainsaw.
Professional chainsaws are both the most powerful and most expensive options. They aim to be as light and well-balanced as possible so landscapers and lumberjacks can comfortably use them all day.
Decide what level you need by asking what sort of jobs you need the chainsaw for. Getting a professional chainsaw to work in your backyard once a month is a waste of money, but getting a small home chainsaw for your landscaping business is a waste of time.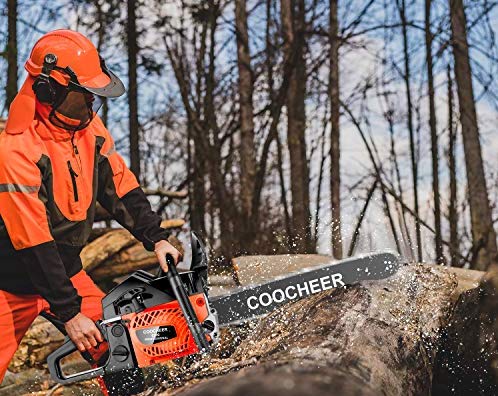 What Extra Features Do You Need?
The core of a chainsaw is the motor, the bar, the blade, and the handles. However, new models come with tons of extras that can make them easier, more comfortable, and more fun to use.
Spring-assist starting mechanisms add power to the starting cord, making the chainsaw easier to start without pulling the cord endlessly.
Auto-oilers regularly add oil to the blade to keep it from catching or getting too hot. Be warned that these sometimes add more oil than you might like, so keep an eye on them.
Anti-vibration features keep the chainsaw from shaking too much, which can lead to discomfort, rougher cuts, and unsafe situations. Anti-vibration involves separating the handle from the motor with a layer of shock-absorbing rubber. It's pretty standard on chainsaws these days, but still worth asking about.
Chain brakes stop the chain immediately if it's threatening to injure you. They're nearly universal on modern chainsaws. Chain brakes can be engaged manually, but are also designed to trigger on their own when the saw kicks back.
Toolless tension adjustment makes it easy to re-tighten the chain blade without having to bring extra tools with you to the job site.
Air cleaners remove large wood chips and other bits of junk from your chainsaw's air filter, helping it last longer before you need to clean it out.
Carrying cases make it easier to carry your chainsaw from place to place and store it safely.
What Safety Gear Do You Need?
Like we said at the start of this article, we know you respect chainsaws, so we know you won't start using one without the proper safety gear. Here's what you'll need.
Gloves that resist cuts and grip firmly.
Goggles to protect your eyes from flying wood chips.
Earmuffs or earplugs to protect your hearing.
Chaps or cut-proof pants for leg protection
Shoes or boots with closed toes, ideally reinforced.
A hard hat if you're going to be cutting overhead limbs.
RELATED READS: We also recently compiled a list of the 5 best corded chainsaws of the year
Conclusion:
We're excited to recommend the Remington Rebel as our overall best pick for a gas-powered chainsaw. Don't write it off just because it's smaller: this chainsaw easily has enough power for most homeowners, and chop wood and clear brush with the best of them.
If you do need to cut bigger logs, however, the Husqvarna 455 Rancher is our favorite gas-powered chainsaw in the 20-inch category. It's heavy and fuel-efficient and cuts perfectly straight every time. While it's definitely more expensive, it earns every dollar of that price.
The Poulan Pro 20-inch is our best value.WIth heavy cutting power and a durable 50cc engine, you're bound to get the most chop for your buck.
With these reviews, we set out to help narrow down your search for a gas-powered chainsaw. Whether you're a new lumberjack or an old hand, we hope we've been able to help point you in the right direction. Thanks for reading, and we hope that you find the best gas chainsaw for your needs!
Related Reads: