19 DIY Pallet Shed Plans You Can Build Today (with Pictures)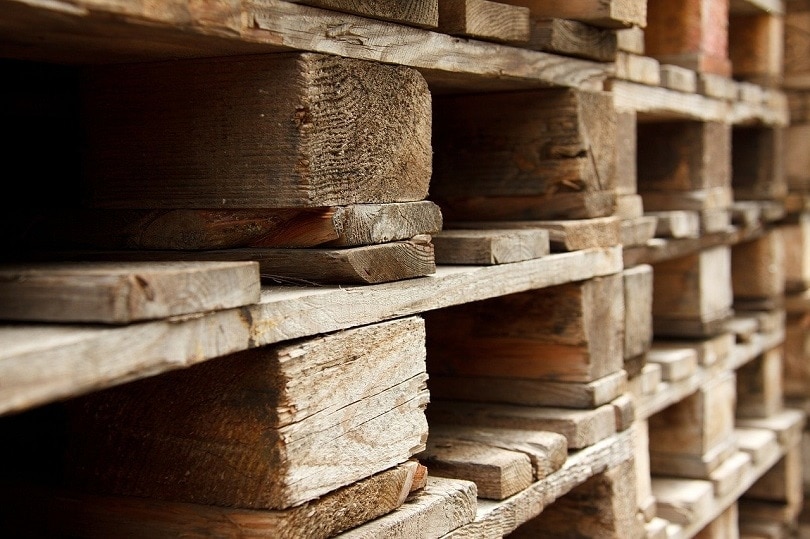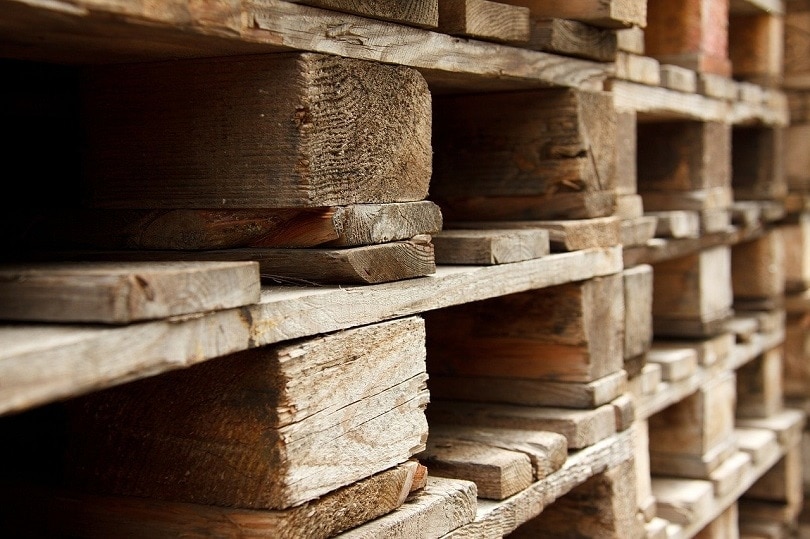 Does building a shed from scratch sound intimidating to you?
Have you ever thought of learning how to build a shed out of pallets?
Why not? A shed is something you need to get up quickly and inexpensively, and pallets fit the bill.
Pallets are wonderful because they can be free or practically free. Because they essentially are already framed squares, they make any structure incredibly easy to put together and build.
Luckily, many people have already had this same idea and have paved the way for us. Let's check out what they did and how they did it.

The 19 DIY Pallet Shed Plans
1.

DIY Pallet Tractor Shed
You can build a pallet shed for just about any use. Need a place to store your tractor? This pallet shed plan is perfect. It's designed to fit a tractor, with doors to close and lock up. You can drive it right in. It stands on cinder blocks to keep it off the ground and stable. They added some outdoor paint to give it a finished look.
---
2.

DIY Pallet Garden Shed/Greenhouse
Why not multi-purpose your garden shed to include some natural light for seedlings? It could be a great way to store your seed starters and keep them out of the house while still protecting them from any harsh frost. Store all of your gardening tools and equipment in here to keep them neat and organized.
This is a great plan to add natural light inside your pallet shed (no matter the purpose), so you don't have to worry about wiring any electricity to the shed.
---
3.

DIY Pallet Chicken Coop
Chickens and their human owners are happier and have more peace of mind when there is a chicken coop around. No need to buy an expensive, premade one at the store, chicken coops made of pallets are inexpensive and easy to erect. There are many pallet chicken coop plans around, from the simple to extravagant. Keep your chickens happy and safe from predators with this easy building plan.
---
4.

DIY Pallet Dog House
Sometimes a dog just needs a shaded spot outside to rest, or a spot to keep him or her dry when it's raining out. Consider this beautiful pallet shelter plan for your pup. You can leave the structure open like this one, or create a more enclosed space, depending on how you want your dog sheltered from the elements.
---
5.

DIY Pallet Wood Shed
When you have a wood stove for heating your home through the winter, you need lots of wood, namely, dry wood. You need a wood shed to store it all. Luckily, you can build one in little time and with little cost, thanks to online pallet wood shed plans.
The wood shed pictured is a small one, probably more suitable for the recreational fireplace starter. You could build one as big as you need to house a whole winter's worth of wood.
---
6.

DIY Pallet Garbage Storage Shed
Are you tired of looking at that eyesore called your garbage and recycling cans? You can build a pallet structure around this, too. This particular one has a very easy plan, and the original creator wonders why he didn't build it sooner. The easy-open large doors make this idea super practical.
A few tools, plus some hinges and handles, and you're all set with this storage area for your garbage cans.
---
7.

DIY Pallet Tiny House
Cut down the building costs and construction time of a tiny house with pallets! Pallets can occupy the bare bones of any small(ish) structure you can think of. Not only does a tiny house made of pallets fulfill a desire to recycle materials, tiny house living also helps you use less in general, because you don't have as much space for stuff.
Add paint, windows, siding, doors, or a deck with stairs to create a home-y look.
---
8.

DIY One-Level Pallet Shed
Not all pallet shed plans are huge. This one has a stack of pallets that is just one pallet high. It's perfect for a simple pitched roof, no extra joists needed. You can build this quickly to have a storage space for your lawn mower, shovels, and a few gardening tools.
---
9.

DIY Two-Level Pallet Shed
You can stack pallets on top of each other to create an even taller structure! The two-level pallet shed is the perfect height for standing up in. This one is a plan for a garden shed. It's got a sloped roof so snow doesn't collect on the top and a space to install a door.
---
10.

DIY Three-Level Pallet Shed
Go big or go home! This giant structure, which ended up as a workshop, has three levels of pallets for the outside walls.
If you are choosing to build something bigger like this, it would be smart to invest more in the foundation materials and put in some extra studs between the pallets to keep it upright and long lasting.
---
11.

Painted DIY Pallet Shed
Whatever pallet shed you end up building, you can always dress up the outside of it to make it look more fun and inviting. This one with painted blue pallet wood siding is begging you to come in and hang out!
Giving the shed a coat of paint would be easy, quick, and inexpensive with a paint sprayer and some outdoor paint.
---
12.

DIY Pallet Shed with Siding
Siding on a pallet shed, especially if you are wanting it to be a permanent structure in your yard or property, helps it blend into its surroundings. This one is made of pallets, but you wouldn't assume that at your first glance.
If you get siding that matches closely to your house, it will look like it's meant to be there, not an awkward new addition. You can take some extra siding leftover from your house and have it matched with new siding at a local home improvement store.
---
13.

DIY Pallet Cabin
A cabin differs from a tiny home in that a cabin implies more temporary living quarters. Cabins are also typically rustic and sometimes look like they are pieced together. This is the perfect situation to use pallets.
Add a covered deck to increase the living space, and stain the outside planks to make it look weathered (and cool).
---
14.

DIY Pallet Barn
Sometimes, when you live on a farm, you can tend to aquire extra livestock. These animals need a place that shelters them from the elements, like a barn.
But who says these barns have to be expensive? Not these guys! This barn is constructed almost completely from pallets, even the arched roof. Now the animals can stay on your farm with no need to worry.
---
15.

DIY Pallet Play Fort
Cardboard play forts just got a huge upgrade. No, not one of those expensive playsets from the supermarket. This play fort is entirely made of pallets. It's incredibly fast and easy to put together a pallet play fort for your kids to romp around in year-round.
Don't worry about adding fancy features like swings or slides, kids have a way of filling in the gaps with their imaginations!
---
16.

DIY Pallet Outhouse
Everybody's gotta go. Complete your pallet cabin or pallet tiny home with an outhouse constructed from pallets. Decide what kind of toilet you want (pit or composting, usually), build a bench for it, then construct the pallet outhouse around that seat. Don't forget to add opening windows, for obvious reasons.
---
17.

DIY Pallet Tool Shed
Who needs expensive tool storage when you've got pallets? This guy really went above and beyond when constructing his tool storage. He installed many doors to access the inside shelving and sliding drawers that contained all his tools.
This particular plan took a lot of hours and tools to complete, but feel free to adjust the plan to fit your needs.
---
18.

DIY Pallet Bar "Shed"
Get serious about your drinking space: this pallet shed plan is designed to be a bar. This plan is an example of how you can disassemble the pallets to build the frame of the structure. Not only did he build the outer frame and siding with pallets, he also created a bar and used pallets for flooring. Talk about creativity!
---
19.

DIY Pallet Outdoor Seating
This plan shows how you to build a pallet shed that creates a space off the ground that's also covered for outside entertaining. Your guests will love to sit in this space while enjoying a cup of tea or meal with you while also enjoying the outdoors. The cross breeze can be blown inside because the outside is not covered, and there's little spaces for it to go through near the roof.

Conclusion
Hopefully by now you've started to flesh out more what kind of pallet shed you're wanting to build. Thanks to the DIYers of the Internet world, you can pick and choose which plans and which features of certain plans best suit your pallet shed needs.
---
Featured Image cCredit: PublicDomainPictures, Pixabay