22 DIY Pallet Shed Plans You Can Build Today (with Pictures)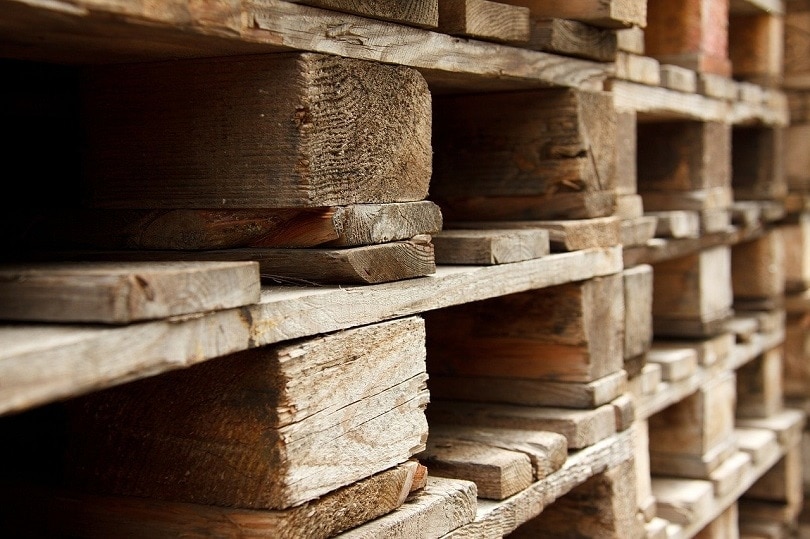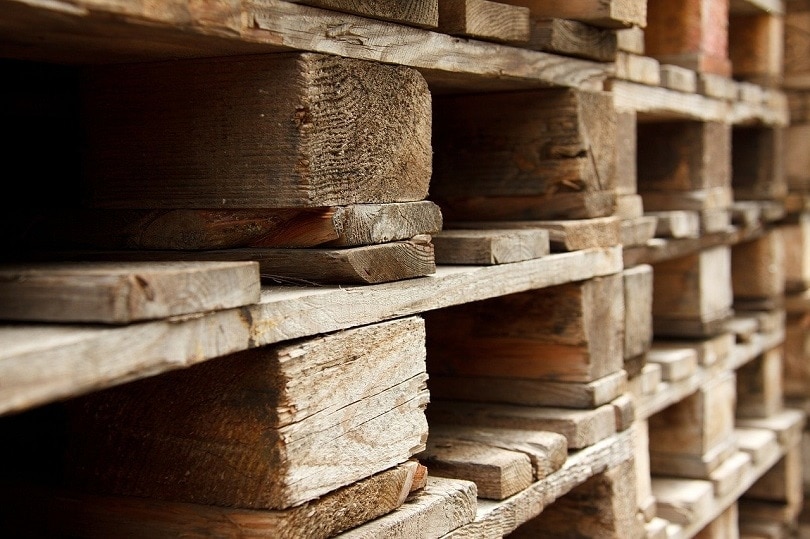 Does building a shed from scratch sound intimidating to you?
Have you ever thought of learning how to build a shed out of pallets?
Why not? A shed is something you need to get up quickly and inexpensively, and pallets fit the bill.
Pallets are wonderful because they can be free or practically free. Because they essentially are already framed squares, they make any structure incredibly easy to put together and build.
Luckily, many people have already had this same idea and have paved the way for us. Let's check out what they did and how they did it.

The 22 DIY Pallet Shed Plans
1.

DIY Pallet Tractor Shed from Oklahoma History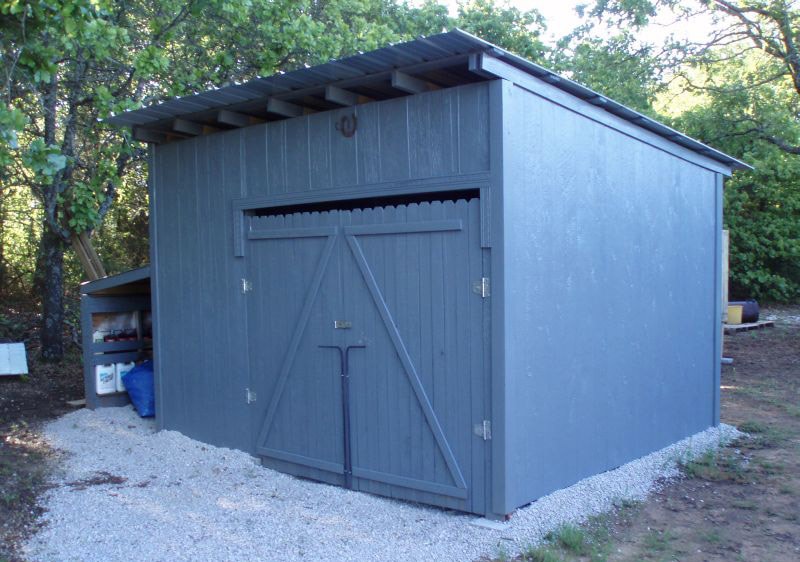 You can build a pallet shed for just about any use. Need a place to store your tractor? This pallet shed plan is perfect. It's designed to fit a tractor, with doors to close and lock up. You can drive it right in. It stands on cinder blocks to keep it off the ground and stable. They added some outdoor paint to give it a finished look.
---
2.

DIY Pallet Chicken Coop by Lakeside Homestead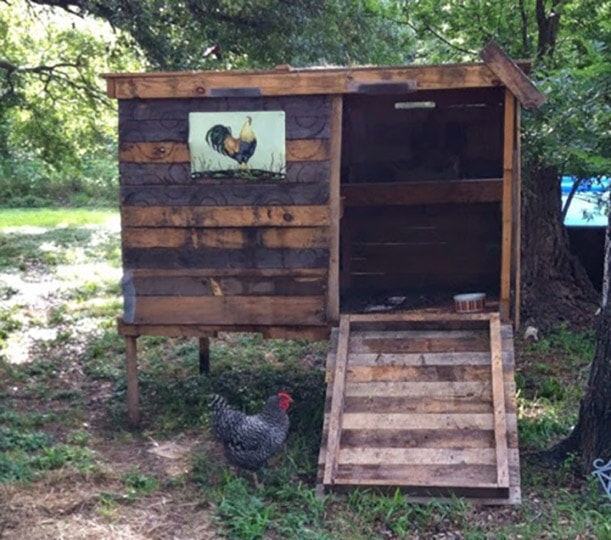 Chickens and their human owners are happier and have more peace of mind when there is a chicken coop around. No need to buy an expensive, premade one at the store, chicken coops made of pallets are inexpensive and easy to erect. There are many pallet chicken coop plans around, from the simple to extravagant. Keep your chickens happy and safe from predators with this easy building plan.
---
3.

DIY Pallet Garbage Storage Shed by Garden Geek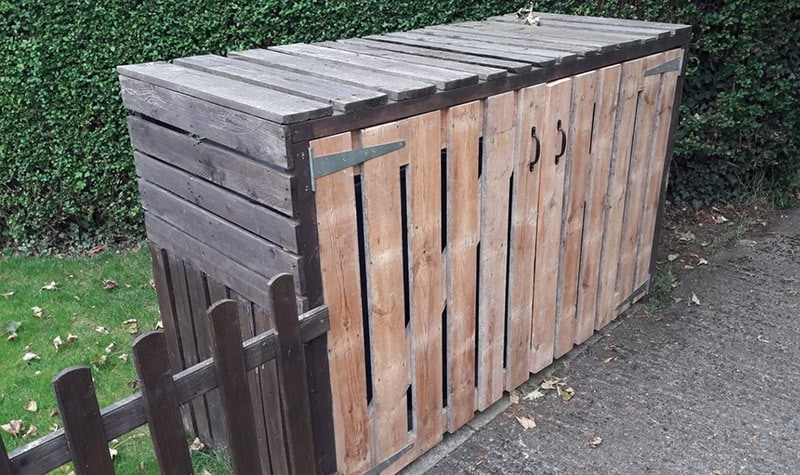 Are you tired of looking at that eyesore called your garbage and recycling cans? You can build a pallet structure around this, too. This particular one has a very easy plan, and the original creator wonders why he didn't build it sooner. The easy-open large doors make this idea super practical.
A few tools, plus some hinges and handles, and you're all set with this storage area for your garbage cans.
---
4.

DIY Pallet Tiny House from Off Grid World
Cut down the building costs and construction time of a tiny house with pallets! Pallets can occupy the bare bones of any small(ish) structure you can think of. Not only does a tiny house made of pallets fulfill a desire to recycle materials, tiny house living also helps you use less in general, because you don't have as much space for stuff.
Add paint, windows, siding, doors, or a deck with stairs to create a home-y look.
---
5.

DIY Two-Level Pallet Garden Shed by Pallet Shed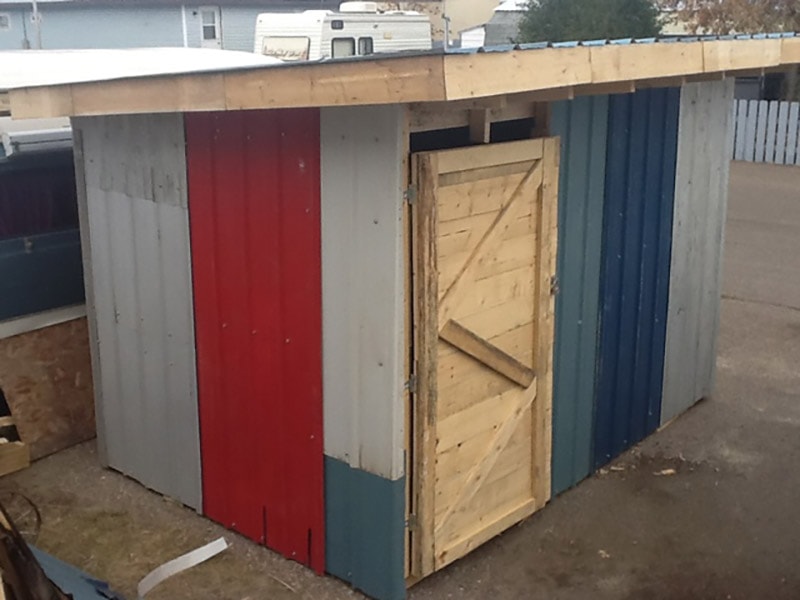 You can stack pallets on top of each other to create an even taller structure! The two-level pallet shed is the perfect height for standing up in. This one is a plan for a garden shed. It's got a sloped roof so snow doesn't collect on the top and a space to install a door.
---
6.

DIY Three-Level Pallet Shed by 1001pallets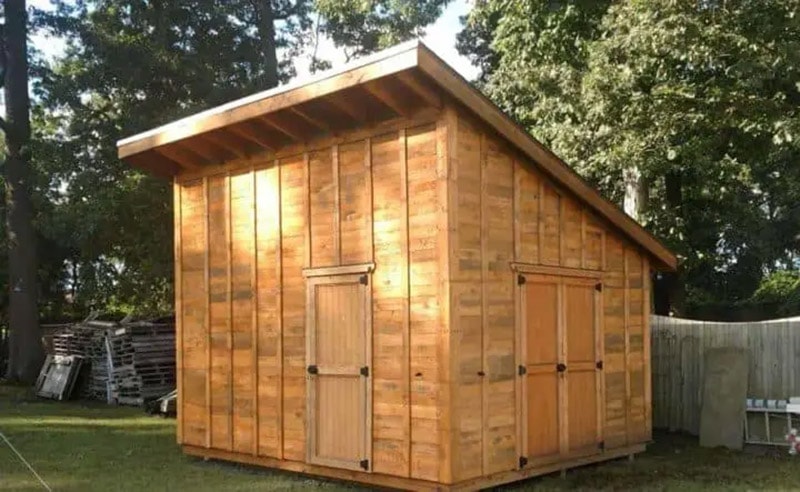 Go big or go home! This giant structure, which ended up as a workshop, has three levels of pallets for the outside walls.
If you are choosing to build something bigger like this, it would be smart to invest more in the foundation materials and put in some extra studs between the pallets to keep it upright and long lasting.
---
7.

DIY Pallet Shed with Siding from How To Specialist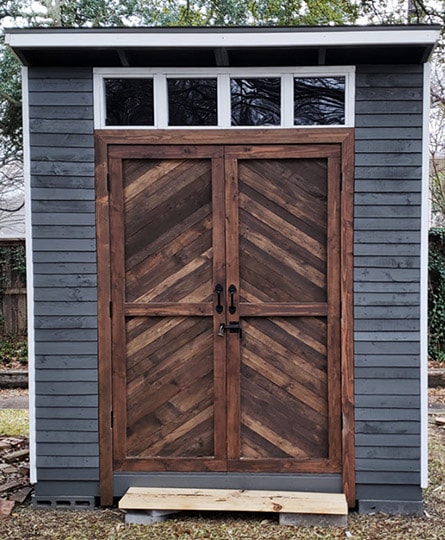 Siding on a pallet shed, especially if you are wanting it to be a permanent structure in your yard or property, helps it blend into its surroundings. This one is made of pallets, but you wouldn't assume that at your first glance.
If you get siding that matches closely to your house, it will look like it's meant to be there, not an awkward new addition. You can take some extra siding leftover from your house and have it matched with new siding at a local home improvement store.
---
8.

DIY Pallet Cabin by The Homesteading Boards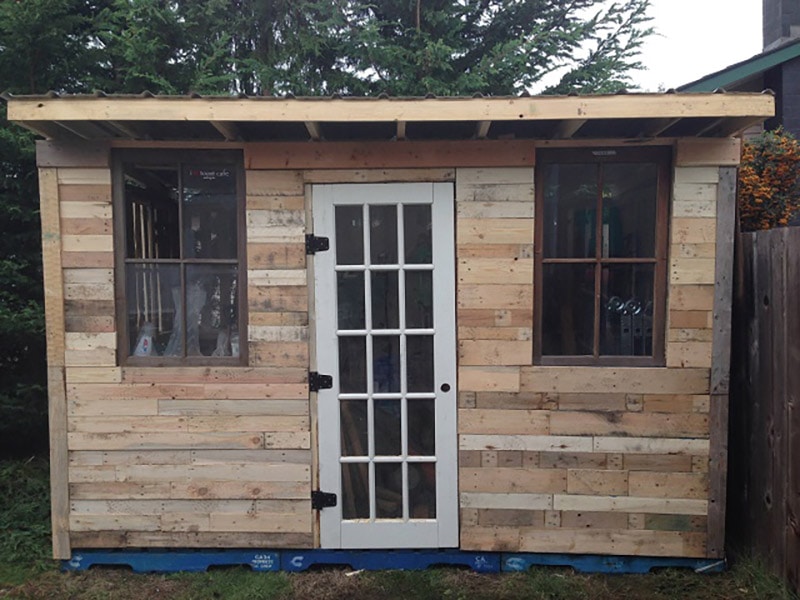 A cabin differs from a tiny home in that a cabin implies more temporary living quarters. Cabins are also typically rustic and sometimes look like they are pieced together. This is the perfect situation to use pallets.
Add a covered deck to increase the living space, and stain the outside planks to make it look weathered (and cool).
---
9.

DIY Pallet Barn from Forest House Farm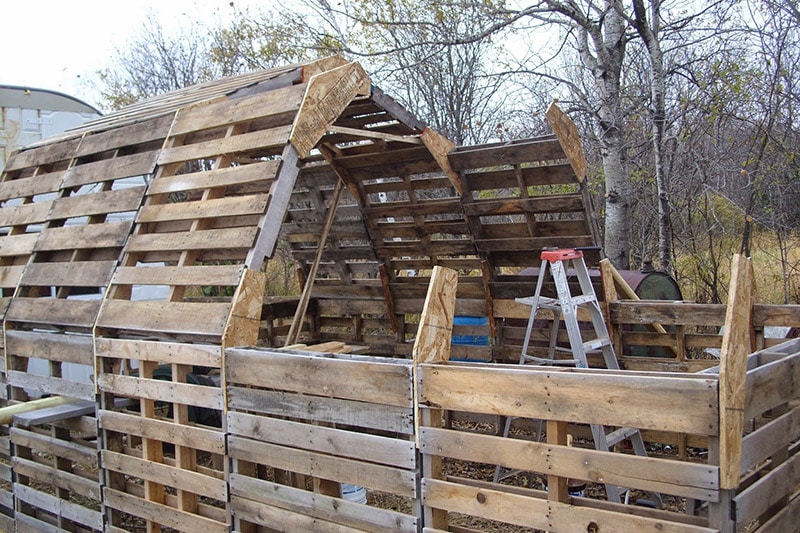 Sometimes, when you live on a farm, you can tend to aquire extra livestock. These animals need a place that shelters them from the elements, like a barn.
But who says these barns have to be expensive? Not these guys! This barn is constructed almost completely from pallets, even the arched roof. Now the animals can stay on your farm with no need to worry.
---
10.

DIY Pallet Play Fort by New Life on a Homeastead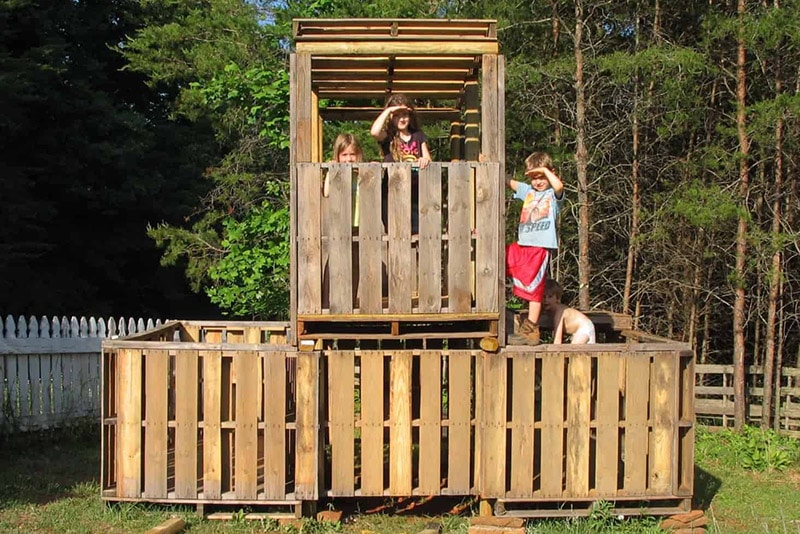 Cardboard play forts just got a huge upgrade. No, not one of those expensive playsets from the supermarket. This play fort is entirely made of pallets. It's incredibly fast and easy to put together a pallet play fort for your kids to romp around in year-round.
Don't worry about adding fancy features like swings or slides, kids have a way of filling in the gaps with their imaginations!
---
11.

DIY Pallet Outhouse by JLDR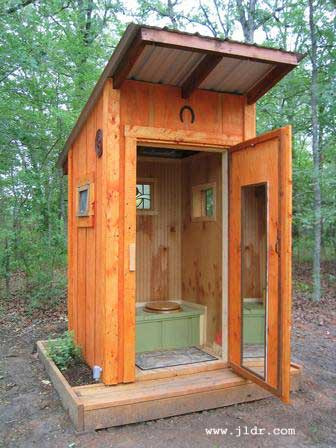 Everybody's gotta go. Complete your pallet cabin or pallet tiny home with an outhouse constructed from pallets. Decide what kind of toilet you want (pit or composting, usually), build a bench for it, then construct the pallet outhouse around that seat. Don't forget to add opening windows, for obvious reasons.
---
12.

DIY Pallet Tool Shed from 1001pallets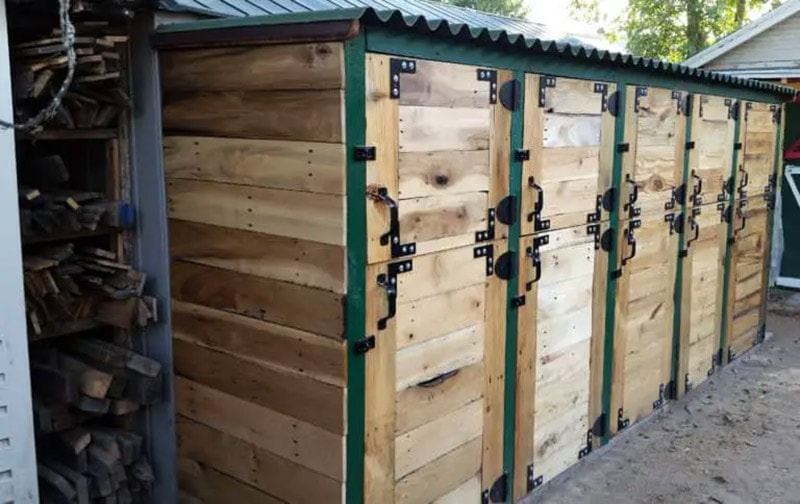 Who needs expensive tool storage when you've got pallets? This guy really went above and beyond when constructing his tool storage. He installed many doors to access the inside shelving and sliding drawers that contained all his tools.
This particular plan took a lot of hours and tools to complete, but feel free to adjust the plan to fit your needs.
---
13.

DIY Pallet Bar "Shed" by 1001pallets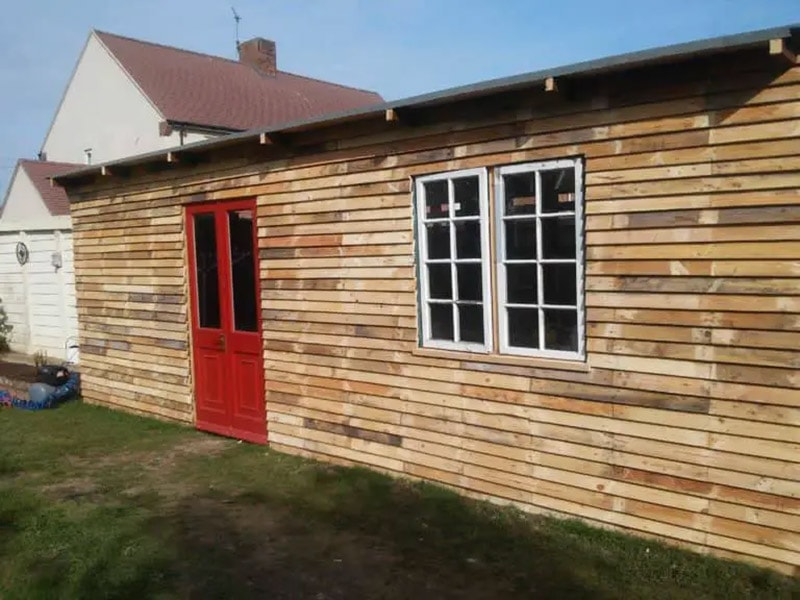 Get serious about your drinking space: this pallet shed plan is designed to be a bar. This plan is an example of how you can disassemble the pallets to build the frame of the structure. Not only did he build the outer frame and siding with pallets, he also created a bar and used pallets for flooring. Talk about creativity!
---
14.

Basic DIY Backyard Pallet Shed from 1001pallets
Not all pallet sheds need to be complicated. This basic backyard shed uses pallets to frame out the walls. It is perfect for homesteaders and do-it-yourselfers looking for some storage and extra space to get some work done. The roof is made from recycled metal panels, but you can swap out the roofing for whatever suits your needs the best. You can also leave the third wall open for easy access for a lawn mower or small tractor. This shed is very customizable and easy to put together.
---
15.

DIY Bike and Toy Shed by 3x3custom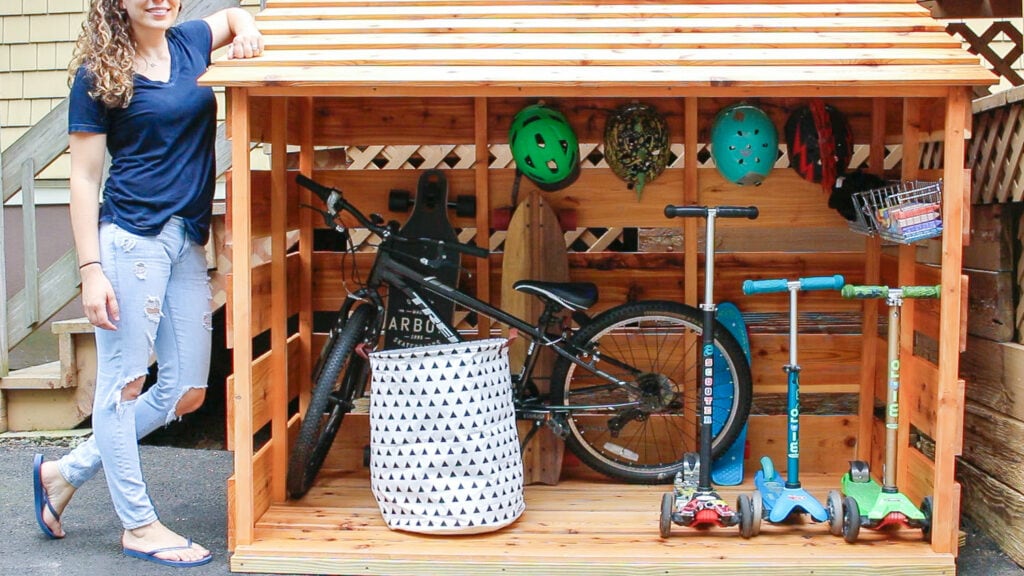 This small bike shed can be the perfect addition to any active home. These plans do not call for pallets, but pallets can easily be substituted to make the walls. Using pallets can save money and achieve the same results. This small shed is perfect for bikes, children's outdoor toys, and small gardening equipment. It can easily be added to the side of any garage or erected in a small yard. It gives you some basic shelter and will keep your outdoor things out of the rain and the sun. To adapt these plans for pallets, simply substitute pallet walls for the stud walls, and you will have a useful bike and toy shed made from affordable pallets.
---
16.

DIY Pallet Garbage Bin Storage Shed by 1001pallets
Not all pallet sheds need to be large and elaborate. Some sheds serve a very specific purpose. This garbage bin storage shed uses pallets to create a small shed that is designed to keep your trash bins protected and in one spot. This is perfect for people with wheeled trash cans that like to blow over or roll away. It can also help keep local wildlife and critters from getting into your garbage. With a little pain, stain, or sandpaper, you can even make it match your house's aesthetic. This garbage bin storage shed can be built in a single afternoon and can instantly add a little bit of character and protection to your outdoor space.
---
17.

10×10 DIY Pallet Goat Shed by Hometalk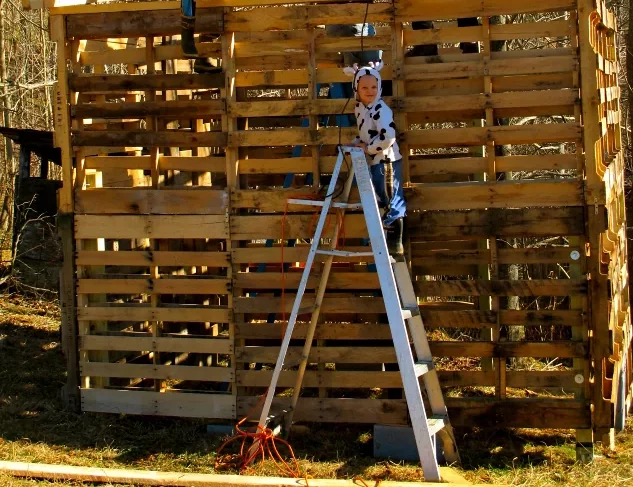 This 10×10 pallet shed was originally designed by homesteaders as a shelter for goats, but it can be used for a variety of different purposes. This shed is easy to put together, is very sturdy, and offers you 100 square feet of covered space. You can leave one side open as a run-in, or you can add some doors for a more enclosed building. In addition to pallets, all you need is four 4×4 posts and some 2x4s for the roof. You can use metal roofing or pressure treated plywood for the roof. If you want, you can even use it for its original intended purpose as a shed for goats.
---
18.

Large DIY Pallet Workshop Shed by 1001pallets
If you are looking for a large shed that can double as a workshop space, look no further. This pallet build is elaborate. It features a large window/pass-through, a door, and plenty of space inside for wood storage, tools, and more. This pallet shed is larger and more involved than most, but the payoff can be huge. The build is going to cost between $1,000 and $1,500, depending on the exact materials you choose, so be sure to save some money before starting. This build will also likely take a few days of work to get done and will need some building experience in order to get it just right.
---
19.

10×12 DIY Pallet Shed / Cabin from tinyhousetalk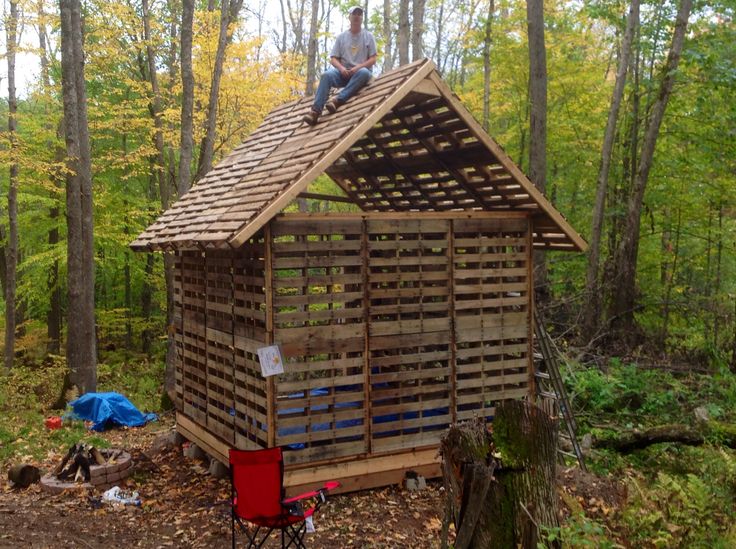 This 10×12 shed is powered, insulated, and dried in. The build started as a tiny cabin, but it can easily be tweaked to be a perfect woodsy shed. Ditching the furniture will save you money and allow you over 120 square feet of storage. It even has a loft for storing materials. This build requires 42 pallets, so you might want to start stockpiling before you begin. Gutting the cabin extras will cut down on the overall cost of the build. You might want to keep the outhouse, though. An outdoor bathroom can be very useful for people who are working outside.
---
20.

DIY Haygloo by 5dog.farm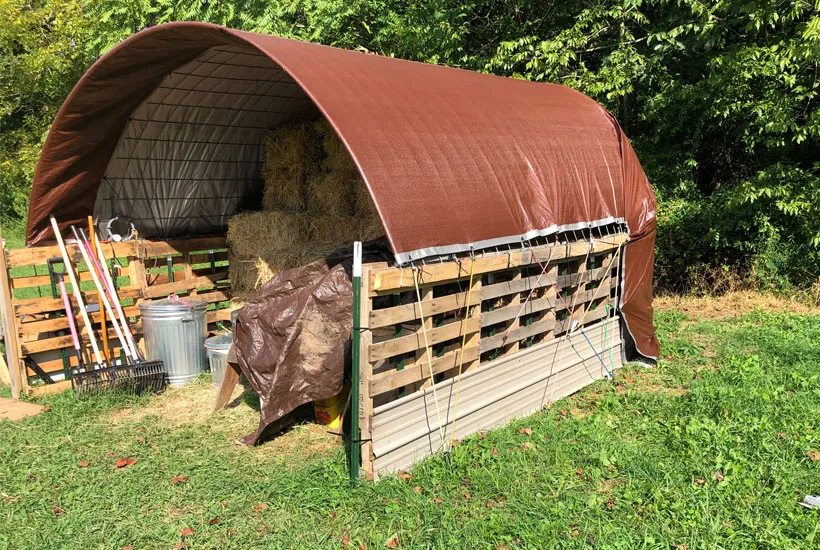 Pallet builds are perfect for farms and homesteads. Saving money on the building can help you reinvest in your farm and your animals. This shed is perfect for people with horses, donkeys, or goats. Using pallets along the bottom, this "haygloo" creates a place for your horses to get out of the weather or gives you an easy place to store hay, feed, grain, and more. You will need to get a corral topper in order to finish the build to specifications, but the overall cost should be relatively low. The pallets can easily be swapped out if your animals damage them during use, making it very modular and sustainable.
---
21.

Insulated DIY Pallet Shed from theownerbuildernetwork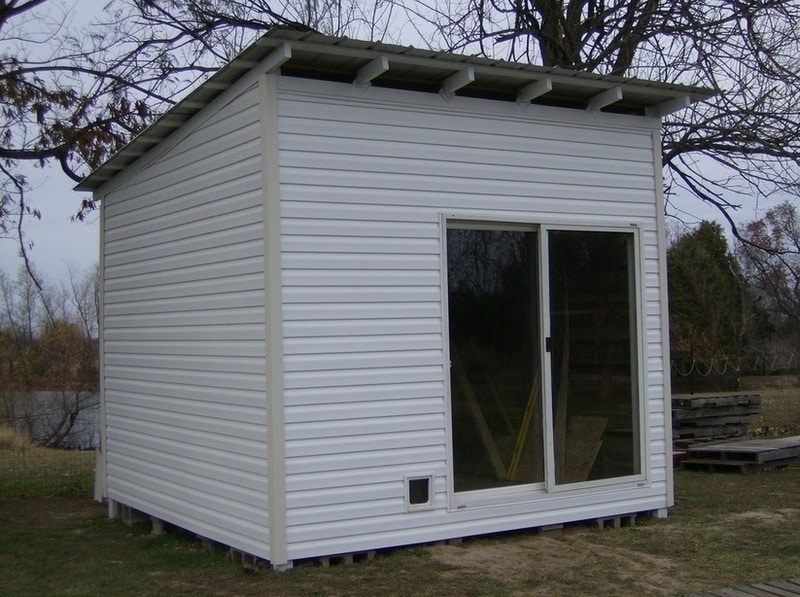 This DIY pallet shed takes the basic idea of a pallet shed and ups the game. It includes a set of sliding glass doors, insulation, and siding. The result is a shed that, at first glance, does not look like a pallet shed at all. However, using pallets can help save you money on framing lumber which can then offset the cost of the more expensive portions, such as the siding and the doors. You will not believe what this build looks like mid-construction versus when it is complete. It is truly fantastic.
---
22.

Affordable and Sturdy DIY Pallet Shed by Instructables
This DIY pallet shed is perfect for anyone looking for something sturdy and durable without breaking the bank. This build excels if you can find a large source of free pallets. Finding free pallets is usually not too difficult if you put in a little research. With free pallets, this build is very affordable, and it is also built to last. Using pressure treated wood, a solid dirt base, and some exterior wood screws, you can have yourself a shed that is thousands of dollars cheaper than the sheds you can buy at the big box stores.

Conclusion
Hopefully by now you've started to flesh out more what kind of pallet shed you're wanting to build. Thanks to the DIYers of the Internet world, you can pick and choose which plans and which features of certain plans best suit your pallet shed needs.
See Also:
---
Featured Image cCredit: PublicDomainPictures, Pixabay