70 DIY Pallet Wood Projects & Ideas You Can Make Today (with Pictures)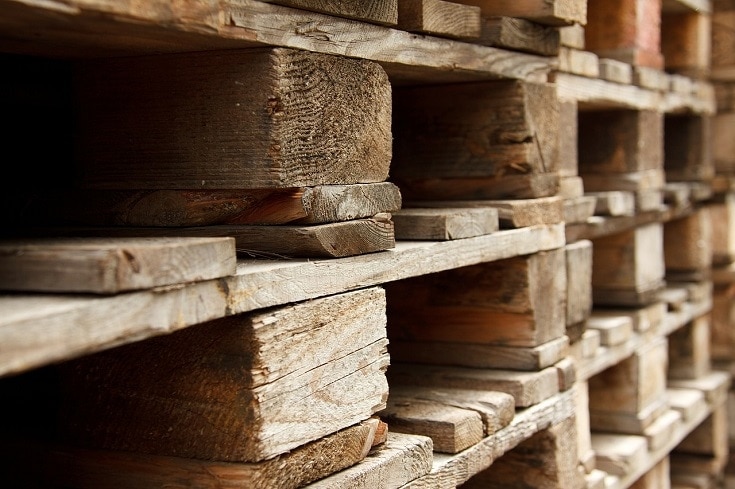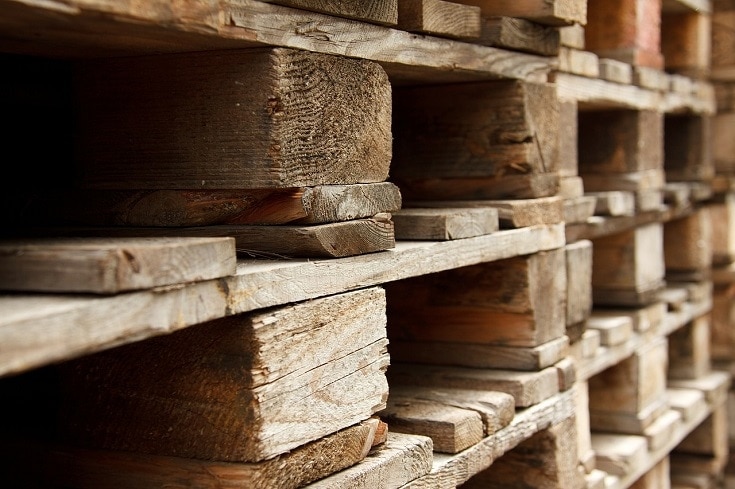 Pallets are great for home DIY projects. Whether you have one or two leftover from a recent major purchase, you have a steady supply of these lumber sources, or you know of a supplier that offers them cheap, they can be used to create everything from shelving units to tables. They can even be used to make some unique looking pieces of art, and there are several ways that you can use them to make an environmentally friendly alternative to a Christmas tree.
You do need to ensure that the pallet is safe for use and in good condition, especially if it will be bearing any kind of load. But most pallets also have a patina from ongoing exposure to the elements, and the pallet wood can be left rustic or it can be treated and finished so that it has a more modern and polished look.
Below are 70 DIY pallet wood projects you can build today, using pallets, everyday tools, and your own two hands.

The 70 DIY Pallet Wood Projects & Ideas
1.

Garage Shelves
Garage shelves are basic and can actually benefit from the rustic look of pallet wood. Measurements don't have to be precise, although the shelving unit has a greater chance of staying upright, if you use somewhat reliable dimensions.
---
2.

Storage Shelves
Shelving units are beneficial in any room. These can be used in games rooms, hallways, or to bring a degree of order to that nook under the stairs where years of junk has amassed.
---
3.

Kitchen Shelves
Storage is at a premium in most kitchens, and if you have a traditional or country cottage style kitchen, a unit of wooden shelves can be used to hold everything from cups and even glasses to herbs and a few basic ingredients.
---
4.

Basic Bookshelf
Bookshelves have to be capable of holding a lot of weight. As well as being sturdy, they need to be steady and they need to be even. This basic bookshelf can be stained and took approximately 5 hours to make.
---
5.

Rustic Bookshelf
The rustic bookshelf is really just a simple bookshelf with some vertical spacers placed in between the shelves. Their offset, brickwork style placement, coupled with the pallet wood finish, gives this piece of furniture a truly rustic appearance.
---
6.

Simple Pallet Bookshelf
This pallet bookshelf really only takes two or three cuts of a pallet. You will want to sand down the wood to ensure that it isn't too rough and you don't get splinters, but once painted, it looks great attached to the wall.
---
7.

Blanket Storage Chest
This is a fairly simple blanket box made from reclaimed pallets and utilizing some dark hardware that looks great. It would work well in a cottage and at the end of a well-designed bed.
---
8.

Storage Chest Coffee Table
This storage chest not only has great looking dark hinges and uses the light and dark natural patina of the pallet, but it also doubles up as a rustic coffee table.
---
9.

Entertainment Center
An entertainment center provides a central location in your living room for a TV, as well as any TV boxes, consoles, and even your music and movie collection. This one actually benefits from the original pallet stamps that are still visible and that give it a really industrial look.
---
10.

Coat Rack
A coat rack is really just a board with hooks that is fixed to the wall, and the beauty of using pallets to make them is that you can fit any gap. If you only have a really small area, you can create a rack with two hooks. If you have a large cloakroom, make several racks with multiple hooks on each.
---
11.

Shoe Rack
Once you have a coat rack, it stands to reason that the next piece of furniture you want is a shoe rack. Shoes seemingly have a life of their own, and they spend a lot of it sitting about on stairs and in the middle of the floor, but not with this shoe rack.
---
12.

Key Hook
It's easy to lose keys, especially if you don't have a central repository for them. They get left in trouser pockets when washed or down the back of the sofa. This simple hanging key holder prevents key loss and sanity loss.
---
13.

Clock
Making your own clock is surprisingly simple. All you need is a clock mechanism, which is available for a few dollars, some hands, and to make your own face. Using a reclaimed pallet, you can make a large, rustic wooden clock face and adorn it with your choice of numbers and hands.
---
14.

Pallet Dining Table
If you're looking for an inexpensive way to add a great looking patio or dining table to the outside of your home, without breaking the bank, these plans are ideal. In fact, the table would look great in a quaker or country cottage style kitchen, too.
---
15.

Pallet Coffee Table
The pallet coffee table takes a single pallet. You basically remove three quarters of the planks from one side, add them to the other, stain the surface, and add legs. It can be done in a couple of hours and the choice of stain and legs determines the style of table you end up with.
---
16.

Hallway
The console, or hallway, table is long, narrow, and tall. It usually contains house and car keys in a bowl, may have coat hooks above it, and the bottom shelf can even be used for storing shoes, umbrellas, and other outdoor essentials, but the choice is yours.
---
17.

Bedside
This is another design where finish is everything. Leave it simple for a rustic finish, paint the legs blue and use a light stain for the shelves, or paint it a block bright orange color for a unique and modern piece of interior design.
---
18.

Simple Pallet Desk
With so many more people now working from home, having a functional desk at home is vital. It will hold your computer, your work, and various other items. These plans give rise to a simple desk that will fit in a relatively confined space.
---
19.

Corner Desk
The precise cuts and detailed sanding of this corner desk mean that you will pretty much forget that it's even made of upcycled pallets. It has a series of draws, makes the most of any corner space, and it offers plenty of workspace for the home office.
---
20.

Long Desk
Not all offices are lacking in space, and not all desks are made for one. This 8 foot long desk is ideal for use by two people, cost less than $50 to make, and is a great example of how to use the space you have available to you. With some modification, you can fit something similar into your own office.
---
21.

Hanging Desk
The hanging pallet desk may not take as much weight as the 8 foot behemoth above, but it is useful as a home for a laptop or for reading or writing on, and the wall section is a great area for storing some of you work and office equipment.
---
22.

Laptop Riser
They might be called laptops, but using one on your actual laptop can lead to overheating of the device and an uncomfortable heat around your thighs. A laptop riser also helps prevent the neckache and bad shoulders that can come from the regular and ongoing use of a laptop.
---
23.

TV Stand
Pallets don't have to look rustic. Find some pallets that are in good condition, of a roughly similar color, and that will take the stain, varnish, or paint that you want to apply to them, and you can create an attractive TV stand that looks like this.
---
24.

Simple Wine Rack
This is a really simple wine rack design, but it is functional, rustic, and it really does prevent you from having to wash around the collection of wine and spirit bottles that find their way onto the unit tops. It's also gleefully simple to make.
---
25.

Vertical Wine Rack
If you want something a little more vertical, this wine shelf holds five bottles, although it could be modified so that it holds more bottles without taking up too much more space.
---
26.

Wine Glass Carrier
This one is a great solution if you struggle to find room for wine glasses, or simply if you want to cut down those vital few seconds it takes you to open the cupboard door, leaving you with more time to enjoy the wine itself.
---
27.

Serving Tray
The serving tray is a deceptively simple design. At its most basic, it is a box with the top missing. But, add handles and a cutout for a cup or glass, and it instantly levels the serving tray up to make something far more unique.
---
28.

Colored Serving Tray
There are only so many ways you can design the dimensions for a rectangular serving tray. Another way to customize the look of the finished product, though, is through good use of color, and that's where this tray really comes into its own.
---
29.

Coasters
It's difficult to find any design simpler than coasters made from pallets. You effectively just cut out a square from a pallet and then treat it. For added complexity, you can round the corners.
---
30.

Outdoor Pallet Bar
The outdoor pallet bar is great for meeting up outdoors. It can be combined with bar stools or maybe with a corner sofa and drinks table, all of which can, of course, be made from recycled pallets, too.
---
31.

Outdoor Pallet Bar Stools
To go with your outdoor bar, you will need somewhere to sit, and these bar stools make the ideal perch.
---
32.

Kitchen Island
A kitchen island is really just a large rectangular worktop. It usually has storage underneath, and some have additional storage overhead with hooks, but these aren't necessary. This island utilizes color and a rustic design and gives a great result.
---
33.

Spice Rack
A spice rack is a small shelving unit. It usually has a small blocker at the front of the shelf that prevents the small spice bottles from falling down. They can be hung on walls, inside pantry doors, or inside cupboards.
---
34.

Picture Frame
With the right tools, picture frames are really easy to make, and by using a single pallet, you can create a series of frames with a minimal budget. They do tend to look rustic, rather than modern, but you can finish them with distressed paint or any other style of finish.
---
35.

Mirror Frames
Mirrors were once seen as a sign of opulence and were a greater display of a person's wealth than gold. While the cost of mirrors has reduced somewhat, full-length mirrors with good looking frames can still cost a lot, but you can reduce the cost by making your own pallet frames.
---
36.

Bathtub Tray
It actually doesn't get much simpler than a bath tub tray, but one can add an incredible sense of decadence to an already blissful experience. It should be waterproof, have ridges to prevent slippage, and may or may not have dedicated sections for candles, glasses, and other items.
---
37.

Flower Holder
This flower holder is simple to make, with the circular holes the only issue if you don't have a good variety of power tools around the home. You will also need some way to torch the wood if you want the same scorched finish, which does look very effective.
---
38.

Living Wall
A living wall is a great concept that allows you to enjoy plants vertically in your garden or on the side of your home. They tend to contain succulents because watering is difficult and the plants inside rarely receive rain.
---
39.

Towel Ladder
It can hold anything from towels to blankets, or it could be put in a bedroom and used as an overnight store of clothes, ready for easy access in the morning. The towel ladder is very simple to make and very useful.
---
40.

Towel Rack
This towel rack looks really effective, although it does require that you and everybody else in your home neatly rolls up the towels before putting them away.
---
41.

Radiator Cover
Radiators: they're essential in most homes, but unless you're lucky enough to have stately roll top cast iron radiators, they're also an eyesore. This radiator cover is easy to make and allows some storage away from the very top of the radiator.
---
42.

Bed Frame
Pallets are a really convenient building and craft material that can be turned into just about anything, including a bed frame. The slats are beneficial under the mattress because they allow the circulation of air, and they are great for hanging and hooking items on, too.
---
43.

Headboard
This headboard looks almost Tudor in style, and it cost less than $25 to make. If you already have a bed but want a headboard, this is quick and easy to make.
---
44.

Dog Bed
This is a double dog bed, and our preference is for the painted version, but you can modify the design for a single bed and choose your own finish.
---
45.

Dog House
Why just build the bed when you can make your dog a whole house? These plans are easy to follow and allow you to make the perfect outdoor indoor space for your pet.
---
46.

Pet Bowl Station
This dog feeder is not only a convenient way to keep food and water bowls off the floor, therefore reducing the likelihood of stray kibble and damp puddles, but it also folds open and provides somewhere to keep bags of food while raising the bowls off the ground and making it easier for your pet pooch.
---
47.

Compost Bin
Compost bins do not have to be complex, and this design barely requires any sawing or cutting of the pallets before use. It takes less than an hour to finish and should remain sturdy.
---
48.

Potting Table
A potting table gives you a convenient surface on which to pot and repot plants. It will usually have storage areas for tools and materials, too. This potting table can be used as a bar, instead, depending on how you prefer to spend your time outdoors!
---
49.

Planter
This DIY pallet planter is a combination of planter and ladder shelving unit, and it looks great. It looks especially goof with the dark stain, which means that it really looks at home in the garden.
---
50.

Herb Garden Wall
If you're serious about your herbs, you will want more than just a simple herb planter. This herb garden wall is a cross between a living kitchen, a herb planter, and a living wall. Functional, stylish, and great tasting.
---
51.

Cooler
There is nothing more refreshing than a cool beverage when you're out in the sun, and with a pallet cooler, there is no need to keep heading into the kitchen to get your next drink.
---
52.

Air Conditioner Screen
An air conditioner greatly improves the internal of a property, but it does nothing for the outside. You can cover the engineering eyesore with a recycled pallet project like this one, while still enabling that you and the repair people have adequate access. It takes less than an hour and only costs whatever you pay for the pallets.
---
53.

Bin
Using a couple of pallets and a couple of plastic bins, you can create your own waste bin and recycling bin, ideal for use at home or outside your business.
---
54.

Outdoor Pallet Couch
Making an outdoor pallet couch is really simple. Stack a couple of pallets to get the height, add another at the back to rest against, and then add cushions and other covers. This design has a central table section which, again, is nothing more than a pallet.
---
55.

Outdoor Corner Couch
The corner couch is popular because it utilizes more space and offers more seating than a standard horizontal couch. This one uses pallets as well as a no-sew cushion design so it really does take minimal effort but offers maximum results.
---
56.

Porch Swing
The porch swing can seem a daunting build, but in reality it requires a base, a back, and two sides, as well as the rope or chains that it will hang from. Strength is the most important factor in this design.
Related Read: 19 Free DIY Porch Swing Plans You Can Make Today
---
57.

Play House
Making this play house is a little more of an undertaking than cutting a couple of coasters out, but the results are worth it. It has multiple rooms, including a quiet area for reading, and you can modify the layout according to yours and your child's requirements.
---
58.

Bike Rack
The slats of the pallet mean that it is already the perfect design for bike storage, and there is a multitude of ways that you can convert a pallet into some form of bike rack or bike storage. Designs include racks for multiple bikes or minimalist racks for a single bike that takes up very little room.
---
59.

Fence
The pallet also seems to have been tailormade for the construction of fences. This means that you can put up a pallet fence in very little time, and if one of the panels does blow down in high winds, which is always a risk, it is cost effective and easy to replace.
---
60.

Gate
Where there's a fence, there's usually a need for a gate, too. For less than $20, you can create this sturdy and robust gate using pallets and a few pieces of metal hardware.
---
61.

Log Store
A log store needs to be slightly raised from the ground and should allow air to pass through and around the logs to prevent them from getting too damp or mouldy. Using pallets and some roofing felt, to prevent damp, you can create a log store to protect your firewood from the elements.
---
62.

Bat Boxes
Bat boxes offer somewhere to roost and somewhere to sleep. Bats need very little room, but they do have some specific requirements of their home and its location. But, most of these requirements can be met using a pallet or two to create your own version of a bat box.
---
63.

Christmas Tree
Whether the addition of new kittens to your home means that you can't have a tree this year, or you want an additional tree-based decorative piece for the garden or home, you can use a pallet to create a Christmas tree-like decoration. It's actually really easy and will stand up unaided.
---
64.

Advent Calendar
This is essentially another Christmas tree design, but by simply adding the numbers 1 through 25, it has been turned from a decoration into a more dynamic and interactive advent calendar. Hang gifts or bags with small treats in on each of the numbers for a traditional advent experience.
---
65.

Toy Horse
The rocking horse is traditionally made from wood and has two sloped bars at the bottom that enable the horse to rock back and forth. As long as you have the means to create a straight, even, curve, and you have access to one or two pallets, you have the means to make a homemade rocking horse.
---
66.

Halloween Pumpkins
Cut out the design of a pumpkin, paint them brown and orange, and you have a great addition to a Halloween display at home. Pallet creations don't have to be complicated to look good or be effective.
---
67.

Pallet Signs
You can hand paint the content, use stencils, or you can add decorative and calligraphic lettering from any source. Pallet signs only really need a single slat of wood, but they can be made from several pieces if you want an even more effective finish.
---
68.

Sled
The wooden sled is a very traditional design, and it offers a great way to enjoy seasonal weather. This design is for a relatively small but simple sled. In fact, you could start working on it when the first flake falls, and be done before there is enough snowfall to use it.
---
69.

Wooden Teepees
Wooden teepees are great for kids, as an outdoor play area, or you can add seating part way up the tepee interior and create outdoor seating for people of any age. These teepees only take a series of five steps to make.
---
70.

Pallet Train
The pallet train probably won't be finished in a day, and you may want to start with something smaller and less ambitious before moving on to this one, but it is a statement piece and one that your kids are bound to appreciate. Unless they suffer from siderodromophobia.

DIY Pallet Wood Projects You Can Build Today
Pallets are inexpensive and tend to be good quality wood. They can be treated or left for a more rustic look, and they can be turned into a huge range of items. Hopefully, we've inspired you to start your own pallet project using one of the designs above as the basis for your plan.
See Also: 
---
Featured Image Credit: PublicDomainPictures, Pixabay