14 DIY Pallet Coffee Table Plans You Can Make Today (With Pictures)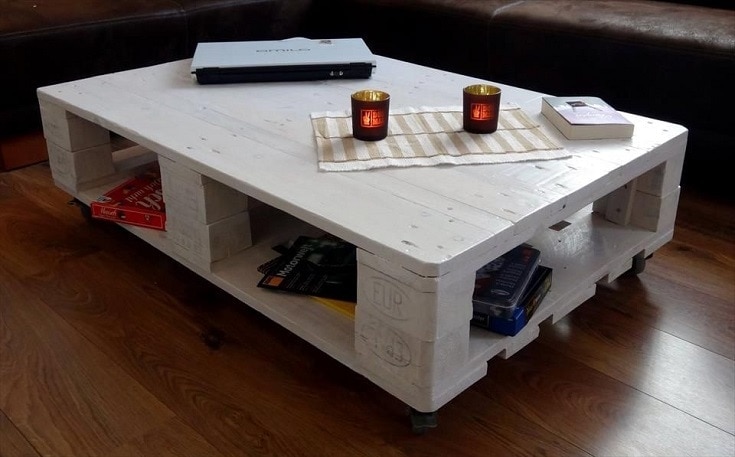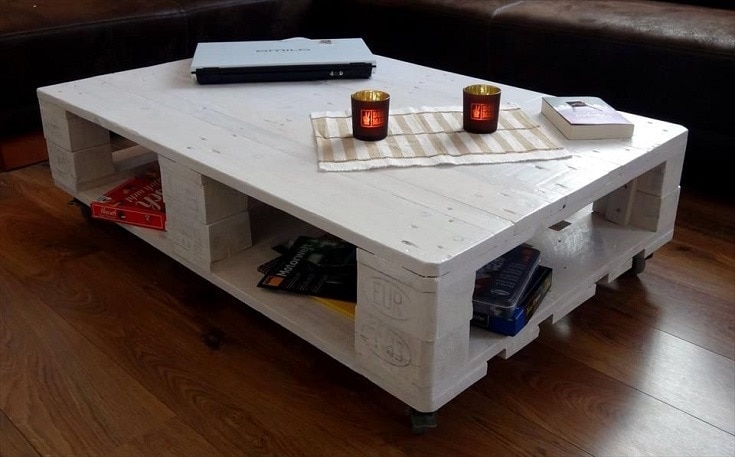 If you don't know what to do with the pallets you have lying about your home or yard, one of the easiest DIY projects is to turn those useless pieces of wood into functional coffee tables. There is any number of options available, but we have found the 14 most unique, versatile, and original projects you can get started on today.
Take a look below for some inspiration. Whether you have been toying with the idea of a pallet project, or you just need an excuse to get started, these step by step plans will help you find the right option. Each will teach you how to build a pallet coffee table today.

The 14 DIY Pallet Coffee Table Plans
1.

On Wheels by Saved by Love Creations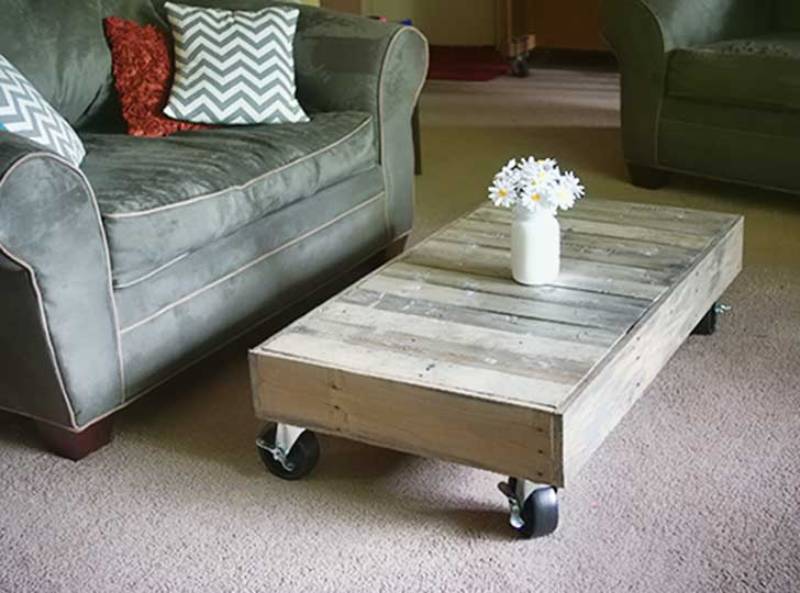 This first option is a great place to start. It is a basic pallet coffee table on wheels. Saved By Love Creations has set out a simple plan that even a novice will be able to follow with ease. You can double the pallet up, as well, for added height, and a lot of our other projects will expand on this basic DIY. Tip: Add some plexiglass for a modern look.
---
2.

Sliding Top by 1o1 Pallets
This plan is brought to you by 101pallets.com. Although this DIY will require some skill and additional hardware, the finished project will add a unique air to any rustic farmhouse look. Stain the slates in different tones to bring out the wood and take advantage of the extra inner storage space.
---
3.

Coastal Storage by Radmila
If you are looking for a minimalistic coastal piece for your beach house, this easy DIY project is the perfect balance of storage, classic lines, and beach vibes. Radmila has offered a simple plan to create this streamlined option that will balance with your other coastal decor. Whether you have a Mediterranean look or a Cape Cod aesthetic, this simplistic approach is a classic.
---
4.

Rustic Edge by Instructables
If your taste leans toward minimalistic country, this pallet DIY project will combine rustic charm with an elegant gloss. Instructables.com has offered a simple project plan that you can accomplish today. One of the great aspects of this project is it appears to require a skilled hand, yet it can be done with minimal work, time, and skill level. Visitors will assume this work of art came from anywhere but a leftover pallet.
---
5.

Multi Chevron by Easy Pallet Ideas
From easypalletideas.com we have a project that will require a higher skill level. That being said, this cross-pattern can be made into any style that matches your taste and decor. Keep it natural for a coastal look, stain in dark for a modern eclectic look, or paint it in nude tones for a lux feel. Either way, the intricate pattern will pull the eye.
---
6.

Trunk Table by Easy Pallet Ideas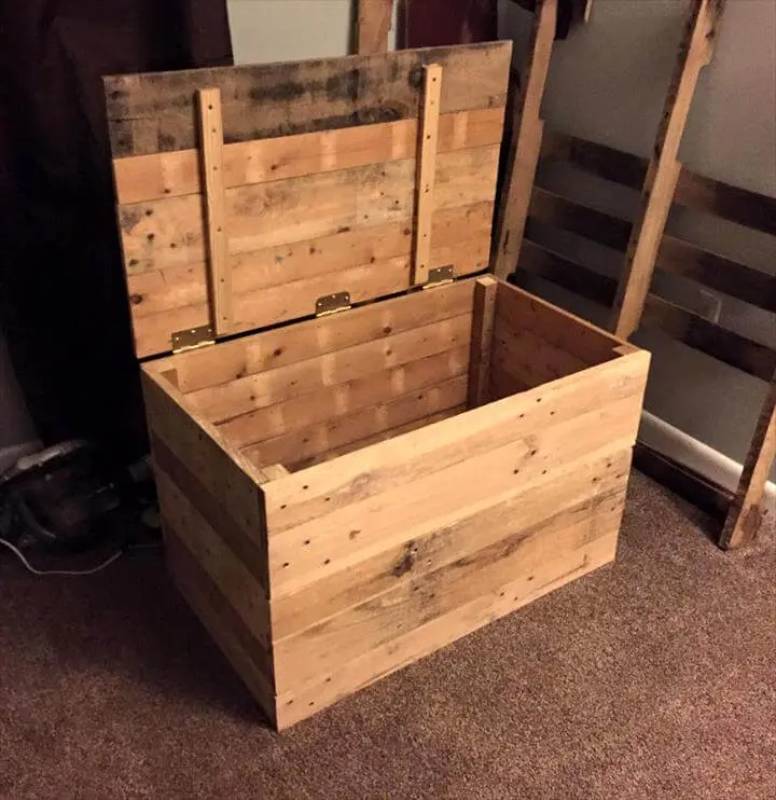 If you are looking for some additional storage, Easy Pallet Ideas has created an easy-to-follow project plan that will turn your useless pallets into a handy coffee table with extra storage. This is a great addition to any farmhouse decor in living rooms or entranceways.
---
7.

American Flag by Instructables
Instructables has provided this easier-than-it-looks DIY pallet project to create your own American Flag coffee table. Whether you want to use this all year or need it for the 4th celebrations, this project will turn heads. You can create a faded vintage look or use vibrant colors to catch the attention of everyone present.
---
8.

Modern Classic by Hand Made Haven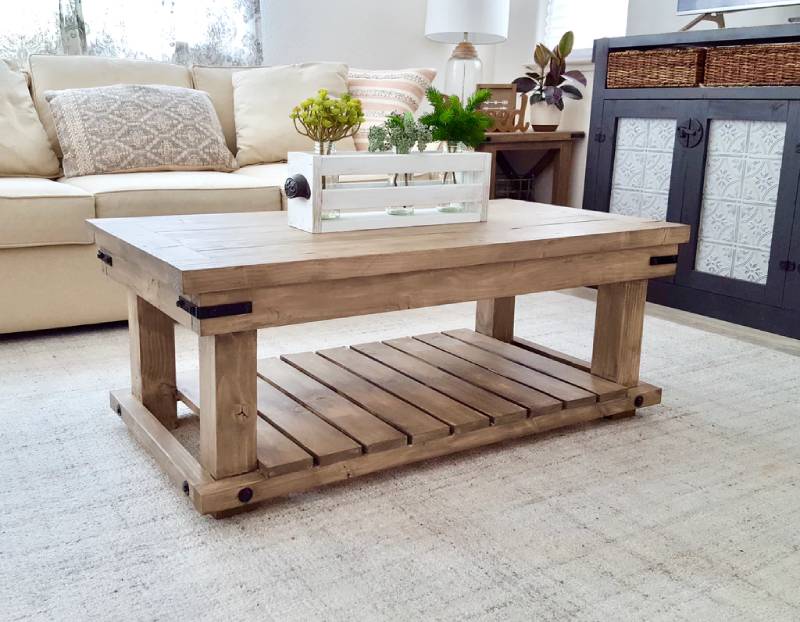 If you want something more versatile and classic, this piece will fit seamlessly into almost all interior styles. Hand Made Haven gives you an easy to follow plan to create this simple, yet modern pallet coffee table. As shown, you can leave it natural, stain the wood dark, or use a multi-color technique.
---
9.

Window by Crafty Morning
If you want something original and elegant with a vintage air, try this Crafty Morning DIY project. You will need some glass or an old window for this plan, but the overall aesthetic of this piece is delicate yet classic and well worth the effort to refine your skills.
---
10.

Center Decor by 1o1 Pallets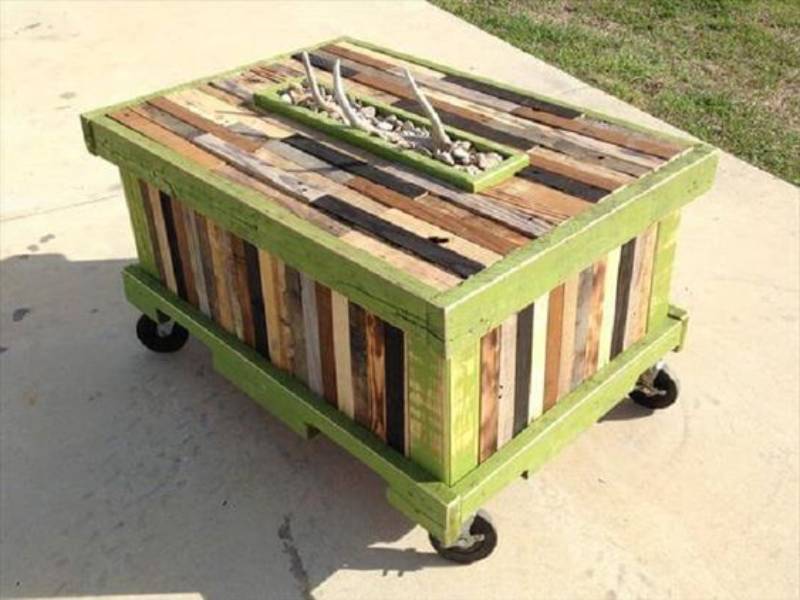 1o1 Pallets has created this unique, fun, and creative coffee table that you can start today. The design will require some skill and a bit of time, but the finished piece will add a fantastic piece to any decor. You can change up the colors to reflect your taste, and also swap out the center decorations. You can use seashells, candles, flowers, or sand. Regardless, this is a DIY worthy of your time.
---
11.

Convertible by Hand Made Haven
If you like a two-for-one design, you will love this coffee table DIY that converts into a bench. Whether you want to use this outside, inside, or both, you can customize the look to your heart's content. Although you will need to have a bit more patience and skill with this project, you are essentially getting two pieces of furniture in one-all from a pallet.
---
12.

Lazy Susan by 101 Pallets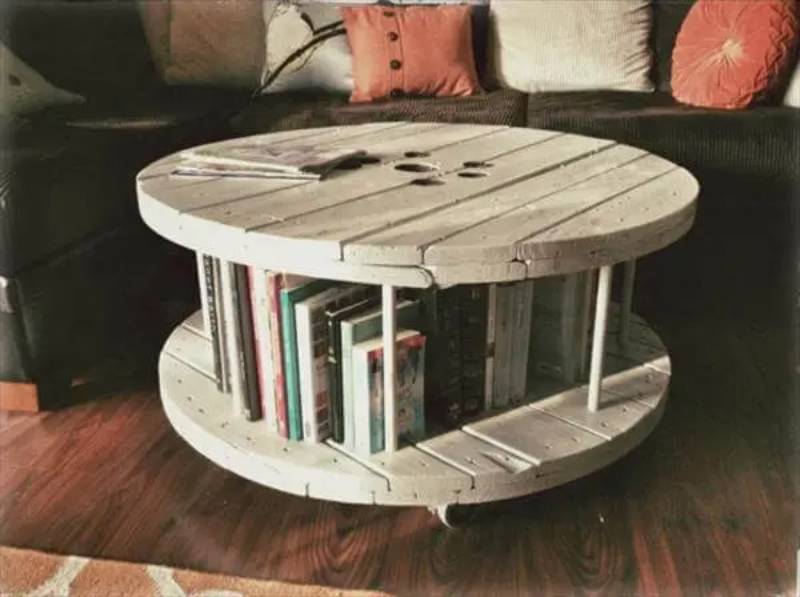 There is something to be said for a round coffee table, especially if you have limited space. This simple DIY by 101 Pallets seems like a difficult project, but it's really an easy to follow plan layout. You can keep the wood natural, as shown, or stain and paint it to match your decor. Either way, this lazy susan on wheels will create storage space, plus a classic table for your living space.
---
13.

Industrial by Easy Pallet Ideas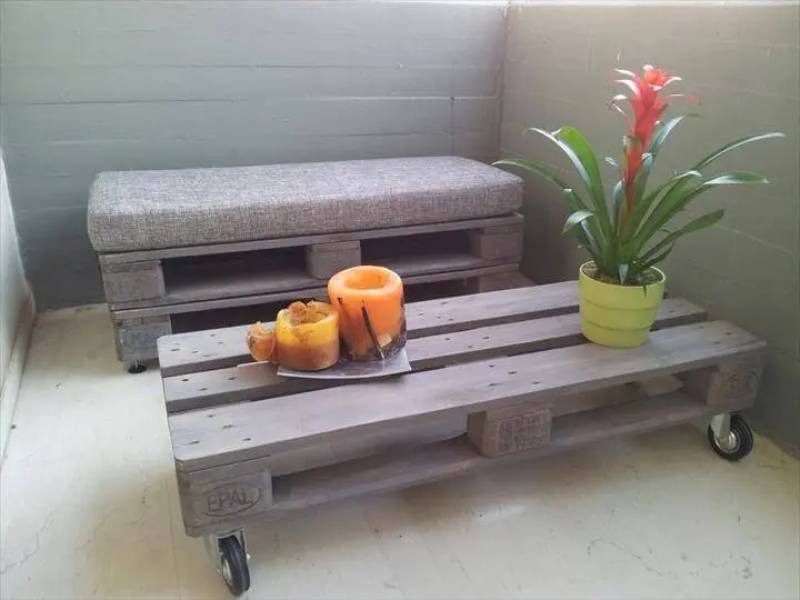 The industrial look has become popular in recent years particularly in the city where a minimalistic style is appreciated. This design and plan by Easy Pallet Ideas will be a great addition to any living space with this theme. The plans even come with the plans to make a matching cushioned seat to tie everything together.
---
14.

Glass Top by Easy Pallet Ideas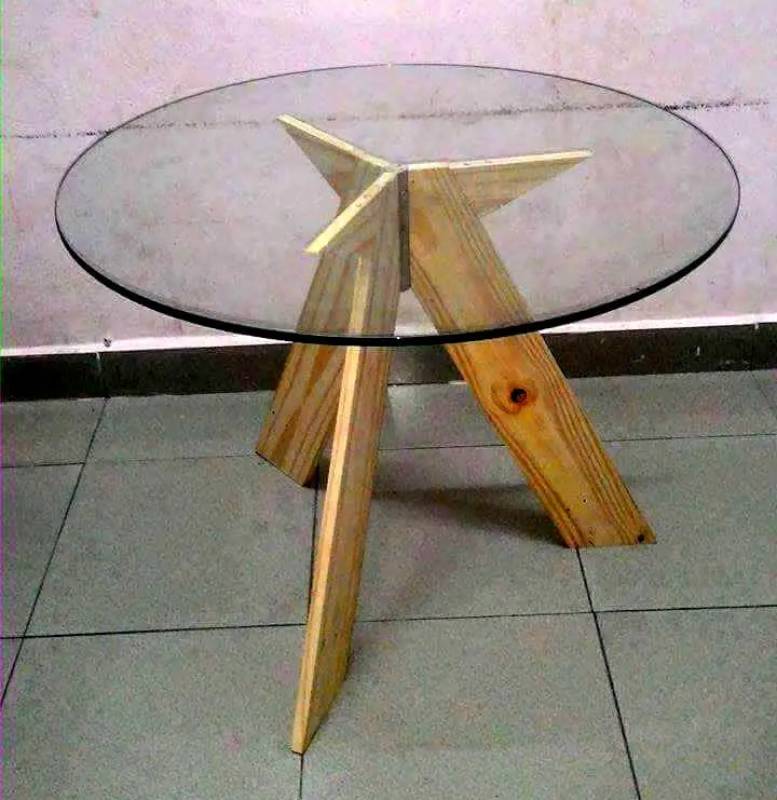 This final design is an easy DIY project that you can start and finish today. All you will need is a piece of round glass to complete the top. Not only will this coffee table fit in with any type of home decor, but it only uses a small amount of wood from your pallet, so there will be leftovers for another project!
Many of these designs can be tailored to suit your taste and style. Whether you are modern and sleek, rustic and cozy, or minimalistic classic, there is a DIY pallet plan that will teach you how to build a pallet coffee table that's unique and interesting for your home using a basic wooden pallet.
---
Featured Image Credit: Tele Sudest