12 Most Expensive Homes In New York (With Pictures)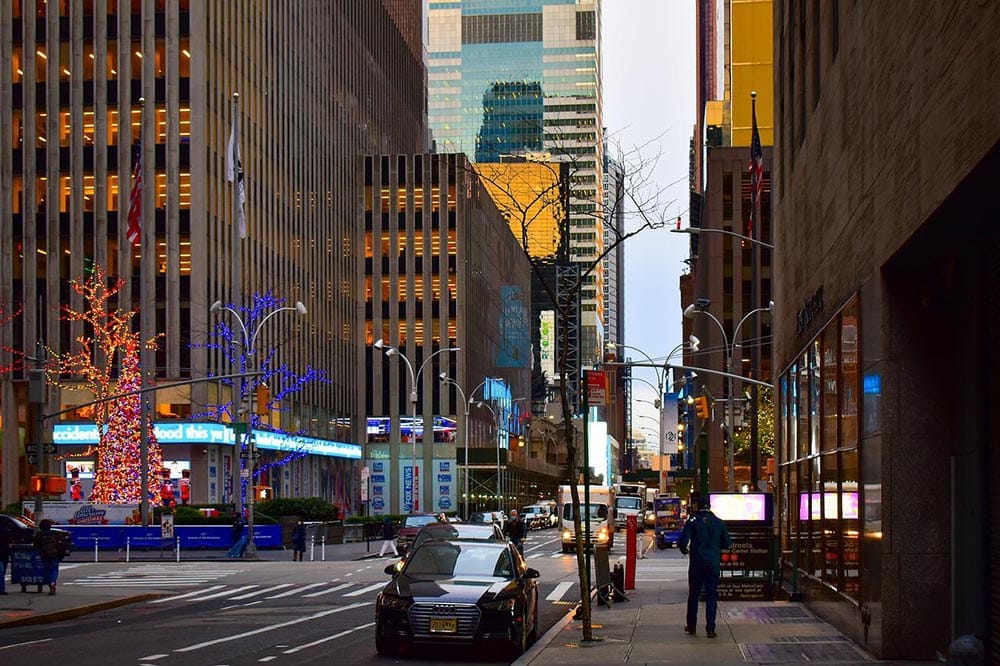 New York is the fourth most populous state in the United States, it is home to New York City, and it is the fourteenth richest state by household income. Taking these factors into account, it is no surprise that the most expensive homes in New York all hail from in and around New York City and have recently broken price records. This article uses data on actual prices of homes that closed and sold rather than listing data. Since the list was heavily skewed towards the New York City metropolitan area, we also added sections briefly covering the most expensive homes in central and upstate New York.
Here are the 12 most expensive homes in New York State.
The 12 Most Expensive Homes in New York
1.

220 Central Park South, Units 60 & 61, New York, NY
Square footage: 11,870
Beds / Baths: 10 beds; 8 baths
Zip Code: 10019
Cost: $157 million
These two units in New York's hottest condo building sold for a record-breaking sum. A Chinese magnate bought both units at the same time. Even if the purchase was not combined, each individual unit would have still made the top of the list. Individually these two condos were sold for more than $75 million each.
It is not surprising to see 220 Central Park South at the top of this list as the building dominated all the top sales in New York City in 2020. Together, the units make up 11,870 square feet and feature 10 bedrooms. There are panoramic views of the surrounding New York skyline as well as commanding views of Central Park. The units easily shattered records for home sales in 2021 and commanded the top spot for the entire state, separately or combined.
---
2.

2 East 88th Street, Penthouse 14, New York, NY
Square footage: 7,000
Beds / Baths: N/A
Zip Code: 10128
Cost: $60 million
This penthouse was one of the most desirable properties in New York last year, and it sold for a hefty price. The final $60 million sale price was 50% more than the $40 million asking price. The penthouse is set up in a triplex style and features 7,000 square feet of living space and a two-story outdoor deck with great views of Manhattan.
This prewar building is located in the Carnegie Hill neighborhood of Manhattan, which is a prime location and a perfect spot for buyers who enjoy old New York to the brand-new skyscrapers that continue to go up around the city. The building was built in 1930, and the unit was last sold in August of 2021 for $60 million.
---
3.

220 Central Park South, Unit 67, New York, NY – $59.5 Million
Square footage: 5,935
Beds / Baths: 5 beds; 4 baths
Zip Code: 10019
Cost: $59.5 million
Unsurprisingly, another unit from the ever-popular 220 Central Park South makes the list. In fact, if we included all the units from this building, the list would be cluttered with these condos. 220 Central Park South is an extremely trendy skyscraper that recently opened on New York City's Billionaire's Row.
These units continue to be extremely popular. They dominated the listings and sale charts from 2020, and they will likely continue to appear on these charts in 2022. The newness of the building, the prime location, excellent views, and modern amenities continue to draw the world's richest people to the borders of Central Park.
---
4.

12 East 69th Street, New York, NY
Square footage: 20,000
Beds / Baths: 6 beds; 8 baths
Zip Code: 10021
Cost: $59 million
12 East 69th Street is a house that oozes Old World charm and Gilded Age brilliance. It was sold in 2021 for $59 million and was designed by the enigmatic Sanford White back in the day. This house has over five floors, including an expansive basement. It has an indoor pool, 28-foot ceilings, a massive entryway, and an expansive outdoor terrace and rooftop area.
The location is prime. The house is located just off 5th Avenue and Central Park putting it right in the heart of Manhattan. It has an elevator that goes up to the roof. It also features a pool, two saunas, a movie theater, and even a panic room. The house once had two dressing rooms, but one was turned into a fully wired and stocked panic room. This is one of the most impressive houses in the United States in terms of pedigree, location, and architectural features.
---
5.

9 East 71st Street, New York, NY
Square footage: 51,000
Beds / Baths: N/A
Zip Code: 10021
Cost: $51 million
The house at 9 East 71st Street is known as the Herbert N Straus House, and it has a long and interesting history. The house is absolutely massive, having been expanded multiple times through the decades from when it was completed in the 1930s. The house is now believed to be over 50,000 square feet in size. It has multiple stories and features fifteen-foot doors at the entry. The sidewalk outside is heated.
The house was owned by Jeffery Epstein from 1996 until 2021. The home was raided by the FBI as part of the investigation into Epstein's crimes. It was purchased for $51 million in 2021, and the proceeds went to a fund benefiting the victims of Jeffery Epstein. Despite the devious owner, the house remains a jewel of New York architecture and has been one of the most sought-after homes in New York for decades.
---
6.

217 West 57th Street, Unit 53, New York, NY
Square footage: 7,984
Beds / Baths: 4 beds; 5.5 baths
Zip Code: 10019
Cost: $50 million
Located in Central Park Tower, the biggest draw for this condo unit was the outdoor space. Even the swankiest penthouses, condos, and apartments in New York City lack good outdoor spaces. This condo has a massive 2,000-square-foot terrace with an outdoor pool and ample seating. Someone thought the views, the cool air, and the outdoor areas were worth $50 million.
Unit 53 might not last too long as the most expensive unit sold in Central Park Tower. There are units on the 127th and 128th floors that are asking for over $100 million each, which would easily dethrone Unit 53. But asking prices are not the same as selling prices.
---
7.

419 Broome Street, Unit 5, New York, NY
Square footage: 7,634
Beds / Baths: N/A
Zip Code: 10013
Cost: $49 million
419 Broome Street, Unit 5 encompasses the entire fifth floor of the building plus the penthouse level. This condo complex has nearly 8,000 square feet of indoor living space and over 3,000 square feet of outdoor living space. It is an entertainer's dream located in the heart of the popular SoHo neighborhood. It has high 24-foot ceilings, exposed wood columns, a wood-burning fireplace, two kitchens, and a modern master suite.
It also has a hot tub and an outdoor shower along with your very own Zen garden in case the stresses of high flying New York living start to get to you. All of this together creates a castle located in the heart of Manhattan and just minutes away from numerous subway stations.
---
8.

217 West 57th Street, Unit 109, New York, NY
Square footage: 6,700
Beds / Baths: 5 beds; 5.5 baths
Zip Code: 10019
Cost: $47.95 million
Another unit located on Billionaire's Row, this condo is also found in Central Park Tower. This unit would have been the most expensive one in the building if not for Unit 53 with its massive terrace. It features a large space comprising over 6,000 square feet along with spectacular views of the city and nearby Central Park.
The price reflects the recent run on condos in this area of New York. However, the condo still sold far below the asking price. The original asking price was over $70 million. Despite the deep price cut, this unit still managed to crack the top ten in terms of the most expensive homes sold in New York for the year. Not bad.
Most Expensive in Central New York
9.

3 Bobbett Ln, Skaneateles, NY
Square footage: 13,672
Beds / Baths: 6 beds; 7 baths
Zip Code: 13152
Cost: $6.1 million
If you are looking for a large house that commands a large sum, look no further. This truly massive estate in Skaneateles, New York, is nearly 14,000 square feet. It is located on a full three acres of beautiful property on the shores of the popular Lake Skaneateles. The exterior of the home looks like a classic old American house.
Inside, the home looks like a western lodge. It has ample wood detailing, vaulted ceilings, a spiral staircase, and no less than six fireplaces. The floors are heated too, so this house is ready to hunker down for a long snowy winter. It has panoramic views of the lake and a beautiful carriage house that was added in 2008. The size and the prime location are what make this Skaneateles home one of the most expensive homes sold in New York.
---
10.

3205 E Lake Rd, Skaneateles, NY
Square footage: 5.525
Beds / Baths: 6 beds; 5.5 baths
Zip Code: 13152
Cost: $5.5 million
Located on the banks of Lake Skaneateles, this airy lake house features a bright modern aesthetic and plenty of amenities for those who enjoy central New York. With six bedrooms and five and a half bathrooms, there is plenty of room for the whole family plus friends. This property features lots of green space on the edge of the lake, a dock, a boat house, and a gorgeous modern farmhouse exterior.
Inside, there is a game room, an open loft, an office, and plenty of space for everyone to relax after a day out on the water. There is tons of natural light inside, thanks to plentiful windows. The interior blends rough stone accents with a bright modern look. It is no wonder this is one of the most expensive homes ever sold in central New York.

Most Expensive in Upstate New York
11.

64 Meadow Road, Buffalo, NY
Square footage: 7,900
Beds / Baths: 4 beds; 5.5 baths
Zip Code: 14216
Cost: $2.7 million
This sprawling Buffalo compound features an expansive single-family home on just over half an acre. The house has twelve rooms in all spread out over 7,900 square feet. The home features a pool, a large garage, a quaint stone wall, a fireplace, and a wrought iron gate.
It is the classic manor-style home located in the heart of upstate New York. When the house sold for $2.7 million in 2020 it set a record for the most expensive home ever sold in Buffalo. It remains the most expensive home sale in upstate New York as of the most recent data.
---
12.

5358 Old Lake Shore Rd, Lake View, NY
Square footage: 5.878
Beds / Baths: 6 beds; 4.5 baths
Zip Code: 14085
Cost: $2.5 million
This beautiful lakeside manor on the banks of Lake Erie sold for $2.5 million in 2019, making it one of the most expensive homes sold in upstate New York. This sprawling house has all the amenities you could ever want just outside of Buffalo. The inside of the home features a large kitchen, an office, a gym, and a theater. There are solid wood inlays throughout that add functionality and character.
Outside, the home has multiple decks and porches that overlook the lake. There is a path that goes down to the water's edge, basketball courts, an outdoor fire pit, and of course, a pool. There is a four-car garage for your cars, boats, and toys and there is even a pool house that can double as a guest house. This beautiful home truly has everything a family could need in a home on the lake.

Conclusion
New York City has some of the most expensive real estate in the world, so it is no wonder that the top eight most expensive homes on this list are all in New York City. From penthouses built for billionaires to old townhomes, there are some truly expensive homes that have sold in New York in the past couple of years. For people who are not interested in New York City reality, there are plenty of pricey homes in upstate New York as well. Many of the most expensive homes are located around Buffalo and in the Lake Skaneateles region.
---
Featured Image Credit: marekr, Pixabay