Toyota Hilux vs. Tacoma 2023 Comparison: Which One's Best for Me?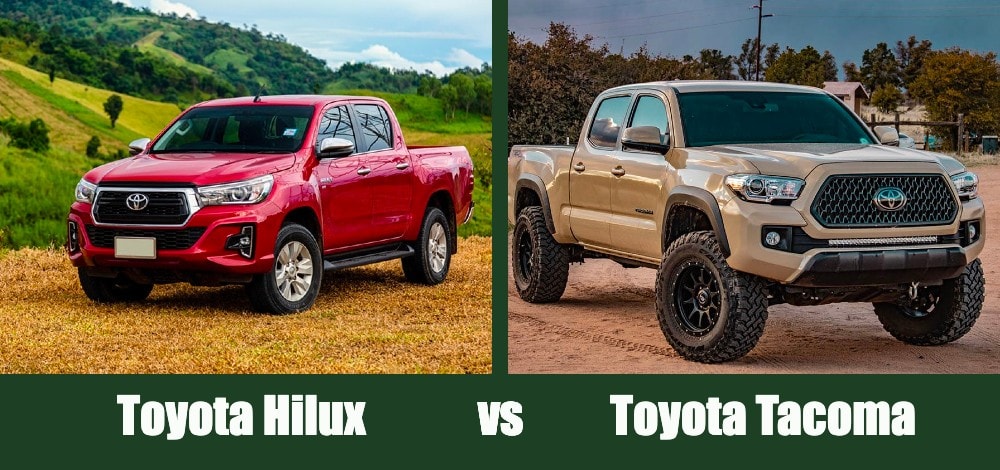 The main difference between the Hilux and Tacoma is the market they are designed for. They are both light trucks, but the Hilux is primarily designed for a global market, while the Tacoma is designed for the U.S. This causes them to exhibit many subtle differences.
For instance, the Hilux has larger lights and a sleeker body. The Tacoma is a bit blockier and has thinner headlights—a design that is popular in the United States. The Tacoma also has more power than the Hilux at 278 HP; the Hilux only has 177 HP. The Tacoma is also larger overall, as are most American cars. The Hilux resembles an SUV instead of the big truck Americans are used to.

At a Glance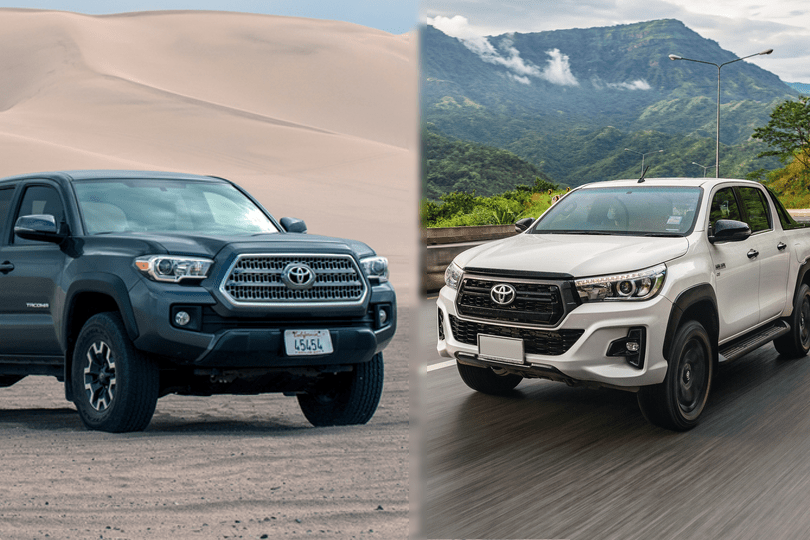 Toyota Hilux
4L 4-cylinder
116 to 150 HP
180 lb-ft torque
22 city/27 highway MPG
2800 towing capacity
Tacoma
7L 4-cylinder engine
159 HP
180 lb-ft of torque
20 city/23 highway MPG
6,800 towing capacity
Overview of the Toyota Hilux
The Toyota Hilux is one of the best-selling trucks worldwide—except in America. However, besides its less-than-stellar performance in America, this truck is extremely popular. Since this line of trucks was released in 1968, about 18 million units have been sold.
The Hilux is known to be very dependable. It features some of the "fancier" options that are common in other trucks. For instance, the newest model has a backup camera and an LCD display. However, it is still quite rough. The interior is not as well-put-together and modern as some other trucks on the market. However, the new model has a new 2.8L engine option, which helps its performance when fully loaded. The truck isn't the most drivable, though, and can get a bit cumbersome.
With that said, its primary purpose is as a working truck, and it does that quite well.
Pros
8L engine option
Very durable
Accessible for most people
Improved riding capabilities
Cons
Not many comfort features
Interior is a bit lacking
Overview of the Tacoma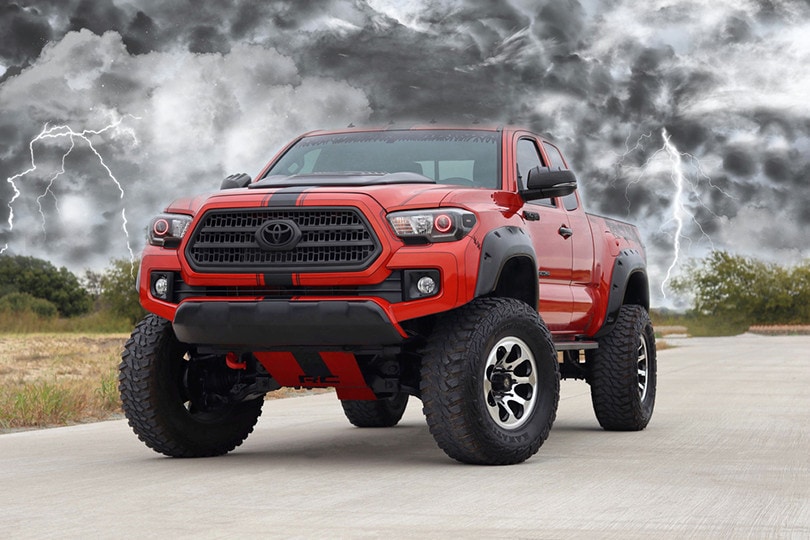 The Tacoma is one of the most popular trucks in America. It is a medium-sized pickup truck with off-roading capabilities. Furthermore, it is extremely reliable, which is a major selling point. It has a four-cylinder engine that isn't all that impressive, and the automatic transmission is known for a slip-up or two. However, it is skilled at off-roading, though not necessarily as good as some vehicles designed specifically for that purpose. The backseat is small, and the overall interior quality isn't stunning.
However, it is packed with driver's assistance technology that helps with almost everything. It is rugged and reliable, even when you aren't sticking to the highway.
Pros
Rugged and dependable
Off-roading capable
Driver-assistance technology
Cons
Tiny backseat
Poor gearbox
Poor interior quality
See Also: 
How Do They Compare?
External Design
Edge: Tie
Because it is designed for an American market, the Tacoma is extremely large—much more so than the Hilux. However, in recent years, the difference has become less noticeable. For instance, the Tacoma is now just two inches wider in some areas, depending on the model you get. Because American roads are slightly larger than those in other countries, this is to be expected.
Both designs have moved closer together over the past few years. Therefore, they look quite similar to each other. However, the Hilux is a bit sleeker and has larger lights. The wheels appear a bit more rugged on the Tacoma, but that depends on the exact package you purchase.
Internal Design
Edge: Tie
The Tacoma's interior is a bit like the exterior—blocky. It looks very much like a truck. It also features a standard 7" display screen, which is only available on the US market truck. It also features various safety features, such as adaptive cruise control and automated emergency braking. Both cars are lacking in interior design options. However, they are also very different. The Hilux has an 8" multimedia screen that is compatible with Apple CarPlay and Android Auto, but the exact interior design depends on the model that you purchase.
Powertrains
Edge: Hilux
The Hilux has a powerful 2.8L engine. You can also choose from a range of gas and diesel options. The more expensive options are more powerful. You can choose a manual or automatic transmission, and the Hilux has an improved suspension system for driver comfort.
You can also choose from a few options on the Tacoma. The engine options include a 159-hp 2.7-liter four-cylinder gas engine or a 278-hp 3.5-liter V-6. You can purchase a manual if you have the V-6. However, that is only possible on higher package levels and certain body options. Two- and four-wheel drive options are also available.
The Tacoma also comes with different body style, such as the extended-cab and four-door crew versions.
MPG
Edge: Tacoma
The Tacoma appears to have a better MPG than the Hilux. However, it depends on the model you choose and who you ask. The Tacoma officially has a 22 city/27 highway MPG, while the Hilux is slightly worse at 20 city/23 highway.
Of course, how you drive and the model you choose will greatly affect the MPG. Therefore, these are not the exact measurements you'll likely see on your truck.  However, these give you some idea of which car will perform better in this category.
What the Users Say
Both of these cars are considered good workhorses. If you're looking for a truck that will work, these trucks are suitable. However, they also are less refined than other high-end brands. They have subpar interiors and aren't very easy to drive. For the most part, it is these pros and cons that users pointed out.
Users liked that both of these cars are quite dependable. They are both from Toyota, which is known for its dependability. Generally, Tacoma gets high reviews in America, where people are used to bigger trucks. However, the Hilux is extremely popular in Europe and throughout other countries. It is slightly smaller, making it more suitable for locations outside of America. The Tacoma isn't even available in other markets, showing that it was designed for America first and foremost.
The transmissions of both vehicles are known to be a bit strange, especially the automatics. However, the Hilux did get an engine upgrade (as an option). Therefore, it does pack a bit more power than it used to.
Conclusion
Neither of these cars is the big "winner." They are simply trucks that are built for different markets. The Hilux is made for the international market, which makes it smaller. However, the Tacoma is only available in America and is designed for Americans' specific tastes.
The Hilux has gone through more changes, including adding more technology. The Tacoma has had many of these features for some time, though. We expect it will keep up with the American market, which generally means more technology than other options.
Generally, the Tacoma outperforms the Hilux in some categories. However, most of it is a matter of personal preference. If you're in America, you may want to select the Tacoma (as it was designed specifically for the usual wants and needs of America). However, the Hilux may suit you more if you're looking for a more bare-bones model or want something a bit smaller (though it isn't that much smaller).
---
Featured Image Credit: (Left) Streetmetal, Shutterstock (Right) Dusty Barnes, Unsplash