8 Clever DIY RV Bunk Bed Plans You Can Construct Today (With Pictures)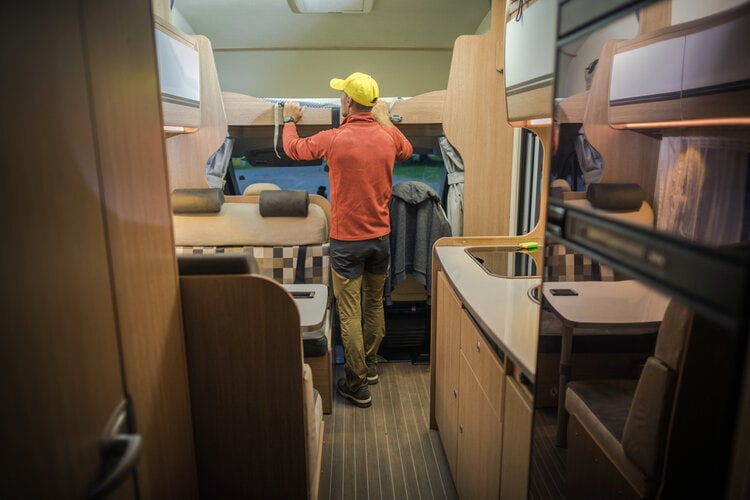 With an RV, you can enjoy the road, camp out in the wilderness, and have a quiet time with your family. Motorhomes and campervans are all about being spontaneous and embracing Mother Nature. That said, it's very important to ensure the beds are nice and comfortable. Otherwise, you'll have to deal with back pains in the morning! Now, for RVs, bunk beds are a very popular choice.
They're flexible, take up little space, and can accommodate up to four people. Unfortunately, they can also be quite expensive. That's why today, we want to introduce you to eight top-notch DIY plans for building a bunk bed. We only included the most straightforward and rewarding plans that take little time and effort to construct. All you need is some basic tools and our hand-picked guides to build one of these!

The 8 DIY RV Bunk Bed Plans
1.

DIY Bunk Bed With Storage Bins by The Touring Camper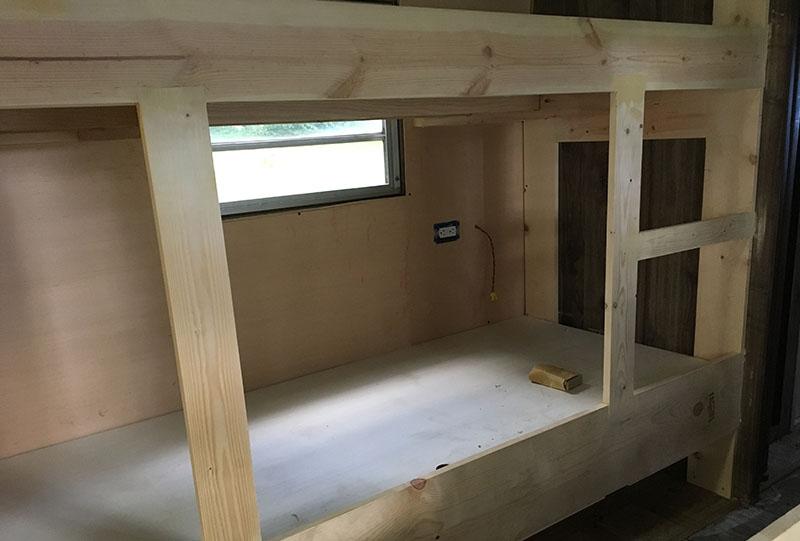 | | |
| --- | --- |
| Materials Needed: | Pine plywood, oak supports, a set of screws, paint/finish (optional) |
| Tools Needed: | Work gloves, circular saw, measuring tape, level, cordless drill, screwdriver, brush (optional) |
| Difficulty Level: | Easy/Moderate |
Trying to make every inch in the RV count? If that's the case, this bunk bed with storage bins will help maximize the space in your trailer. You can use the hidden boxes/containers to keep clothes, bed linen, or whatever else you need to store. To build this bunk bed, make sure you have enough plywood and screws, and grab a circular saw and electric drill from the garage.
Once you're all set up and ready to go, constructing both the beds and the storage compartments will be a rather straightforward process. Put your gloves on. and don't rush it! You have the option of building the whole thing from the ground up or rebuilding an existing bed. Painting or finishing it is definitely worth it in the long run, but you can skip this part for now.
---
2.

DIY Removable Bunk Bed by Covet the Camper
| | |
| --- | --- |
| Materials Needed: | Plywood (4×8"), 16 feet of lumber, 3/8" fasteners, T-nut bolts, 2" machine screws, wood screws, clamps |
| Tools Needed: | Cordless screwdriver, regular saw, electric drill + bits, wood glue, jigsaw (optional) |
| Difficulty Level: | Moderate |
RV fans looking for extra mobility will definitely appreciate the simplicity and flexibility of a DIY removable bunk bed. The list of required instruments is relatively short. As long as you have a screwdriver and drill, you will be able to pull this plan off. It's highly customizable and easily fits a pre-existing bunk bed or a slide-out bed. Start by measuring the width to be precise with your cutting.
The bottom of the bunk bed should be pine; as for the frames, cherry or oak are the best options. This is important: this makeshift bed consists of two separate parts. The first one should be secured with a set of t-nut bolts. Remove those bolts, and the bed will come right off. As for the second one, use a set of side braces to hold it in place.
---
3.

Aluminum DIY Bunk Bed for a Small RV by Lady and the Scamp
| | |
| --- | --- |
| Materials Needed: | Wood sheets, fiberglass, 80/20 aluminum (extruded), brackets, hinges, screws, foam noodles |
| Tools Needed: | Circular saw (with metal-cutting blades), level, marker, cordless drill/screwdriver |
| Difficulty Level: | Moderate |
If you're a bit worried that a regular bunk bed made of wood won't be able to hold your weight, an aluminum bunk bed for a small RV will be able to solve that for you. First, it's specifically designed to fit in a tiny recreational vehicle. Second, you can easily modify it to fit your motorhome. For this, you'll need extruded aluminum slats, wood (a single sheet will do), and fiberglass for the bottom. To cut the aluminum, get a set of metal-cutting blades for your saw.
To cover the sharp parts, use a set of foam noodles. Lightweight but able to hold at least 250–300 pounds, this bunk bed will easily handle two people sleeping on it.
---
4.

DIY RV Bunk Remodel for Kids by The New Lighter Life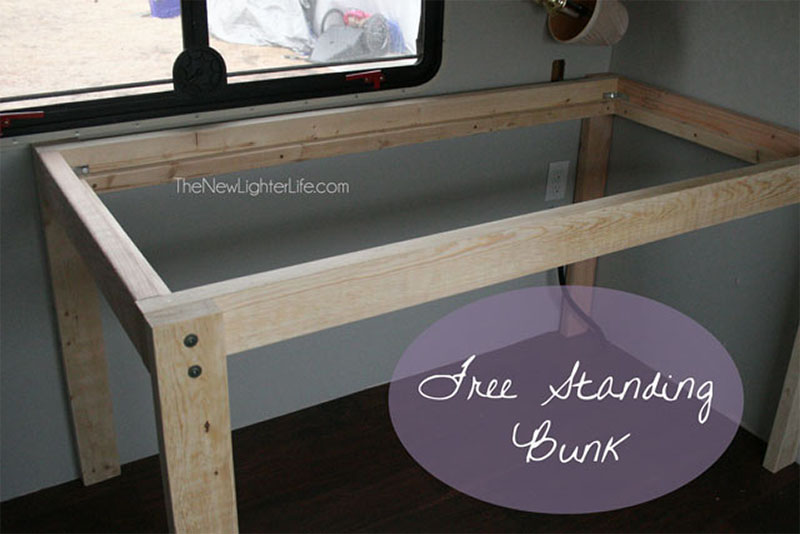 | | |
| --- | --- |
| Materials Needed: | Lumber (1x1s, 2x4s), plywood, screws/nails, foam |
| Tools Needed: | Circular saw, reciprocating saw, screwdriver/hammer |
| Difficulty Level: | Easy |
Many old-school RVs come with a built-in closet. But what if you have more need for a bunk bed rather than a place to store clothes? We have the answer for you: an RV bunk remodel for kids. Depending on how big the closet is, you should be able to fit two bunks in there, large enough to be comfortable for kids up to 8–10 years old.
Essentially, this project is about removing the parts from the closet that get in the way and leaving the rest untouched. Most importantly, remove the closet doors; the top shelf, in turn, can store all the pillows, blankets, and whatnot. For the frames, use lumber (1×1) and put a piece of plywood on top of it to form the beds. To cut the mattress to shape, use a reciprocating saw.
---
5.

Quick-To-Build DIY Bunk Bed by The Casa Collective
| | |
| --- | --- |
| Materials Needed: | Treated pine (90×30, 42×32), 3mm plywood, slats, head nails, liquid nails, clamps, galvanizing bolts, brackets, foam mattress, cushions (optional) |
| Tools Needed: | Measuring tape, pencil, level, nail gun/hammer, knife (for cutting the foam), protective gloves and goggles, handsaw (optional) |
| Difficulty Level: | Easy/Moderate |
Don't have all the time in the world to construct bunks for the RV? Don't worry: with this quick-to-build bunk bed plan, you'll be done in the blink of an eye. For the base, uprights, and ladder, use treated pine. It's cheap and lasts for a long time. Measure everything with a pencil, tape, and level. Now, you could, of course, do your own cutting with a handheld saw, but it would be better just to get plywood panels of the right size from the store.
To cut the foam mattress to size, a regular knife will do. For the walls, it's recommended to use 3mm plywood.
---
6.

DIY RV Bunk Bed with a Drawer and Dresser by Wacky Wanderers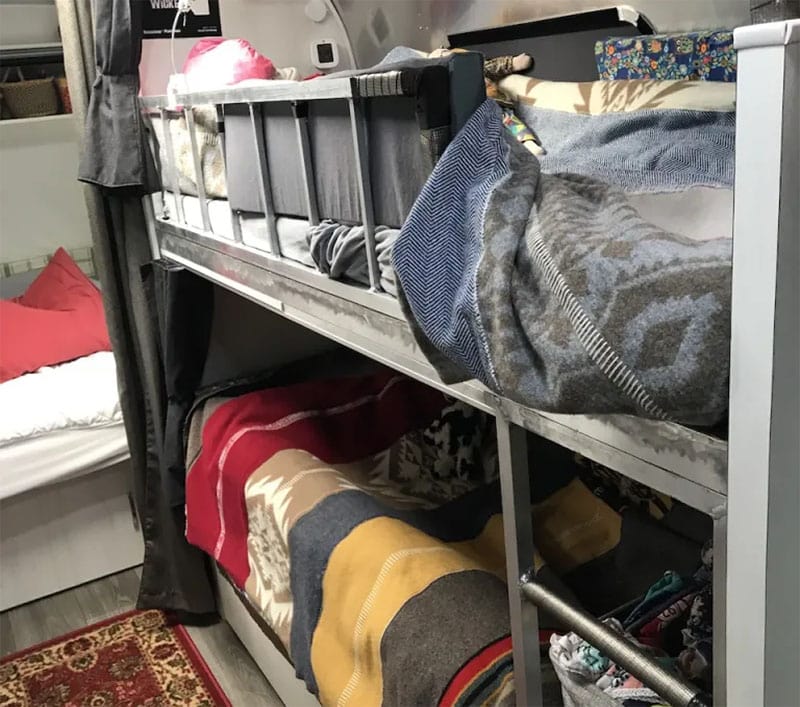 | | |
| --- | --- |
| Materials Needed: | Aluminum slats, plywood, plastic wall extrusion, laminate, metal brackets, latches |
| Tools Needed: | Welding machine, scribble tool, cordless drill + large bits, glue, router, iron (optional) |
| Difficulty Level: | Moderate/Hard |
Are you ready to take your DIY skills to the next level? Then let's try and build this lovely RV bunk bed with a drawer and dresser! As the name suggests, along with the bunks, it also includes lots of storage for your clothes and other stuff. The frame will be solely built from aluminum slats; for the base, plywood is the obvious choice. To smooth out the edges, use regular plastic wall extrusion.
This project involves a lot of welding; if you don't have a machine for that, consider renting it. Also, get ready to use this tool a lot to put the frame together and connect all the individual rails. The final result will be well worth it, especially if you have active kids that like to jump up and down on the bunks!
---
7.

Cheap, Easy-To-Build DIY Bunk Beds by Good News Bus
| | |
| --- | --- |
| Materials Needed: | Plywood, furring strips, cardboard, a roll of carpet (12×3"), a set of regular screws |
| Tools Needed: | Electric drill + 1/8" bits, cutting knife, circular saw, marker, level, protective gloves |
| Difficulty Level: | Easy |
The best thing about these cheap, easy-to-build bunk beds is their versatile design. Originally, they were built for a school bus, but you can just as easily install them in an RV (like a motorhome, campervan, or even a trailer/caravan). As long as you get the dimensions correctly, the bunks will fit right in. Be delicate and take it slow when working on the frame. Adding the cardboard, plywood, and carpet will be a walk in the park.
Just like with all the other plans, be meticulous with the measurements and put a pair of protective gloves on.
---
8.

DIY Triple Bunk Bed by Jen Woodhouse
| | |
| --- | --- |
| Materials Needed: | Plywood, wood rails, slats, pocket screws, wood screws, 3 1/2-inch bolts, flat/split-locking washers, cap nuts, paint (optional) |
| Tools Needed: | Electric drill, screwdriver, handheld saw, work gloves, wood glue, measuring tape, marker/pencil, paintbrush (optional) |
| Difficulty Level: | Easy/Moderate |
If you have a big, lovely family with at least three children, this DIY triple bunk bed will help you keep the kids nice and cozy on your next camping journey. Again, technically, this isn't an RV bunk bed per se, but all you'll have to do to turn it into one is a set of screws to attach it to the RV's wall. Do make sure it's compact enough to fit into the trailer, of course. This is one of the least expensive and straightforward plans for DIY bunks.
And it's one of those projects that you can keep improving by painting the beds and adding curtains and cute little shelves for books and stuff.

What's the Best Mattress for an RV Bunk Bed?
Alright, now that we've got the beds in place and ready to use, let's talk about the mattress. No matter how great the framing is, if the mattress is too thin, it won't be at all uncomfortable. Speaking of thickness, for most RV bunk beds, 5–6 inches of foam mattresses are the golden middle. If it's a slide-out bed, you simply won't be able to fit anything thicker in there. But with regular beds, you can go with whatever density/thickness you want.
Once you're happy with the sickness, check how durable the mattress is. Ideally, it should be equally comfortable to sleep, dine, watch TV, and play on it. That will cost extra, of course. So, instead of investing in an expensive mattress, you might want to get a cheaper one. This way, it won't hurt your wallet to buy a new one when the time comes. We'd also recommend opting for a lightweight mattress for mobility. Here's a quick rundown of the most popular mattress types:
For extra comfort, invest in a memory foam mattress. It will cost $400–1K but do a great job of relieving pressure points and ensuring a good night's sleep
Looking for an environmentally-friendly option? Then latex mattresses will be the best pick. They are pretty expensive ($800–1.5K) and slightly less comfortable but will keep mold, mites, and other pests away
Lightweight, flexible, and cheap (you can get one for as low as $100–150), air mattresses are another crowd favorite. Sadly, they are easy to damage and don't always provide enough support for the body
How Do You Pick the Right Mattress Size?
One of the most popular questions online is "Can I put my favorite mattress in an RV"? If we're talking about bunk beds, the answer is mostly going to be no, because regular-sized mattresses don't usually fit in RV bunk beds. But if the dimensions fit, then you can, of course, use it. Now, depending on the size of your recreational vehicle, the bunk can be as small as 28 x 75 inches or as large as 35 x 79 inches.
So, before you buy a new mattress, measure the exact length and width of your bunk to get the proportions right. If you find a great deal on a twin-size or a truck-size bed mattress, do check whether it will fit your RV's bunk bed or not. The same is true for king-size, queen-size, and double-size mattresses. Yes, there are lots of options on the market; however, they won't all fit your bunk bed.
How Much Does a Brand New Bunk Bed Cost?
If you're not yet ready to spend the whole weekend trying to build a DIY bunk bed, you're probably looking to buy it online or at a local store. So, how much does the average-sized bunk bed for an RV cost? This depends on the material quality, the size of the bed, and whether you want to pay for the installation or plan on doing it yourself. The area that you live in will also greatly affect the price. RV bunk beds in Alabama are a lot more affordable than somewhere in Cali.
To give you a general idea, expect to pay $200–500 for a decent-quality bed (or up to $4K for a premium unit). This is the price for the actual bed (the mattress is usually sold separately). And while most brands do include the cost of shipment into that price, in some rare cases, you'll have to pay for it from your own pocket. And one more thing: make sure the package includes the necessary hardware for assembly and detailed instructions.

Conclusion
While it might not be very romantic, sleeping is a big part of any camping adventure, especially if there are little kids in the RV. Now, if you have a full-fledged motorhome with a proper-sized bed, you won't find much use for a bunk bed. However, for a campervan, a high sleeper is a must. But wait—why buy it if you can build it?
With the right tools, materials, and these friendly guides, it's very well possible to put together a DIY bunk bed. No need to pay a professional carpenter or ask a buddy for help. Just pick a plan from the list, free up a couple of days to work on the project, and build a one-of-a-kind DIY bunk bed!
---
Featured Image Credit: Virrage Images, Shutterstock