Empire Today vs. Home Depot: Price, Stock & Service Comparison
Empire Today and Home Depot are two popular locations for all your flooring needs. Whether you are looking to get new carpet, tile, or vinyl flooring, it's important to compare these two companies before making your final decision about which is right for you.
On the one hand, Empire Today specializes in all things flooring, which means you will get a professional finish. On the other hand, Home Depot is your one-stop shop for all things home improvement, and it typically brags lower prices. Which should you select?
To learn if Empire Today or Home Depot is best concerning price, stock, and service, keep reading. This guide fully digs apart these two companies so you can decide which flooring mega-house is best for your home and needs. As a spoiler, we are fans of Home Depot. Learn why below.

A Quick Comparison
| | | |
| --- | --- | --- |
| Brand name | Empire Today | Home Depot |
| Established | 1959 | 1978 |
| Headquarters | Northlake, Illinois | Atlanta, Georgia |
| Product lines | Carpet, flooring, and window treatments | Home appliances, flooring, and building materials |
| Parent company/ major Subsidiaries | Charlesbank Capital Partners | The Home Depot Pro |
Brief History of Empire Today
Empire Today was founded in 1959 under the original name Empire Plastic Covers. At the time, it was a family-owned business in Chicago. By 1965, the company changed its name to Empire Home Services and even added carpet to its product list.
Since then, Empire Today has grown. By November 2002, the company was sold. As a result, the company name was changed to its current name, Empire Today, in December 2002.
Now, Empire Today focuses on home improvement. It offers carpet, hardwood flooring, laminate flooring, ceramic flooring, vinyl flooring, and area rugs. It even offers window treatments, and it operates in more than 75 metropolitan areas in the US.

---
Brief History of Home Depot
It's hard to go anywhere in the United States where Home Depot is not located. Home Depot is the largest home improvement retailer in the US. It provides a number of home improvement tools, including construction products, gardening supplies, flooring supplies, and more.
The company was opened in 1978 by four co-founders. Its goal was to become the largest home improvement superstore. By 2006, Home Depot became the largest home retailer in the US.
Since then, Home Depot has even branched out to non-US locations. Home Depot is popular in Puerto Rico, Guam, the US Virgin Islands, Canada, and Mexico. It currently has a revenue of $151.16 billion and has 2,312 locations across the world.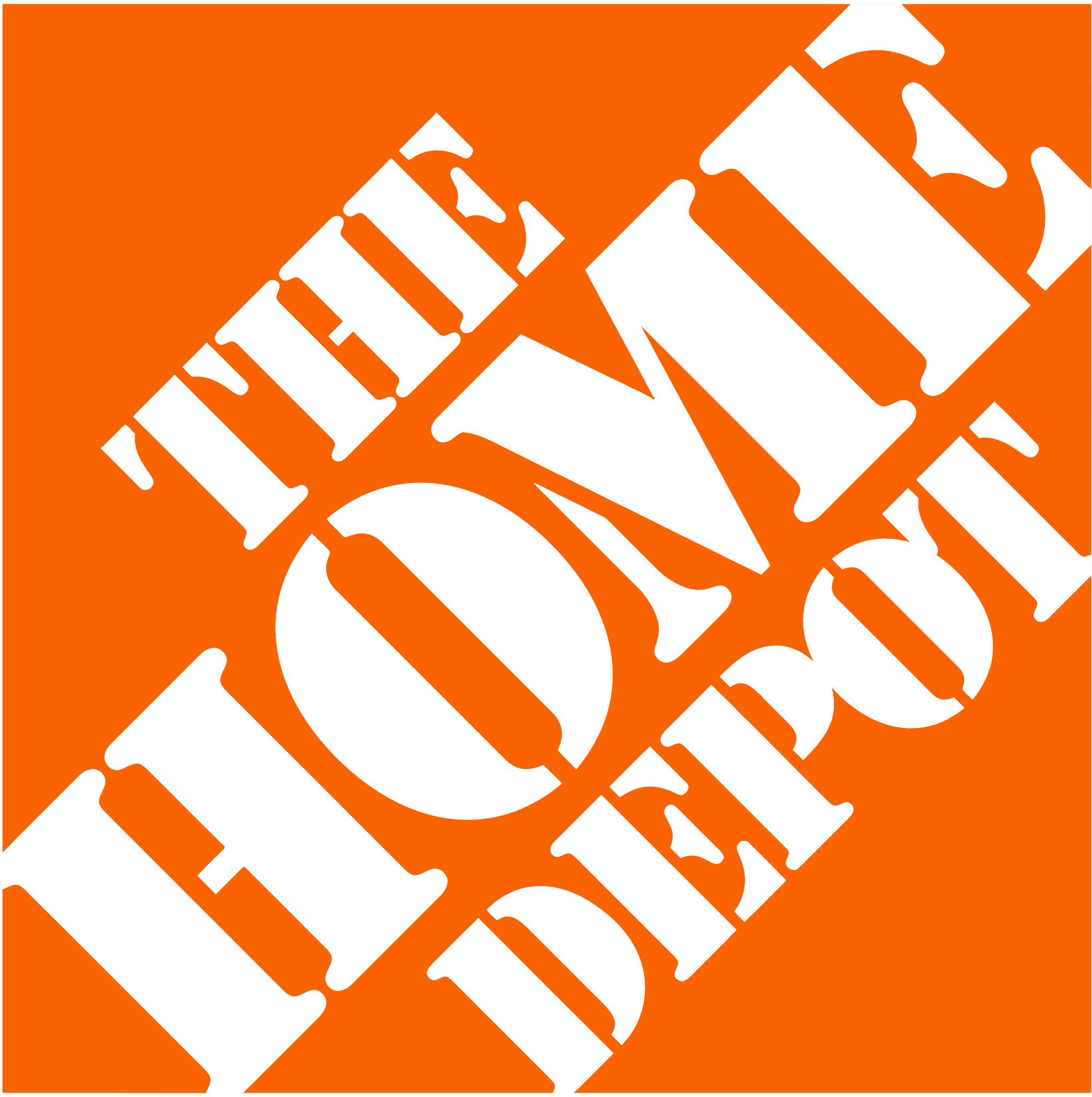 Empire Today Manufacturing
Knowing where a company produces its products can help you get an idea of the quality of the items before you even purchase them. Products manufactured in America and Canada tend to be of better quality than those manufactured in China or Mexico.
Unfortunately, Empire Today does not release where they manufacture all their products. Part of the reason so little information is reported may be because the company was recently just acquired by Charlesbank Capital Partners at the end of 2021.
That being said, they do report that all of their laminate products are manufactured in the United States in order to provide the most attractive and durable finishes possible. The fact that they specifically market their laminate flooring as being made in the USA seems to imply that other products are not manufactured in the US.
---
Home Depot Manufacturing
Finding out where Home Depot manufactures its products is a lot easier. As a whole, Home Depot manufactures and imports most of its products from China. In fact, Home Depot imports more from the country of China than any other US company, with the exception of Walmart.
In 2019, Home Depot reported that they were looking to move out of China to avoid tariffs and to balance its manufacturing. Unfortunately, this report seems to be false or a publicity stunt because there have not been any changes in their manufacturing locations.
The only exception to this is the lumber. Home Depot sources almost all its lumber from the United States. A small portion of it is sourced from Canada. As a whole, almost 100% of the lumber is sourced and processed within North America.

Empire Today Product Line
If you are interested in Empire Today, you mainly need flooring services. Empire Today specializes in all things flooring, including carpet, hardwood, laminate, vinyl, and more. Here is a closer look at the products Empire Today provides:
Carpet
Empire Today offers carpet installation. They will remove your furniture and old carpet. They even have a carpet recycling program to ensure all products are used sustainably. After the job is completed, the area will be cleaned up and furniture put back in place.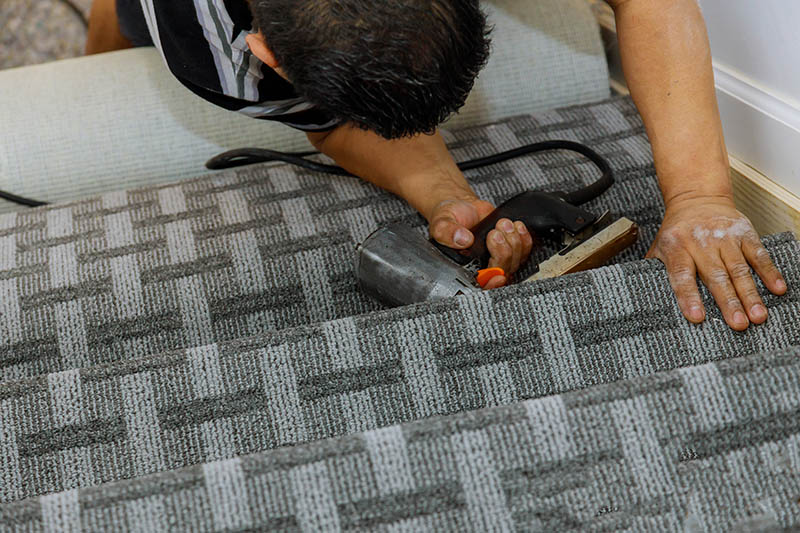 Flooring
In addition to carpet, Empire Today offers a variety of flooring options. They can provide hardwood, laminate, ceramic, and vinyl flooring. They even offer specially made area rugs that you can put over your new flooring. Just like with carpet installation, the team will remove furniture, remove your old floor, and bring the furniture back in once the job is finished.

Home Depot Product Line
Home Depot has a much larger product line than Empire Today. Whereas Empire Today only focuses on flooring mediums, Home Depot focuses on all things home. No matter what your home project may be, Home Depot likely has the tools and resources you need.
Home Appliances
Home Depot sells a variety of home appliances, such as washers, dryers, and dishwashers. Practically any major home appliance you would need is found at Home Depot. They also sell smaller appliances, such as lamps, light bulbs, and other appliances that make your house feel like a home.
Tools
Home Depot is one of the top locations for purchasing tools. Home Depot sells basically any tool and major tool brand you can think of. Some are designed for residential use, whereas others are designed for professional use.
Flooring
Like Empire Today, Home Depot offers many flooring options. In fact, they offer more flooring options than Empire Today, including tile, tile black splashes, vinyl, laminate, hardwood, carpet, rugs, garage flooring, gym flooring, and flooring supplies.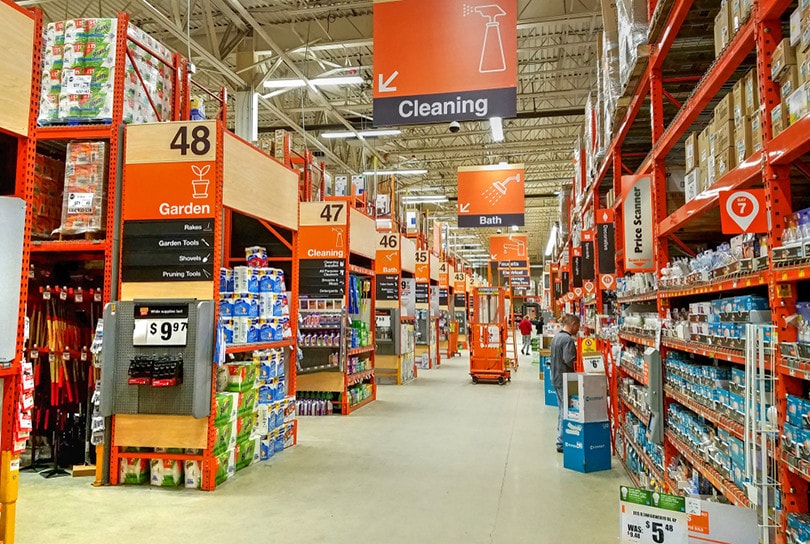 Electrical Needs
No modern home is complete without electrical wiring. Home Depot offers tools, materials, and accessories to complete your electrical wiring. Light bulbs, switches, and safety gear are all examples of electrical accessories offered at Home Depot.
Gardening
Home Depot even provides you with tools and resources for the outside of your home. The gardening center is extensive with plants, seeds, and gardening tools, including large tools like lawnmowers.
Lumber
Home Depot has an extensive lumber section for building projects. Most of the lumber is sourced from the United States.

Empire Today vs. Home Depot: Price
It can be difficult to compare the prices of Empire Today and Home Depot because they offer such different offerings. When looking at carpet alone, Empire Today attempts to have more expensive prices than Home Depot.
How much area needs to be covered, the material you select, and the current status of your flooring will all impact the final price for both companies.
Empire Today
Empire Today has a wide range of products, all focused on your flooring. Hardwood flooring and tile are the most expensive, which is to be expected at any company. Many users report that Empire Today is more expensive than Home Depot. You can get a detailed estimate to get an idea of how much Empire Today will cost for your home and needs.
Home Depot
Home Depot sells everything you can need related to flooring. They are generally less expensive because they are a bigger chain. Hardwood and tile installation is the most expensive, but you have the option to install the flooring yourself when selecting Home Depot. You can talk to a Home Depot representative to get an idea of how much your project will cost.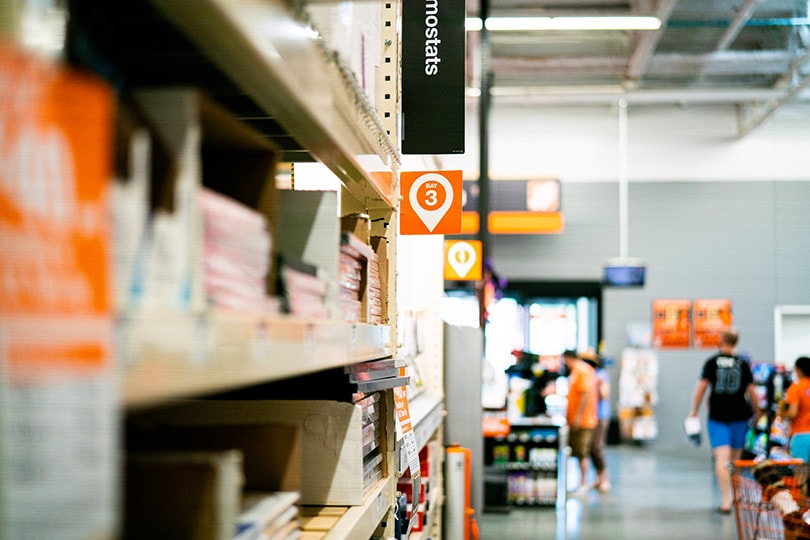 Empire Today vs. Home Depot: Warranty
To get the best bang for your buck, always consider the warranty of the carpeting and flooring you select. Both Empire Today and Home Depot offer limited warranties for their flooring services, but Home Depot's tends to be better.
Empire Today
Empire Today offers a one-year limited warranty¹. If your flooring or carpet has defects due to workmanship within one year from the installation date, schedule an appointment to get the flooring evaluated. If the flooring defect falls underneath the warranty, Empire will repair, re-perform, reinstall, or refund the installation.
Home Depot
Home Depot warranty is more extensive, depending on the material you select. All products will come with a limited warranty. The time span of the warranty depends on the material at hand. Wood flooring, for example, comes with a limited lifetime warranty or a limited 5–year light commercial warranty¹. The vinyl flooring comes with a limited 10-year light commercial warranty instead of 5 years.
To get a better idea of the warranty Home Depot offers for your flooring, contact Home Depot and request information based on your specific flooring material. This will give you a more exact answer about the warranty of your floor. As a whole, Home Depot's flooring warranty is far superior to Empire Today.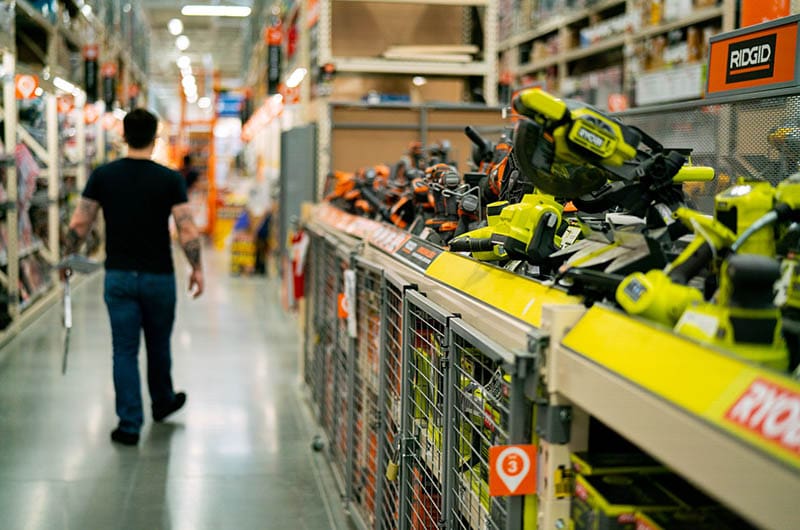 Empire Today vs. Home Depot: Customer Service
Always select a flooring company that offers fantastic customer service. Much to our dissatisfaction, customers are not satisfied with Empire Today's customer service, but they are more satisfied with Home Depot.
Empire Today
Although Empire Today claims professional customer support, reviews are not always positive. At best, Empire Today gets a 4 out of 5-star rating for its customer support. On other sites, Empire Today has ratings as low as 1.36 out of 5. So, Empire Today does not offer phenomenal customer support.
Home Depot
Most users report satisfaction with Home Depot customer service. Most sites rank Home Depot's customer service at 4 out of 5 stars, which is pretty good.

Head-to-Head: Empire Today Carpet vs. Home Depot Carpet
Our Verdict: Home Depot
Based on customer reviews, many more people are satisfied with their Home Depot carpet than Empire Today carpet. Although both companies offer many carpet options and professional installation, Home Depot has more options, lower prices, and the option to install the carpet yourself. This makes Home Depot superior to Empire Today on most fronts.
---
Head-to-Head: Empire Today Flooring vs. Home Depot Flooring
Our Verdict: Home Depot
Just like with carpet, most users prefer Home Depot flooring over Empire Today flooring. This applies to all flooring types, including laminate, vinyl, tile, and hardwood. Home Depot offers more options at a lower price, and you can install the flooring yourself.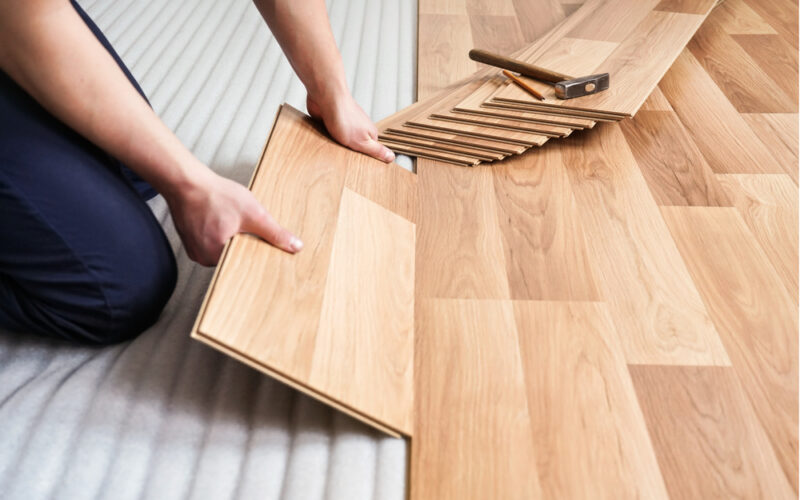 Overall Brand Reputation
Now that we've learned a lot about Empire Today and Home Depot, let's take a look at their overall brand reputation.
Performance
Edge: Tie
In terms of performance, both Empire Today and Home Depot rank well. You can expect your flooring from either of these companies to last a long time.
Price
Edge: Home Depot
Home Depot is far more affordable than Empire Today, and it offers a much better warranty. It even offers you the opportunity to install the flooring yourself, which further decreases the price.
Service
Edge: Home Depot
Home Depot has the best service. Customer support reviews are not positive about Empire Today, and there's far less customization with Empire Today. So, Home Depot wins in terms of service.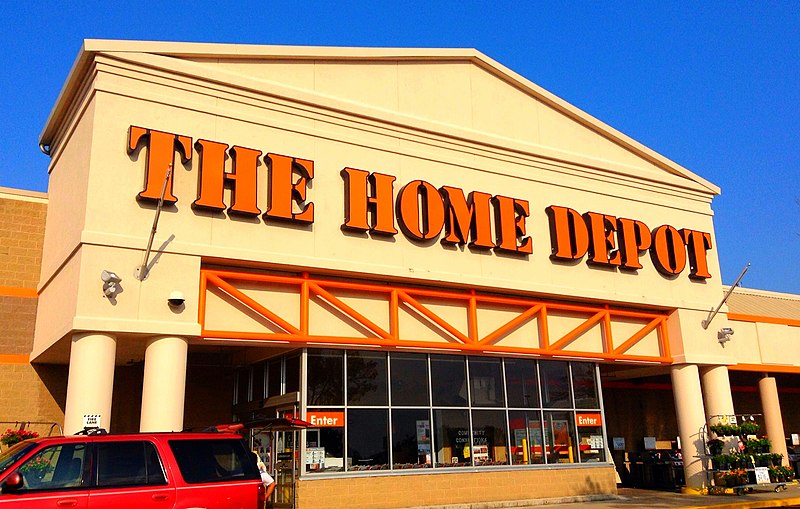 Conclusion
Overall, Home Depot is the better store. Even though you might think that Empire Today offers the better service for flooring because that is all they focus on, most users are more satisfied with Home Depot. You can enjoy more customization, options, and lower prices at Home Depot than with Empire Today. Not to mention, their customer service is way better.
That's not to say that Empire Today is terrible. Their flooring lasts a long time, but it is more expensive, and you might run into some trouble concerning customer support. For these reasons, we recommend Home Depot over Empire Today to most users.