Bosch RA1181 Router Table Review 2023 – Pros, Cons, & Verdict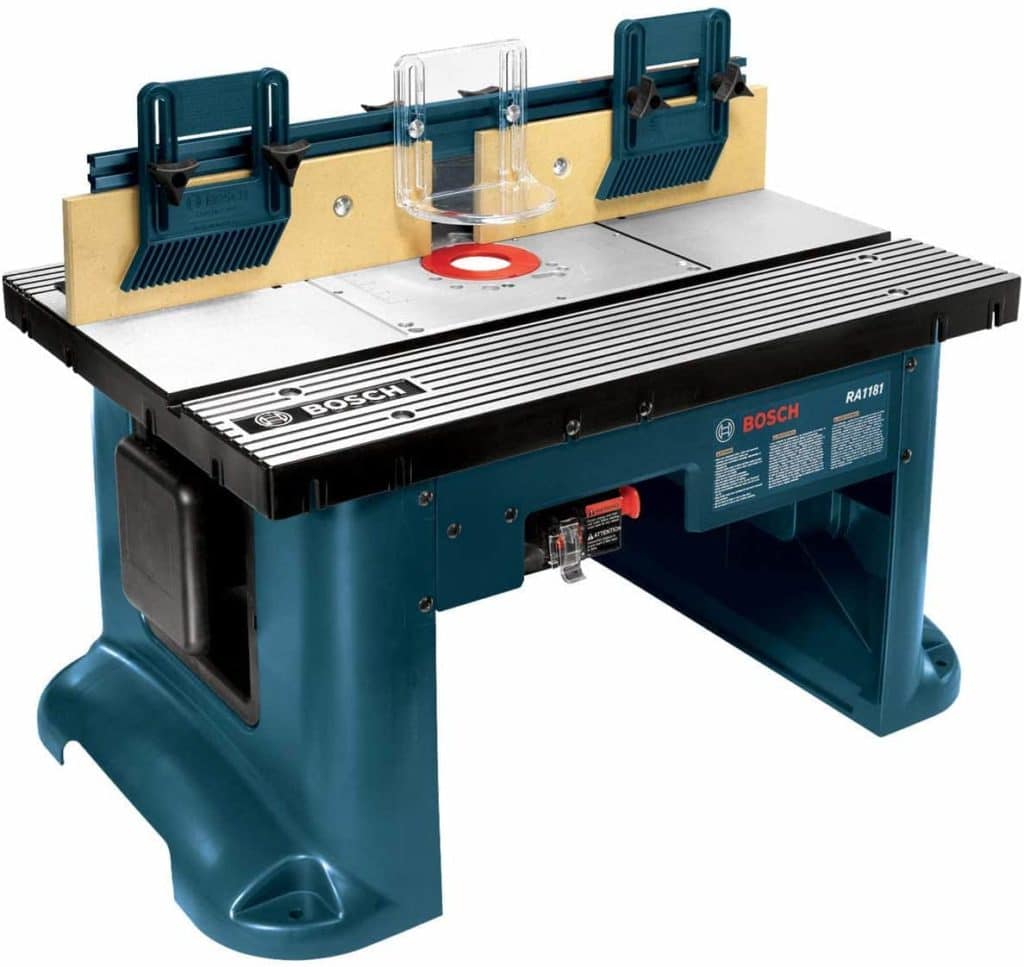 We give the Bosch RA1181 Router Table a rating of 4.9 out of 5 stars. 
Build Quality: 4.9/5
Durability: 4.8/5
Features: 4.9/5
Price: 4.9/5
Review Summary
The Bosch RA1181 is a router table that offers excellent value for money. It is designed for use by the casual woodworker, rather than the professional carpenter. It does the job very well, but it doesn't offer the precision of some of the more advanced features of more expensive and higher-priced tables.
It does have an aluminum router plate, a good dust collection system, and an enlarged work surface that make it a valuable addition to the home workshop. It is sturdy and the pre-drilled router plate is compatible with a good range of routers, which means that it is likely to work with your existing router and you shouldn't need to buy a new one just to use the table. The table does have an adjustable fence that supports taller workpieces. It is priced very favorably, but the table needs to be assembled on arrival and a lot of the parts are made from plastic, which reduces its durability and quality, although is certainly how Bosch has kept the price of the table down.
The parts that are aluminum, including the top itself, are not perfectly flat and there are ridges around holes that make it very difficult to get a workpiece to sit flush to the table.

Bosch RA1181 – A Quick Look
Pros
Cheap
Compatible with different routers
Aluminum tabletop
Tall fence
A good dust collection system
Cons
The top isn't flush
The fence isn't great
Not suitable for professional use
Specifications
Specifications
Brand name: Bosch
Model: RA1181
Height: 14.5"
Length: 22.75"
Width: 27"
Dust collection: Yes
Throat opening: 3 5/8"
Weight: 30 lb
Accessory slot: ¾" accessory slot
Large Worktop Space
One of the first things you notice about the Bosch RA1181 is that it has an aluminum top. A lot of router tables, especially those around this price bracket, have an MDF tabletop. They will try to extol the frictionless benefits of MDF, but in truth, the material is chosen because it is cheap and readily available. Aluminum is lightweight and offers minimal friction for workpieces as they slide around the table.
The other reason that you will notice the aluminum top, other than the material it is made from, is because it is such a generous size. The top measures 27" x 18" so it is as close to a full-size model as possible. For DIYers and keen amateurs, it is the perfect compromise. However, the professional craftsman may require something bigger still, and this is how this table shines for the home user but is left wanting as a professional solution.
In terms of the rest of the table, the base is made from a hard molded plastic. It is fairly hardwearing, but it won't withstand the rigors of ongoing and professional use. The fence is made from MDF.
Despite its decent worktop size, the bench remains lightweight and portable enough that it can be used by a host of craftsmen and hobbyists.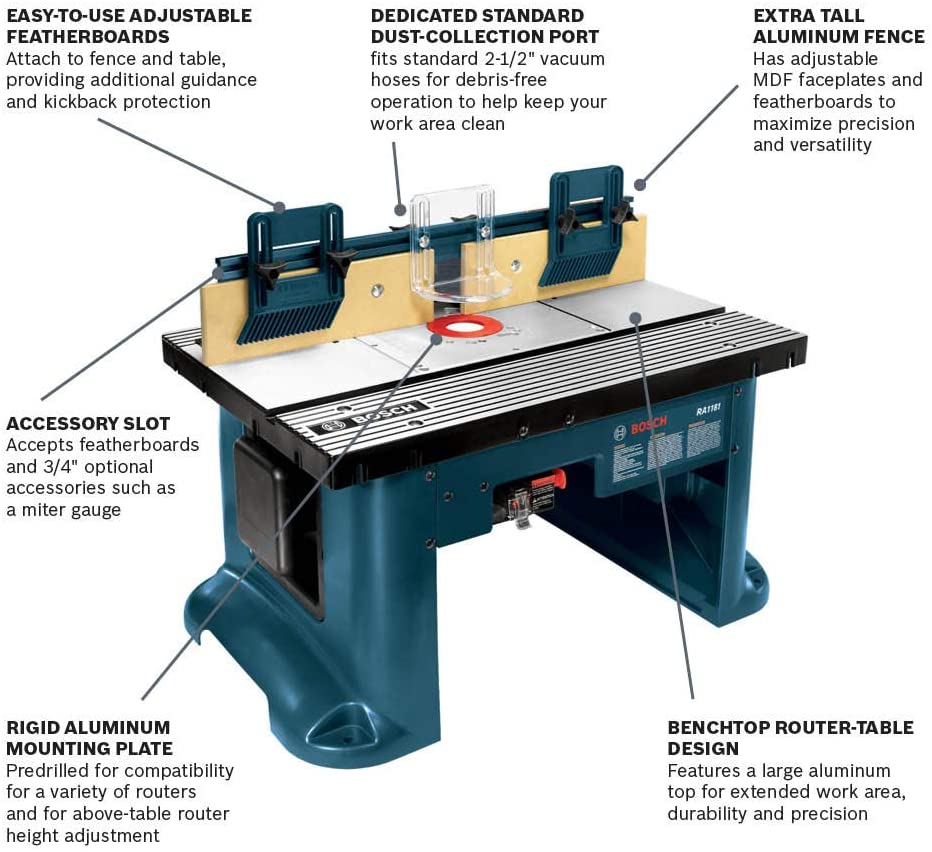 Great Dust Extraction System
Something that a lot of desktop router tables are missing is a decent dust collection system. The Bosch has a standard 2½-inch port that will connect to any standard workshop dust collection system. But this only tells part of the story.
Large fence openings and effective air circulation ensure that a large majority of the dust you create is picked up and whisked away from your work surface. Estimates vary but users suggest that it is around 80% efficient, meaning that more than three-quarters of the dust you generate will get vacuumed away by your central vacuum. You will be left with some clean-up after you've finished your routing job, but it could be a lot worse and this bench does a very good job of keeping things clean.
---
Aluminum Router Plate
It isn't just the tabletop that is made from smooth aluminum. The router base plate is made from the same top-quality material. This means that you can affix and detach your router as often as you like without feeling like you're breaking the whole table or damaging the plate and inserts. The RA1181 is compatible with most routers on the market, and it is thanks to the design of this baseplate. You receive several fittings that include predrilled mounting inserts, and these enable you to connect your branded router. Obviously, it works well with Bosch routers, but it will work with tools from a wide variety of other tool manufacturers, too.
Furthermore, the table includes T slots that allow you to add additional accessories like miter gauges, and you receive two feather boards that provide accurate and reliable positioning of your workpiece.
---
Some Plastic Components
Although the tabletop and the base plate are made from smooth aluminum, several components are made from molded plastic. Although this is a hard, toughened plastic, it is still plastic. The base and many of the dials and knobs are plastic, and they will wear out in time. In fact, these elements will likely go long before the tabletop or the plate. The use of plastic has undoubtedly helped to keep the costs down, but it has also kept the quality down a little.

FAQ
Will the Bosch RA1181 fit my central vacuum system?
One of the standout features of the RA1181 is that it has a 2½-inch vacuum port, which means that it will conveniently fit the majority of central vacuum and dust removal systems. It also has a wide throat and it has been designed with enhanced airflow to ensure that as much dust as possible is removed from the workspace.
---
Can the fence be completely removed?
The fence can be completely removed, although depending on what you want to attach to its place, you may have to make modifications to ensure that you can still plug your dust removal system in.
---
Is the Bosch RA1181 compatible with my Craftsman router?
The Bosch RA1181 is compatible with a lot of routers, including those from Bosch but also routers from other manufacturers like DeWalt, Hitachi, and Makita. A full list of the compatible routers can be found on the Bosch website, where it says that the table is compatible with "most Craftsman" routers.
---
What the Users Say
We've researched the Bosch RA1181 to see what other reviewers and buyers think of the device and to find out their experiences with the desktop router table. This helps ensure that you make the right decision when deciding whether to buy the RA1181.
In general, most buyers praised the RA1181 for its competitive price, its smooth aluminum tabletop, the size of the workspace, and its compatibility with standard central vacuum systems. There was some concern over the quality and durability of the plastic components, but the tabletop won positive reviews for the most part.
•See also:Can Plumeria Grow Indoors? Tips, Tricks, and How to Guide

Conclusion
The Bosch RA1181 is a desktop router table that is compatible with a wide range of routers. It makes a very good addition to a home workshop or for the traveling craftsmen, thanks to its large workspace and aluminum tabletop, but the plastic components mean that professionals will likely want to look for something more durable and better suited to life in a professional workshop.