Can You Put Vinyl Flooring Over Tile? Facts & Benefits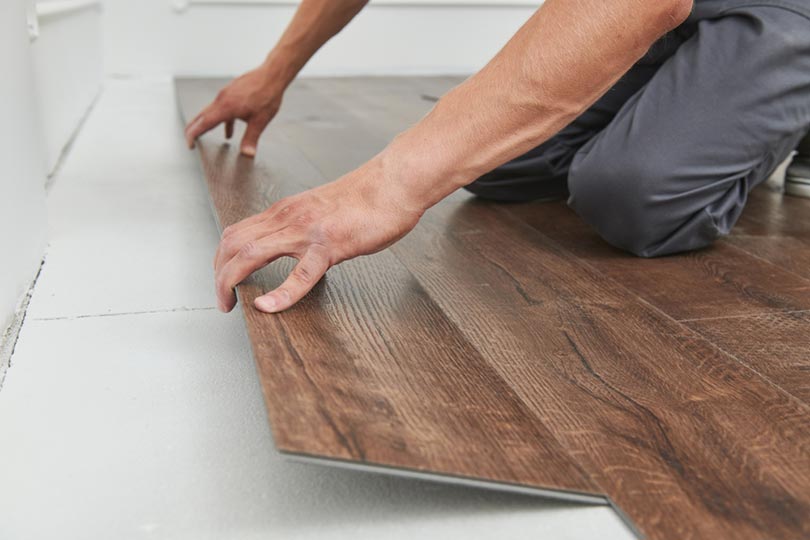 Vinyl flooring is a low-cost alternative to materials like ceramic and marble. And, in most cases, the vinyl can be laid directly over existing flooring, including over tile. However, broken tiles should be repaired and filled first and grouting may need to be leveled off with a leveling compound.
Getting a level base, whatever that base is, influences the quality of the vinyl floor finish. Any lumps and bumps will be felt underfoot and an uneven surface can also cause tears and other damage to the vinyl once installed.

A Flat Base
Whenever you lay vinyl flooring, the most important step is to ensure that the base on which it is laid is flat and smooth. Bumps and ridges will be felt underfoot, and the vinyl flooring may rip or become damaged if laid on an uneven surface.
Ensure that any broken tiles are replaced. Alternatively, remove broken sections and fill the gap to ensure that the floor is smooth.
Similarly, grouting lines need to be smooth and level with the tiles themselves. Rather than regrouting, use a leveling compound to bring these sections up to the level of the floor tiles.
Once you've leveled the floor, ensure that it is thoroughly cleaned. Use a vinegar and water solution and give the tiles a good mopping. Ensure it is allowed to dry fully before adding the vinyl underlay.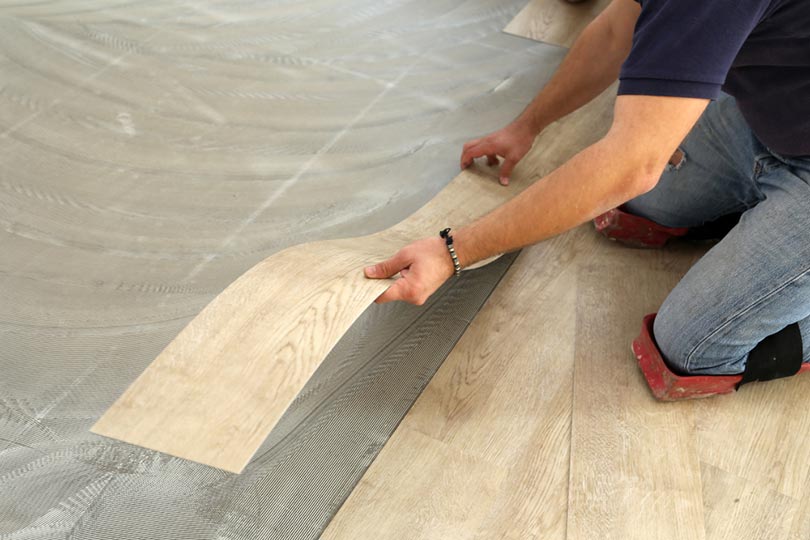 Why Choose Vinyl Flooring?
So, you can lay vinyl flooring on top of tiles, but is it the right choice for your home?
Some of the benefits of this material include:
Easy Installation – Vinyl flooring is easier to install than hardwood, marble, and a host of other flooring materials. This is beneficial if you want to lay a new floor yourself, but it's also beneficial if you use a professional to do the work for you. Easier installation means it takes less time and, therefore, accrues less cost. If you do the installation yourself, you will likely only need a craft knife to cut and trim the vinyl, although you will need materials and tools to ensure the tiles underneath are smooth.
Affordable Flooring – As well as being cheaper to install than alternatives, the vinyl flooring material is also cheaper than other materials. You can pay around $4 per square foot for vinyl, which includes installation. In contrast, you should expect to pay around $10 per square foot for wood and $5 for carpet. Materials like stone, granite, and marble can have even higher costs.
Range of Designs – One of the benefits of vinyl as a material to work with is its flexibility and workability. It can be finished in a host of different colors and patterns, which means that you can buy vinyl flooring that looks similar to wood, stone, or other materials or celebrate the vinyl itself and opt for a bold and playful design.
Durable – As long as the tiles underneath are smooth and you maintain the vinyl flooring well, it can last for years without the need for repairs or replacement. It is a cost-effective alternative to other flooring options, although it does require some maintenance.

Conclusion
There are plenty of vinyl flooring manufacturers and a wide array of vinyl flooring products available. This does mean that you can find flooring to meet your requirements, but it also means that budget and quality vary. Initially, you will have to choose between different styles, from vinyl planks to sheet vinyl, before deciding on a design. Once you've chosen the vinyl you want, though, it is possible to lay the flooring on top of existing floor tiles, as long as you ensure the tiles are smooth and undamaged before you start laying.
---
Featured Image Credit: Dmitry Kalinovsky, Shutterstock