Lumber Liquidators vs. Home Depot: Price, Stock & Service Comparison
Lumber Liquidators (now known as LL Flooring) and Home Depot are two of the leading flooring suppliers in North America. The main difference between them is that Home Depot provides a much wider variety of materials, tools, and other home improvement items.
Even though Home Depot offers a lot more variety of products, Lumber Liquidators is more specialized in just flooring. This article will compare price differences, whether they have a good selection of products in stock, and how the service compares between each company.

A Quick Comparison
A side-by-side rundown of the basic stats and information.
| | | |
| --- | --- | --- |
|   | Lumber Liquidators | Home Depot |
| Established | 1994 | 1978 |
| Headquarters | Richmond, Virginia | Cobb County, Georgia |
| Product lines | Flooring, Tile, Countertops | Flooring, Tile, Countertops |
| Parent company/ major Subsidiaries | LL Flooring Holdings | The Home Depot Pro, HD Supply |
Brief History of Lumber Liquidators
Lumber Liquidators started in the back of a trucking company's yard. In 1994, Tom Sullivan began buying extra wood from companies that didn't need it at a good rate. He then resold it out of the trucking yard. A few years later, in 1996, Tom opened his first store in West Roxbury, Massachusetts.
Over the years, Lumber Liquidators continued to grow and now sits at 410 different locations throughout Canada and the United States. April of 2020 is when the company rebranded as LL Flooring because of its focus on various wooden and synthetic flooring materials.
Brief History of Home Depot
In 1978, three guys got together and decided they wanted to build the biggest home improvement superstores. Within 6 years of this vision coming to life, Home Depot had 19 different stores with sales exceeding $256 million. Fast forward to now, the company has over 2,300 stores throughout Canada, the States, and Mexico.
In addition to stocking an excellent selection of flooring materials, they also stock just about everything else you'll need for a home improvement project and so much more.

Lumbers Liquidators Manufacturing
One way that Lumber Liquidators keeps its pricing so low is by sourcing much of its products from overseas. There are not any concrete numbers available, but around half of LL Flooring's products alone likely come from China. Although, they do have several American-made brands if that's important to you.
Home Depot Manufacturing
Like many other big box stores, Home Depot carries many different products. Many of the brands they carry are made overseas, which can sometimes carry a negative connotation. Also, given the state of shipping delays, products made overseas are having more issues staying in stock these days. However, Home Depot carries many products—particularly in their flooring lines—that are American-made.

Lumber Liquidators Product Line
The reason that Lumber Liquidators changed its name to LL Flooring was to reflect its focus better. They don't deal with any sort of lumber anymore. They carry various flooring products and also wood countertops and backsplashes.
Flooring
If you need flooring of any kind, LL Flooring has it. They carry raw or prefinished hardwood flooring, laminate or vinyl plank flooring, and even tile flooring. When there are literally hundreds of flooring choices, there's only a slim chance they won't have what you're looking for.
Countertops and Backsplashes
In addition to their flooring options, LL Flooring also carries butcher block wood for countertops, backsplashes, and cutting boards. There are a few dozen options to choose from as far as finish and wood grain go.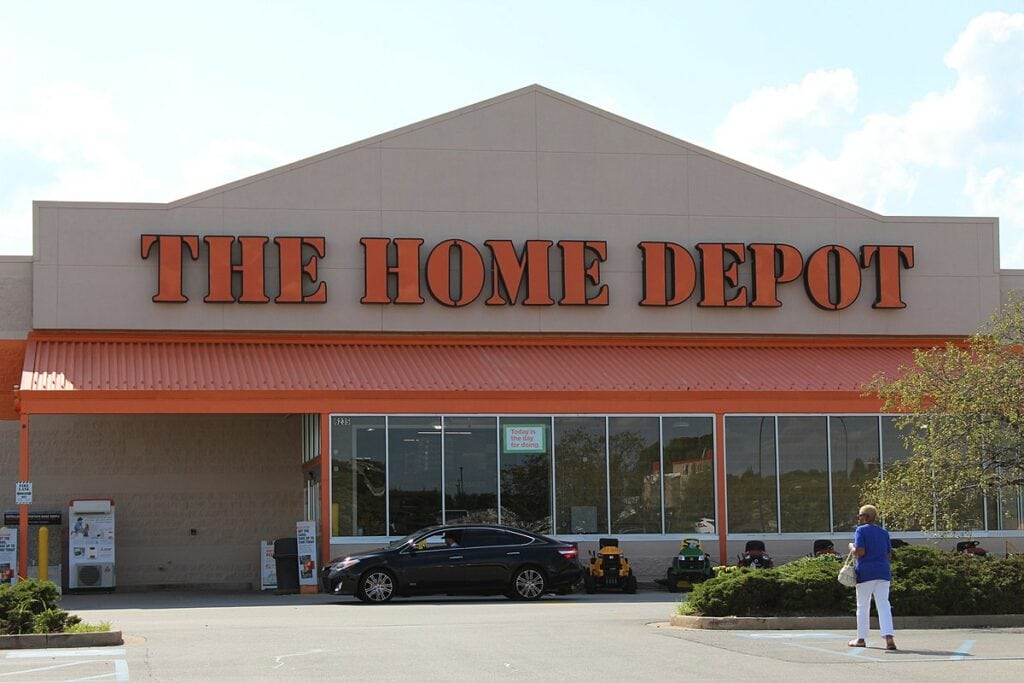 Home Depot Product Line
Flooring
Although not quite the selection that LL Flooring has, Home Depot's flooring choices are nothing to scoff at. They carry various hardwood floors, laminate and vinyl plank flooring, and of course, various tiles as well.
Countertops and Backsplashes
If countertop or backsplashes are what you're after, you'll have a much larger selection at Home Depot. In addition to the butcher block wood, they also have marble, quartz, laminate, and granite countertops. Another huge bonus with Home Depot is that you can also get everything custom-made to fit your kitchen or bathroom.
Everything Else
Where Home Depot really comes out on top is the immense selection they have for everything else. In addition to the new flooring for your renovation, you'll be able to pick just about everything else you might need. Tools, other materials, and even vetted contractors are available through Home Depot.

Lumber Liquidators vs. Home Depot: Price
Both companies offer a wide selection of flooring materials. Either one will offer several products to fit a tight budget. But if you're not on a tight budget and you'd prefer to spend the extra money for quality, both stores also have higher-end items.
Lumber Liquidators
For high-end materials, LL Flooring offers several brands of prefinished hardwood flooring. Some are American-made, and others are imported, but hardwood remains the premium option. If you're looking for something a little more budget-friendly, some great laminate options mimic the look of hardwood. However, they lack the durability and longevity of hardwood.
Home Depot
Home Depot also has a good range to fit most budgets for various flooring options. They have several hardwood floor materials to give you that rustic and premium look in your new renovation. But if you want to save some money, you could go with one of their vinyl plank or laminate flooring options.

Lumber Liquidators vs. Home Depot: Stock
Like many other companies suffering from shortages over the last couple of years, Home Depot and Lumber Liquidators are both having some issues. Luckily both companies carry several products made right here in the States. Still, there are delays on some products for the brands they carry from overseas.
Because the delays are always changing, we'll base this portion on what you can usually expect for availability and shipping. Checking with your local dealer is the best way for the most up-to-date information on specific delays.
Lumber Liquidators
LL Flooring estimates that a standard order will take up to 2 weeks. And if you're ordering a special order material, you could be waiting 2–4 weeks. In some cases, you may be able to get expedited shipping based on material availability. Unfortunately, LL Flooring does not offer any free shipping options, and shipping is based on weight.
Home Depot
Home Depot advertises that they offer 2-day delivery on thousands of items on their website. Suppose the flooring you're buying is not one of those items. In that case, the timing varies slightly based on the warehouse the product is coming from. The nice thing is that Home Depot offers free shipping to your door on most products.

Lumber Liquidators vs. Home Depot: Customer Service
Both businesses are customer service-based businesses. So one would expect that each would offer excellent service. Customer service doesn't end with a smile at the cash register as you leave. It also includes what the company offers in the form of installation or advice.
Lumber Liquidators
LL Flooring has had some issues with selling potentially harmful flooring and settled a lawsuit in the past. But that aside, they consistently provide good customer service, and most people are satisfied with their experience. However, there have been some negative reviews on things like billing or damaged products.
In addition to providing the expected customer service, LL Flooring also offers an in-home consultation to help you decide on flooring. They also offer installation services to save you the trouble of finding your own contractor or doing it yourself.
Home Depot
Home Depot also has a great track record for good customer service. According to various consumer review sites, Home Depot consistently receives three to four out of five-star ratings for its service. So, this tells us that the massive company takes pride in doing a good job.
Like LL Flooring, Home Depot also offers consultations to assist in your flooring decision. They offer installation services as well. It's not really possible to gauge whose installation is cheaper because a service like that is dependent on several different factors.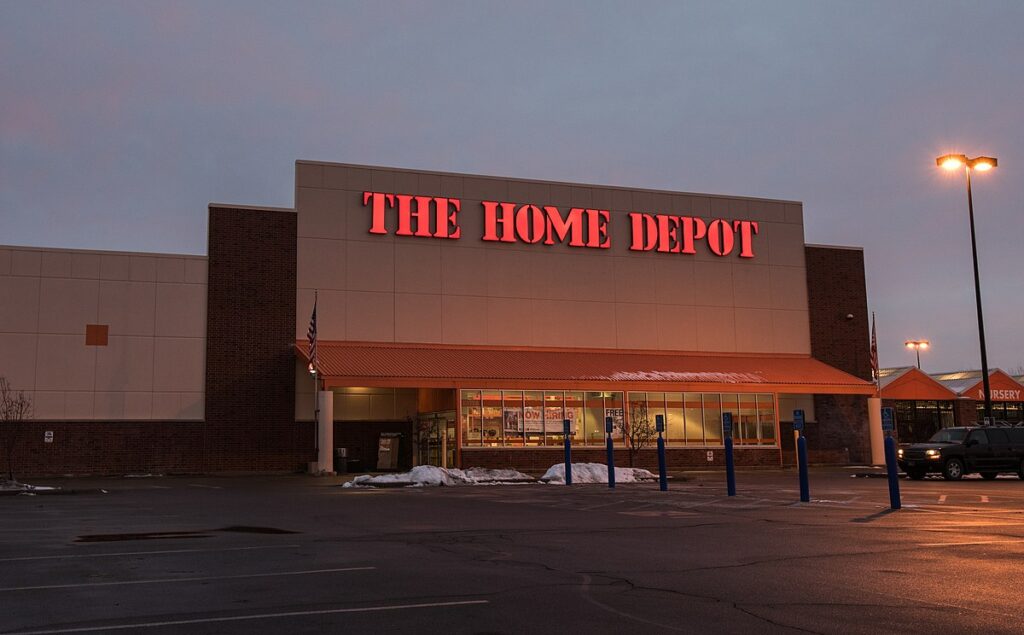 Head-to-Head: Lumber Liquidators vs. Home Depot Hardwood Flooring
Both companies have an incredible selection of hardwood flooring materials, but the selection is different. For example, LL Flooring carries more solid hardwood options. Solid hardwood is a more authentic hardwood. It's typically a more resilient flooring material.
Home Depot also carries solid hardwood, but their engineered hardwood selection is much bigger. If you're looking for a more DIY-friendly hardwood, engineered is a better option.
Our Verdict: It depends on what you want for hardwood flooring. If you want solid hardwood, LL Flooring has the better selection. Otherwise, Home Depot has more choices for other hardwoods.
Head-to-Head: Lumber Liquidators vs. Home Depot Laminate Flooring
Many homeowners are turning to laminate flooring today for its incredible durability. And the beautiful thing about laminate flooring is it can be made to look like almost any other type of flooring. It's available in a ton of different options, from waterproof to float and click to glue down.
Both companies have a pretty comparable selection of laminate flooring. If one company took the edge for variety, it would probably be LL Flooring. Still, Home Depot often has really aggressive sales on its products. So it's a bit of a toss-up.
Our Verdict: Both companies offer a good selection of laminate flooring. And other than sales, they are fairly comparable across the board when it comes to price. So, whichever one you have locally is the best option. Home Depot will be the better option if you have neither where you live because of their great shipping rates.
Head-to-Head: Lumber Liquidators vs. Home Depot Countertops
Unfortunately, there isn't really a competition between the two regarding countertops. Yes, LL Flooring has great options for the butcher block countertops and backsplashes, but that's where it stops. On the other hand, Home Depot has many different options for countertops in several different materials. Plus, you can order them custom-made for your particular situation.
Our Verdict: Home Depot is the clear winner for countertops or backsplashes because of the sheer selection.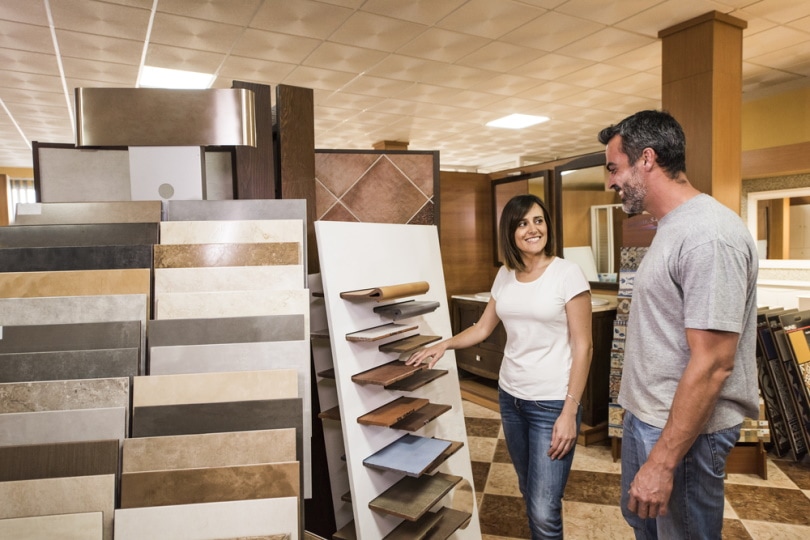 Lumber Liquidators vs. Home Depot Overall Brand Reputation
Product Availability
These last few years have been tough on most companies who rely on bringing products in from other countries. LL Flooring and Home Depot have done a reasonable job of keeping products available. If one company got the edge here, it would be Home Depot. They usually have faster shipping and offer free shipping on many products during regular supply times.
Price
Both companies have great options for small and large budgets. However, Lumber Liquidators seem to have a slight edge on more affordable options. However, Home Depot has huge buying power and offers some incredible sales quite often.
Product Options
If speaking strictly in flooring, both companies are comparable, and LL Flooring may take the edge. However, suppose we're talking about overall product options. In that case, Home Depot has thousands and thousands of different products available for all your home improvement needs.

Conclusion
Home Depot is the clear winner if you're looking for a one-stop shop for everything to do with DIY projects or home improvement. However, if you're looking for a store specializing in all things flooring and want to speak to their experienced staff, LL Flooring or Lumber Liquidators is worth your consideration. All things considered, both companies have comparable offerings for flooring.
You may also be interested in: Empire Today vs. Home Depot: Price, Stock, And Service Comparison