How to Divide a Bedroom into Two Rooms: 12 Amazing Ideas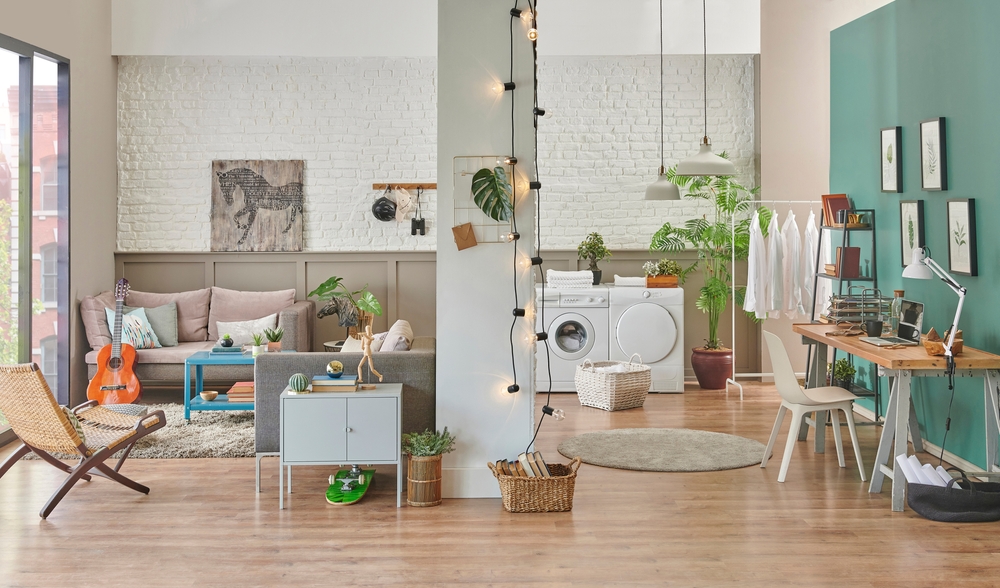 For many people, the bedroom is their favorite room in their home. Sometimes, a bedroom can be so big that there's room for more than just a bed, night tables, and some dressers. A large bedroom can often fit a reading nook, a home office, crafting space, or lounge area. If you have a big bedroom and want to divide it into two spaces, the information below will be perfect! We've collected 12 fantastic ideas for you to divide a bedroom into two rooms.

The 12 Amazing Ways to Divide a Bedroom Into Two Rooms
1.

Purchase a Decorative Screen by Custom Made
| | |
| --- | --- |
| Materials: | Decorative screen |
| Tools: | None |
| Difficulty Level: | Low |
One of the easiest and fastest methods of dividing a bedroom into two rooms is using a decorative, stand-alone screen. Decorative screens come in various colors and styles to match any bedroom decor. You can also make your own decorative screen. They're as easy to set up and stand on their own without the need to attach them to a wall or the floor. Even better, you can move a decorative screen any time you like and change your bedroom configuration quickly in an instant. Lastly, depending on how it's decorated, a screen can add a touch of color, whimsy, or flair to any bedroom, and they give you instant privacy.
---
2.

Set Up One or More Free-Standing Bookshelves by Laira
| | |
| --- | --- |
| Materials: | Bookshelves |
| Tools: | Plastic "sliders" to move shelves |
| Difficulty Level: | Low |
Bookshelves are an easy, convenient, and relatively affordable method to turn one bedroom into two rooms. Putting them in place is easy, and some come with extendable feet to give them more stability. However, the best part about using bookshelves as a divider in your bedroom is that they give you extra storage space. You can also use them to display knickknacks, collectibles, and other objects. Plus, like decorative screens, it's easy to move bookshelves around if you want to change things!
---
3.

Hang Curtains as Dividers by Architectural Digest
| | |
| --- | --- |
| Materials: | Curtain material, curtain rod, rod supports, wall anchors |
| Tools: | Drill, screwdriver, level, tape measure, stud finder |
| Difficulty Level: | Low to Medium |
Although it takes a little more time and energy, hanging curtains in your bedroom to divide it into two rooms is a favorite among many homeowners. One of the best reasons to use curtains is that they take up very little space in your bedroom, which means more space for your furniture. Depending on the curtain, the fabric can absorb sound and make your bedroom quieter. Use a light material to let light pass through or a heavy one to darken the new room; it's your choice! Depending on the distance between walls, hanging a curtain can be relatively easy, as long as you have a long enough curtain rod.
---
4.

Build a Wall That's Open on One Side by Bored  Panda
| | |
| --- | --- |
| Materials: | wood beams, sheetrock, paneling, screws, nails, level, tape measure, stud finder |
| Tools: | hammer, drill, spackle, tape, paint, razor knife, putty knife |
| Difficulty Level: | Moderate |
If you have DIY skills, you can build a wall to divide your bedroom in two and, if you like, leave it open on one side. You can use the open side like a shelf unit and store smaller things. If you don't want the hassle and mess of using sheetrock, use paneling or light, high-quality plywood. You can also use 2x2s rather than 2x4s for your dividing wall to make it lighter and lower costs. This idea takes a little more time and planning than some, but your bedroom will be divided into two genuinely separate rooms when you're done. You can even include a door for the ultimate bedroom divider.
---
5.

Install a Sliding Door by Pretty Providence
| | |
| --- | --- |
| Materials: | Sliding door (comes with materials for installation) |
| Tools: | Drill, screwdriver, level |
| Difficulty Level: | Moderate to high |
Some bedrooms have a large opening or entranceway between two sides that sort of divides the room but not completely. If that's the case in your bedroom, hanging a sliding door is an excellent idea and can add a touch of color, class, or natural wood. Sliding door kits are easy to install and, once in place, can be closed to divide your bedroom into two sides instantly. The beauty is that, whenever you like, you can open them and get that big bedroom back instantly.
---
6.

Use Short Cabinets or Shelves by Room Divider Shelves
| | |
| --- | --- |
| Materials: | Cabinets and shelves |
| Tools: | None |
| Difficulty Level: | Low |
When dividing a bedroom into two rooms, no rule says you must separate the rooms entirely. Instead, you can use short bookshelves or short cabinets to do the trick. There are several upsides to this bedroom dividing idea that make it a good one. First, you won't block the light so that both rooms stay bright during the day. Second, you can move the shelves or cabinets easily if you don't like the setup or want to try something different. Third, both add extra storage space, which every bedroom can always use. Lastly, you can put things on top of the shelves or cabinets, including plants, collectibles, or whatever item you find attractive.
---
7.

Make a Dividing Wall with Wooden Crates by Jasmine-Roth
| | |
| --- | --- |
| Materials: | Wooden crates, wood screws |
| Tools: | Drill or screwdriver |
| Difficulty Level: | Low |
Using wooden crates to build a DIY dividing wall in your bedroom is an excellent idea because it's easy, fast, customizable, and affordable. You can stack the crates any way you like, vertically and horizontally. Also, you can face the open side of the crate towards either of your new rooms to give you storage space on both sides of your new wall. One drawback is that wooden boxes can be unstable, and screwing them together with wood screws is advisable. If you do, use short screws so you can take the crates apart again quickly if you want to rearrange them.
---
8.

Make a Wooden Geometric Room Divider by Decorative Ideas
| | |
| --- | --- |
| Materials: | Wooden boards, wood glue, wood screws |
| Tools: | Table saw, angle iron, level, drill, sandpaper, clamps |
| Difficulty Level: | Moderate to high |
Geometric room dividers have been around for decades and are still a viable idea for dividing your bedroom in two. You need moderate DIY skills and proper tools to make one yourself, or you can always purchase a wooden geometric room divider that's already been made. Most come in kits you assemble yourself to make them easier to ship. The nice thing about this type of room divider is that it lets light through, so both of your new rooms get natural light. They can also be as wide or shallow as you like to divide your bedroom in any way you see fit.
---
9.

Use Several Large Indoor Plants by Barbulianno Design
| | |
| --- | --- |
| Materials: | Plants, plant hangers, ceiling hooks, wall anchors |
| Tools: | Drill |
| Difficulty Level: | Low to moderate. (Hanging takes more effort.) |
Indoor plants bring a touch of nature to any bedroom, which makes using plants as a divider extra special. They should be relatively tall plants that aren't too "bushy," so they don't take up too much space. Then again, if you have an extra-large bedroom, you can use any type and size of plant that you like. Some homeowners have used a lineup of hanging plants to divide their bedroom, which can look amazing. You can line them up straight but hang the plants at different heights for a pleasing, all-natural bedroom dividing wall that purifies your air at the same time. Be sure that, whatever you use to hang them, it's securely attached to the ceiling.
---
10.

Install Sliding Glass Partitions by Wikihow
| | |
| --- | --- |
| Materials: | Sliding glass partition (comes with materials for installation) |
| Tools: | Drill, level, screwdriver, stud finder |
| Difficulty Level: | Moderate to high |
This idea for dividing a bedroom into two rooms has the benefit of letting natural light pass through. However, it's also one of the costliest ideas on today's list, even if you do it yourself. Glass partitions can be custom ordered, and they're an excellent choice for even the biggest bedrooms. Also, you can choose frosted glass if you want more privacy in your 2nd bedroom when the partitions are closed. They are also an excellent way to let fresh air into one room in winter but keep the other room warm, cozy, and well-lit.
---
11.

Play with Different Elevations by Live home 3d
| | |
| --- | --- |
| Materials: | Wood beams, plywood, wood glue, hinges, handles, drawer runners, wood screws |
| Tools: | Table saw, level, clamps, drill, angle iron, sandpaper, stud finder |
| Difficulty Level: | Moderate to high |
While not a room divider per se, if you were to create an elevated area in your bedroom and place your bed on it, you would have two "rooms" instead of one, or at least two different areas to enjoy. This idea is probably the most time and energy-consuming on today's list and will take moderate to expert DIY skills. You'll need to build a sturdy platform first, and steps to reach the elevated area are also required, which makes this an involved project that will likely take a weekend or more to finish. Another small drawback is that if you get tired of the new arrangement, taking it down will take time and energy (and you'll lose all that money you invested in the materials).
---
12.

Hang an Accordion Door by Atimprovements
| | |
| --- | --- |
| Materials: | Accordion door (comes with materials for installation) |
| Tools: | Drill, screwdriver, level, stud finder |
| Difficulty Level: | Moderate |
Most folks think of accordion doors as the cheap doors used in washroom closets, but they come in a wide variety of different types, sizes, and styles. Some are very attractive, but you can also go for a more industrial look if you like. The best reason to use an accordion door is that, if needed, you can open it completely, and it practically disappears because they're so thin. You can also open them partly to let in air and light or close them fully in an instant.

Final Thoughts
Did you enjoy all of today's ideas on how to divide a bedroom into two rooms? We certainly hope you did and that one of the ideas on our list is the one you'll choose to turn your bedroom into two rooms. You can implement many of today's ideas in a few hours and some in just a few minutes! All but two or three are no longer than a day's DIY project away, making them something you can do as early as today! Whichever idea you choose, we wish you the best of luck setting it up.
---
Featured Image Credit: united photo studio, Shutterstock