Hitachi C12RSH2 Compound Miter Saw Review 2023 – Pros, Cons, & Verdict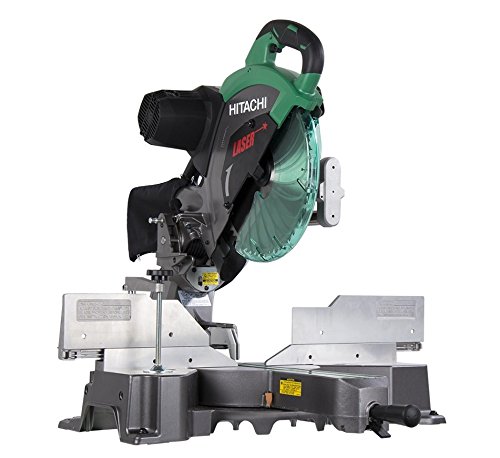 We give the Hitachi C12RSH2 Compound Miter Saw a rating of 4.8 out of 5 stars. 
Functionality: 4.7/5
Design: 4.8/5
Price: 4.8/5
Review Summary
For anyone looking to equip their shop with an affordable, capable, and extremely accurate miter saw, they should take a serious look at the Hitachi C12RSH2. It is easy to use, has remarkable capacity when it comes to cutting large stock, and provides dead-on accuracy right out of the box.
It does not offer all the of features of the model it replaced (C12RSH) but delivers a terrific product that reflects Hitachi's attention to detail and quality. Over the years, Hitachi has built a solid reputation for making superb tools at a mid-range price point. The C12RSH2 continues in that tradition, matching up well to more expensive brands.
Homeowners and many contractors will find this saw produces the results they want time and again. Fine finish carpenters may find the accuracy lacking and therefore may want to set their sights on more expensive alternatives.

Hitachi C12RSH2 – a Quick Look
Pros
Compact slide system provides needed cutting capacity in tight spaces and on shallow benches
Can cut up to 7.5" crown molding
Dual bevel allows user to work without flipping piece over
Quiet and stable
Silky cuts with the proper blade
Cons
Heavy, not especially portable
Accuracy off for finish cabinetry
You can get a lemon from the factory
Specifications
Brand: Hitachi
Model: C12RSH2
Saw dimensions (W x D x H): 25-1/2 x 36-5/8 x 27-15/16″
Weight: 59 pounds
Blade size: 12"
Motor: 120 VAC, 15-amp, 4,000 no-load RPM
Miter cutting range: 0-45° L / 0-57° R
Bevel cutting range: 0-45° L/R
Compound cutting range: Miter: 0-45° L / 0-31° R, Bevel: 0-45° L
Miter: 0-31° L / 0-45° R, Bevel: 0-45° R
Positive Miter stops: L/R 0°, 15°, 22.5°, 31.6°, 45°
Adjustable laser marker
Sliding fences accommodate cutting crown molding up to 5"
Included accessories: 60 tooth 12" blade, dust bag, vice assembly, and 17mm box wrench
Handles a wide range of stock sizes
If you want a miter saw that can accommodate nearly any size of stock you expect to cut, you will find the C12RSH2 delivers, cutting large crown molding and substantial framing with accuracy and ease.
Dual bevel and extensive preset miter detents
This saw gives the user exceptional flexibility in handling complex cuts. The dual bevel feature is exceptionally useful, and the preset detents at common miter angles do not exhibit the slack common in other saws.
Dead-on accuracy right out of the box
If you love tinkering with your tools and micro-adjusting them for supreme accuracy, you can still do that, but for the rest, this saw comes with amazing accuracy out of the box so you can set it up and get to work right away.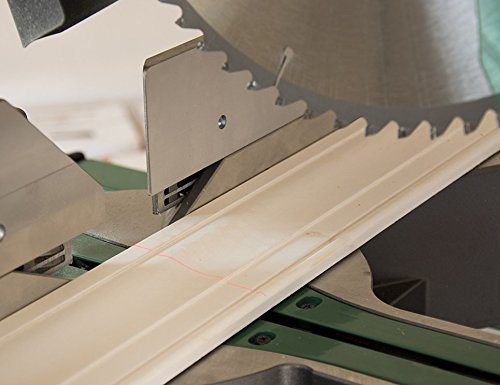 FAQ
What sizes of lumber can this saw cut?
According to users' reports, the C12RSH2 can cut 4×4, 6×6, and 2×6, up to 12" wide lumber at 90o. It can also accommodate 7.5" crown molding.
How useful and accurate is the laser marker?
The laser is adjustable for position; on the cut or to the left or right of it. It can also be adjusted in width to exceed the thickness of the saw blade's cut. Accuracy is reported to be excellent. And, it doesn't use a battery!
How much room will I need for this saw?
This saw has "zero wall clearance" meaning it can be used right next to the wall, making it an excellent choice for shallow benches and cramped work areas. Some miter saws must be mounted well away from the wall, requiring a substantial "footprint."
See Also:
General user impressions
There is little middle ground when it comes to the users' reactions to Hitachi's C12RSH2. They either loved it or hated it. On the positive side from Hitachi's perspective, those that love the saw significantly outnumber those that don't. Let's get into some of the details of user experiences.
The bad and ugly
We'll start with the negatives since they are pretty limited. Taking note of the reasons users panned the tool it appears that they had receive a "lemon" from the factory. The extreme differences with positive reviews make it seem this might be the case. For example, users reported broken saw handles. Also reported were scuffs and blemishes right out of the box. And, the saw had accuracy issues that could not be compensated for by the users. Common here was the blade nicking a plastic liner when cutting on a bevel.
The good
In the plus column, users loved the saw. Accuracy right out of the box was spot on. The saw was smooth, quiet, and produced "silky smooth" cuts. Several users recommended supplementing the standard 60 tooth blade with one having a larger number of teeth for the best cuts.
Ease of adjustment came up repeatedly. Angles are marked on the base, and preset detents at the most common angles simplified setting up for the cut. Users report that the detents are solid with no play so they had confidence the cut would be accurate.
You buy a good saw for accuracy in the first place. If it isn't accurate, your results will best be described using words inadmissible in this review. Having confidence in your tools is important in the shop. It makes a day working on a project far more enjoyable, reduces material waste, and saves money in the end.
Conclusion
If you are a homeowner or contractor where your projects include both rough and finished carpentry, this saw might be just the ticket. Well built, lots of adjustments to accommodate the most complex compound miter projects, able to cut an impressive range of stock sizes, dual bevel capability, and a solid 5-year warranty, this saw can compete with saws from higher-end brands without missing a beat. If you are a fine cabinetry professional, the Hitachi C12RSH2 is not going to be up to your demands. For the money, this saw delivers excellent value.