Hitachi C12RSH2 vs DeWalt DWS780: Which One's Best?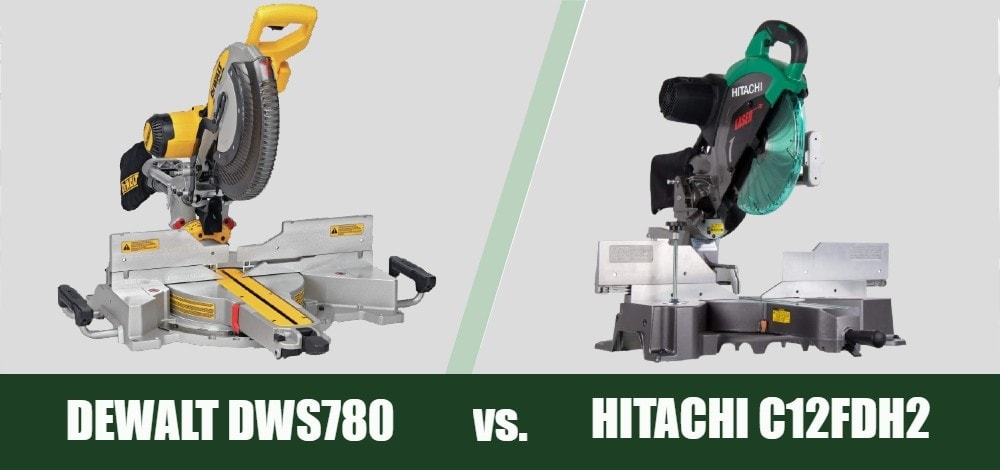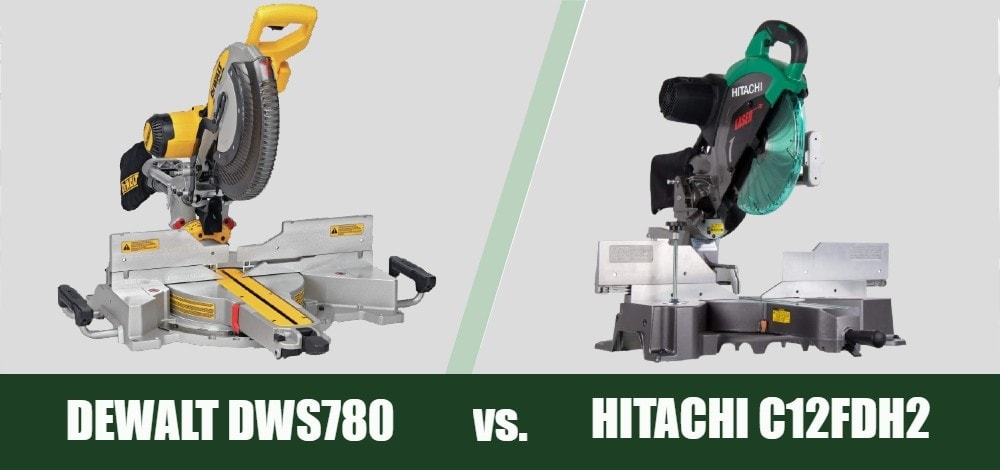 Rating
Image
Product
Details

Best Choice

DEWALT DWS780

Tremendous stock capacity
Positive bevel and miter stops
Dead on accuracy out of the box
CHECK PRICE

Best Price

Hitachi C12RSH2

Attractive pricing
Excellent stock capacity
Wall-hugging design for tight workspaces and shallow benches
CHECK PRICE
If you are in the market for a miter saw, you should look into both the Hitachi C12RSH2 and the DeWalt DWS780. Both of these tools are highly powerful and precise. They are both suitable for professional use because of these features, and many of their specs are identical.
Still, we recommend the DeWalt DWS780 over the Hitachi C12RSH2 due to its more versatile design and durability. Professionals and those needing to cut larger stock will especially benefit from the DeWalt instead of the Hitachi.
However, you might want to select the Hitachi C12RSH2 if you have a compact working space or you're on a tight budget. This model is incredibly slim, ensuring that it can fit into almost any workspace or shallow workbench. It is also more affordable. Semi-professionals and amateurs will definitely find the to be Hitachi a great tool.
To find out more about the Hitachi C12RSH2 and the DeWalt DWS780, read on. We look at both miter saws individually and compare them against one another. Let's jump right into this roundup.

At a Glance
Let's look at the key points of each product.
Hitachi C12RSH2
15-amp motor
4,000 RPM
12"cutting blade
Cutting capacity of 8" @ 45º and 12" @ 90º
Laser guide system
5-year warranty
Compact design
DeWalt DWS780
15-amp motor
3,800 RPM
16" cutting capacity at 90º
Sturdy power base
Automatic cutting blade guard
3-year limited warranty
Overview of the Hitachi C12RSH2
The Hitachi C12RSH2 is a 15-amp, 12-inch dual bevel sliding compound miter saw. It includes a fixed rail system, which makes gliding the head much easier. It also eliminates the rear clearance that other tools of this kind require.
The slide system makes the Hitachi C12RSH2 incredibly compact. This compact design is a great feature for those who work in tighter working conditions or who have a shallow workbench. Even if you don't have a tight workspace, this compact design means that you can fill your area with other tools.
In terms of cutting performance, this Hitachi has a cutting capacity of 12 inches. This is larger than some of the other miter saws but smaller than the DeWalt. Still, the C12RSH2 offers impressive capabilities thanks to its 90-degree cross cuts and 45-degree bevel.
All the while, this model is great in terms of money value. It is a much more affordable professional option, and it comes with a 5-year warranty. This means you get it for a more affordable price and an incredibly long warranty to back it up. Although the materials are not as durable as the DeWalt, at least the warranty is longer.
Pros
Compact design
Affordable
Cons
Cannot handle larger cuts
Not as durable
Does not include motor speed control

Overview of the DeWalt DWS780
If you want the most professional miter saw, then the DeWalt DWS780 may be the option for you. This tool has a very large cutting capacity range, special features, and an incredibly durable build. All around, this is a great choice due to its professional and durable features.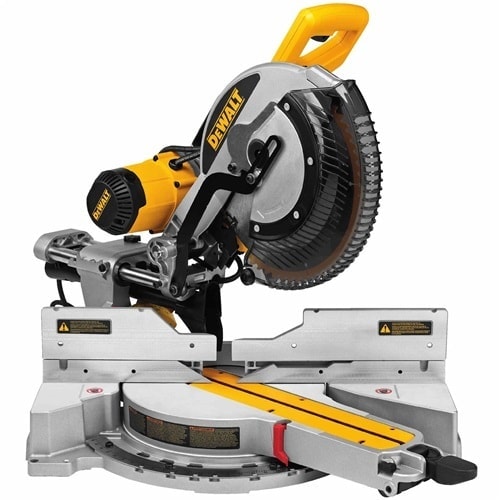 The DeWalt DWS780 has a highly impressive cutting capacity and performance. It can cut extremely wide stock, up to 16 inches at 90 degrees. This means you can cut all the same wood types as you could with the Hitachi plus some extra. This fact makes the DeWalt much more versatile in terms of cutting performance.
To ensure that you get the exact cuts you need, the DeWalt also comes with a motor speed control option. This means that you can control the speed based on the material you're cutting. Metals, plastics, and woods can all be cut with this tool.
Since this option can handle wide stock and different materials, it is incredibly bulky. This won't be a problem if you have a lot of workspace, but those with more compact stations will find that this DeWalt is too large for their available space.
Additionally, this model is highly expensive. Even with its 3-year limited warranty, 1 year of free service, and 90-day money-back guarantee, this option is incredibly expensive, and many people will find it out of their price range. The materials are highly durable, though, offsetting the price some.
Pros
Wide cutting capacity range
Highly durable
Motor speed control
Cons
Expensive
Bulky
Not suitable for more compact working spaces
---
What are the differences between them?
Cutting Capacity and Performance
Edge: DeWalt DWS780
In many ways, both the C12RSH2 and the DWS780 are identical in terms of performance. Both come with a 15-amp motor with a no-load RPM. As a result, both models are highly powerful and safe to use. Additionally, both saws have micro-adjustment capabilities that can handle 7 plus inch crown molding.
How the two differ from one another is the cutting capacity. The DeWalt DWS780 can cut wider stock. It has a cutting capacity of 16 inches at 90 degrees. The C12RSH2, on the other hand, only has a cutting capacity of 12 inches at the same degree.
For this reason, the DeWalt DWS780 has a larger cutting capacity and thus a more impressive performance. It can cut more stock, making it more versatile and helpful in the workplace.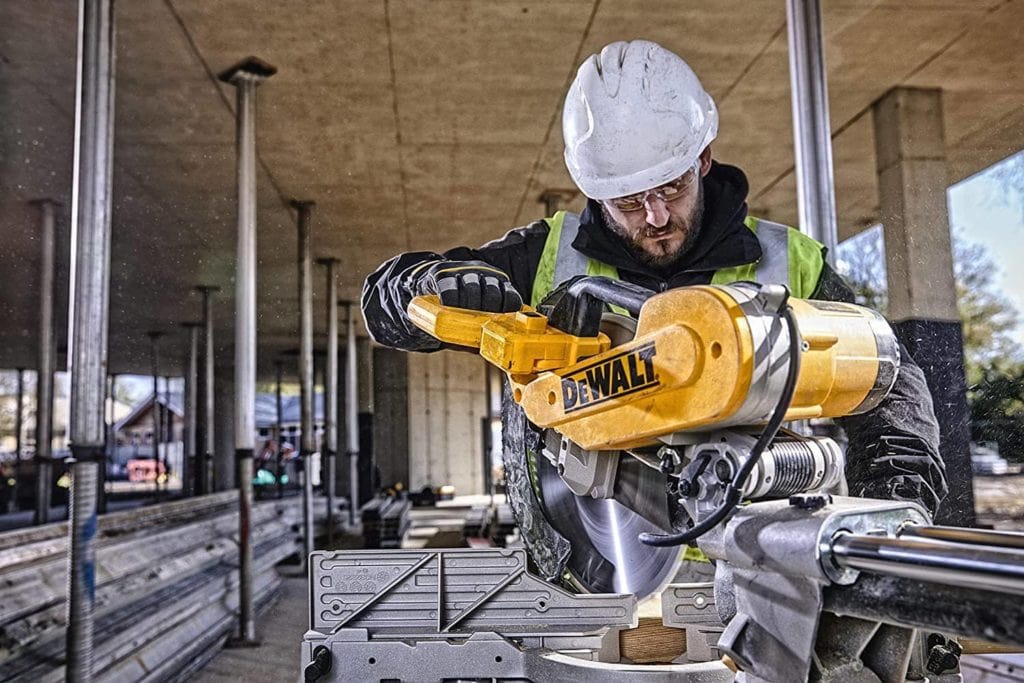 Motor Speed
Edge: DeWalt DWS780
As we just mentioned, both models both have a 15-amp motor, and they have about the same RPM rating. Still, the DeWalt stands out from Hitachi purely based on the speed control.
The DeWalt features a way to control the speed of the cutting blades. In other words, you can pick a speed based on the material you are working with. This means that you can also use this miter saw on plastic and metal as well. The Hitachi, on the other hand, is only suitable for wood.
Durability
Edge: DeWalt DWS780
Since these models are designed for more intense use, they are both durable and heavy-duty for professionals. Still, the DeWalt DWS780 is more long-lasting and durable than the Hitachi counterpart.
The DeWalt includes highly durable materials like a stainless steel miter gauge. This sort of material makes the setup more accurate, visibility easier, and cutting more precise. As a result, the DeWalt is more durable because of its impressive materials used.
It is worth noting that the Hitachi is actually heavier than the DWS 780. Though it is heavier, it is not necessarily more durable, as we have just seen.
Design
Edge: Hitachi C12RSH2
One place that the Hitachi stands out from the DeWalt is in the design. The Hitachi C12RSH2 has a much more compact and versatile design. This makes it a perfect option for those with small workplaces and shallow benches.
The DeWalt DWS780, on the other hand, is much bulkier. You will certainly need more working space to use this tool properly.
In terms of an ergonomic design, both models are about the same. They both include ergonomic handles with cushioned grips. This means that you can use either tool for longer periods of time with minimal hand fatigue.
Nonetheless, the Hitachi beats the DeWalt by a longshot purely because of its slim and compact design that can fit in about anywhere.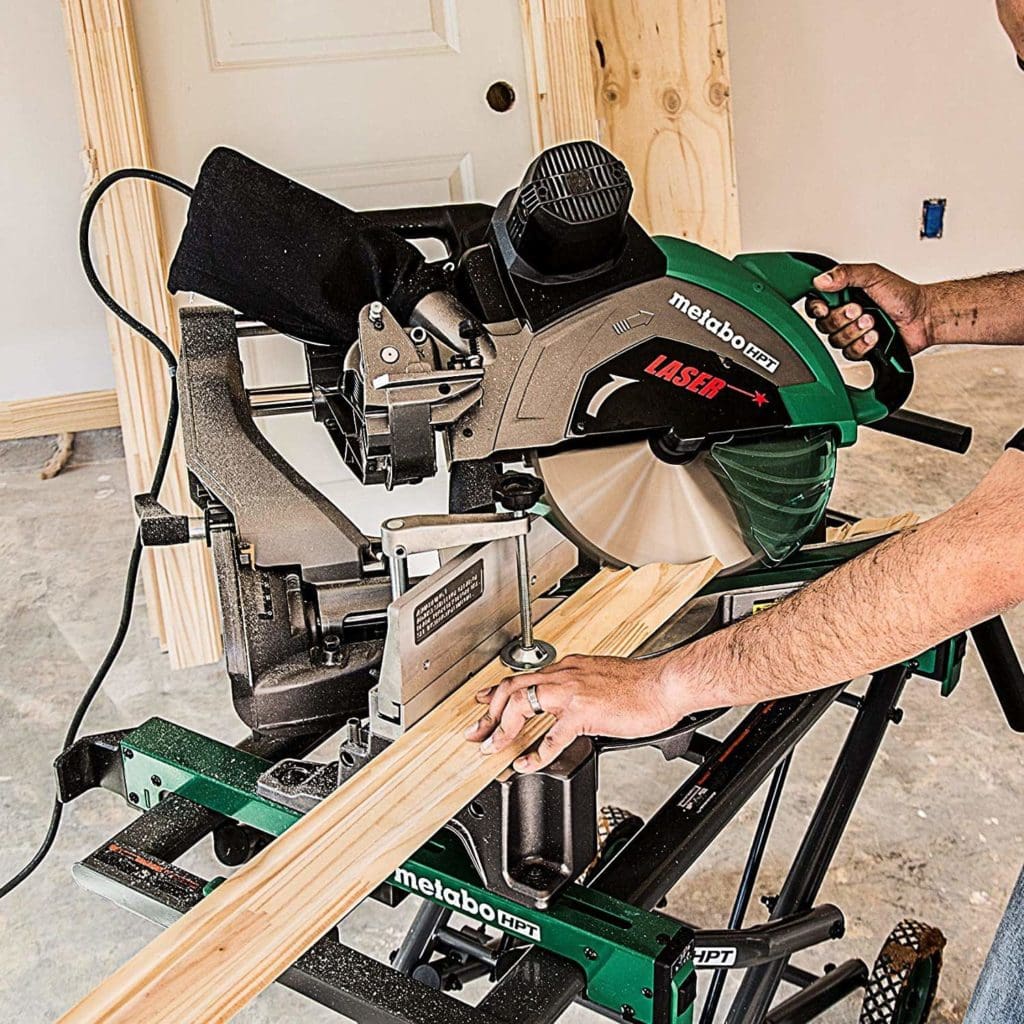 Safety Features
Edge: DeWalt DWS780
When using any sharp power tool, it is important to look at the safety features to protect yourself from any injury. The DeWalt has more impressive safety features than the Hitachi. It includes a large automatic guard, which means that you cannot be exposed to the miter saw while it is on. The tool also comes with lights and does not move at all during use because of its power base.
The Hitachi, in contrast, comes with fewer safety features. The handle comes with a vibration-reducing grip that gives you more control during use, eliminating the chance of you getting hurt. It also comes with carbon brushes that extend the lifespan of the tool, meaning that you don't have to replace the saw as much and limiting your exposure to the saw itself.
Price
Edge: Hitachi C12RSH2
Another way that the Hitachi beats out the DeWalt miter saw is in price. Even though both models are relatively expensive since they are designed for commercial use, the Hitachi is slightly more affordable. Those looking for a professional miter saw on a budget will be more drawn to the Hitachi for this reason. On top of the more affordable price, this model also comes with a 5-year warranty.
In comparison, the DeWalt is more expensive and only comes with a 3-year limited warranty. However, in addition to that warranty, you also get 1 year of free service and a 90-day money-back guarantee.
What the Users Say
We wanted to find out how our experience with these tools compared with other users. We looked online for reviews of both products. Below is a summary of our findings for both miter saws:
Hitachi C12RSH2
The Hitachi had over a four-star rating on every site we looked at. Most users, including professionals, were ecstatic about the affordable price and compact design. It was stated that this model is so compact that it can fit into just about the same space as a non-sliding model, even though it slides. We agree with this assessment since it is one of the most compact professional miter saws we could find.
Many users also liked the laser marker that comes with this tool. It helped them get precise cuts every time. This laser option was also great in compact working spaces since it can be more difficult to see exactly where you are cutting when you are short on space.
Some users were a bit more critical. Professionals were especially quick to mention that this might not be the best tool for professional work because of its lower capacity. You won't be able to cut everything you need to. Additionally, the slide isn't very smooth, so it may be more uncomfortable to use and more difficult to get clean cuts.
DeWalt DWS780
This product was just short of five stars on multiple sites, making it one of the highest-ranked tools that we could find. As you can assume from this high ranking, most people were ecstatic and pleased with the DeWalt DWS780.
The accuracy, precision, and power of this miter saw were frequently praised. Everyone from professionals to amateurs agreed that this saw is highly powerful, yet it offers precise and accurate results at the same time.
The versatility of this product made it a winner for many people. For this reason, most people agreed that the price was worth it. Even though it cost more upfront, they found that its capabilities made the price completely fair and justifiable.
The main problem that most people had was the bulkiness of the miter saw. We definitely saw this critique coming. Even though it weighs less than the Hitachi, it is much bigger. As a result, many users found that this product took up more space than they anticipated for their work station.
Unfortunately, we couldn't find any reviews that compared these two miter saws individually. Based on the overall reviews of both products and their star ratings, the DeWalt is more impressive in terms of functionality, versatility, and power.
Other Miter Saws We've Reviewed

Final Thoughts
Overall, both Hitachi and DeWalt are killer miter saws. Between the two, however, the DeWalt DWS780 is more impressive. It has a greater cutting capacity, comes with more features, and is overall more versatile for professional cutting. Because of these facts, we recommend this miter saw if you aren't strapped for cash or space.
However, you should absolutely choose Hitachi if you are on a tight budget or have a compact working space. The reason for this is it's more compact and affordable design, which definitely have their place in semi-professional or personal settings.