Honda CR-V Hybrid vs. Toyota RAV4 Hybrid: Which One's Best For Me?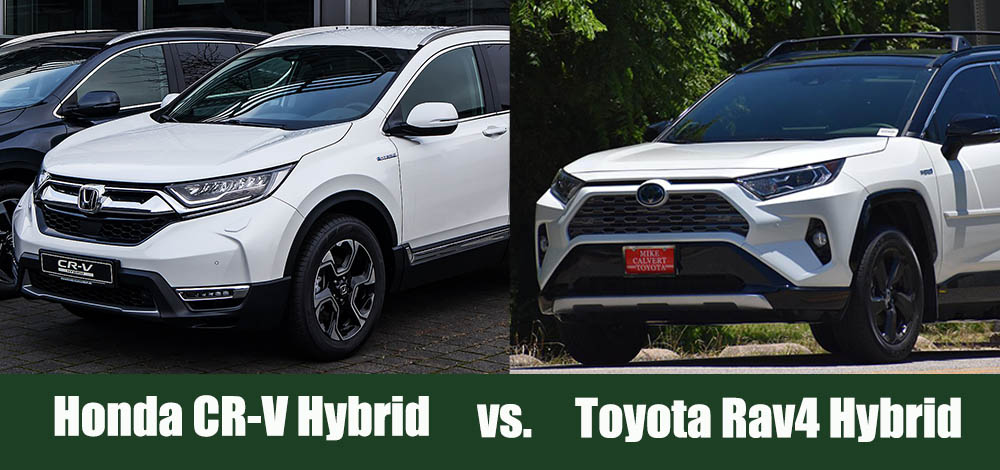 Drivers are flocking to hybrids in droves to take advantage of great fuel economy and help save the planet. Two of the top-competing cars in the compact hybrid SUV are the Toyota RAV4 and the Honda CR-V, which are new hybrid options for very popular cars. How do these hybrids compare against each other, and which is best for you? Let's dive in and find out.
Review Summary
The CR-V and the RAV4 are both solid compact hybrid SUVs, but the RAV4 generally performs better in performance-based tests. Honda really upped their game with the CR-V, though, with a fancier interior and more passenger space. Both companies have legendary reliability, though ratings are slightly in the CR-V's favor.
The RAV4 has superior handling thanks to its tighter suspension tuning, which gives the car very tight maneuverability in close quarters.
If interior quality is important to you, look no further than the CR-V. Pricier trims offer more premium interior materials, complete with realistic faux wood trim.
The RAV4 has better braking, and it does a great job of making it feel like a non-hybrid. By contrast, the CR-V has a somewhat mushy brake that reminds you you're driving a hybrid.
Both cars have ample cargo space complete with folding back seats and an electric liftgate, which are godsends for large grocery runs.
The RAV4 has an objectively more powerful engine that grants it superior acceleration and performance over the slow-but-steady CR-V.

At a Glance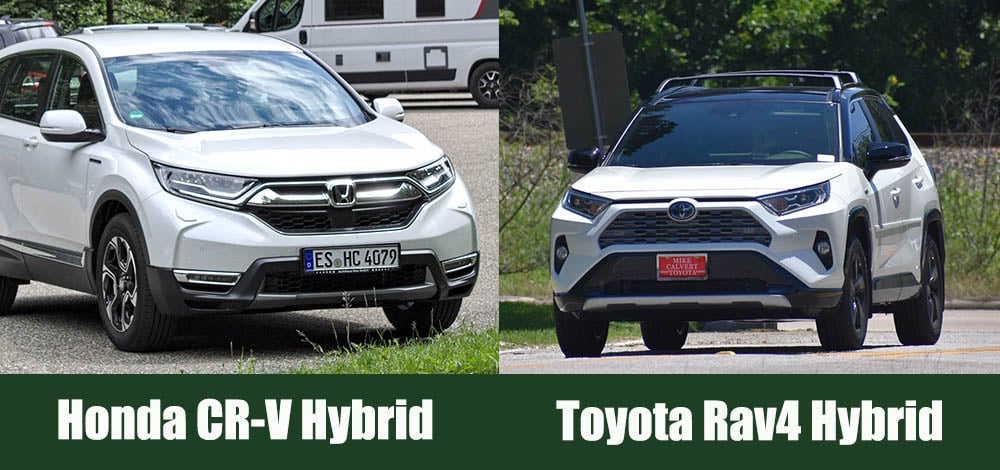 While these cars are very similar in some ways, they're very different in others. Let's compare the key specs of each car so you can get an idea of some of those differences and make a more informed buying decision.
Honda CR-V Hybrid
Starting MSRP: $31,210
Horsepower: 212 HP
Fuel economy: EPA rated 40mpg highway /35mpg city
Engine: Gas/Electric I-4 2.0L
Passenger space: 105.9 cu-ft
Cargo space: 75.8 cu-ft
Toyota RAV4 Hybrid
Starting MSRP: $28,500
Horsepower: 219 HP
Fuel economy: EPA rated 41mpg highway /38 mpg city
Engine: Gas/Electric I-4 2.0L
Passenger space: 98.9 cu-ft
Cargo space: 69.8 cu-ft
---
Overview of Honda CR-V Hybrid: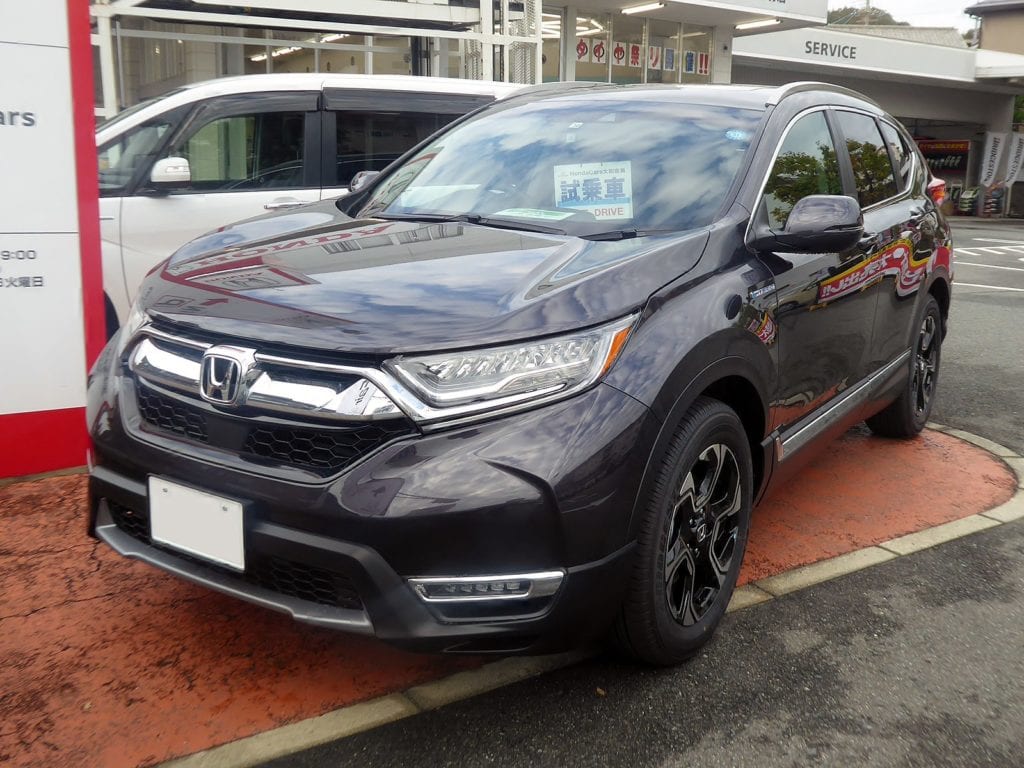 The CR-V is a relatively new addition to Honda's lineup, but an upscale interior combined with lots of interior space and mechanical AWD help cement it as a great car. It lacks the raw performance, efficiency, and handling of the RAV4, but has a smoother ride.
Pros
Mechanical AWD means you have maximum maneuverability at all times
More luxurious interior
Less road noise compared to the RAV4
Smoother ride than the RAV4
More passenger space than the RAV4
Cons
Mushy brake
Weaker acceleration
Worse fuel economy than the RAV4
Honda hybrids aren't as time-tested as Toyotas

Overview of Toyota RAV4 Hybrid: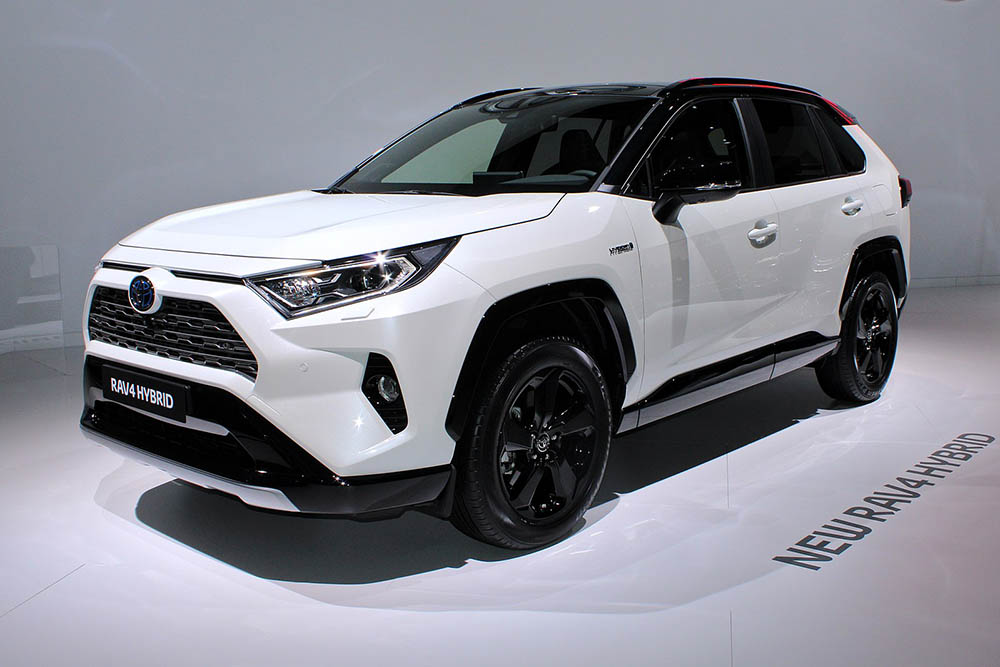 Toyota appears to have perfected its hybrid technology with the Prius because the RAV4 has some of the best performance you'll see out of a hybrid car. Throw in a ton of cargo space, great handling, and the Toyota reputation for legendary, and you'll see why people keep buying this car. Let's check out some of the RAV4's pros and cons compared to the CR-V.
Pros
Better acceleration than the CR-V
Handling feels better than the CR-V
Brake feels more reactive than the CR-V
Slightly better rear window visibility
Larger touch screens than the CR-V
Holds its value better over time
Cons
Smaller front seat
Interior feels cheap compared to the CR-V
Electric AWD means you revert to RWD when the electric charge depletes
Less cargo space than the CR-V, even with seats folded down
---
What Are The Differences Between These Two?
Performance
Edge: Toyota RAV4 Hybrid
Toyota's history with hybrid tech seems to have paid off because the RAV4 is considerably more spry than the CR-V. Acceleration is sprightly yet powerful, and you ramp up to cruise speed smoothly and comfortably.
Price
Edge: Toyota RAV4 Hybrid
At MSRP, the RAV4 is several thousands of dollars cheaper than the CR-V. The only exception to this would be if you're looking for a used car because used RAV4s hold their value very well. Even with a few addons, you likely won't pay more for a new RAV4 than for a new CR-V.
Fuel Economy
Edge: Toyota RAV4 Hybrid
These two cars appear very close when it comes to gas mileage, but the RAV4 comes out ahead in practice. Hybrid shoppers are usually very choosy when it comes to fuel economy, though, so even a few more miles per gallon is a huge win on the highway.
Interior & Cargo
Edge: Honda CR-V Hybrid
The CR-V has a way more posh-feeling interior and offers both driver and passengers more legroom and overhead space than the RAV4. If you're very tall, the CR-V will definitely be more comfortable to drive. More cargo space is a big bonus, too, and you can easily haul medium to large loads with the back seats folded down.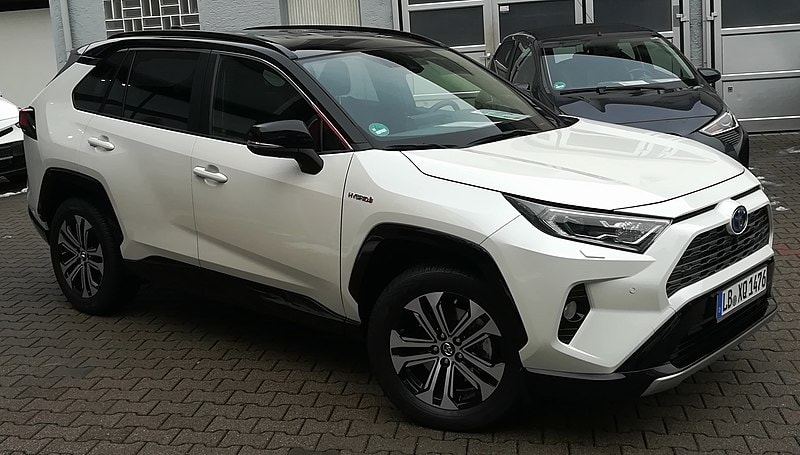 What the Users Say
Let's check out what other users had to say about these cars:
Users agree that Toyota has a better track record with hybrid tech, considering how well the Prius has done in the U.S and abroad.
Users indicate that the CR-V's braking feels cumbersome and even tiring at times.
Most thread discussions reach the same consensus about the two: if you don't care about the interior or need the cargo space, the RAV4 is the better buy simply based on performance metrics and handling.
Some users dislike how the RAV4's touchscreens are just out of the dash, speculating that they won't age well.
One tech-minded user pointed out that the RAV4 has 1 more USB port than the CR-V, which could be a dealbreaker for families with lots of devices.
Even users that bought the RAV4 over the CR-V admit the RAV4's seats can get uncomfortable on long drives.
Related Read: Toyota Rav4 vs. Honda CR-V: Which Should You Choose?

Conclusion
Let's get this out of the way: the RAV4 is an overall better car for the money, especially considering that it usually goes for less than the CR-V. If you're very tall, comfort-minded, or need ample cargo space, go with the CR-V. Overall, they're both very great hybrid cars, but the RAV4 beats the CR-V in most categories.
---
Featured Image Credit: (L) Honda CR-V 2.0 i-MMD Hybrid Lifestyle © M 93 / Wikimedia Commons / CC BY-SA 3.0 (DE) | (R) ArtisticOperations, Pixabay