How Much Does a Concrete Driveway Cost in 2022?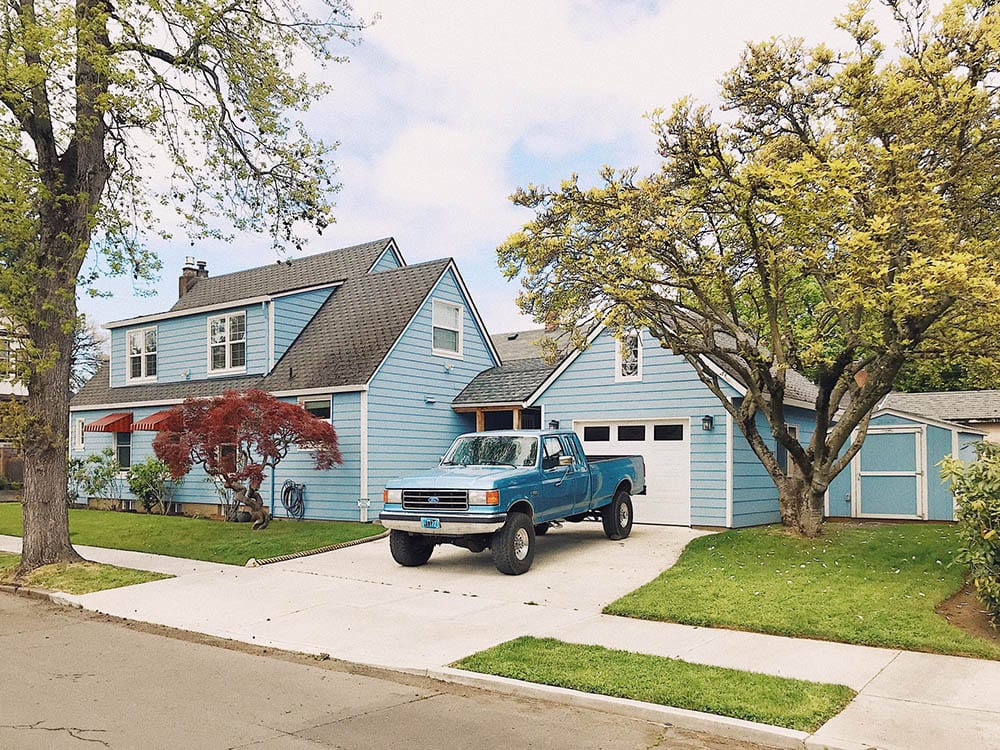 Concrete is a great material for a driveway. It's easy to clear snow from during the winter and won't wash away with heavy rain like gravel. Plus, you don't have to worry about holes or ruts forming over time.
If those aren't reasons enough for a concrete driveway, the incredible designs you can get with the right budget give you the perfect way to compliment that beautiful landscaping in your front yard.

Different Types of Concrete Driveways
There are several types of concrete driveways you can get. For the most part—concrete is concrete—however, the way it's poured and finished can drastically change the completed project. These are some of the most common concrete driveways you'll find:
Plain Concrete: Exactly how it sounds, this will simply be a basic gray concrete driveway with a trowel finish.
Colored Concrete: Same finish as a plain concrete driveway, except color is added to concrete before it's poured. Sometimes the concrete is colored after it's poured.
Broom Finish Concrete: Similar to plain concrete, but instead of a smooth trowel finish, the worker uses a stiff-bristled broom to give it a ridged or textured finish.
Stamped Concrete: After the concrete is poured and trowled, a stamp is pressed into the concrete as it begins to set. The texture created depends on the stamp that's used.
Exposed Aggregate Concrete: An additive is put into the concrete, then when it begins to set, a pressure washer is used to wash the surface off. The result is an exposed gravel look.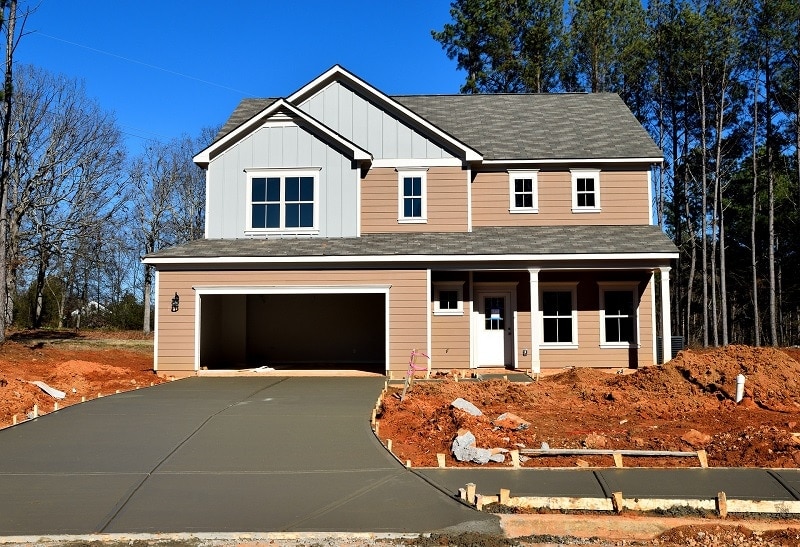 How Much Does a Concrete Driveway Cost?
Pricing will vary slightly depending on which concrete finish you decide on. As with most trades, there is no price regulation for concrete work. So, ultimately the actual price is determined by your local market and the type of concrete finish you want.
Fortunately, pricing is usually straightforward for a concrete driveway. Most contractors charge a flat price based on square footage. That way, there's no guessing what the price will be once the driveway is finished.
The average price for a new concrete driveway is $6–$18 per square foot. It's possible to find contractors that charge as little as $4, but that's less common. And if you want something unique or complex, prices can certainly reach $20–$25.
With the average prices above in mind, let's take a look at some common driveway sizes and prices to expect for them:
| | | |
| --- | --- | --- |
| Square Footage | Price: Low | Price: High |
| 200 (single car) | $1,200 | $3,600 |
| 400 (double car) | $2,400 | $7,200 |
| 900 (triple car) | $5,400 | $16,200 |
| 1650 (50-foot circular driveway) | $9,900 | $29,700 |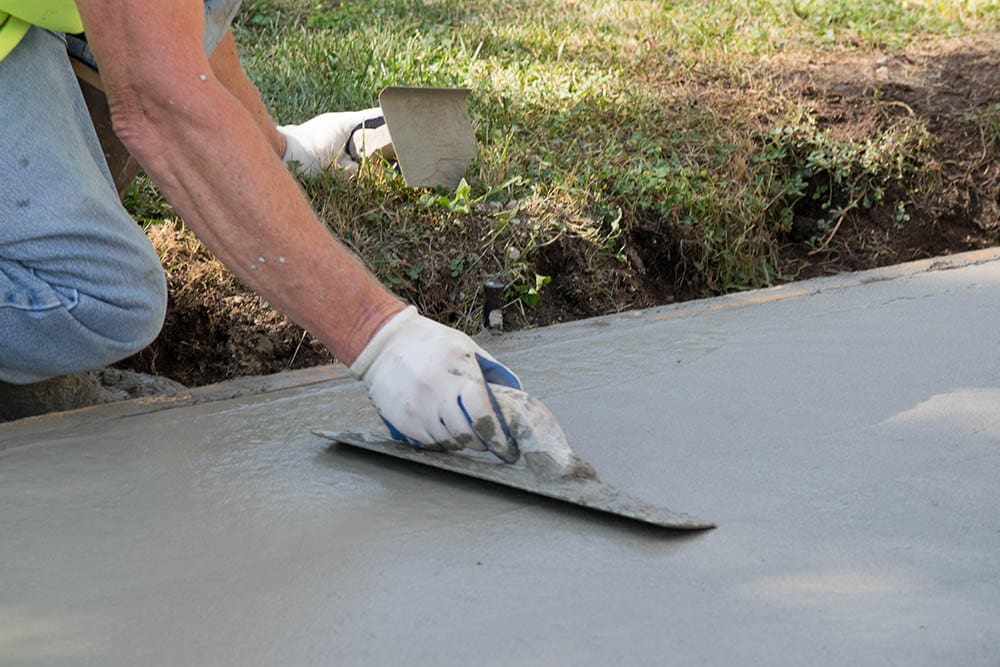 Additional Costs to Anticipate
Typically, when a contractor charges per foot, they include most basic supplies and the driveway. However, certain things will likely increase the price per square foot.
For example, if the contractor is charging you $6 per square foot to pour the driveway, but they have to rip out the old concrete, they will charge you another $1–$3, so you'll actually pay around $9.
| | |
| --- | --- |
| Old driveway removal: | $1–$3 |
| Sealing: | $0.50–$2.50 |
| Lumber for concrete forms: | Dependant on local lumber prices |
| Special driveway borders: | $6–$15 (per linear foot) |
| Heated driveway: | $10–$15 |
Maintaining a Concrete Driveway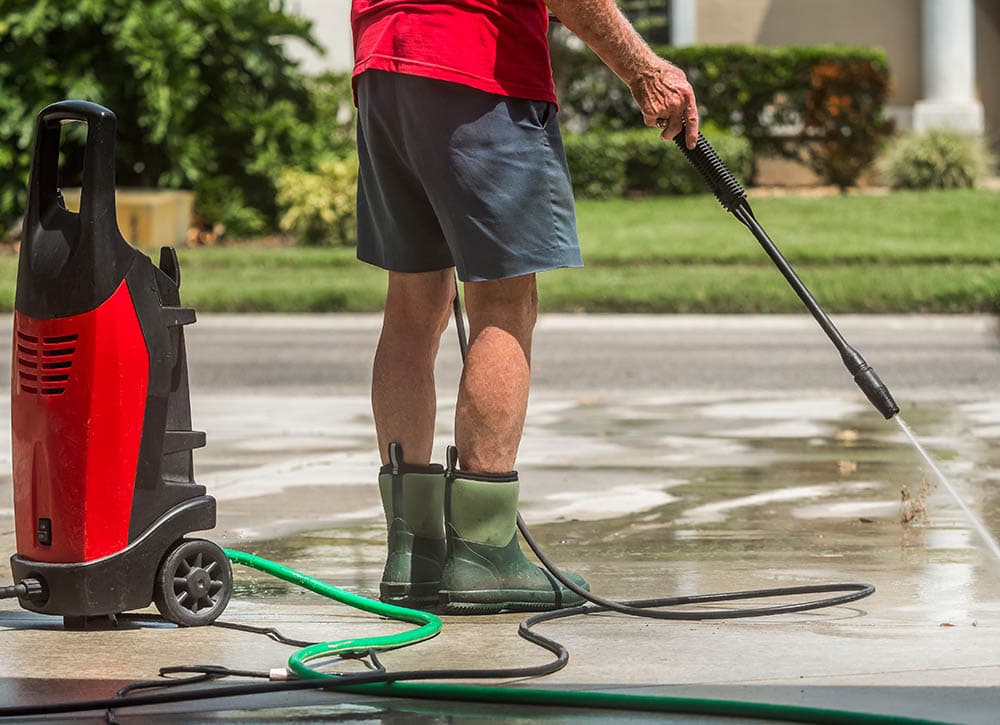 Typically, a concrete driveway will last for many years. After about a month, your concrete driveway is only at about 90% of its maximum strength. It continues to cure for many years after that.
But if you want your concrete driveway to outlast your stay in the home, you'll want to treat it right. Here are a few simple tips to help you improve its lifespan:
Seal it: If you don't get the contractor to do this, it's a really good idea for you to do it yourself after the driveway is done.
Clean it: If you spill oil or anything on it, try and clean it up right away. And pressure washing it at least annually helps keep it in good shape.
Avoid ice-melting chemicals: Some chemicals on the market will damage your concrete. If you must use an ice melter, ensure that it's safe for use on concrete.
Fix cracks: Cracks are going to happen. When the ground shifts, the concrete can crack. The rebar will prevent it from falling apart. However, it's a good idea to fix cracks quickly. You can hire someone for this or purchase a DIY kit.
FAQ: Concrete Driveways
Can I concrete my driveway myself?
Pouring concrete is not difficult. However, doing an entire driveway can be pretty intimidating unless you have a reasonable amount of experience. Plus, you'll need help because once you pour the concrete, the clock is ticking as the concrete begins to set.
How long will a concrete driveway last?
As long as the concrete is poured properly, it's reasonable to expect a concrete driveway to last 30–40 years with proper care.
How long does it take to pour a concrete driveway?
Depending on the size and design of the driveway, it takes 1–3 days to pour on average. That's assuming the area to pour is ready to go. If there is any excavation or an old driveway to come out, expect another couple of days.
Can I use the driveway right away?
You'll need to wait for at least 24-hours before walking on your new driveway and at least a week before you can drive on it. By the one-month mark, the concrete will reach 90% of its maximum hardness and will be able to withstand large vehicles.

Conclusion
As you can see, getting a concrete driveway can be very expensive if you want something fancy and unique. But if you want the benefit of concrete and don't care about having a unique finish, you can save money.
Also, DIYing some of it can save money. Some contractors will work with you to keep the costs down.
---
Featured Image Credit: Zachary Keimig, Unsplash