13 Different Types of Concrete Floor Finishes (With Pictures)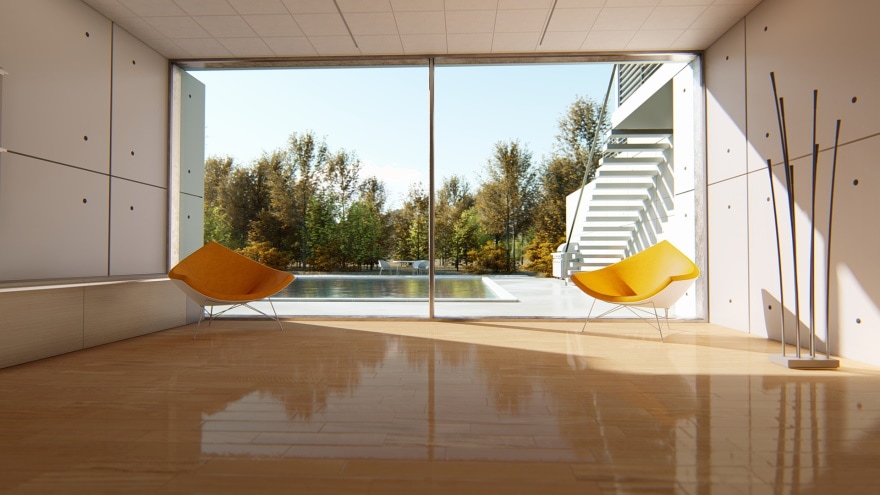 Which are the different types of concrete floor finishes are?  How do they differ from each other? Well, we have compiled several of them. This way, you'll have a wide range of concrete floor finishes to choose from.
Concrete floors are made to last. They can withstand the harshest environments and work conditions imaginably. Also, concrete floor finishes make concrete floors last long by protecting against every day wear and tear while enhancing the appearance of your space.
There are different types of concrete floor finishes. Below, we'll go over some of the most common finishes used today.

The 13 Different Types of Concrete Floor Finishes
1.

Urethane Topcoat
| | |
| --- | --- |
| Where used | Outdoor concrete floors |
| Made of | High-quality urethane resin |
A urethane topcoat is often used on concrete floors as an alternative to epoxy. Urethane is a chemical compound made from aliphatic or aromatic isocyanates. It has high resistance to abrasion and wear.
A urethane topcoat can be applied over old coatings or directly onto bare concrete. The finish is strong and durable and protects against stains and chemical spills. You can apply it in high-traffic areas and parking garage decks.
Urethane coats are also resistant to UV light. They won't become discolored when exposed to sunlight for long periods.
Once the urethane topcoat is dry, you can walk on it. But it'll continue curing over several days before it's completely hard and ready for heavy use.
Pros
Quick and easy to install
Reduces buildup of dirt, grit, and grime
Protects the concrete surface against damage from moving equipment
Cons
It has a low tolerance for heat and will blister if exposed to temperatures above 150 degrees Fahrenheit.
---
2.

Chemical Staining (Acid)
| | |
| --- | --- |
| Where used | Outdoors |
| Made of | Water, hydrochloric acid, and a blend of metallic salts |
Chemical staining is one way to make your concrete floor look marbled or bring out several colors. The process involves applying a specialized acid solution on the surface to bring out some colors. It's similar to acid etching. But the staining agent is a separate product applied after etching.
The chemical reaction between the stain and the concrete creates a unique finish that'll last for years. This process allows homeowners to create unique color patterns in their concrete floors.
You can use a chemical stain to achieve an earthy tone or even a bright hue. It depends on the color palette that is selected.
Pros
Long-lasting and carefree floor finishing solution
Quick, cheap, and effective floor finish
Restores concrete floors that look dull, gray, or dirty
Costs much less than other options
Consult a flooring expert
Find a flooring specialist in your area, and get free, no-commitment estimates for your project.


---
3.

Acrylic Sealers
| | |
| --- | --- |
| Where used | Indoors |
| Made of | Acrylic latex |
If you need to seal your basement floor to make it waterproof, acrylic sealers are the way to go. The sealer is usually applied through spraying. You can use it with different concrete floors, including ones with cracks and holes.
The best part about acrylic sealers is that they do not change the texture or appearance of the surface you're applying.
Acrylic sealers are designed to protect the concrete beneath them. They also enhance concrete floor's natural appearance. They dry clear, allowing the beauty of the concrete to show through.
Pros
Makes your concrete floor last longer
Easy to apply and maintain
It's eco-friendly
Cons
They leave scuff marks on shoes whenever you walk across it
They are not as durable as epoxy
---
4.

Standard Epoxy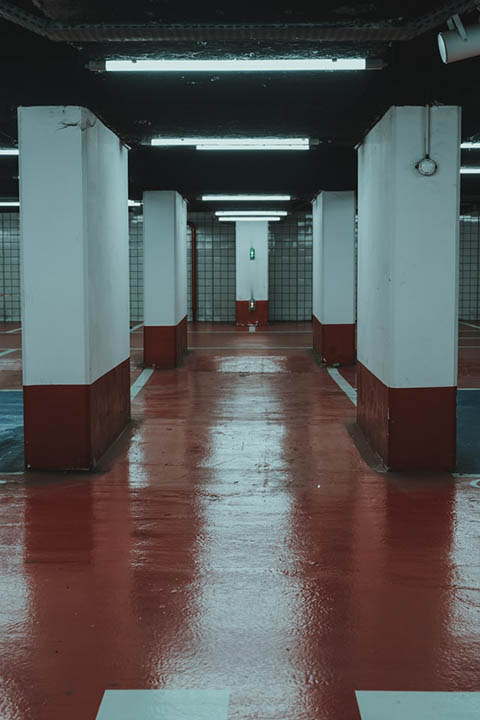 | | |
| --- | --- |
| Where used | Indoors |
| Made of | Epoxy resins and hardeners |
The standard epoxy finish is the most basic type of concrete flooring finish. You can apply it in just a day. There are a variety of color options to choose from.
This finish produces a glossy shine that looks great when paired with other decorative aggregates such as quartz or granite.
Standard epoxy extends the life of a concrete surface. It also provides a waterproof layer that protects the concrete from water damage and deterioration.
Epoxy coatings are resistant to chemical spills, scratches, and stains. It makes them an excellent choice for garages or commercial spaces where chemical spills may occur or where heavy traffic is expected.
Pros
Cures fast
Less slippery when wet compared to other finishes
Makes a room look more modern
Cons
Cleaning it is a bit tough
It can chip and flake off
---
5.

Quartz Sand Epoxy
| | |
| --- | --- |
| Where used | Outdoors |
| Made of | Quartz sand and epoxy resin |
This is one of the most popular options for polishing concrete floors. It has a unique appearance created by mixing epoxy with colored quartz sand. This mixture is applied to the surface of the concrete using a trowel. The thickness of this mixture varies from 1/16 to 1/8 inches.
You can also use other decorative chips, such as flakes and aggregates, to create an appealing design on your concrete floor surface.
This concrete flooring finish is perfect for residential and commercial properties. It's due to its durability and ease of maintenance. Quartz floors are popular in garages, basements, laundry rooms, and classrooms. They're also an excellent option for warehouses, retail stores, and restaurants. When you apply quartz sand epoxy over your floor, it creates an attractive finish that resembles terrazzo or granite.
Pros
Durable, beautiful, and easy to install
An excellent alternative to resin type epoxy
Withstands high temperatures
Cons
It's rough and can be uncomfortable on your feet
---
6.

Water-Based Paints
| | |
| --- | --- |
| Where used | Indoor and outdoor concrete floors |
| Made of | Pigments, binder, and filler, dissolved in water |
Water-based paints are one of the most popular types of concrete floor finishes. They come in a wide range of colors and sheens. Also, it's easy to find premixed colors if you're working on a tight budget.
Water-based paint is inexpensive and easy to apply. You can apply water-based paint using a roller, mop, brush, or sprayer. It dries fast and it's easy to clean up any spills. It provides excellent traction when used on the concrete floor.
This type of paint is also ideal for use on basement floors. It's because it allows the concrete floor to breathe while still protecting it from water seepage.
Pros
Dries faster and shines brighter
Applying doesn't take time
Do not smell as much as other paints
Cons
Fade and wear off easily
Doesn't last long
---
7.

Quick Stripping
| | |
| --- | --- |
| Where used | Exterior concrete surfaces |
| Made of | Dyes and stain |
Quick stripping is the simplest concrete floor finishing method. All that's needed is to remove excessive curing compound after the concrete has cured and apply a sealant.
It's the most cost-effective and least durable option for finishing a concrete floor. Quick stripping is applied as a topcoat. It saturates the surface of the concrete and hardens in as little as 15 minutes.
You can use quick stripping to create trowel-down finishes or smooth surfaces on old floors. This method is ideal for garages, basements, and warehouses. It's because it provides maximum protection for the concrete.
It's also ideal for areas with less foot traffic or where there aren't any heavy objects lying around.
Pros
Quick Stripping is chemical-free
Easy to apply with a roller
Easier and faster to clean
Cons
It's a time-consuming process
It's not as attractive
---
8.

Terrazzo Floor Finish
| | |
| --- | --- |
| Where used | Indoors and outdoors |
| Made of | Chips of glass, marble, and other aggregates ingrained in tinted cement |
Terrazzo is a concrete floor finish that's polished to create a durable, smooth, and shiny surface. It can look like marble, but at a much lower cost. It's often used in commercial buildings.
Terrazzo flooring can be customized with different colors, patterns, and finishes. The colors and patterns are created by mixing various aggregates such as marble, glass, or granite chips in the concrete floor.
They're mixed with cement and concrete to form terrazzo. This mixture is poured into place and ground down to expose the embedded stone materials. The final step is to apply a penetrating sealer. It protects the matrix while allowing the stone materials to shine through.
Pros
It's corrosion-resistant
Protects against stains
Enhances the look of old floors
---
9.

Metallic Epoxy
| | |
| --- | --- |
| Where used | Indoor and outdoor |
| Made of | Epoxy, resin, and metallic powder |
Metallic epoxy is one of the newest trends in decorative concrete floor finishes. It has become popular in recent years. It is an alternative to traditional wood or stone flooring, providing a smooth, seamless finish that can bring life to any space. You can apply this two-part epoxy as a clear coat or over a base color coating.
The metallic flakes make it appear as if there are specks of metal buried beneath the surface. But it's only an illusion created with special reflective materials added to the topcoat of the epoxy finish.
Pros
Durable
It's less expensive compared to other finishes
Easy to use
Cons
It needs the knowledge to apply well
---
10.

Concrete Stamping
| | |
| --- | --- |
| Where used | Outdoor |
| Made of | Patterned roller |
Stamped concrete is a popular choice for people looking to mimic the appearance of stone or brick patterns.
A patterned roller is used to stamp a pattern into the wet concrete. It can give the impression that the floor has been paved with stone, brick, or slate tiles.
The patterns can be simple or intricate, creating a more ornate finish. Stamp patterns range from simple geometric shapes to more detailed designs.
Pros
Adds a unique elegant look to your home
Adds value to the property for resale
Durable
Cons
It needs extensive knowledge of concrete work
---
11.

Concrete Scoring
| | |
| --- | --- |
| Where used | Indoor and outdoor concrete floors |
| Made of | Grooves creating a pattern |
Concrete scoring is one of the simplest options when it comes to concrete floor finishes. Grooves are cut into the surface of the concrete at regular intervals.
Concrete scoring is popular because you can apply it to new concrete when wet. All you need is a special saw with diamond blades to cut grooves into the concrete's surface. The depth of these grooves ranges from ⅛ inch to ¼ inch deep.
Then, the cuts are filled with a coloring agent. Many contractors prefer using an acrylic compound because it'll not chip off easily. The surface is then sealed with a protective finish, such as epoxy or urethane.
Pros
Cheap and easy to apply
Helps with waterproofing
Cons
It scuffs and scratches easily
---
12.

Color Hardener
| | |
| --- | --- |
| Where used | Interior and exterior concrete floors |
| Made of | pre-tested cement, silica quartz aggregate, and inorganic coloring pigments |
A color hardener is a dry powdered material applied to the surface of the concrete before it sets up. The material is worked into the concrete. Then, it's allowed to set up for a few minutes.
Once it's worked in, excess material is brushed off the surface. Then, the concrete is left to cure for a few days before it can be walked on or set up with furniture.
A color hardener will not only add an attractive finish to your concrete, but it'll also increase its durability and prevent future wear and tear.
This process is not recommended for those who don't have experience working with concrete. It's because there are many steps involved, which must be done in a specific order for the desired effect.
Pros
You can do-it-yourself with a simple kit
It'll brighten your concrete floors
Lasts long
Protects concrete against freezing and thawing
---
13.

Concrete Sealing
| | |
| --- | --- |
| Where used | Interior and exterior |
| Made of | Acrylic, polyurethane, and epoxy materials |
Concrete sealing is one of the most affordable and easiest ways to improve the appearance of your concrete floors.
A sealant is applied over the surface of the concrete. It protects it from damages resulting from foot traffic, spillage, and other accidents that happen in the home.
The primary purpose of sealing is to protect the concrete against wear and tear, weather elements, and stains. It also makes the surface easier to clean.
Sealers come in different types, including acrylic and polyurethane. But, they all work on the same principle. They create a transparent film or barrier over the concrete that protects it from damage.
Pros
Creates a stain and odor barrier
Strengthens your concrete floor
Prevents cracks and pitting
It's more eco-friendly than other sealants
Cons
It takes several weeks to dry

Conclusion
There are no set ways to finish concrete. You have many different options to work with. Keep in mind that each of these concrete floor finishes will need some serious prep work. But the results are worth the effort.
We hope this post has been helpful to you. You'll be better informed when finding a perfect solution for your concrete floor.
Consider all your options before you commit to a concrete floor finish. Also, keep in mind that not every concrete finish will be a perfect fit for every situation.
See Also: 
---
Featured Image Credit: Pixabay