How Much Does It Cost to Carpet Stairs in 2023?
If the stairs in your house are cracked, that calls for a repair/replacement. However, if they're just faded a bit or even worn out, that can be fixed by putting a carpet over the treads and risers. This is one of the cheapest yet most effective makeover plans for the staircase. How much is that going to cost you, though, and what additional expenses should you expect?
Does the cost differ depending on where you live? And what's the average lifespan of a decent-quality carpet? More importantly, will your home insurance cover it? And finally, what are the biggest pros of installing carpet on stairs? We have all the answers right here!

The Importance of Adding Carpet to the Stairs
Depending on how much foot traffic the stairs get throughout the day, they may wear out rather quickly. But if there's a carpet installed on top of the treads, that will protect them from tearing, cracks, and other types of damage. True, by taking all the "beating", the carpet will fade and lose its texture. However, replacing it will take less time and effort and cost less compared to installing new stairs.
Another big pro of adding carpet to stairs is that they're safer to walk on. Even if you end up falling, the carpet will minimize the pain. On top of that, carpets and rugs are very quiet¹. So, if you tend to go up and down the staircase during the night, having a carpet installed on the stairs will turn you into a silent ninja.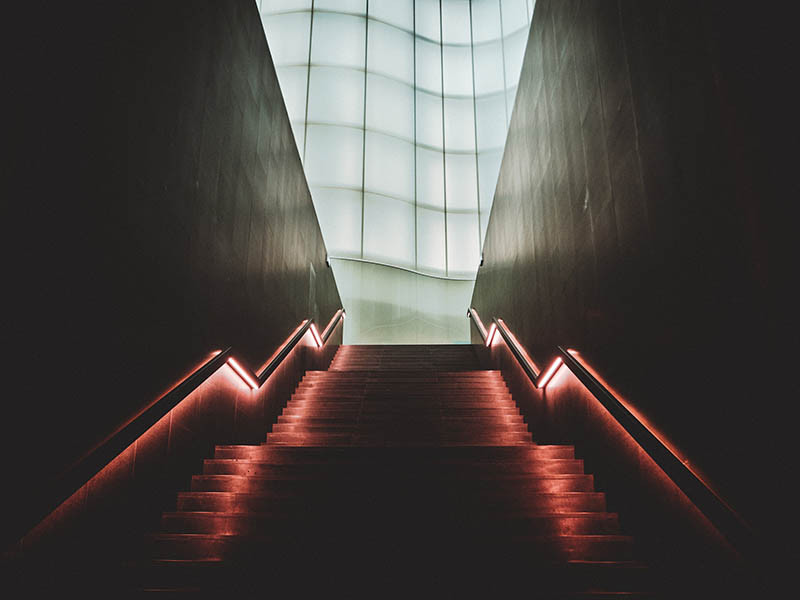 How Much Does Carpeting the Stairs Cost?
In 2022, the average cost for carpeting the stairs in the States is $400–900 or $3-11 per square foot. With that said, most homeowners in the country usually pay $600–700. For that kind of money, they get coverage for 12 steps. If you're on a low budget, you can get some work done for $150–300; only this time around the material quality will be lower (olefin carpet).
As for the high-end cost, it sits in the $2.3–5K range. If you're ready to pay that much, you'll be able to buy a premium velvet wool carpet and cover the stairs with it. The bottom line is—you don't have to empty your bank account to get the stairs carpeted. Now, the cost will not only vary depending on the material quality, but also the city/state, texture, and stair type. Let's talk about that next.
The average cost in the US: $400–900
How much most homeowners pay: $600–700
The low-end carpeting price: $150–300
The high-end carpeting price: $2.3–5K
Carpeting Cost by Different Regions
There's no shortage of carpets in any of the 50 American states, nor are there any troubles with the delivery. Still, the price for the carpet will differ based on the region. Here's a quick breakdown of the average cost in different parts of the country:
The East Coast: $380–830
Midwest US: $330–750
The West Coast: $370–810
Carpeting Cost by Material Type
What's the first thing you look at when choosing between different carpets? Most likely, the answer is going to be the material type. You can always go with the cheapest material, of course, but we have to warn you that carpet on the stairs wears off quicker than on the floor, as it goes through more "abuse". Synthetic materials like olefin are really cheap, while natural wool is very expensive.
Here's a closer look (labor cost not included):
Olefin (cheap, resistant to mildew and mold, weak against high foot traffic): $0.75–5 per sq. ft.
Polyester (not very durable, yet soft and low-budget): $1.45–6.2 per sq. ft.
Triexta (stain-resistant, relatively durable):          $2–6.3 per sq. ft.
Nylon (handles foot traffic, highly absorbent, very popular): $2.5–8 per sq. ft.
Seagrass (smooth, long-lasting, repels dust and liquids): $3–6.5 per sq. ft.
Coir (rough, can take a beating, good for humid areas, hard to find): $3–6.7 per sq. ft.
Sisal (eco-friendly, strong, and very popular for the stairs): $3–6.8 per sq. ft.
Jute (comfy, beautiful, yet weak against spills, hard to clean): $4–8.3 per sq. ft.
Cotton (smooth, silky, has an extended lifespan): $5–7.5 per sq. ft.
Wool (expensive, warm, water-repelling, strong against stains): $5–25 per sq. ft.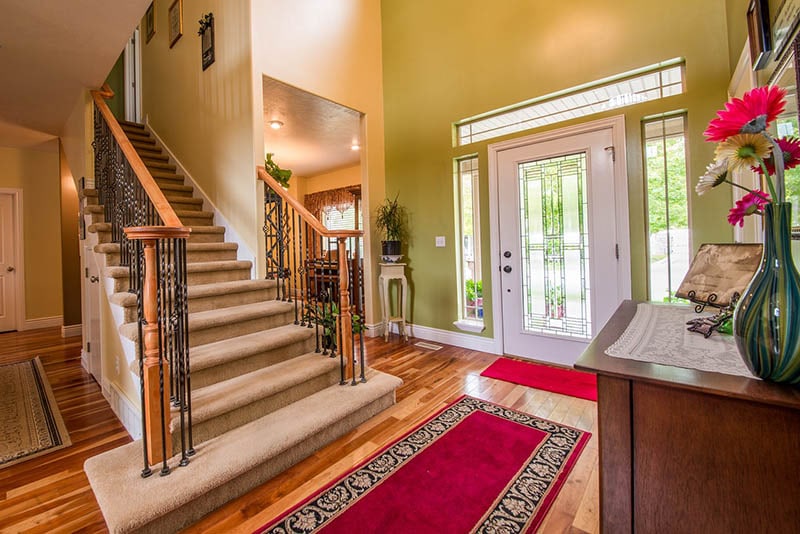 Carpeting Cost by Texture
With the material picked, it's time to talk about the texture. It will not only define how the carpet looks but also how long it lasts and how it feels under your feet. Carpets come in a wide range of textures. Long fibers are a no-no for the stairs; instead, go for a short pile. Next, make sure the texture of the carpet is dense enough to withstand heavy foot traffic. As long as you pick one of these options, it will be money well spent:
Level loop: $0.75–5.5 per sq. ft.
Berber: $1–8.2 per sq. ft.
Cut-and-loop: $1.2–10 per sq. ft.
Textured Saxony: $2.8–10 per sq. ft.
Multi-level loop: $3–10.2 per sq. ft.
Frieze: $4–7.5 per sq. ft.
Velvet: $4.5–25 per sq. ft.
Please keep in mind that shag, cable, and plush are generally not recommended for stairs. Next, with carpets, you have a choice between two construction types: staple and BCF. Staple carpets are more expensive than BCF rugs. However, BCF carpets are becoming more popular thanks to the non-piling and non-shedding fibers.
Carpeting Cost by Stair Type
Straight stairs: $300–800 per 12 stairs
L-shaped/U-shaped: $450–900 per 12 stairs
Winder stairs: $535–920 per 12 stairs
Curve stairs: $550–1.3K per 12 stairs
Spiral stairs: $700–1.6K per 12 stairs
How Much Do Professionals Charge For This?
In the US, many contractors charge per project and set the price upfront, after a quick estimate. In 2022, labor costs will set you back $80–250 for a 12-step stair. If your stairs are straight, the price will be minimal. L-shaped stairs, in contrast, take more expertise to cover with carpet and cost more. Furthermore, some experts will charge $1–2 extra for each step, boosting the labor cost to $300–350.
Other service providers prefer to charge per square foot. This is a more common routine and the average cost of installing one square foot of carpeting on the stairs is going to be $3–12. This depends on the complexity of the job, the required expertise, and the area that you live in. Make sure you agree on a price before signing anything.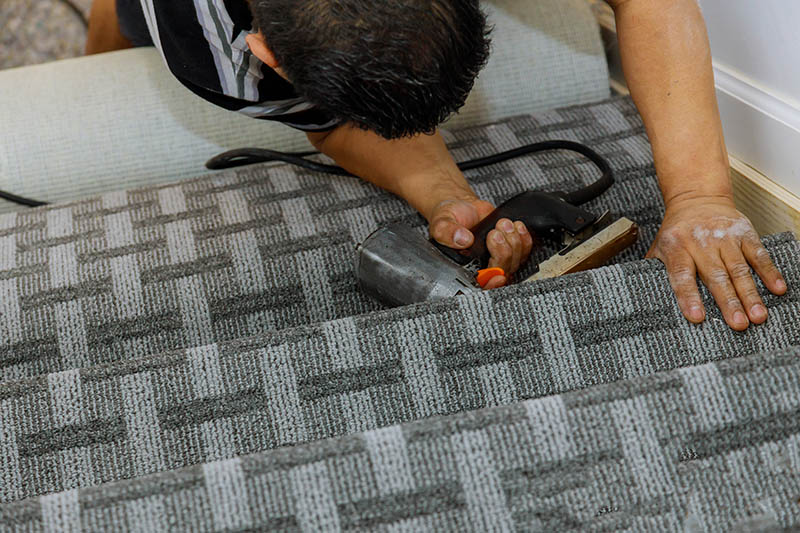 Additional Costs to Anticipate
Alright, now that we're figured out how much it will cost to carpet stairs, let's take a look at additional expenses you might have to cover:
Old carpet removal: $1–2 per sq. ft.
Carpet pad: $$0.3–0.7 per sq. ft.
Outdoor carpeting: $2–3.5 per sq. ft.
Wrapped stairs: $2.4–5 per step
Painting the stairs: $250–450

How Often Should the Carpet Be Replaced?
On average, it is recommended to change it every 7–10 years¹. If it's crafted from nylon, expect it to serve for up to 15 years. But, with proper care, even the cheapest carpet will last for 6–8 years. Once you cross that mark, you'll start noticing signs of fade, wear, and tear. While that doesn't mean you have to say goodbye to it that same second, it would be best to replace it shortly.
The actual lifespan of the carpet will be impacted by the material quality, foot traffic/number of residents in the house, the humidity levels, and your own maintenance skills. For the stairs, go with a low-pile, 1/2-inch thick carpet, as it will last longer. And if it has cut/twisted fibers, it will serve for even longer.
Does Home Insurance Cover the Carpet or the Stairs?
The most important thing to understand about home insurance is that it does NOT cover¹ any damages that happen over time. This includes wear, tear, fading, and cracks. With that said, most home insurance plans do cover accidents and natural disasters. For example, if the stairs in your house are damaged by fire, lightning, or a hurricane, most likely, the insurance will pay for that (as long as those hazards are listed in the policy).
Don't expect the insurance company to pay for any damages due to earthquakes or floods, though. That may differ depending on the company, the plan, or even the local laws. But, in most cases, this is how it works. So, what about the carpet? The coverage on most personal items and furniture is not that generous: 50–70% of your current insurance plan. Besides, spills, scratches, and wear¹ are usually not covered.
Will Liability Protection Cover the Carpet?
Liability protection will have your back against potential lawsuits filed by your neighbors. For example, if you or your closest relatives (or even a pet) ruin the carpet in their house, liability will pay for that. Sadly, the same coverage doesn't apply to situations when you/your family members damage your own carpet.
What About Contents Insurance?
Did you know that carpets in the US are categorized as content? That's right, and this is exactly why in most states, you should opt for contents insurance¹ if you're worried about the carpet. Unfortunately, even with this plan, accidental damages won't always be covered (unlike floods, storms, fires, and even theft). Do check this before paying for anything.

Conclusion
Installing carpet on stairs is one of the easiest DIY projects that you can take on. To do this, you'll only need a pack of tacks, a hammer, and a nail gun (not always necessary). No extra set of hands will be required. On average, it will take 5–6 hours to get the job done manually, with each step taking 10–20 minutes to carpet.
And, if you do all the "heavy lifting" instead of paying a contractor, you'll get to save a substantial amount of money to spend on something else. The carpet won't cost a fortune, either, yet it will serve you for at least 5–7 years, which makes this DIY makeover plan very much worth it!
---
Featured Image Credit: robophobic, Shutterstock