How Much Does It Cost to Paint a Car? (2023 Update)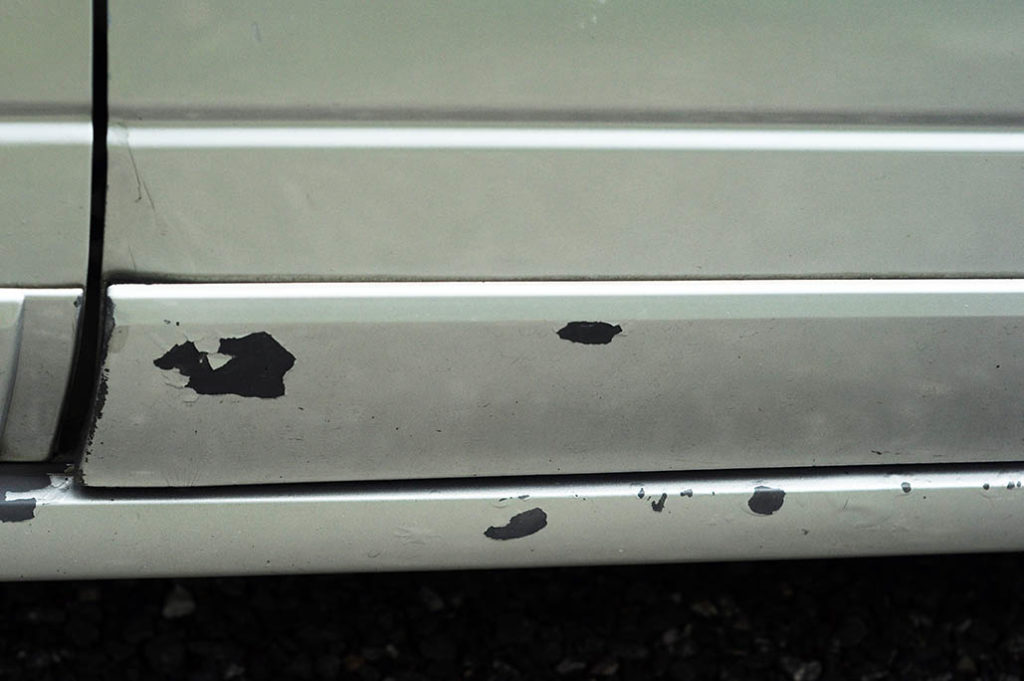 What's the main job of car paint? Is it to make the car look fancy? Well, yes, but not quite. Primarily, the paint is there to safeguard the vehicle from the sun, rain, snow, dust, pollen, and debris. Car paint does peel off over time, though. UV rays make it fade, while weather elements chip it off. And nobody wants to drive around in a vehicle that looks like it belongs to the scrapyard!
That's why you need to paint it. How much will that cost this year? Does the quality of the paint matter? Are there any additional expenses involved with painting or repainting a car? These are just some of the questions that you'll find answers to in this guide! On average, US drivers pay between $400–2.5K.

The Importance of Car Paint
Bad looks, weak protection against environmental factors, and a low resale value: that's what you can expect to get with a poor paint job. Even if you're the proud owner of a rough-tough muscle car or a premium sports car, you'll have a hard time selling it for a fair price. So, if you see that the paint is starting to fade away, that's a clear sign that a visit to the closest body shop is in order.
On top of the visual gains (a polished, smoothed exterior), a new layer of decent-quality paint will protect the steel body from rust/corrosion, wear, tear, and scratches. Summing up, very few things are as important in a vehicle's interior as the paint. And with that out of the way, let's see how much we'll have to pay for it.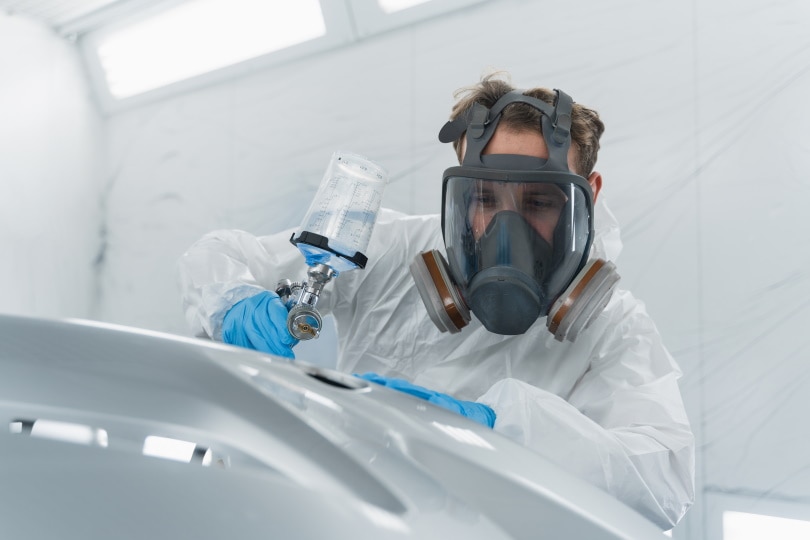 How Much Does a Professional Car Paint Job Cost?
On average, US drivers pay $400–2.5K, but with paint, it all comes down to the quality of the job. For example, a basic paint job done at a run-of-the-mill auto shop will only set you back $300–900. For that kind of money, you'll get a few layers of synthetic enamel paint that won't necessarily cover the areas that aren't within sight (like the inside of the car's hood).
If you're ready to pay twice as much, the auto paint technician will sand down the car's exterior first, get rid of the rust, remove any signs of dirt and grime, and only then paint it. This way, the paint will last longer and look better, but you will have to invest anywhere between $1K and $3.5K. Finally, people with thick wallets might want to opt for premium-quality paint, also known as a showroom-quality job.
Along with sanding the car's body and fixing the dents, the auto shop will add multiple layers of top-notch paint for extra polish, up to 24 coats. That will cost you $2.2–20K and take 2–4 weeks to complete.
| | |
| --- | --- |
| The average cost in the US: | $400–2.5K |
| Basic/cheap paint job cost: | $300–900 |
| Standard paint job cost: | $1–3.5K |
| Showroom-quality paint: | $2.2–20K |
Cost to Paint a Car by Different Regions
When browsing through different auto shops, you've probably noticed that their prices vary depending on the city and the state. This has to do with regional policies—a very common thing among service centers. Here's a quick breakdown of the average cost of a paint job in different parts of the US:
| | |
| --- | --- |
| The East Coast: | $600–2.7K |
| The North Coast: | $550–2.6K |
| Midwest US: | $420–2.2K |
| The West Coast: | $600–2.5K |
| South-Atlantic States: | $530–2.1K |
How Much Do Body Shops Charge for the Job?
On average, auto shops charge $50–100 per hour. And it usually takes them 2–3 hours to get the job done. So, that means you're looking at $50–300 for the labor alone. This isn't very steep, though, especially if we consider how much certain technicians charge for replacing an alternator, serpentine belt, or an engine.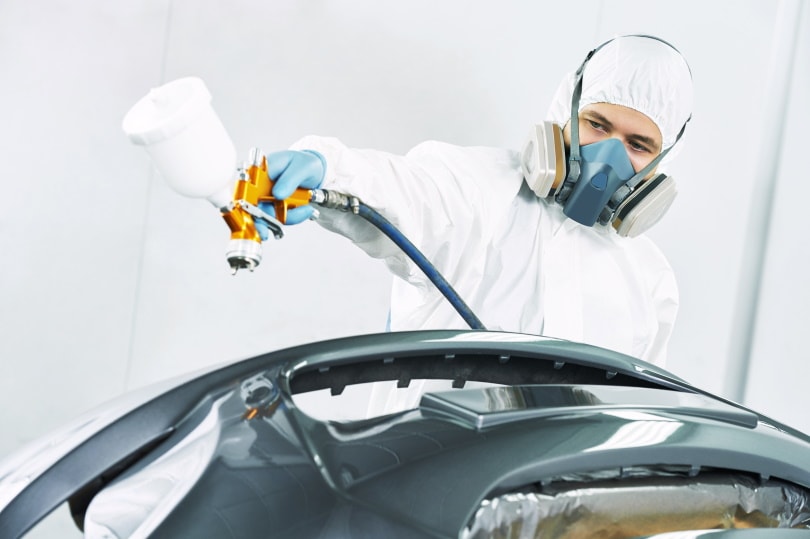 Professional Paint Job vs. DIY
If you think that auto body shops are charging way too much to paint your car, maybe you should do it yourself? To get all the necessary supplies, you'll have to invest $200–1.5K. However, please do keep in mind that this isn't going to be a walk in the park. Multiple coats of primer, a topcoat, specific hardware, and years of experience—that's how professionals deliver a quality finish.
Plus, you need to ensure the area is dirt and dust-free; otherwise, the paint will go to waste while it's drying. Oh, and you won't be able to pull this off without a spray gun, masking tape, and sandpaper. So, yes, while painting the car manually might save you a buck or two, it just won't be worth it. Most likely, you'll end up buying expensive stuff and, essentially, letting it go to waste.
Most Common Types of Paint
Types of Paint
Polyurethane is one of the cheapest options on the table. Plus, it doesn't take a very long time to apply.
Enamel (synthetic) has been around since the 30s. Oil-based, this paint type is relatively reliable and long-lasting. Enamel can be acrylic, by the way.
Lacquer (also available as acrylic) is a good pick if you're going for a clear coat for the car.
A higher resale value and stronger resistance to fading—that's what you'll get with metallic car paint.
Do you know what Plasti Dip is? Essentially, it's a rubber that "sticks" to the car and can be easily removed later on.
A Vinyl Wrap is also quite common. As an adhesive, it takes even less time to apply and peel off.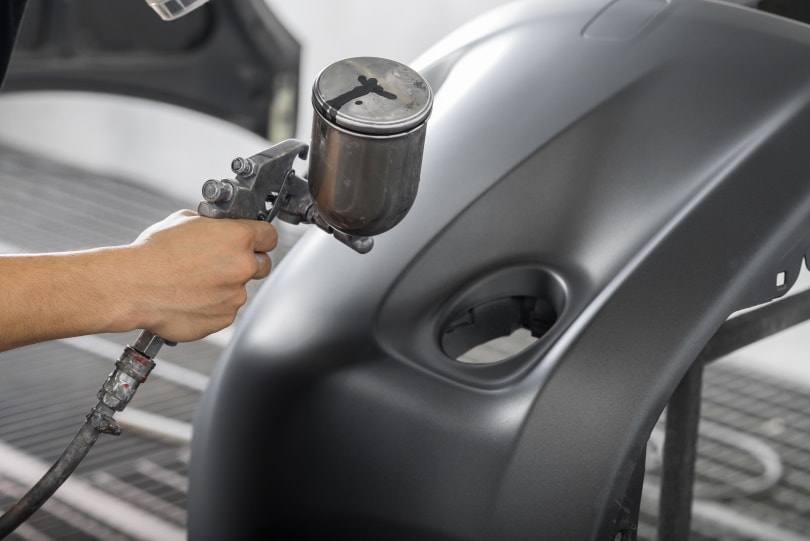 Additional Costs to Anticipate
What if you only need the technicians to paint one of the bumpers? Or maybe you want the body shop to fix the dents and leave everything as it is? Here's a detailed breakdown of how much they'll charge you for that:
| | |
| --- | --- |
| Scratch repairs cost: | $200–3.5K |
| Cost of fixing dents: | $70–2K |
| Painting the bumper: | $350–600 |
| Full-body waxing: | $50–150 |

How Often Should I Repaint the Car?
On average, it's recommended to do that once every 4–5 years. But, if you wax it regularly, the paint will go on for twice as long (approximately 10 years). Now, in ideal conditions, car paint can last for up to 15 years. However, constant exposure to natural elements does reduce the lifespan of even the most expensive paint. Speaking of different paint types, urethane is one of the most resilient and durable options on the market.
In contrast, acrylic paint is a bit too soft for certain climates (when it's extremely hot or cold). Finally, metallic paint is more suited for sports cars. But it's not particularly cheap. Now, before you go ahead and repaint the car, have it checked by a mechanic. They'll tell you whether it is, indeed, the right time to add a new layer, or maybe a partial paint job is what the car needs.
Does Car Insurance Cover the Paint? What About an Auto Warranty?
If we're talking about faded or peeled-off paint, then no, don't expect your insurance to pay for any of that. Exposure to elements and tear/wear is not something that car insurance companies cover. If you have what's called "collision insurance", it will back you up and cover paint damage in full, but only if it was caused by an accident (like a crash, for example).
And then there's the "comprehensive coverage". With it, the insurance company will also pay for damages caused by natural disasters (lightning striking the car, a tree falling on it, theft, and fire) and vandalism. Unfortunately, this insurance doesn't cover collisions with other vehicles. As for the bumper-to-bumper car warranty, it won't cover tearing or fading paint, either.
You can only rely on it to pay for the damages if the paint is peeling off because of a manufacturing defect.

Conclusion
Can't get enough of how awesome your car looks after a paint job? We get it! There's nothing more satisfying than a fresh coat of paint. It makes the car look brand-new, not to mention offers much-needed protection against natural elements and boosts its resale value. A standard paint job won't cost you much, either, and it shouldn't be hard to find the perfect balance of price and quality.
So, instead of postponing it, go ahead and give your car this well-deserved treat. It's always better to stay one step ahead of fading, chipping, wearing off, and tearing. For that, make a habit of constantly checking on the vehicle to see whether a paint job is in order, or not.
---
Featured Image Credit: Heryz Zahhar, Shutterstock