How Much Does a Riding Lawn Mower Weigh?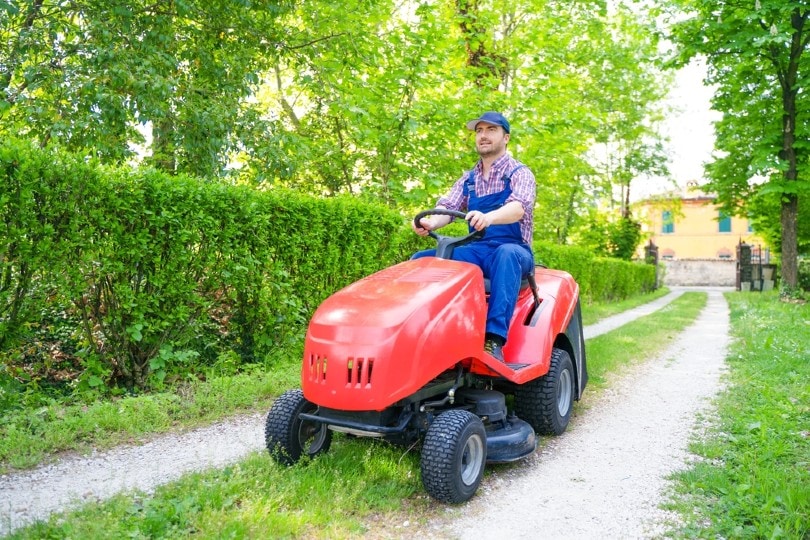 You should look for three main qualities in lawn mowers: grass-cutting precision, power output, and convenience. But as far as the comfort of operating a mower is concerned, numerous factors play a role in it, including its weight.
What is essential for you in a mower might be insignificant to another person. But there is one common feature we all seek in a lawn mower: it should be comfortable for us to operate.

Types of Lawn Mowers
Most manually operated lawn mowers are push lawn mowers. You need to grab it from the handle and apply force to it to do the job. As you can imagine, it requires a great deal of strength to operate push lawn mowers, which is why only small lawn owners prefer to buy them.
You can find plenty of ride-on mowers that operate on gas, battery, and electricity. Just hop on them, turn the engine on and drive it on the lawn you want to mow.
You might be wondering, "If I have to ride them and not lug them, then why even worry about their weight?" Knowing your mowers' weight helps you know how best to handle it.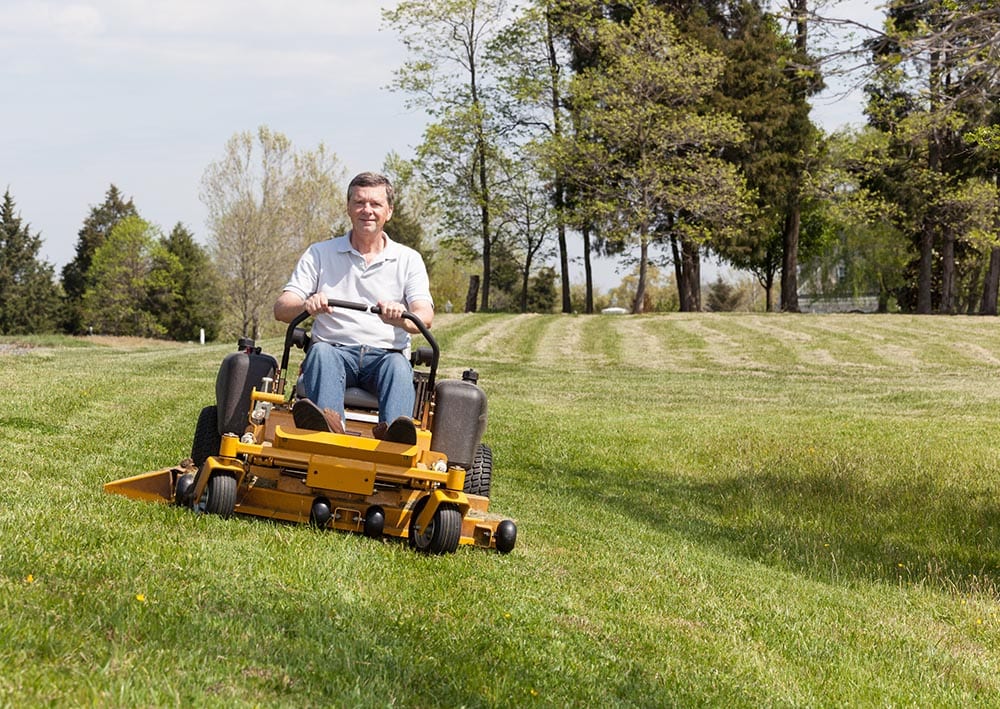 How Much Do Ride-On Lawn Mowers Weigh?
Every lawn mower is quite distinct from the other models. Even if you compare the weight of two lawn mowers from the same company, you won't find them of similar weight. Their weight varies depending on the type and features they offer. Generally, gas-operating lawn mowers are the heaviest compared to battery or electric mowers.
Because gas-operating lawn mowers have large engines, which make them not just heavy but convenient to mow large fields in less time, and you can even ride them uphill with ease.
Generally, ride-on lawn mowers weigh around 500 lbs. This weight mostly comes from their engines and decks. And having a heavyweight in lawn mowers is considered a good feature because it makes them safe to ride.
Why Are Lawn Mowers So Heavy?
The engine is the biggest factor that is responsible for the weight of ride-on lawn mowers. And there are different types of engines used in lawn mower models.  Companies produce some mower models with small engines and other models with twin-cylinder engines. So the bigger the engine, the heavier the lawn mower becomes.
In addition to that, all the equipment that comes with a mower or you attach anything extra also affects its weight. Some mowers have a grass box attached to them, and some come with side discharge. Plus, the type of blade and its width also significantly enhance the weight of a lawn mower.
Other factors are fuel and batteries.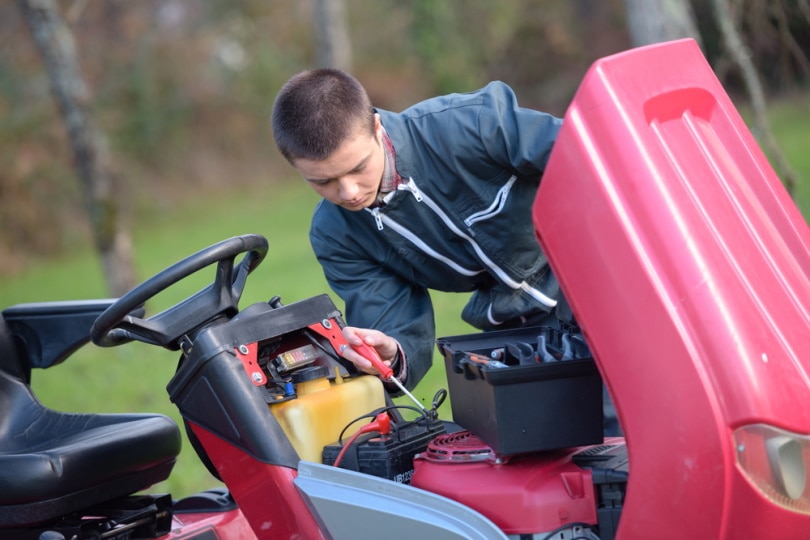 The weight of eco-friendly lawn mowers depends on how many lithium batteries it uses. In general, most of these ride-on lawn mowers use four lithium batteries, even though you'll see they have the capacity to carry six. You have the option to buy two extra batteries and place them in the position.
Ride-on mowers that run on gas become heavier as you fill gas in them. If you measure the weight of gas, you'll find that one gallon of gas weighs about 6.3 pounds (2.9kg). And most gas-operating lawn mowers are capable of carrying 1 to 3 gallons of fuel.
That is to say, if your ride-on lawn mower's gas capacity is 3 gallons and you fill it to the brim, its weight will further increase by 12.6 pounds (5.7kg).
Apart from gas, the material that the manufacturer uses also accounts for its cumulative weight. If a ride-on mower has a plastic body, its weight would be less compared to the one that is built with steel.
With the use of plastic, you may get a low-weight mower, but its quality would also be low as plastic can't survive in tough weather conditions. Even normal weather changes reduce its longevity.
On the other hand, a steel body is durable. So even if you accidentally hit a tree or bush while mowing, nothing will happen to your mower.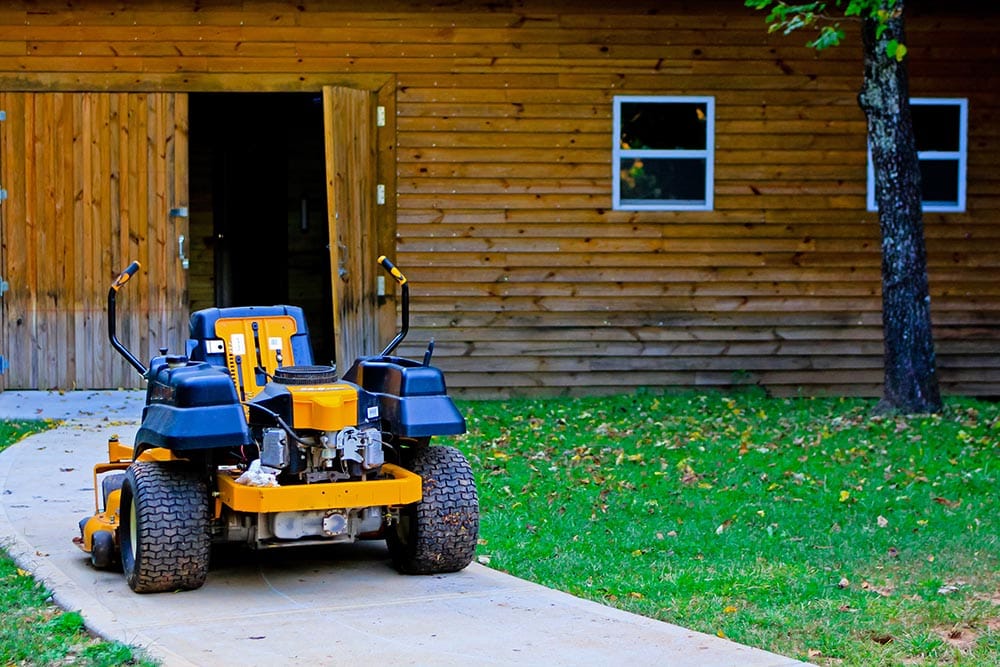 Does a Zero-Turn Mower Weigh More Than Other Mowers?
Zero-turn technology enhances a mower's maneuverability and helps you cut the grass close to obstacles precisely and easily. So, you don't have to spend extra time trimming the grass around bushes, trees, flower beds, or fencing.
To integrate this complex technology into a mower, the manufacturers have to install some extra parts into the mower and design it differently than normal ones. That intricate design enhances its capability—and weight as well.
If the weight of a zero-turn mower is 650 pounds, the company will tell you it is a lightweight mower. That means it's quite common for them to weigh more than 650 pounds.
The average model of a zero-turn mower will have a weight of around 1,000 pounds. Most likely above it.
But zero-turn mowers are quite useful especially if you want your lawn to look exquisite. It makes it convenient to cut grass in different patterns. Plus it can save a lot of valuable time.
How Much Do The Best Riding Lawn Mowers Weigh?
| | | |
| --- | --- | --- |
| Ride-on Mower Models | Weight in Kilograms | Weight in Pounds |
| HUV 4421 | 1,366 | 3,012 |
| Craftsman 42″ 420cc Automatic Riding Mower | 191 | 420 |
| John Deere S180 | 239 | 526 |
| John Deere S240 | 208 | 458 |
| John Deere E150 | 220 | 483 |
| John Deere X300 | 246 | 542 |
| EGO POWER ZT4204L | 205 | 450 |
Here is a list of the four best riding lawn mowers, along with their weight information.
1.

HUV 4421
This amazing model of Husqvarna ride-on lawn has a gross weight of 2,750 lbs (1247 kg). And if you get the high capacity option, its weight will become 3,012 lbs (1,366 kg)
---
2.

Craftsman 42″ 420cc Automatic Riding Mower
Craftsman riding mowers are known for their durability. And this 42″ 420cc Automatic Riding Mower is ideal for mowing a large yard. It weighs around 520 lbs.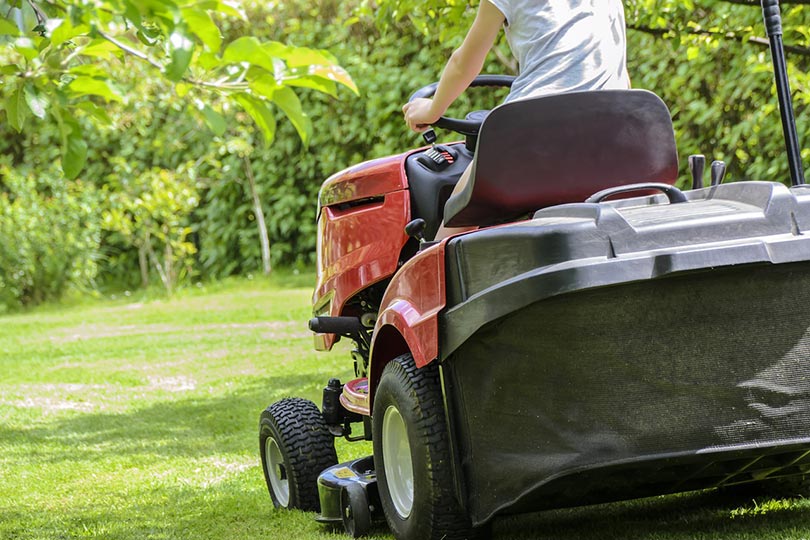 ---
3 John Deere S180
The S180 has the most powerful engine and looks very bulky, yet it only weighs around 526 lbs (239 kg).
John Deere has three more fantastic ride-on lawn mowers:
John Deere S240 (458 lbs)
John Deere X300 (542 lbs)
John Deere E150 (483 lbs)
---
4.

EGO POWER ZT4204L
This ride-on lawn mower functions on batteries and weighs around 450 lbs. It is an ideal eco-friendly mower option.

Conclusion
A lawn mower with more weight makes it safer to mow rugged land. You don't feel bumps, and the ride becomes stable. Apart from that, their weight will only become an issue when you have to move them from one location to another, which of course, doesn't matter much if you're riding it!
---
Featured Image Credit: tommaso79, Shutterstock