How to Clean Dog Urine from Memory Foam: 9 Practical Steps
As pet parents, it's certainly not one of our favorite situations to deal with. When our little friends have an accident in the house on the floor—it's bad enough. When they have one on the bed—especially a memory foam mattress, it's can feel like an outright calamity!
Don't worry, there's good news—there's no need to panic because we've got you covered. It's a situation you're going to need to deal with right away, but that's probably how you've made it to this page!
We'll assume there is no time to waste—and get right to it:

The 9 Steps to Clean Dog Urine from Memory Foam
1.

Get the Memory Foam as Dry as Possible
Ok, let's get the bad news out of the way first: this is going to be a fairly labor-intensive job. The good news is you can get your memory foam clean again. You're going to need to get as much of the dog urine out of the memory foam as possible. The best thing to do is to find some old towels and rags and get to dabbing!
Don't try to wipe it out—you'll only make the stain bigger. This is one of those 'blot don't wipe' scenarios. Hold the towels down, let them absorb as much as possible, rinse and repeat. Keep going until it's not quite dry before moving on to the next step.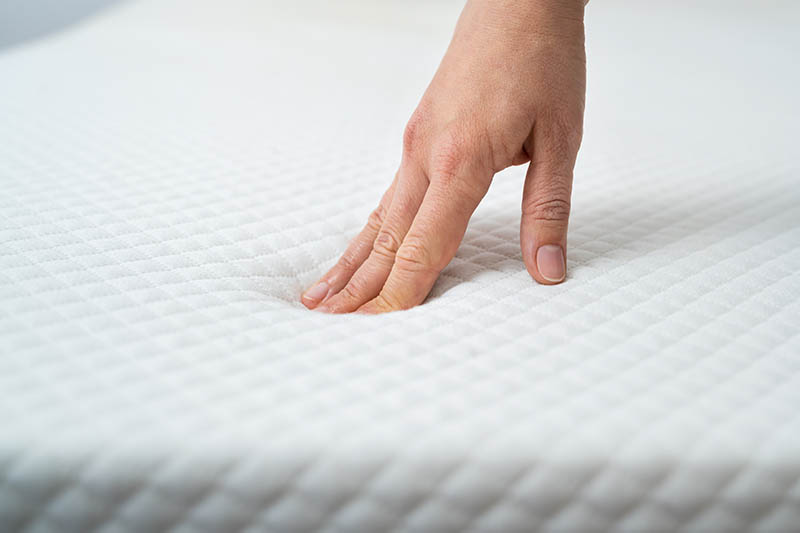 ---
2.

Spray it Down with Enzyme Cleaner
If you're fortunate enough to be prepared with enzyme cleaner kicking around the house, then hit it with that next. Our suggestion would be to apply it quite liberally. The enzymes are designed to neutralize the odor of the urine. But if you don't have any around the house, don't sweat: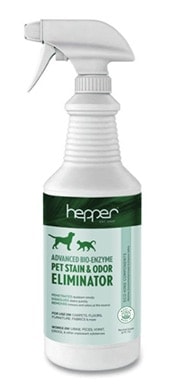 Are you looking for an enzyme cleaner that can keep your house clean and your pet happy? We recommend the Hepper Advanced Bio-Enzyme Pet Stain & Odor Eliminator Spray, which permanently gets rid of the most stubborn stains and smells. There's even a 100% satisfaction guarantee so you can try this cleaner risk-free! Click here to order your first bottle.
At House Grail, we've admired Hepper for many years, and decided to take a controlling ownership interest so that we could benefit from the outstanding products of this cool cat company!
---
3.

No Cleaner in the House? Make Some! 
If you don't have pet urine cleaner in the house, then you can make homemade cleaner using vinegar and water. In fact, you can just leave the water out of the mix and use only vinegar. Again, liberal is good when applying this to the stain. Vinegar also neutralizes urine odor naturally.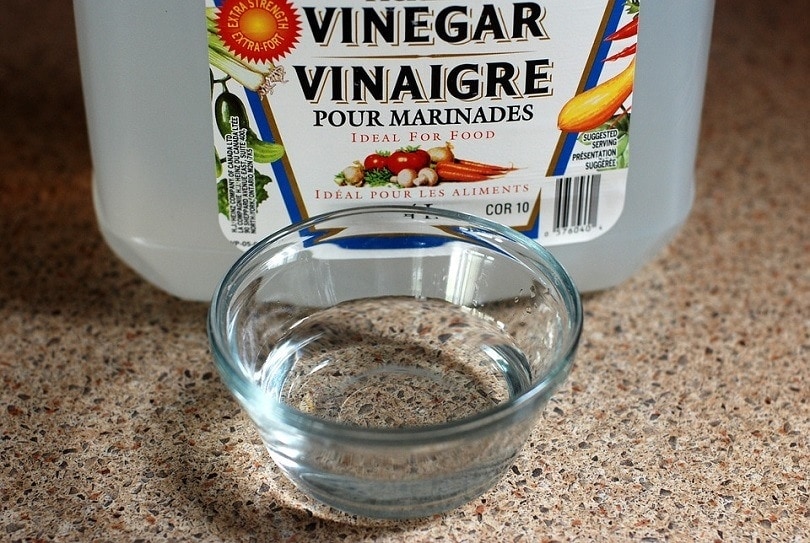 ---
4.

Dry it Back Out 
No matter which cleaner you use, you're going to let it sit for a while. In the case of enzyme-cleaners follow the directions on the bottle. If you used vinegar, then let it sit for a good half an hour. After that, you are going to re-apply some elbow grease and blot it out until it's nearly dry.
---
5.

Spray it Down: Round II
This time, we're hitting it with a different solution. You're going to want to mix up some laundry detergent and water. Using a half and half ratio, mix them together in an old spray bottle and start soaking down the affected area again. This time, it's going to sit for 20 minutes.
---
6.

Back to Drying!
You guessed it. You're going to be really good at blotting liquid out of memory foam by the end of this exercise. Get that memory foam almost dry again using another clean old rag or towel.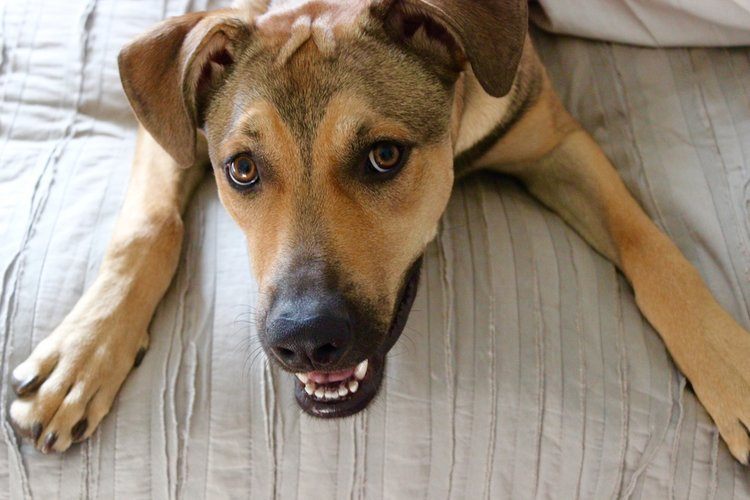 ---
7.

Rinse Time
Now that we've had all those enzyme cleaners, vinegar, and detergents hanging out in there, coaxing out that unwanted dog pee, it's time to flush everything out. Use a good amount of lukewarm water and just give it one last soaking. You don't need to let it sit this time, but you will need to:
---
8.

You Guessed it Again: Dry it Out (Last Time)
You know the drill! One positive aspect of this whole exercise is well, just that—exercise! Thankfully, this is the last time you're going to have to dry it out like this.
---
9.

Finishing Touches
The foam will likely still be a little damp in the affected area, despite your newfound prowess as a mattress-blotter. The final step is to cover it in baking soda and let it sit overnight – 24 hours. This is an odor absorbent and is going to help the foam dry out properly, without any smell. Once you've let it sit, just vacuum it out.
---
Can I Get an Old Dog Urine Stain out of My Memory Foam?
If you've come home from a vacation and found a stain that's been sitting for a while, it's going to be a lot harder to get it out. You can try letting it soak in water for a few minutes and then starting from step on. Depending on how long it has been sitting you may not be able to save it, but it's worth a try, and if it is on the fresh side, you have a good chance of still saving your mattress!

Conclusion
Your bed is a place of safety and comfort, and when it's violated in any way, even by your best little friend, it can test you! If you've come home and found a wet stain on your memory foam mattress don't panic. These things happen, and with a little bit of work, you will be able to get this cleaned up, no problem. Good luck, and good blotting!
See Also:
---
Featured Image Credit: cunaplus, Shutterstock