How to Decorate a Small Bedroom: 17 Great Ideas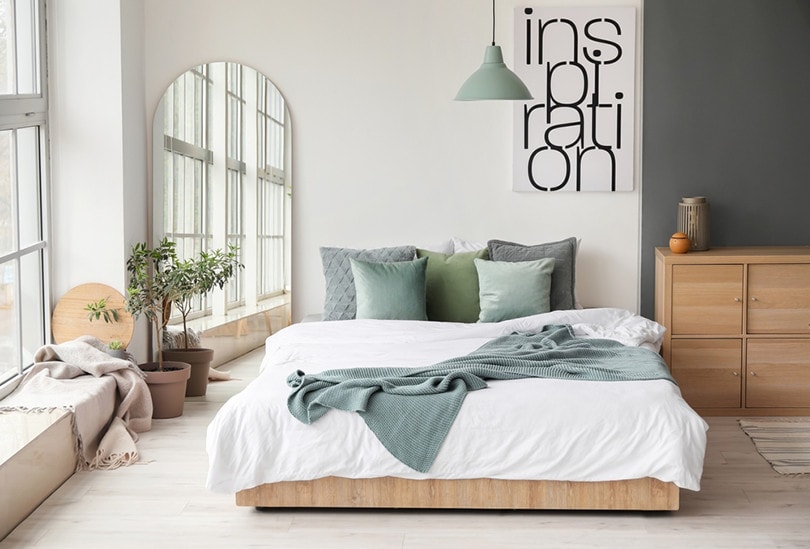 Bedrooms are a lot of fun to decorate. Whether you are decorating a room for a child or decorating a useful guest room, there are tons of directions to go in. If the room is small, some people feel constrained by what they can do. Small bedrooms often end up looking very similar. A bed in the center, a dresser on one side, and an end table on the other. Small and sparsely populated bedrooms are not very welcoming or very useful.  But it does not have to be that way. There are tons of creative ways to decorate a small bedroom that can utilize every inch of space, make the room feel much larger than it is, and remain trendy and on brand.
Here are 17 amazing ways to decorate a small bedroom.

The 17 Great Ideas to Decorate a Small Bedroom:
1.

Use Every Corner
Corners can be awkward spaces to decorate. They are usually small and out of the way, and it can be hard to find something that fits well in an otherwise empty corner. When decorating a small bedroom, it is imperative to use every corner to your advantage. Corners can be great places for lights, tables, shelving, or seating. Leaving empty corners leaves valuable space untouched in an otherwise small bedroom. If you are getting near the end of your design and you have an empty corner, check to see what the room is missing. Does it need more storage? Does it need more character? Then find something to fit in the corner to tie the room together.
---
2.

Consider A Loft Bed
When decorating a small bedroom, few people take the time to consider a loft bed. Some people think loft beds are just for children or dorm rooms, but that is not the case. There are plenty of sturdy loft bed options on the market that are perfect for an adult room. Beds take up the most amount of space inside of a bedroom. A typical bed can take up 35 sq. ft. or more, which is over a quarter of the usable space. Elevating the bed to open up the floor underneath can increase your usable floor space by 25% or more. Loft beds allow you to put a desk, additional seating, or storage into a room that otherwise would not have been able to fit it.
---
3.

Install a Murphy Bed
Like loft beds, Murphy beds can add a lot of additional floor space to a bedroom. Murphy beds are great for rooms that might not be utilized for sleeping as much. A Murphy bed can easily combine an office and a guest room into one newly functional space. Since the bed folds up into the wall, it gives you a lot of options as a homeowner, decorator, and designer in how you use the space to its fullest potential. Murphy beds might seem intimidating or hard to use at first, but in the right space, with the right design, they can be an absolute game changer.
---
4.

Utilize Trendy Shelving…
Storage space can make any room feel larger. One thing that makes a bedroom feel cramped is when there is not enough storage and items have to be stored in the open. Shelving can double as a decorative piece and a functional object for a small bedroom. Expand your vision beyond basic square shelves to something more eclectic. Shelving can be offset in different sizes and shapes or configured in non-traditional ways to increase storage space and character for a small bedroom. Eclectic shelving is also a great way to fill an empty corner to maximize the use of the space.
---
5.

…Or Consider Installing a Built-In
One way to add breathtaking character and resale value to your home is to add custom built-ins to your bedroom. A built-in has the benefit of fitting your space perfectly, and they can be designed to fill any need that you wish. Built-ins can be bookshelves, dressers, wardrobes, cabinets, or open shelving. The customization is nearly endless. Built-ins are extremely trendy and can add lasting value to your bedroom while also configuring the space to fit a variety of different needs. This feature adds value because they are semi-permanent, meaning that they will be passed onto the next owners, unlike furniture.
---
6.

Don't Waste Your Window Space
Windows are great for letting natural light into a bedroom. Natural light is a critical component to making a room feel larger than it really is. However, do not neglect the window space when decorating a small bedroom. Windows are valuable areas to build around to create cozy spaces within an otherwise tiny bedroom. Windows are great places for reading nooks, shelving, dressers, custom lighting, and more. Do not be afraid to decorate around or even on the windows to maximize the space as much as possible. If you can add a window bench that can add additional seating without taking up valuable floor space. Windows are also a great place to install green houseplants for a pop of color and nature.
---
7.

Get Furniture That Fits Perfectly
Do not waste space by buying furniture that does not fit just right. In a small room, every inch counts. If you buy furniture that creates gaps, those gaps will be wasted space and will ultimately decrease the usable space in the bedroom. For example, if you have a 48" wall and you buy a 42" desk, you will leave six inches of dead space that you have to fill. The smaller the leftover gaps, the harder the space is to use. Instead, find furniture that will fit together perfectly. Instead of a 42" desk, you can get a 36" desk and a 12" shelf to fill the wall completely. Wasting a few inches here and there will quickly add up and will ultimately make the room less usable, and it will feel smaller.
---
8.

Downsize Your Bedside Tables
Bedside tables and end tables have become very popular because they are places where people like to put their gadgets. Everyone needs to charge their phone, their tablet, and their smartwatch every night, and most people do this by plugging their tech in and setting it on a bedside table. Most people don't think about their bedside table much, but if you are not careful, a bulky table can add up to a lot of wasted space. Instead of getting a standard bedside table, look to downsize without losing functionality. You can get small tables that are just there to fit your phone and a small lamp. You can get a floating table or chunky shelf that will leave the underneath space and the surrounding space clear for other decorative items.
---
9.

Downsize Your Chairs
Like bedside tables, chairs can be extremely large. A nice armchair or plush reading chair might sound good in theory, but you will quickly find that their bulky girth will take up more space than you anticipated. Many chairs have a very large profile that takes up a lot of space. Instead, look for small chairs that are still comfortable. You can even consider stools depending on the setup. There are antique chairs that are smaller than modern chairs that would fit a rustic style. You can also look for slender rocking chairs that are smaller than a typical recliner to add some stylish seating to a small bedroom.
---
10.

Don't Be Afraid of An Accent Wall
Small spaces might not feel like the best place to add an accent wall, but that is not the case. Even the smallest bedrooms can benefit from the addition of an accent wall. There are many different options that you can utilize to make a small room feel larger, brighter, and more inviting. You can simply paint an accent wall a complimentary color. You can turn a wall into a space for artwork, photos, and other visual accents. You can add shiplap, board, and batten or tile to create a more architectural accent wall. All of these options can be utilized to great effect in a small bedroom. And it can even save you a bit of money since the walls will be smaller than in other rooms.
---
11.

Add Color to Highlight Focal Points
One trick you can use to make a small bedroom feel bigger and more inviting in one swoop is to use colors to draw the eye. Instead of having people come in and look around at how small the space is, you can use bold colors to highlight focal points. If you want people to look at the window, use bold curtains. If you want people to look at the bed, use a colorful bedspread or an accent wall. These bright colors will draw the eye to one part of the room, and it can make a room feel larger by reducing the focus on the overall space. It can also help make a space feel cozy and welcoming if you have someone's eyes drawn to a well-dressed bed or an inviting dresser arrangement.
---
12.

Consider Useful Ladders
Ladders can make for an excellent decorative piece for a small bedroom. Ladders can add character, add utility, and add storage depending on what you find. An antique ladder can become a unique way to hang belts, ties, scarves, lights, and other things. You can get a narrow functional ladder that can allow you to access high shelves or the tops of tall furniture so you can use it as storage or extra decorating space. There are numerous creative ways to incorporate a ladder into a small space. They can be very versatile, which is perfect for someone looking to decorate a room where other options are not feasible due to size constraints.
---
13.

Don't Neglect the Foot of Your Bed
Many people don't think much about the foot of their bed, and that can be a mistake. The foot of the bed is a great place to add some functional furniture to a small space. The foot of the bed can host a sitting bench, a small dresser, storage cubes, or creative lighting. If you are looking for additional decorating space for your small bedroom, check to see if you have any room at the foot of the bed. There is a good chance that you do. Just make sure to measure and leave enough space for people to comfortably walk by the bed before installing anything too bulky.
---
14.

Utilize Every Inch Under and Behind Your Bed
Beds can be a useful base for a lot of different decorative objects. You do not just need to consider the foot of the bed but also the head of the bed and the area around the bed. You can find neat storage beds that have a lot of different areas to store things like books, shoes, and pocket items. Some beds can feature large flanking built-ins, or you can find a bed with a lot of underneath storage. The bed is the largest object in a bedroom and neglecting to use the space for multiple purposes can be a major mistake. Taking a bed and adding storage, utility space, or flavorful accents can really add a lot to a room that otherwise might not have enough space for additional storage.
---
15.

Consider Swinging Sconce Lights
One type of lighting that is extremely popular right now is antique-style sconces. These swinging sconces can add a pop of unique character to a space without taking up a lot of room. Swinging or armed sconces can be used as ambient lighting or as a reading light. The swinging motion allows you to move the light into different positions to fit your needs depending on the mood without taking up a ton of space on top of a dresser, bedside table, or shelf. Having versatile lighting that is also stylish is a huge plus. Having versatile lighting that is also stylish and doesn't take up valuable space is a no-brainer.
---
16.

Keep It Light
Dark rooms feel smaller than light rooms. If you are struggling to make your room feel larger and airier, you should strive to brighten it up. Make sure you are getting ample amounts of natural light. You might need to raise the blinds and add lighter curtains to let in more light. Also, try to use light or neutral colors. Light blues, light grays, and whites are much better for a small space than browns, blacks, and dark grays. Having lots of natural light, light paint, and bright colors will go a long way toward making a small room feel larger than it really is. You will be astonished at the difference between a small dark room and a small bright room.
---
17.

Use Mirrors for a Larger Feel
Another way to add style to a small room while also making it feel larger is to utilize mirrors. Decorative mirrors are making a comeback, and there are many great options to choose from. You can install a simple circular mirror over a bed or dresser to give the space some charm and reflectiveness. You can also go bold and get a large leaning mirror that doubles as a functional dressing mirror and an accent piece. Large mirrors can also hold string lights, scarves, and other light objects. Depending on the design, a large or small mirror can add a lot of character while also making the space feel bigger.

Conclusion
Do not feel constrained by a small bedroom any longer. Free your mind to explore new ideas that can transform a small boring bedroom into a more expansive and useful space. Guest rooms will feel more inviting. Kids' rooms will have more space for toys, clothes, and curios. Small primary suites will find tips and tricks to eke out every inch of relaxation space possible. There are ideas on this list that can help transform any small bedroom into something grander and more functional.
---
Featured Image FCredit: Pixel-Shot, Shutterstock