How to Get Rid of Snails In Your House & Garden: 9 Methods That Work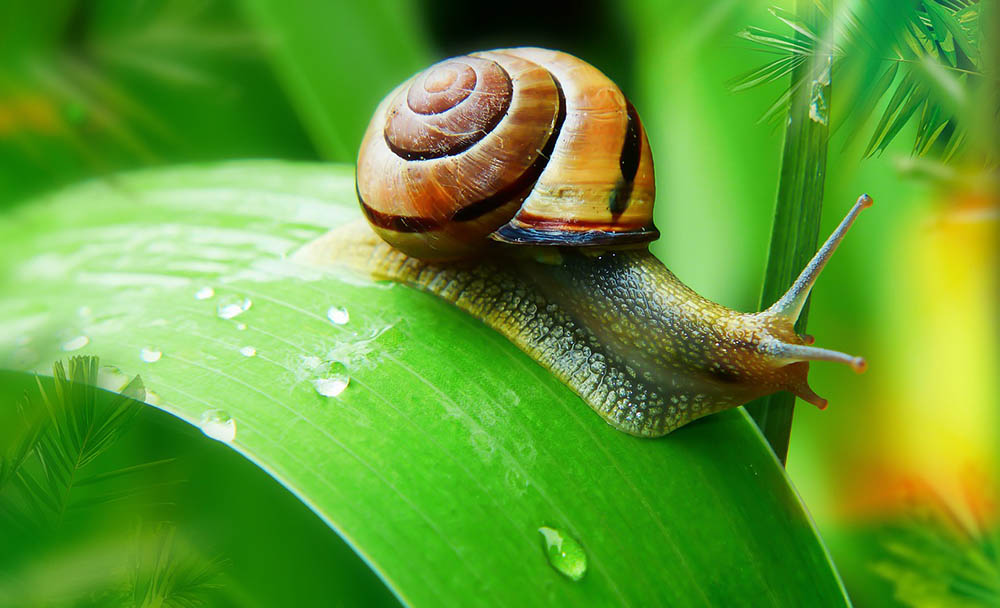 Snails may seem small and unimposing, but they can cause a lot of damage to your home and garden. Snails are known to reduce crop yield, destroy water features, and spread diseases. As such, it's important to get rid of snails in your house and garden quickly and efficiently.
That being said, exterminating snails is easier said than done if you do not know the correct methods that actually work. Below, learn about 9 methods that work to get rid of snails in your garden and house.

The 9 Methods to Get Rid of Snails In Your House & Garden
1.

Snail Baits
Baiting snails is one of the most effective ways of getting rid of the pests. The easiest bait material is a regular can of beer. Just fill a shallow bowl with beer and place it in an area where snails have frequented. Grape juice and iron phosphate also work with this method.
You also have the option to purchase dry baits. Dry baits are more dangerous around kids and pets. So, be careful if you purchase dry baits specifically designed for snail extermination.
Pros
Effective
Affordable
Some options are safe around pets and kids
Cons
Some options are NOT safe around pets and kids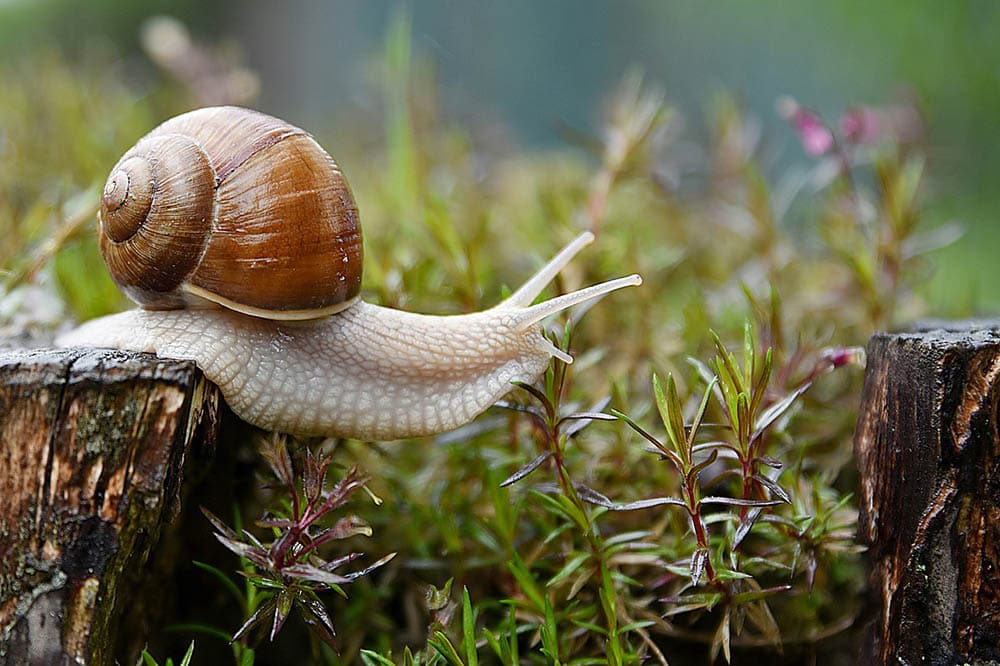 ---
2.

Snail Traps
You can stop snails from eating plants on your property by investing in snail traps. Snail traps will allow you to capture the snails. Although you can purchase traps specifically made for snails, you can easily make your own by inverting grapefruit halves, melon halves, or orange rinds.
DIY fruit snail traps are the best because they are safe around your pets and children, but they are effective because the scent attracts the snails. Once they are inside, the snail will not know how to get out.
Pros
Effective
Affordable
Some options are safe around pets and kids
Cons
Some options are NOT safe around pets and kids
---
3.

Snail Barriers
There are certain materials that snails avoid. If you use these materials as barriers, you can keep snails out of your garden and home.
Copper, Damascus earth, and coarse substances like eggshells or sandpaper are all highly effective for deterring snails. You can also mix a caffeine solution into the coarse substances for further snail extermination.
You will have trouble finding snail-specific barriers, but that's OK. Just buy some of the substances above and sprinkle them around your home and garden. That will do the trick.
Pros
Effective
Affordable
Safe around pets and kids
Cons
Not specifically for snails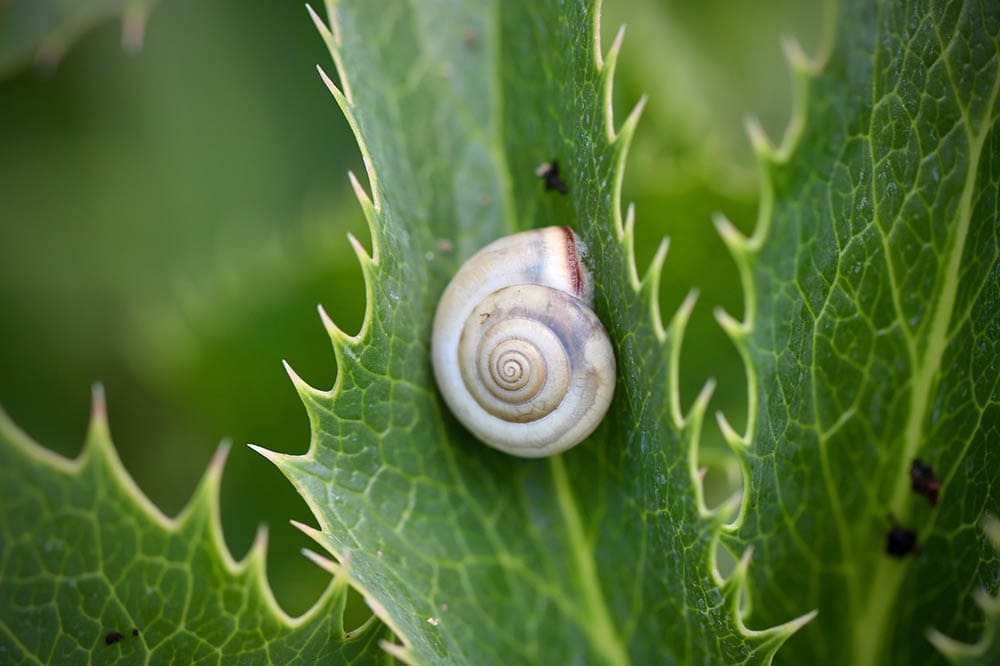 ---
4.

Snail Predators
Certain species are natural predators to snails, such as chicken, geese, turkeys, ducks, beetles, and frogs. If you introduce these predators to your home, they will get rid of the snail problem for you.
Of course, introducing snail predators to your property can be difficult and impossible based on where you live. Snail predators are a good option for individuals who live on a lot of property, but they will be too much work if you live in a small area or urban location.
Pros
Natural snail extermination
Provides you eggs, meat, or other resources
Exterminates other pests
Cons
Requires a lot of time and energy
Not an option for all homes
---
5.

Snail-Resistant Plants
Even though snails are a nuisance to certain plants, other plants are actually snail-resistant and deter them as a result. If you look for gastropod deterrent plants, you will likely have a lot of luck with your snail problem.
Some common varieties to use include:
Fuchsia
Lavender
Poppy
Lantana
Sage
Hostas
Geranium
Nasturtium
Rosemary
Other aromatic species
Many of these plants are beautiful and can be used in your kitchen.
Pros
Effective
Affordable
Safe around pets and kids
Beautiful
Many varieties can be used in the kitchen
Cons
May require you to replant the garden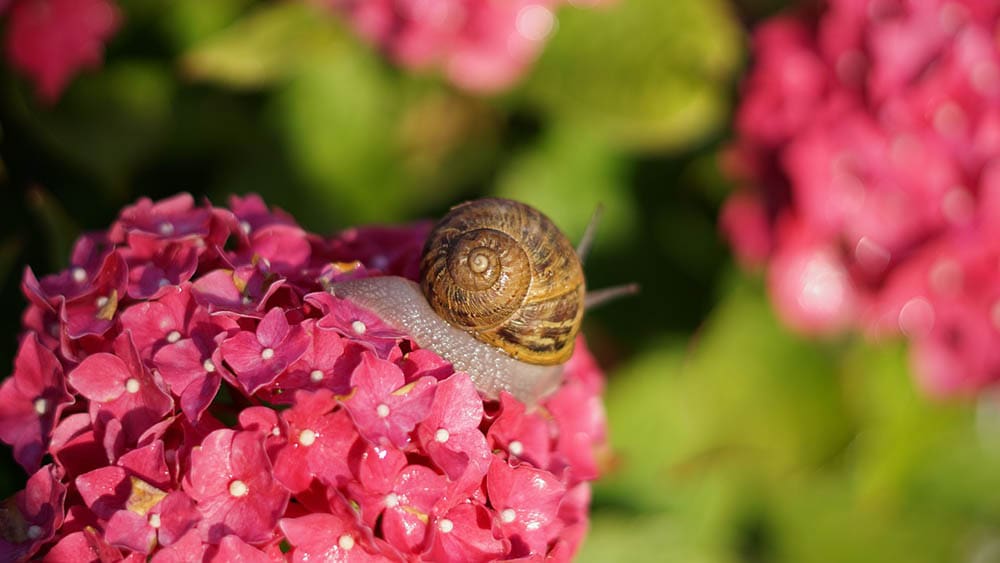 ---
6.

Pesticides
As with any other species, you can get rid of snails by using chemicals or pesticides. You can purchase snail-specific control solutions from the store, but you can also use salt, bleach, garlic, and iron phosphate.
It's important to be careful when using these pesticides. These pesticides are often not safe around children or pets, and they may harm your plants in the process. Be very careful when using pesticides as a result.
Cons
NOT safe around pets and kids
May damage plants
---
7.

Kill Snail Eggs
If you have a serious snail infestation, it's not enough to target the adult snails. You also have to kill the snail eggs. Snails lay their eggs on the soil's surface. Tilling or plowing your garden will effectively kill the eggs. It's important to be diligent in tilling all of the soil so no eggs remain, which can give you a workout.
Pros
Effective
Affordable
Safe around pets and kids
---
8.

Change Watering Schedule
Your watering schedule may be contributing to your snail problem. This is especially true if you water your plants in the evening, which is when snails are most active. Changing your watering schedule will fix this problem dramatically.
Instead of watering your plants at night, do so in the morning if your schedule allows. This will allow your plants to get the water they need to make it through the day without attracting snails and other nighttime pests.
Pros
Effective
Affordable
Safe around pets and kids
Cons
May be difficult depending on your schedule
---
9.

Seal Gaps and Cracks
So far, all the methods we have looked at are for keeping snails out of your plants and gardens. Although keeping snails out of your plants and gardens will help to keep them away from your home, you may be looking for options specifically for home extermination.
In that case, make sure to seal up any gaps and cracks around your home's foundation. Sealing up your home will minimize opportunities for snails to get in in the first place. Plus, this option is good for energy efficiency and saving money. Though this won't deal with present snails, it prevents future ones from getting in.
Pros
Effective
Affordable
Safe around pets and kids
Increases energy efficiency
Cons
Does not do anything about snails currently in your home

When to See a Professional
Snails are regular pests that are common around homes and gardens. Although dealing with one or two snails is easily manageable with the methods above, serious infestations may require a professional exterminator.
If you have too many snails to deal with, contact a professional. Professionals will be able to identify the species, evaluate the damage, and create a customized solution plan to get rid of the snails once and for all.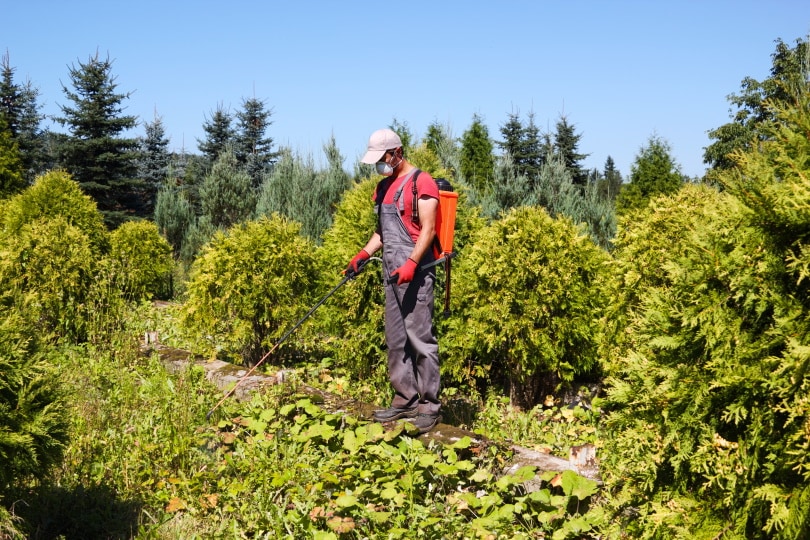 Dangers Associated with Snails
Although you might think that a professional exterminator is overkill for snails, think again. Snails cause a lot of damage to plants and crops as they eat your crop yield. They also destroy your water features and host parasites that can get into your plants, body, and the body of your pets and children.
As such, contact a professional as soon as you realize that your snail problem is far beyond DIY methods. Professionals will thoroughly evaluate and exterminate the species so that your home and garden are safe again.

Conclusion
Instead of allowing snails to overtake all of your property, use one of the 9 methods above to get rid of your snail problem once and for all. If you try these methods and the snails keep coming back, you will likely have a larger infestation that requires a professional.
---
Featured Image Credit: krzysztofniewolny, Pixabay