10 Best Battery-Powered Pressure Washers of 2023 – Reviews & Top Picks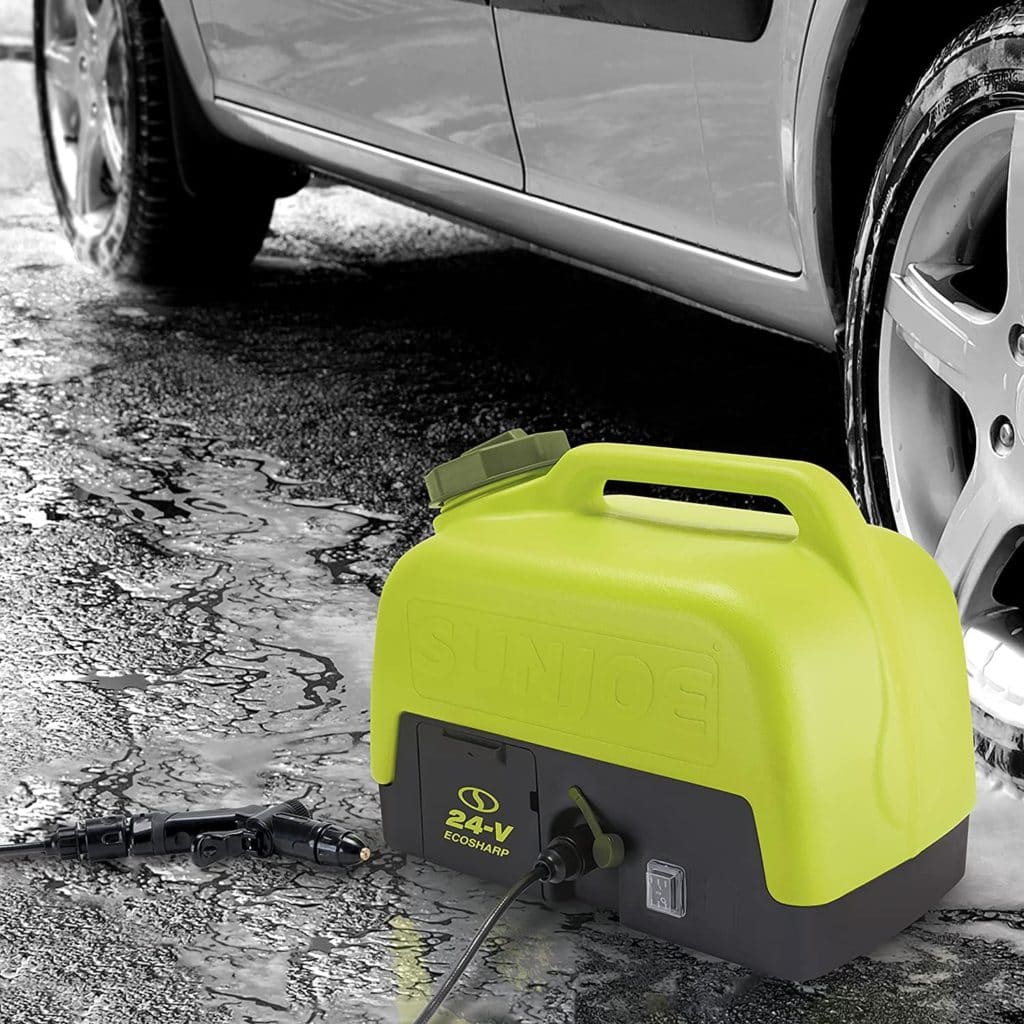 Whether it's your home, car, deck, driveway, sidewalk, or just about anything else that's dirty, a pressure washer is one of the fastest and most effective ways to clean it. For a long time, these machines were loud, gas-guzzling beasts that harmed the atmosphere in direct proportion to how much they cleaned.
But today, pressure washers are a very different kind of device. These machines are powered by batteries, so they're quieter, have no emissions, and they're generally smaller, lighter, and more portable than their gas-powered ancestors. That doesn't mean they're all built equally though.
So, we decided to put as many of today's best battery-powered pressure washers as we could find to the test and see which ones came out on top. After extensive testing, we've written the following ten reviews to share our findings with you. Hopefully, they'll help you pick the right cordless pressure washer without having to test them all yourself!

A Quick Comparison of Our Favorites in 2023
Rating
Image
Product
Details

Best Overall

Sun Joe 1160 Cordless Pressure Washer

Adjustable pressure
Stout 600-watt motor creates pressures up to 1160 psi
Can do low-pressure washing
CHECK PRICE

Best Value

WORX Hydroshot Portable Power Cleaner

Extremely portable
Great for low-pressure cleaning
The spray nozzle has four settings
CHECK PRICE

Premium Choice

Briggs & Stratton Battery Pressure Washer

Max pressure of 3100 psi
Easy to start with no choking, priming, or pull-cords
Battery-powered electric ignition
CHECK PRICE

Ivation Multipurpose Portable Spray Washer

Holds 4.5 gallons of water
Weighs less than 17 pounds
Can be charged at home or in a car
CHECK PRICE

Sun Joe Electric Pressure Washer

Weighs under ten pounds
20' hose
Holds five gallons of water
CHECK PRICE
The 10 Best Battery Pressure Washers
1.

Sun Joe 1160 Cordless Pressure Washer – Best Overall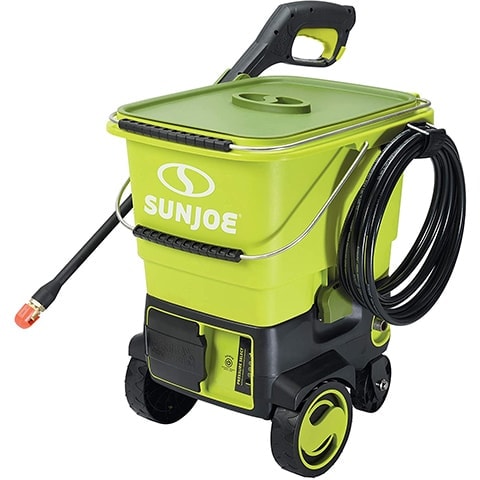 Loaded with the best features and functionality, the Sun Joe Cordless Pressure Washer is our pick for the best battery-powered pressure washer. It's got a stout 600-watt motor that can spray up to 1160 psi. But since this sprayer is equipped with pressure select technology, you can set it to a lower pressure for washing things you don't want to get damaged, like your vehicle or a deck.
The four quick-connect spray tips will also help you to dial in the right spray for any application. They range from a straight spray up to 40 degrees, ideal for cleaning projects ranging from light to heavy-duty.
The bucket on top holds just over five gallons, so once you fill it, you should be able to tackle most jobs without needing to stop for a refill. And to ensure that the battery lasts until the cleaning is done, this sprayer implements a total stop system that completely shuts off the pump when you're not pulling the trigger.
One minor frustration we had with this pressure washer is that there's nowhere on board to keep the attachments, so they just end up getting set on top, making them easy to lose. Despite this, we still think this is the best cordless pressure washer on the market this year.
Pros
Adjustable pressure
Can do low-pressure washing
Stout 600-watt motor creates pressures up to 1160 psi
Includes four spray tips
Cons
Nowhere to keep attachments
---
2.

WORX Hydroshot Portable Power Cleaner – Best Value
When you need an affordable way to perform some serious cleaning and the garden hose just won't cut it, we suggest the WORX WG644 Hydroshot Portable Power Cleaner. This device can produce seven times as much pressure as a garden hose with a high-pressure nozzle. When you need the power, you can get up to 450 psi from the Hydroshot; not the most impressive pressure, but sufficient for most cleaning purposes. If you want to clean something a bit more gently, you can turn it down to "low" mode and work with just 290 psi instead.
Rather than give you several separate nozzles that are easy to lose, WORX has opted for a single nozzle with four different spray settings for you to choose from. These settings range from a straight spray for concentrated cleaning to a 40-degree spray that's much wider-reaching.
This is one of the lightest and most compact pressure washers that we tested. It's very convenient and doesn't require you to lug around a big machine since this one is entirely handheld. Overall, its combination of affordability and convenience makes this one of the best battery-powered pressure washers for the money.
Pros
Affordably priced
Extremely portable
Great for low-pressure cleaning
The spray nozzle has four settings
---
3.

Briggs & Stratton Battery Pressure Washer – Premium Choice
This Briggs & Stratton pressure washer blurs the line between battery-powered and more traditional pressure washers that run on gas. It uses gas as fuel, but the electric ignition is powered by a battery. This means you get the best of both worlds; all the power of a gas pressure washer with the ease of use you'd get with an electric one.
When you need serious power behind your spray, this machine can provide up to 3100 psi, making it one of the most powerful sprayers we've tested. Be careful though; that much pressure can easily damage many surfaces! Luckily, the included five-way nozzle will help you dial in the perfect spray pattern by simply rotating the front of the nozzle to select a new spray.
Unlike most gas pressure washers, this one is dead-easy to start. No priming, choking, or pulling on cords is needed. Just push the button and it starts. But you still have to use gasoline to keep it running and it's much louder than a truly battery-powered machine. But it's built tough and backed up by a two-year warranty, so you can be sure that your investment is protected.
Pros
Max pressure of 3100 psi
Battery-powered electric ignition
Easy to start with no choking, priming, or pull-cords
5-in-1 nozzle
Two-year consumer warranty
Cons
Requires gasoline
Replacement batteries are expensive and hard to find
---
4.

Ivation Multipurpose Portable Spray Washer
When you need water in a place where a hose just won't reach, the Ivation Multipurpose Portable Spray Washer offers a convenient solution. It's a relatively small and lightweight unit, weighing in just under 17 pounds. Of course, it's much heavier once you fill it with up to 4.5 gallons of water. It's still easy to transport when full, thanks to the built-in wheels.
Since it's designed for portable use, we liked that this unit comes with a 12V car charger. It comes with a standard wall charger as well, but the car charger can definitely come in handy when you realized that you forgot to charge the washer at home.
With a maximum pressure of just 130.5 psi, this washer isn't the best choice for heavy-duty applications. But it's perfect for washing down anything you don't want to get marred by heavy pressure, like your car.
We liked the way this sprayer operated but had a minor issue with the hose connector. It wouldn't stay on, so we had to clamp it in place. This worked, but we'd prefer to see the hose working properly from the factory. At least the whole unit is covered by a one-year warranty!
Pros
Holds 4.5 gallons of water
Weighs less than 17 pounds
Can be charged at home or in a car
Includes a one-year warranty
Cons
Max pressure is a meager 130.5 psi
The hose connector doesn't stay on
---
5.

Sun Joe WA24C-LTE Electric Pressure Washer
Sun Joe makes our favorite battery-powered pressure washer, but we didn't view their WA24C-LTE model quite as favorably. It's nowhere near as powerful, maxing out at 116 psi. Despite this, it's priced much higher than competing models.
This unit weighs under 10 pounds when it's empty. It holds up to five gallons of water, allowing you to take it anywhere; no hose needed. The battery will keep you running for up to 31 minutes.
Adding to its convenience, this pressure washer has a 20-foot hose, so you don't have to constantly move it while you're cleaning. And the adjustable nozzle lets you easily change your spray pattern to suit your needs.
Pros
Weighs under 10 pounds
20' hose
Holds five gallons of water
Adjustable nozzle
Cons
116 psi max
Overpriced compared to the competition
---
6.

WORX WG625 Hydroshot Cordless Portable Power Cleaner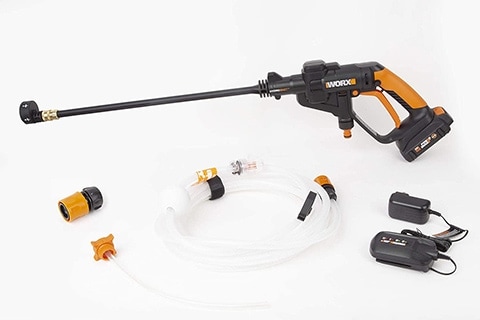 One of the most affordable pressure washers we tested, the WORX WG625 isn't quite on par with its bigger brother that earned our pick for best value. This Hydroshot model has a max pressure of just 320 psi. What's worse is the battery life, with a battery lasting for about 15-20 minutes in this pressure washer. Once dead, it takes a good four hours to charge back up.
But it's not all bad with this device. We love how light and portable it is. At just seven pounds, it's not going to wear you out like some of the heavier ones we tested. Plus, you can use anything as a water source for this sprayer, even a two-liter bottle!
Pros
Affordable pricing
Weighs just seven pounds
Can use anything as a water source
Cons
320 psi max pressure
The battery lasts about 15-20 minutes
Takes four hours to recharge
---
7.

mrliance M5233 Pressure Washer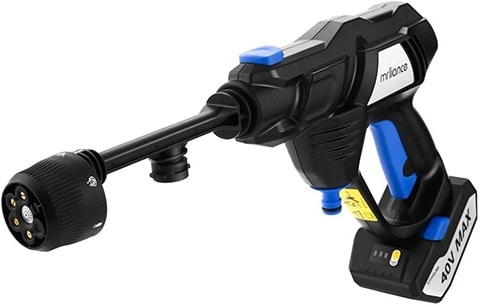 The mrliance M5233 pressure washer offers a more powerful compact sprayer than many similar models. This one can spray at pressures up to 960 psi, though it weighs just 10 pounds. The included nozzle offers six spray patterns, and you even get two batteries so you can keep working while one is charging.
However, the batteries were a weak point for us. These batteries don't last for more than 20 minutes in this pressure washer, but they take about three hours to charge. Even though there are two, this prevented us from completing our cleaning in a timely manner. Plus, this unit is more expensive than similar offerings from competitors that are just as capable.
Pros
Up to 960 psi
Two batteries included
6-in-1 nozzle
Cons
Poor battery life
Batteries are slow to recharge
More expensive than similar competitors
See: Cold Water vs Hot Water Pressure Washer
---
8.

Aqua2Go GD605 Multipurpose Outdoor Portable Spray Washer
This portable spray washer lets you take nearly five gallons of water for use wherever you need it most. It's not very powerful with a max pressure of just 130.5 psi, but it makes up for that in battery life. A single battery will last for up to five full tanks!
Our biggest problem with this device was the poor build quality. Ours leaked right out of the box, and no matter what we did, we couldn't get it to stop leaking water! The attachments also don't stay on, coming off as soon as the pressure starts. This turned an easy job into a major annoyance, which is why we don't recommend this spray washer.
Pros
Can run on 12V plug
Holds up to 4.5 gallons of water
Cons
Doesn't produce much pressure
Attachments don't stay on
Ours leaked
---
9.

Goplus Cordless Pressure Washer
The Goplus Cordless Pressure Washer is big and bulky, making it much harder to transport. Thankfully, wheels and a handle make it a bit easier, but we prefer the more compact models that can easily fit into your vehicle's backseat.
On the bright side, this model offers two spray modes. Low-pressure mode conserves water, and the battery, while on high pressure, offers up to 1160 psi for high-powered cleaning. But even on low-pressure mode, the battery life isn't great, dying in about 30 minutes.
Despite the drawbacks, this pressure washer is much more expensive than the competition. For us, nothing exceptional about this device warrants the higher price, so we'd recommend one of the more reasonably priced machines instead.
Pros
Up to 1160 psi
Low-pressure mode
Cons
Overpriced
Big and bulky
Battery life isn't great
---
10.

HUAHE Portable Power Cleaner
The best thing about the HUAHE Portable Power Cleaner is its adjustable pressure, allowing you to set your spray from 363-580 psi. But even maxed out, that's not enough pressure for any heavy-duty cleaning. Still, it's great for low-pressure applications since it won't damage soft surfaces like the wood of your deck.
However, too many drawbacks prevent this from being a good sprayer overall. First, the battery life is dismal. We barely got 20 minutes of use from a fully-charged battery. Worse, this device doesn't connect to a regular garden hose, the most common way you're likely to supply water to your washer. And to top it all off, the water pressure from this sprayer was terrible. It claims pressures up to 580 psi, but ours sure didn't feel like it was making that much pressure.
Cons
Poor battery life
Can't connect to a common garden hose
Poor water pressure
---
Buyer's Guide – Finding the Best Battery Powered Pressure Washer
Now that we have compared our 10 favorite battery-powered pressure washers, we're going to discuss some of the things that you should consider when deciding which sprayer is right for you. Hopefully, this will help you to make the right decision the first time.
Portability
Battery-powered pressure washers are portable by nature. But there are still some major differences between models that can make them more or less portable.
You'll want to look for something that's compact enough to fit in your car. Some of the larger devices are movable with their wheels and handles, but they'd be a struggle to fit in your backseat.
Moreover, you'll want to find the lightest sprayer possible. Many that we tested were under 10 pounds when empty. This can also help to avoid fatigue after using and moving your pressure washer for extended periods.
Water Reservoir
The water reservoir is tied into a unit's portability. Even if your pressure washer is lightweight and compact, if you have to hook it up to a garden hose like most pressure washers, then it's going to seriously limit how portable the device really is.
Luckily, many units come with a built-in water reservoir that will allow you to fill the water, then take the sprayer anywhere you want. You won't need a water source at the location where you're using the sprayer because you'll already have several gallons of water inside the sprayer's water reservoir.
Nozzles
Your pressure washer's nozzles will have a huge bearing on your washer's overall performance since this is where the water is being expelled from. Nozzles have different angles and spray patterns that are each suited for something different.
You'll need several nozzles if you're going to perform a variety of cleaning tasks. A straight nozzle, also called a zero-degree nozzle, will create a very focused, high-pressure, thin stream of water that's perfect for heavy-duty cleaning.
If you need lighter pressure or want to spray a wider area at once, different nozzles will allow you to do so.
Many pressure washers we tested came with a single nozzle instead, but it had multiple spray settings to select between. This is more convenient than having multiple nozzles that are easy to lose and more difficult to switch between.
Power
For pressure washers, power is measured in pounds per square inch—or psi for short. A higher psi means more pressure.
More pressure might allow you to get extra cleaning power when you're working on something dirty and stubborn and the dirt doesn't want to come off. But the caveat is that too much pressure can damage many surfaces and even possibly cause bodily harm.
Battery-powered pressure washers are generally not as powerful as other types, such as gas-powered pressure washers. Still, some of them are plenty powerful enough to easily cut through skin if you spray yourself.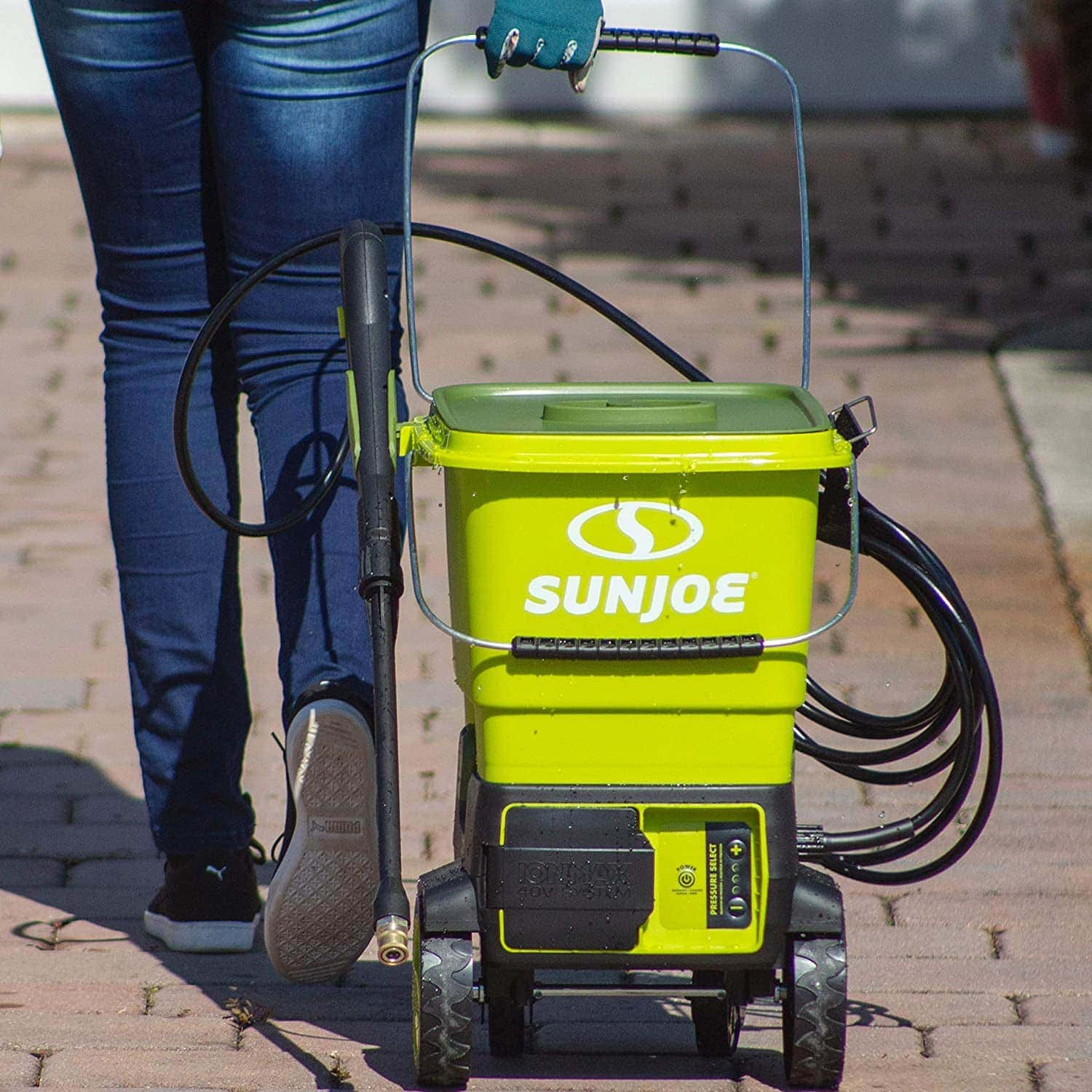 Adjustable Pressure
Some of our favorite pressure washers have adjustable pressure that allows you to dial in exactly the right amount of pressure for each job. We love the versatility this provides since you can set it low for easily-damaged surfaces or set it high for cleaning off your driveway.
Not every job is going to require the same amount of water pressure, so sprayers with adjustable pressure offer you the best of all worlds. Still, you'll be limited by the unit's minimum and maximum pressures, so look at those numbers first to determine the sprayer's capabilities.
Battery Life
When discussing any battery-powered tool, battery life is going to be a major factor to consider. Even if you have a spare battery, if your batteries only last 20 minutes each, then you can only do 40 minutes of work before you're out of juice. It's unlikely that first battery will be charged by the time the second one dies.
Battery life can often be variable, meaning that if you use more pressure, it's probably going to use the battery faster. But many units have a total stop system that completely shuts the unit down whenever you're not pulling the trigger, helping to conserve battery life as much as possible.
Price
You've probably noticed that there's a pretty substantial price difference among the pressure washers we've discussed. Some are budget-priced, others are wildly expensive.
Unless you're doing some seriously heavy-duty cleaning, you probably don't need to purchase the most powerful, most expensive pressure washer you can find.
On the other hand, shopping for the lowest-priced pressure washer is also not an ideal shopping strategy.
Of course, you're truly free to do either, but we'd recommend that you look for the unit that covers the most features you find to be necessary, within a reasonably affordable price range.

Conclusion
There are many great battery-powered pressure washers on the market, as you've seen in our reviews. But after testing as many as we could get our hands on, three of them stood out to us as clear winners.
The Sun Joe SPX6001C-XR Cordless Pressure Washer was our pick for the best battery powered pressure washer overall. Its 600-watt motor can produce up to 1160 psi for those tough cleaning jobs. But because it has adjustable pressure, you can also set the pressure low for when you want to avoid damaging a less durable surface.
For the best budget battery powered pressure washer, we recommend the WORX WG644 40V Hydroshot Portable Power Cleaner. It's more affordable than most of the other cordless pressure washers we tested, while also managing to be more compact and portable. Since it can utilize pressures as low as 290 psi, it's a great choice for washing decks, cars, and other things you don't want to damage.
Finally, if you need serious power for the toughest cleaning, we suggest the Briggs & Stratton Gas Pressure Washer. This cordless pressure washer is capable of impressive pressures up to 3100 psi. Unlike other pressure washers that run on gas, this battery-powered pressure washer starts easily with no choking, priming, or pull-cords, thanks to the battery-powered electric ignition.
Related Reads: