How to Organize Corner Kitchen Cabinets: 8 Tips & Tricks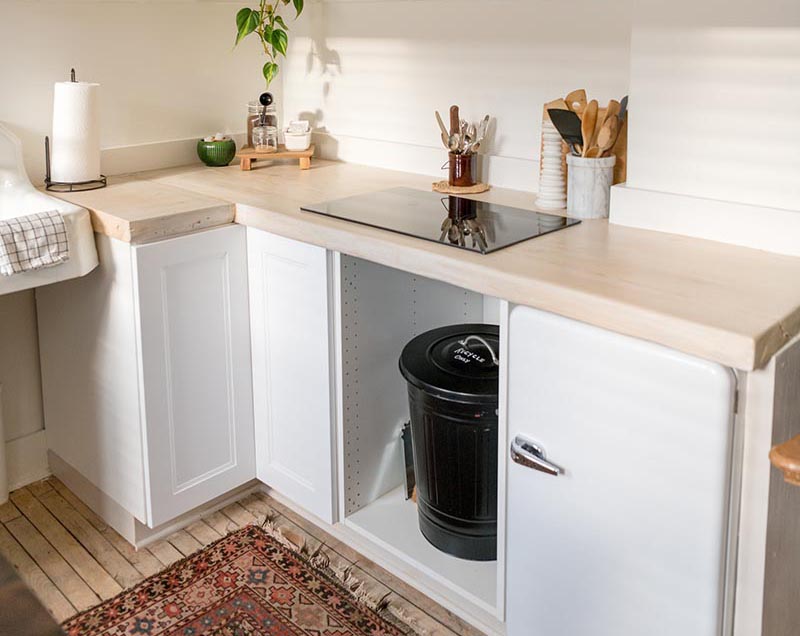 When moving to a new home, you're faced with the tricky task of organizing items and putting them in their respective places. One of the most challenging places to arrange is the kitchen.
Being where we spend most of our time, keeping your kitchen neat and well-organized is crucial. The kitchen has cabinets you can use to keep all your cutlery, cooking pots, and many more. Some cabinets are located in the corner of your kitchen.
Corner kitchen cabinets can impact kitchen storage and organization. Fortunately, there are several excellent storage ideas for corner kitchen cabinets to help you maximize space and use these areas to their best potential.
Today, we'll tackle this tricky spot. At last, you'll have a well-organized corner kitchen cabinet. It may seem like a lot to tackle at first, but we'll give you tips and techniques that can get the job done. Let's get right into it!

The 8 Tips on How to Organize Corner Kitchen Cabinets
1.

DIY Turntables
| | |
| --- | --- |
| Materials Needed: | Two round boards, shelf liner, screws, and turntable hardware |
| Tools Needed: | Pencil, safety glasses, and screwdriver |
| Difficulty Level: | Moderate |
If you have a corner kitchen cabinet you want to make more functional, consider making DIY turntables. It's an excellent way to maximize space and make it easy for you to find what you're looking for. You can also remove bulky shelving units and replace them with these turntables. They'll not only save space, but they'll also give your kitchen an elegant look.
Turntables are like lazy Susans that rotate around a central axis. They also come in different sizes, shapes, and finishes. You can find one that fits your style perfectly at any local hardware store.
After finding your preferred turntable size, use the turntable hardware. You also need a shelf liner to transform them into rotating Lazy Susans.
These DIY turntables allow you to rotate all your pots and pans. This way, they're accessible from any angle. You can use these turntables to keep spices or other items that don't weigh much but still need to be stored upright. You can also keep food containers you use every day.
---
2.

Rev-A-Shelf Blind Corner Kitchen Cabinet
| | |
| --- | --- |
| Materials Needed: | Four baskets, a frame, a base, wood screws, and lock nuts with tooth washers |
| Tools Needed: | Tape measure, pencil, screwdriver, a wrench, and a power drill |
| Difficulty Level: | Advanced |
The Rev-A-Shelf Kitchen Cabinet is one of the best products to use if you want to hide items in your corner kitchen cabinets. It has two shelves that provide ample storage space for dishes and other kitchen tools.
Besides, it's designed with a front panel you can use to store larger items such as cutting boards or cookie sheets. You can even use this panel as a breakfast bar when entertaining guests in your home!
This corner kitchen cabinet idea is easy to install if you follow the directions in the manual that comes with it. Also, it's reconfigurable and customizable for any cabinet size. It even uses adjustable shelves that lock into place with heavy-duty rails on both sides of the cabinet openings. They allow you to add or remove shelves as needed.
This blind corner kitchen cabinet is ideal for bottom-corner kitchen cabinets. This organizer can accommodate up to 20 pounds, allowing you to store heavier items away from view. You only need to drill holes in the sides of your cabinet. Then, attach brackets and mount the Rev-A-Shelf on top of them. You can do this using screws.
---
3.

Kitchen Corner Drawer Cabinet
| | |
| --- | --- |
| Materials Needed: | Six drawer handles, screws, paint, wood glue, dovetails, and corner blocks |
| Tools Needed: | Tape measure and a screwdriver |
| Difficulty Level: | Moderate |
The kitchen corner drawer cabinet is an excellent way to add extra storage to your kitchen. You can access the items you need most in your kitchen without walking over to other cabinets. It is an excellent solution for busy families. It's also ideal if you want to keep your kitchen organized and clutter-free.
This drawer cabinet works well for the bottom kitchen cabinets. You can use three drawers (one at the top, the middle, and another at the bottom). You can make a smaller drawer at the top, a slightly bigger one at the middle, and the largest drawer at the bottom. The bottom drawer is deep enough for storing serving platters, pots, and pans.
The only downside of this corner kitchen organization idea is that it may be hard for you to reach the items at the back of the cabinet. You must bend down to get what is inside this cabinet. It can be inconvenient if you have back problems.
---
4.

Two or Four Tier Corner Cabinet Carousel Hack
| | |
| --- | --- |
| Materials Needed: | A corner cabinet carousel and pins |
| Tools Needed: | A drill bit |
| Difficulty Level: | Easy |
The corner cabinets in your kitchen can be a real pain to deal with. Usually, they are crammed full of dry goods, spices, and plates. The solution? A two- or four-tier corner cabinet carousel! Using these types of carousels will make it easy to see everything in the cabinet.
The Carousel Organizer helps you store items you need quick access to every day but don't want them taking up valuable counter space. You won't need to take everything out and putting it back any time you need something from that cabinet. You only need to rotate it to get what you want.
It is available in two- and four-tier options. First, buy a two- or four-tier corner cabinet carousel from your local store. Most of them have a standard size. You can also buy the corner cabinet carousels separately and mount them onto the rotating pole in the corner kitchen cabinet.
---
5.

DIY Corner Kitchen Cabinet with Drawer Slides for Hanging Utensils
| | |
| --- | --- |
| Materials Needed: | Drawer slides, left-over shelves, screws, wood glue, and hooks |
| Tools Needed: | – |
| Difficulty Level: | Easy |
Another way to organize your utensils is by hanging them on hangers inside your corner kitchen cabinet. It makes it easier to access all your cooking utensils and tools at once. You don't have to scatter them around the kitchen countertop area.
To begin with, you'll need drawer slides. They're inexpensive and come in different sizes and finishes. So, there's something for everyone's taste. You can install them on any door that opens up into a corner.
You can also use hooks to hang some items such as spatulas, whisks, and other small tools that don't fit into a drawer or cabinet shelf. All you need is some wood glue, screws, and drawer slides that can fit into your cabinet.
Mount several planks of wood at the top of the inside part of the cabinet. Then, attach the drawer slides with hooks. It will give you more space inside the cabinet without sacrificing convenience when it comes time to reach for something!
---
6.

Blind Corner Kitchen Cabinet Swing out Storage
| | |
| --- | --- |
| Materials Needed: | Swing out trays and screws. |
| Tools Needed: | A screwdriver |
| Difficulty Level: | Advanced |
You're lucky if your kitchen has a corner cabinet with a swing-out door. One of the easiest ways to organize blind corner kitchen cabinets is using this kitchen storage type. It allows you to reach items in the back of the cabinet without moving things around.
Ensure you have enough room in the front so as not to interfere with other appliances. It's an excellent way to use the space in any corner kitchen cabinet with no drawers. This option works well for keeping items like pots and pans, towels, and many more.
The best part about this option is that it allows you to keep things organized and tidy with minimal effort. You only need to pull out a shelf or two when you need something from the back of your cabinet.
Some people prefer this option over traditional cabinets. It provides extra storage that would otherwise be wasted space. You only need to buy swing out trays or baskets to fix inside the corner kitchen cabinet.
---
7.

Fixing an L-Shaped Two-Door at the Corner Kitchen Cabinet
| | |
| --- | --- |
| Materials Needed: | Planks of wood, screws, and cabinet door handles. |
| Tools Needed: | A screwdriver |
| Difficulty Level: | Moderate |
The L-shaped door is one of the most popular kitchen cabinet doors. It's good for corner cabinets because it's easier to install. This cabinet door consists of two panels- one panel is fixed to the cabinet frame.
If you have an L-shaped door that opens into the corner of your kitchen cabinet, you should fix it so that it cannot swing freely when you open it up. It will allow you to maximize storage space by creating more shelves inside the cabinet.
The first step is to measure the height and width of the corner cabinet space you want to fix a door. It'll give you the measurements for the door. You can make the doors on your own if you have some carpentry skills.
Attach the two doors to each using two hinges. Measure and drill two holes on one side of the cabinet frame. Then, fix one end of the two doors to the cabinet frame using screws. You can also fix undershelf baskets to add extra storage space. Use the cabinet to keep cooking pots, pans, and other large utensils you may have.
---
8.

Pull Out Shelves for a Blind Corner Kitchen Cabinet
| | |
| --- | --- |
| Materials Needed: | Plywood, drawer slides, and wood screws. |
| Tools Needed: | Circular saw and a cordless drill. |
| Difficulty Level: | Moderate |
If your corner kitchen cabinet has no doors, it's easier to create storage space. The best way to do this is by installing pull-out shelves. Pull-out shelves give you the most usable space in your blind corner kitchen cabinet. This solution works for both large and small kitchens. It allows you to store bulky items such as pots, pans, or cookbooks.
You can install the shelves in any kitchen corner, regardless of their shape. Also, you can mount them on the side walls of the kitchen cabinets. They slide out when you open them. The tricky part is choosing how many shelves you need and where to place them. But you will have extra storage space around the sides of your blind cabinet, so take advantage of this by installing extra shelves there.
Consider using pull-out shelves if you store your spices in the corner cabinet where it will be easier to grab when cooking. Start by measuring the length and width of the corner kitchen cabinet space. Then, construct your pull-out drawers. Fix the drawer slides. They'll enable you to slide the drawers in and out.
---
Tips on How to Arrange Items in Kitchen Cabinets
Now that we have given you tips on how to organize corner kitchen cabinets, here's how you can arrange kitchen items in these cabinets.
Put heavier items in the bottom cabinet shelves – The bottom shelves of your kitchen cabinets are the strongest. They can hold heavier items like mixing bowls, pans, large serving dishes, and casserole dishes. Keep lighter items higher up. Lighter items comprise pot lids and spice racks.
Use air-tight containers to keep foods – If you want to keep your food fresh longer, airtight containers are the best choice. They come in different shapes and sizes. Choose containers that fit perfectly into your kitchen cabinet space.
Maximize vertical spaces – You can maximize vertical space in your cabinets. Buy clear containers with lids that stack neatly on top of each other. It's helpful if you have limited floor space. You can also stack dishes on top of each other. Ensure you keep them where you have easy access.
Keep similar items together – When organizing cabinets, it's crucial not to mix up items that belong to the same group. For example, keeping all of your pots and pans together makes it easier to find what you need when cooking dinner. Foodstuffs should also be kept together.
Arrange items by use – Items you use often should be at eye level or lower. This way, they're more accessible. Items you use less often should be placed higher up in the cabinets. It's because they'll be less frequently needed.

Conclusion
Kitchen organization is a great way to ensure that everything has its place. It makes it much easier to get things done when you know where to look for what you need.
Ultimately, the best way to organize the corner kitchen cabinet is different for every homeowner. With that said, the tips we've outlined above should provide you with an excellent starting point. You can begin reclaiming this storage space in your kitchen. It will come in handy in dealing with clutter in your kitchen.
See also:
---
Featured Image Credit: Andrea Davis, Unsplash