8 Small Bathroom Trends (2023) – Design Ideas For a Modern Home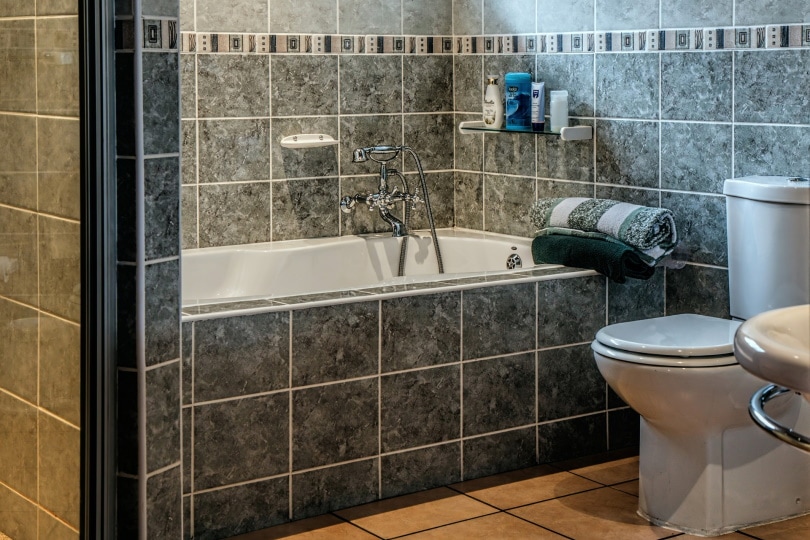 Most people spent a lot of time at home in the past couple of years. This has led many to consider doing serious updates to their houses. One of the most requested remodels is the bathroom. which has slowly evolved from a simple space to do your business, into a focal point of the modern home.
Remodeling demand is higher than ever before, especially for new and updated bathrooms. If you are looking to redo your bathroom in the new year, there are some stunning trends to keep your eye on.
Whether you are looking to do a full tear-out or a simple facelift these are the top eight trends for bathrooms this season.

The Top 8 Small Bathroom Trends in 2023
1.

Modern Fixtures (Including Smart Everything)
One of the easiest ways to upgrade the look and feel of a bathroom is to switch out the fixtures. New fixtures can quickly change the look of a bathroom as well as its functionality. Many fixtures such as showerheads, sink faucets, and lighting covers can be changed by the homeowner for a minimal amount of money.
Modern fixtures are often dark, metallic and feature clean lines and geometric shapes. The change from chrome and nickel fixtures has been in full swing for a while and a simple change in aesthetic can really transform a space. It is surprising how much a copper faucet can really change the feel of a room.
Another thing to keep an eye on is the continued advance of the smart home into the bathroom space. Smart doorbells have turned into smart mirrors, smart faucets, and even smart toilets. Even if you are not sold on smart fixtures, they are here to stay and are only going to continue to improve as time goes on. Smart fixtures are going to feature prominently in any conversation about fixture upgrades this year.
---
2.

Classic Furniture
While fixtures continue to march towards the modern end of the spectrum, bathroom furniture is trending in the opposite direction. Gone are the clean white vanities of years past, they have been replaced by weathered wood vanities. Designers are repurposing old dressers and make-up tables to be used as bathroom counters and vanities. Do not be surprised to see something akin to a chest of drawers sporting a sink in this year's catalogs.
This trend towards the vintage has also reintroduced stools, end tables, and bath trays back into the bathroom. Previous styles had very spartan accommodations in terms of furniture within the bathroom but as bathrooms have grown larger in recent years so has demand for furniture for the space. All of the trendiest furniture is made out of classic wood and emanates warm tones.
If a vanity upgrade is on your list this year, be sure to check out the latest wood-style vanities or even look into repurposing your own from locally sourced vintage furniture.
---
3.

Pops of Color
Color is returning to the bathroom but not in the style of 1950s tile. Modern bathroom color is generated with lively plants, accent rugs, and wallpaper. Accent walls are becoming very popular and often feature patterned wallpaper or even full murals to give the room a special flair. The old shag bathroom rugs are out and thin colorful accent rugs that take up large amounts of floor space are in. The more colorful the better.
The most popular colors are Earth tones and pastels. Do not be surprised to see more bathrooms taking on bold choices in paint color and wallpaper to make the design really pop. In small quantities, the old pastel-colored tile is also making a comeback in an accent role.
Adding color to an existing space is an easy way to change the look of the room and update the overall aesthetic.
---
4.

Upgraded Bathtubs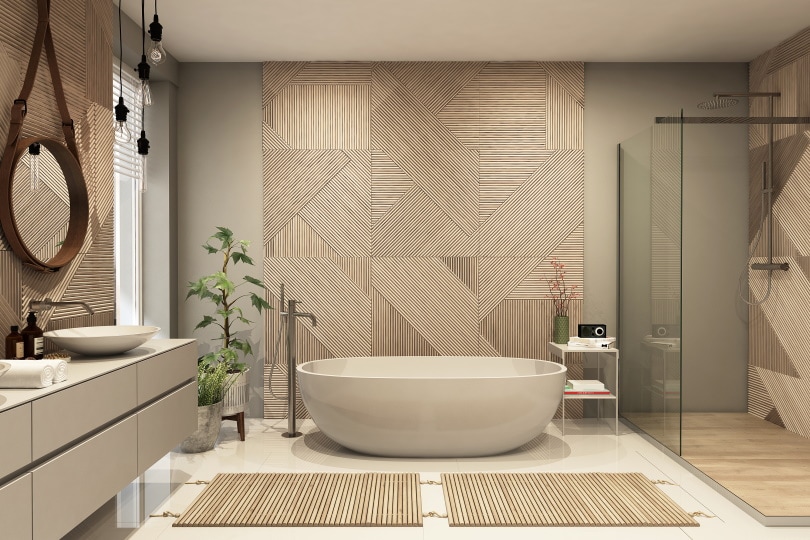 The old style of acrylic and ceramic bathtubs is on its way out. Gone are the days of accepting a small plain white tub with grout that always seems grimy. Now, bathtubs are as luxurious and grand as the spas that are inspiring their redesign. The newest tubs are made from new materials such as concrete, marble, and steel. These materials are much more durable and of higher quality than the old white builder-grade tubs that are featured in most homes.
Bathtubs are also getting larger and more functional. Many new tubs are changing to soaking tubs or whirlpool tubs that invite the owner to really sink in and soak rather than simply washing. The modern tub is a place to relax and unwind rather than to do a chore. This will be seen in the size and grandeur of the newest tubs.
Related Read: What Is the Cost to Replace a Bathtub?
---
5.

…Or No More Tubs At All
Some people are getting rid of bathtubs entirely. Everyone can agree that it is time to rip out those old builder-grade tubs but some people aren't replacing them at all. Instead, large walk-in showers are taking over the space once held by underutilized bathtubs. Showers with large glass fronts and multiple rain-style heads are replacing the old static bathtubs.
Some designers are even taking the walk-in shower a step further and crafting entire wet rooms. Wet rooms are sectioned off from the rest of the bathroom and can be completely soaked without any damage. These rooms feature seats to do your hair or nails as well as massive showers that are not confined to a predefined box. The freedom and flow of wet rooms are starting to catch on and they are sure to make a strong appearance this year.
As the role and demand for the bathtub shrinks, the demand for larger more opulent showers is on the rise.
---
6.

Spa Lighting
One of the ways that contractors are upgrading bathrooms in the new year is by changing the lighting. Getting rid of the old overhead fluorescent lights that fill the room with harsh white light is an easy way to transform the whole mood of a bathroom. Spa lighting changes fluorescent for warm soft lights that highlight separate areas of the bathroom.
Having separate lighting for the vanity, closet, shower, and bath can make each space feel distinct and unique, like a spa. A combination of smaller warm lights gives a much better and updated feeling than a single bathroom light that has to illuminate the whole space.
Spa lighting can be tailored to meet each homeowner's specific tastes from pendant lights to recessed lighting to multicolored LED strands. Every bathroom space can be customized to give you the mood that you crave for whatever kind of space you desire.
Related Read: 12 Bathroom Color Trends for the year
---
7.

Bringing the Outside Inside
Stale and outdated bathrooms are getting a boost from the great outdoors. Plants are becoming an extremely popular addition to almost every bathroom space. Small half baths are getting cute succulents while expansive owner suites are getting full-sized ferns and palms added. Plants give bathrooms a fresh feel, a dash of color, and something living to break up the sterility of old designs.
Plants are also being augmented with large windows and skylights that let in more natural sun. Old designs had much of the natural light forced through tiny windows or opaque glass. Now, designers are choosing clear glass and larger windows for better light and a view of your favorite outdoor spaces.
The combination takes bathrooms that might have once felt claustrophobic and cave-like and transforms them into bright natural oases.
---
8.

Clean But Not Sterile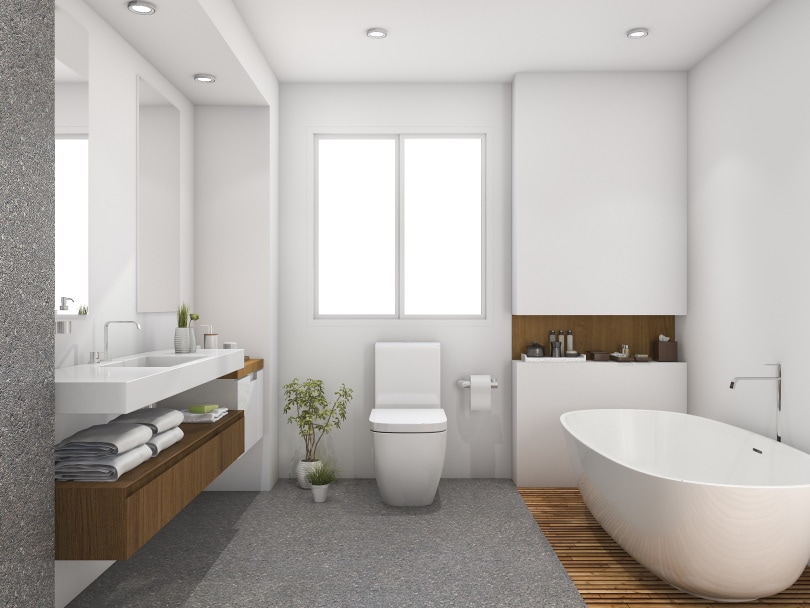 Clean lines and modern thinking are not leaving the bathroom. However, designers are doing their best to make bathrooms feel more natural and inviting, and less sterile. Previously, bathrooms were dark, square, and functional. There were few colors and not a lot of reason to stick around after you were done doing your business. All of these trends are aimed at transforming bathrooms from sterile spaces into clean modern spaces that owners will feel happy to spend more time in.
Most modern design philosophy surrounding bathrooms is about turning them from solely functional spaces to spa-like relaxation zones. That overall philosophy is reflected in all of the trends that are on deck these days.
Related Read: 12 Bathroom Trends to Avoid this year

What Are Some Simple Affordable Bathroom Updates?
Not every update has to break the bank, there are a lot of small ways that a bathroom can be updated on the cheap. There are a few ways to update your space if you are looking to get a more modern-feeling bathroom without spending a fortune or going through the hassle of hiring overworked contractors. Here are some of the simplest ways to upgrade your bathroom that are affordable.
Add Plants
As we mentioned, plants are becoming more and more popular as a bathroom accent. Doing some research and finding plants that fit your space and your lighting can go a long way to making your bathroom feel fresh and modern. Even a simple cactus next to your soap dish can let everyone know that you are angling for a more modern update.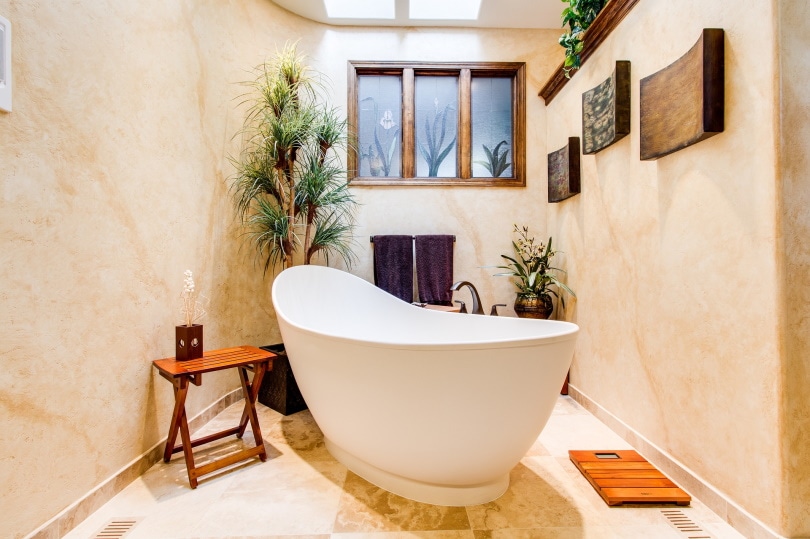 Replace Fixtures
Replacing fixtures such as doorknobs, cabinet pulls, showerheads and faucets is fairly simple and affordable. Even just changing the pallet from satin nickel to bronze can change the whole feel of the room. Changing a showerhead often is as easy as unscrewing the old showerhead and screwing on a new one. A waterfall-style showerhead and a new patina can really make it feel like the room had a full remodel.
Accessorize
The easiest and most affordable way to spruce up an aging bathroom is to accessorize and reorganize. Adding a new accent rug, repainting, or hanging a new mirror can give the bathroom a facelift rather than a full makeover. For rooms with good bones or for homeowners with a tight budget, accessorizing can be a super easy way to put a new face on a bathroom. Even the addition of a simple wicker laundry basket can do wonders in the right space.

Conclusion
Bathrooms remain an ever-popular subject for home remodels and this year is sure to usher in new and fresh trends. These are eight of the top trends that are sure to be hitting bathrooms this year and they all focus on upgrading spaces and making them fresh. The design philosophy right now is all about throwing out the old bathroom style and functionality and replacing it with clean, modern spa amenities.
You might also like:
---
Featured Image Credit: Pixabay