How To Store Pots & Pans (10 Creative Tips)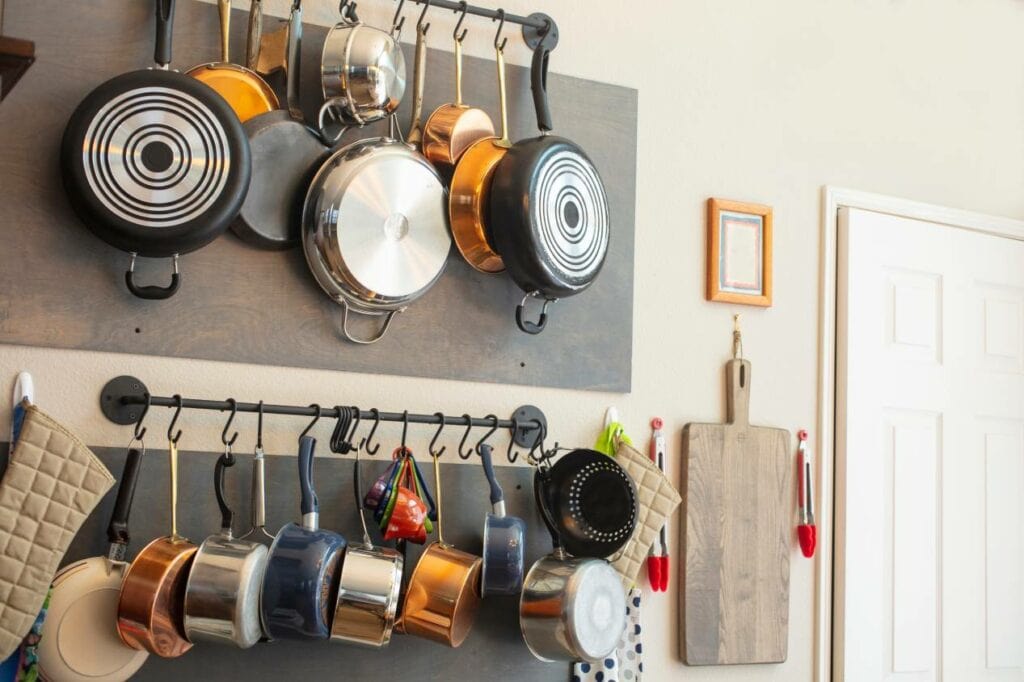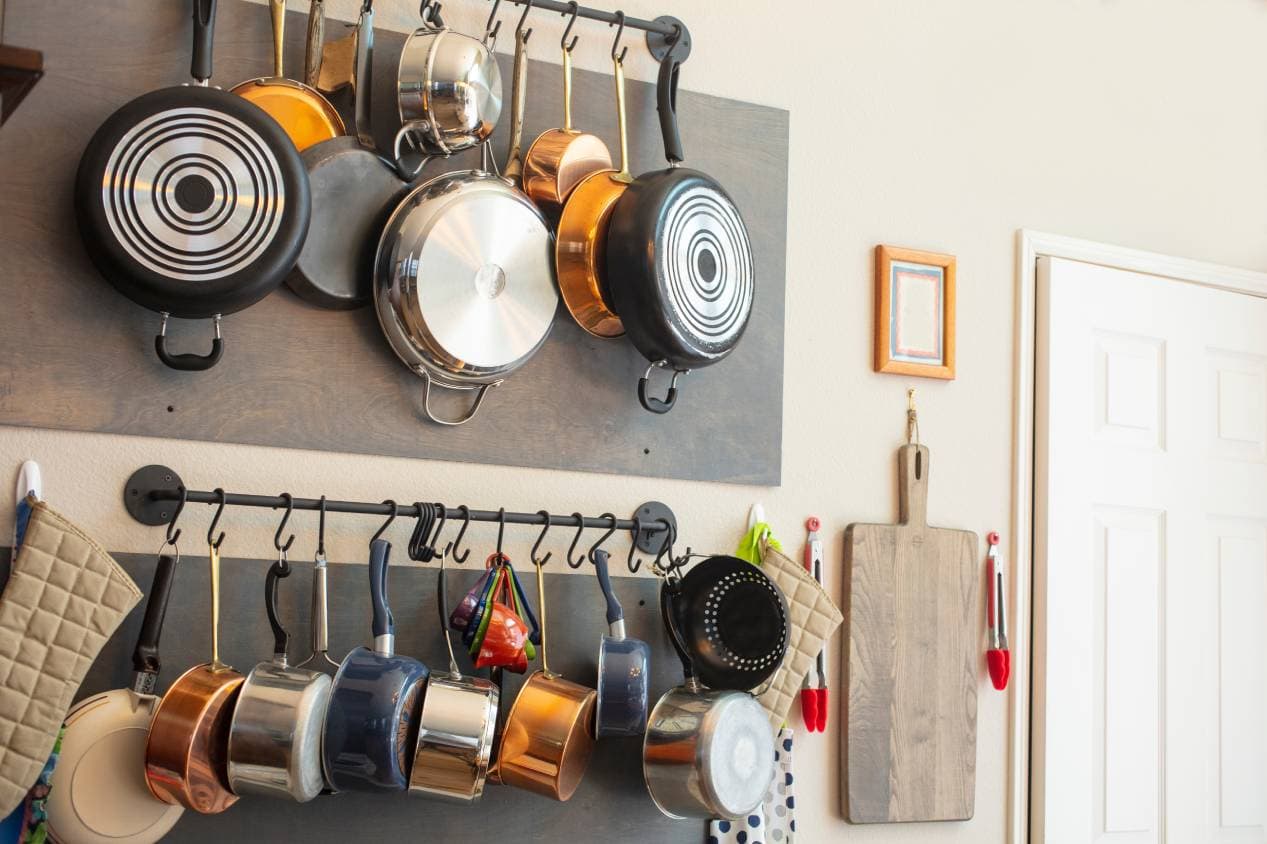 Pots and pans can be a bulky jumbled mess. Few people have organized storage options for their largest utensils. Large pots, deep roasting pans, and numerous sheets can clutter a kitchen and lead to a frustrating mess. Kitchens do not have to be this way. There are plenty of clever and effective ways to store pots and pans that can make your life better.

How to Store Pots & Pans: 10 Tips
1.

Install a Pot Rail
A pot rail is a long metal rail that you install on the ceiling. A pot rail holds hooks that you can use to hang your pots and pans. Hanging your pots and pans from the ceiling can save a ton of storage space inside cabinets and drawers. A pot rail can also make your most used items more accessible by making them easy to grab in a flash.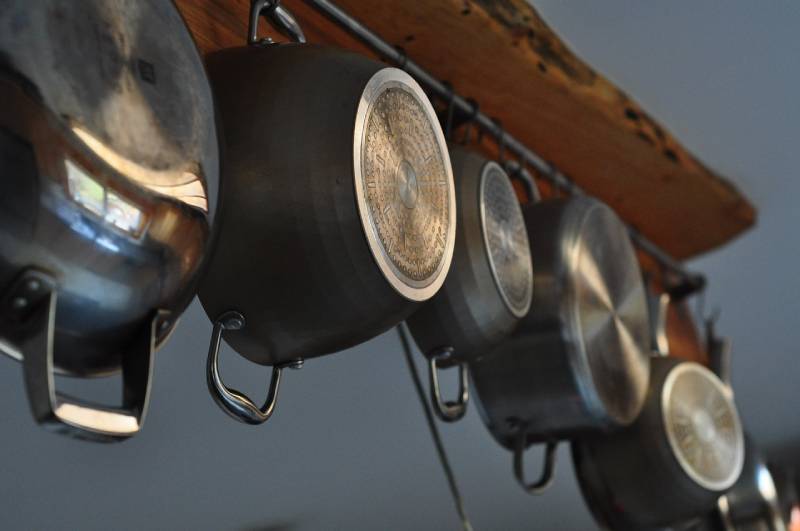 ---
2.

Use a Pegboard
Pegboards are simple and versatile and can be used to store pots and pans. Installing a pegboard over a small section of the wall can give you a way to easily hang your pots and pans from the wall. You can use pegboards to only store pot lids for a decorative look that also doubles as a functional space saver. Be mindful of a pegboard's weight limit, and make sure that you install it properly before trying to hang heavy pots and pans from it. Once you have it properly installed, it is a very easy way to maximize storage space in your kitchen.
---
3.

Hang a Horizontal Pot Rack
A horizontal pot rack is similar to a pot rail, but instead of hanging it from the ceiling, you hang it from the wall. A horizontal pot rack allows you to hang your pots and pans via hooks. You can put these racks over a small kitchen window. You can even buy or repurpose a towel rack to save some money and create your own horizontal pot rack. Horizontal pot racks help keep pots and pans out of the way by allowing you to hang them up instead of putting them in a cabinet.
---
4.

Utilize a Vertical Pot Rack
Vertical pot racks are less common than other types of racks, but they can be very useful and stylish. Vertical racks are usually placed on the ground and let you stack your pots and pans up in a corner where they can be seen and grabbed. Vertical pot racks are visible and can be used as a decorative piece in your kitchen if you have aesthetically appealing pots and pans. Vertical racks allow you to stack your pots and pans in one place without having to use precious cabinet space or hang them from the ceiling.
---
5.

Store Lids Separately
One way to save space and improve efficiency in your kitchen is by storing pot lids separately from their counterparts. Lids take up a ton of space and prevent effective stacking and nesting. Many people try to store their lids with their pots out of habit or a sense that it is more convenient. You can hang lids on the wall, hang them on the inside of your cabinet doors or stack them in a separate organizer completely. Keeping lids separate can have a ton of benefits that most people don't realize.
---
6.

Use a Rolling Cart or Mobile Island
Another simple storage solution is rolling cars or mobile islands. Rolling bar carts can be moved from place to place, are generally out of the way, and can be stylish. Stacking your pots, pans, or lids on a bar cart can help increase cabinet space while keeping them accessible and out of the way all at once. You can also buy or build a small mobile kitchen island that functions in a similar way but has more storage and functionality than a simple bar cart.
---
7.

Stack and Nest Them Efficiently
Many people simply jumble their pots and pans together. It is easier to throw everything in a cabinet after doing the dishes, but this takes up a ton of space and can make organizing and finding your pots and pans a chore. In order to improve flow and efficiency, you should stack and nest your pots and pans as neatly as possible. Putting each pot inside of another and storing the lids effectively can save a ton of space and make grabbing things easier than before. In a properly nested stack, the largest pots are on the bottom. Using a movable rack can help you access the pots better, making it easier to grab what you need.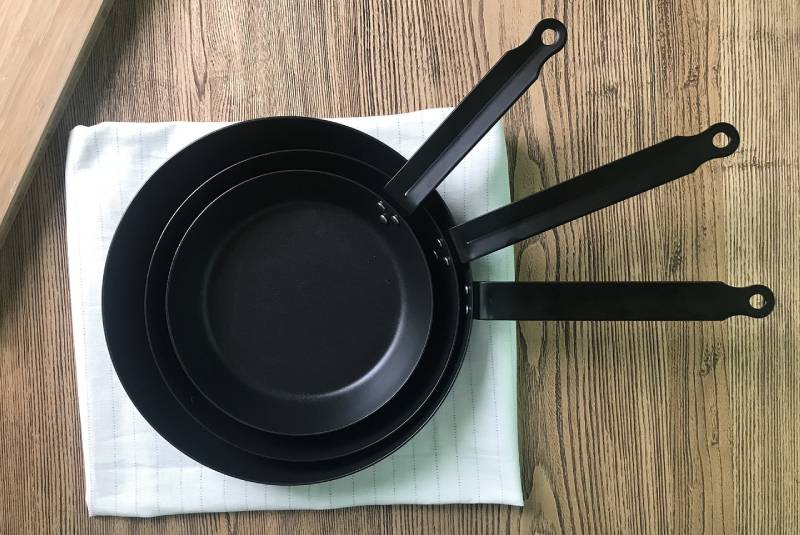 ---
8.

Install Hooks Where You Can
You do not need to have a pot rail or horizontal rack to use hooks. You can simply install sturdy hooks on the wall in spaces where you have room so you can hang specific pots. Make sure the hook is strong enough for the pot you want to hang. Even hanging up one large pot or using two hooks to hang a long pan can help save a lot of room in drawers. You don't have to have full racks to use hooks to hang single pots, pans, or lids.
---
9.

Display Them Proudly
One way to save space and store your best utensils is to display them where you can. You can display pots and pans on your stove, on top of your cabinets, or on top of your refrigerator. Some people think that stacking pots on surfaces like this looks cluttered, but if you have nice looking pans, you can pull off the look. Tilt, angle, or turn pots so that they look like they belong and are not just sitting there out of place. These types of display options can add a little bit of pop to your kitchen while also saving space.
---
10.

Use or Install Drawers
Kitchen drawers can be extremely useful, but few people use them properly. Many ovens have drawers underneath them that are perfect for storing pans. You can also use kick drawers and toe drawers to store flat pans and pot lids. If you are redoing a kitchen, building deep pot drawers can be a godsend. Deep drawers are great ways to store pots and allow you to stack and nest properly while still being able to access them easily. If you have unused drawers or unoptimized drawers, you have vital organization space that you should consider using today.

Consider Your Space and Goals
There are two things you need to consider before reorganizing your pots and pans. Are you storing your pots and pans to increase space? Are you storing them to increase efficiency? Are you storing them to boost their appearance? Some people have small kitchens that could benefit from space saving methods. Other people constantly cook or cook for large numbers of people and being able to grab your pots and pans more easily can save a ton of time. Other people might be looking for a way to display their expensive utensils or add some extra features to their overall design. Your goals will shape and focus your ultimate choices when it comes to pot and pan storage.

Conclusion
There are tons of great tips on this list that can benefit nearly any kitchen. From simple hooks to help free up valuable cabinet space or full redesigns that incorporate large racks or rails there are plenty of ways to save space and increase efficiency in the kitchen. Whatever your situation is, some of these expert tips are sure to benefit you. You simply need to find the best method that is right for you, your pots and pans, and your individual kitchen.
---
Featured Image Credit: Malisa Nicolau, Shutterstock