How to Use a Ladder on Stairs: 6 Safe & Effective Tips!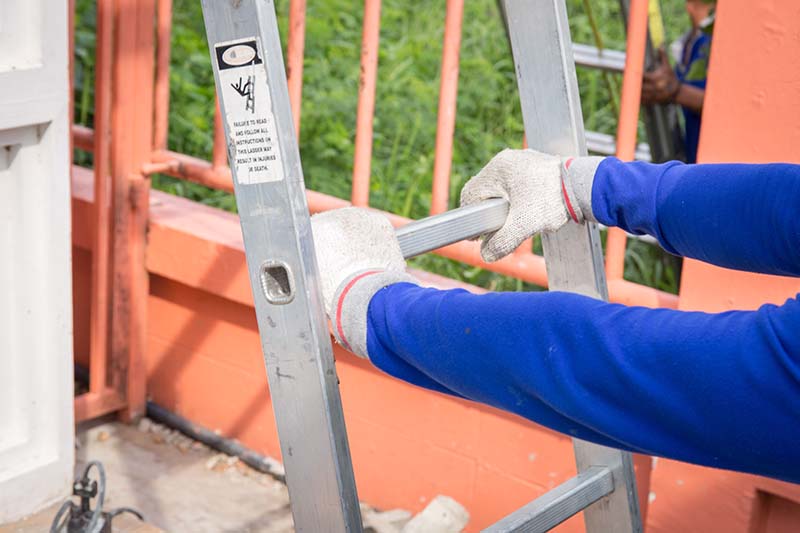 We have all been there. You need to hang a picture, make repairs, or paint the stairway wall but standing on a chair will not give you the height you need. So, you might ask yourself, "How can I use a ladder on the stairs?"
There are ways to do it, but some may be safer than others. If the job is quick and easy, you may decide to take your chances. However, if you have a job that will require time and effort, you may want to find a solution that will keep you safe and give you comfort.
Here are six tips on how to use a ladder on the stairs that will hopefully get the job done and keep you free from injuries.

The 6 Tips on How to Use a Ladder on Stairs
1.

Use a Combination Ladder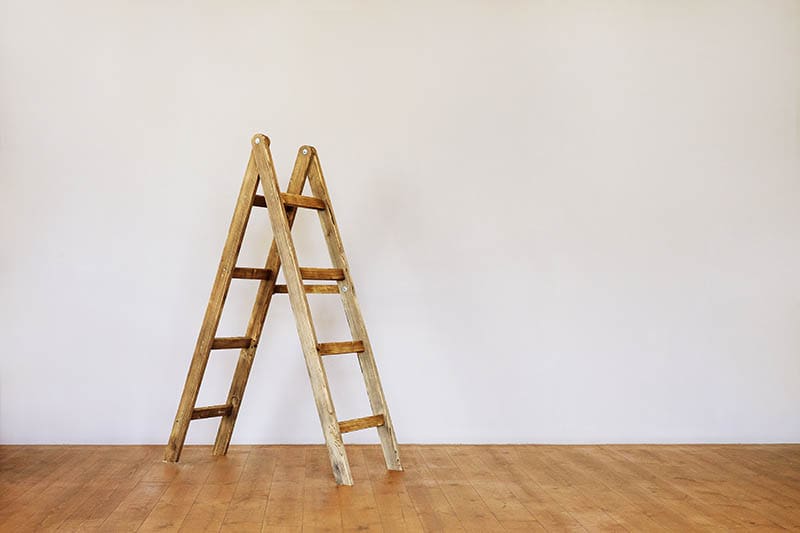 There are all types of multi-position ladders on the market. Many of them can be converted to a stairway step ladder with adjustable leg positioners. The design allows you to raise one side of the legs to be shorter than the other. Reading the manufacturer's instructions and securing the ladder properly will ensure that you are comfortable and safe.
Although these ladders have safety features in place, it is recommended that you pay attention to step edges so the ladder does not fall off and put you in danger. You can always ask a friend or partner to help you too. That way, you are not alone and have someone there in case of an accident or fall. Another person may also notice a safety issue that you have overlooked.
Pros
No permanent installation
Adjustable
Safety features
Cons
Costly
May require help for setup
---
2.

Makeshift Scaffolding
You can build a makeshift scaffold by combining a step ladder, an extension ladder, a sheet of plywood, and two-by-fours. Of course, you will need to have the right ladders and instructions to do so. A quick google search should provide you with a tutorial that will describe a safe and straightforward way to build one.
Be sure to follow the instructions correctly and put safety first if you decide to build a makeshift scaffold. This may be a good option for small jobs like removing a nail or changing a lightbulb, but it might not be the ideal choice if you are painting or need to do a larger repair.
Pros
Can use existing ladders
A tutorial is easy to find
Not permanent
Cons
Safety concerns
Time-consuming for small jobs
---
3.

Ladder-Aide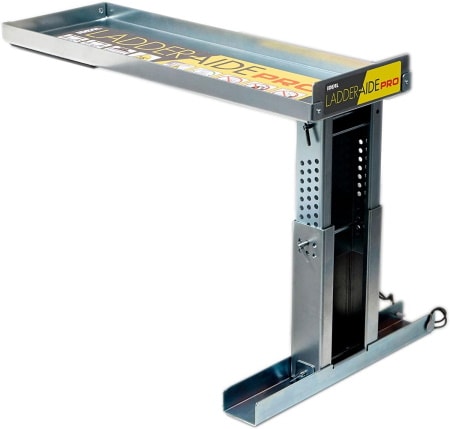 Although you may not need to use a ladder on the stairs very often, there are times when it is necessary. If you already have a ladder, but it is not designed to be adjustable for stairs, you can invest in a ladder-aide. There are several brands available, and they can be used on stairs with straight, extension, and telescoping ladders.
Ladder-aide does not require permanent installation and consists of three parts. It is designed to be compact and excellent for home and professional use. It is recommended that you do not exceed the maximum weight limit and follow all instructions carefully to ensure your comfort and safety.
Pros
No permanent installation
Adjustable height
Easily transported
Affordable
Cons
Use with straight, leaning, and extension ladders only
---
4.

Leg Extenders or Ladder Levelers
If you already own a ladder that you want to use on your stairs, you can permanently install a leveler or extra leg to your existing straight or extension ladder. Ladder levelers are an excellent option for industrial use but may not be a desirable choice for household use.
Installing leg levelers onto your ladder is a three-step process, and the installation should be simple and quick. Once again, be sure to follow all manufacturers' safety guidelines and instructions to prevent falls and injuries.
Pros
Omits obstacle issues
Permanent
Safe
Cons
Adds weight to ladder
Requires additional space for storage
---
5.

Make a Ladder Platform
A ladder platform is an easy DIY that will ensure you have stability, and it is budget-friendly. It also provides you with the proper height for your project. Since you are customizing the ladder platform for yourself, the setup will be easy, and it will not require any further installation.
The ladder platform is an old-school way to use a ladder on a staircase, and there are disadvantages. And yet, it is also safe and secure.
Pros
Easy to use
Inexpensive
Easy to set up
Cons
Non-adjustable
Basic DIY knowledge required
---
6.

Use a Wedge-Style Tool
If you are looking for a solution that does not require any type of installation, you can revert to a wedge-style stool. This type of tool is excellent on a hillside or a staircase, but it can also be used in areas where you have level ground.
The wedge tool is not an ideal solution if you have steps that are slippery, however. We recommend that if you use a wedge stool rather than a ladder-aide, take the necessary precautions to prevent slips and falls.
Pros
No installation
Easy to use
Low-cost
Good in a pinch
Cons
Can slip easily
Not designed for stairs

Be Safe & Use Caution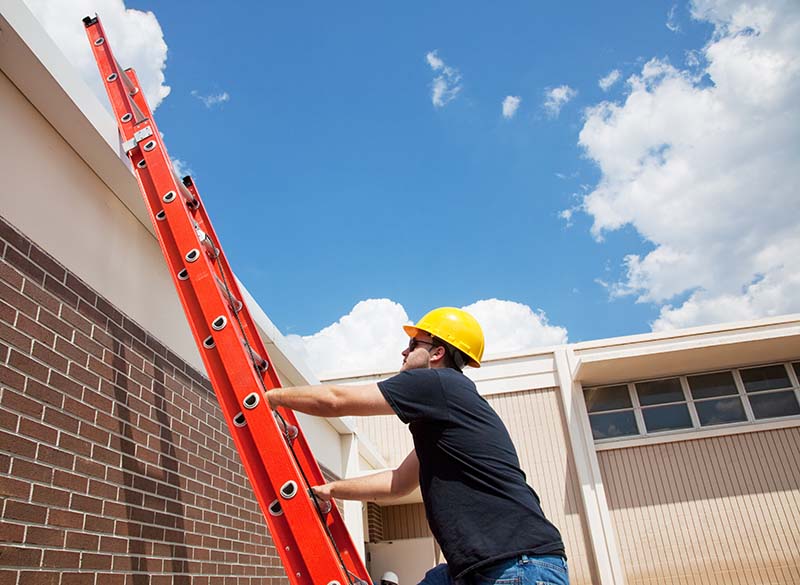 Do not exceed maximum weight limits
Read the instructional manual for your ladder model
Inspect the stairs for slippery spots or grooves that could be a potential hazard
Choose the correct size ladder for your project
Utilize the project tray or tool belt
Keep three points of contact and move slowly on the ladder

Conclusion
Whether you are a professional, a DIYer, or you are replacing a lightbulb on the stairs, there are safe ways to do it. Here we have given you six ways to use a ladder on the stairs so you can complete your projects in a safe and responsible manner.
As always, we recommend following the manufacturer's instructions and taking every necessary precaution if you are constructing something on your own.
---
Featured Image Credit: Noraphat Vorakijroongroj, Shutterstock