Husqvarna 440 Chainsaw Review 2023 – Pros, Cons, & Verdict
We give the Husqvarna 440 Chainsaw a rating of 4.6 out of 5 stars. 
Build Quality: 2.4/5
Power: 3.9/5
Features: 4.2/5
Price: 3.2/5
Warranty: 4.5/5
Review Summary
The Husqvarna 440 is designed around its most important component, its user. It is ergonomic and incorporates all of the company's latest user comfort features, including an efficient engine that protects the user's lungs by reducing exhaust emissions.
As for the saw, for something designed to be portable and maneuverable, it's awfully heavy. It weighs in at just north of 15 pounds, and that doesn't include the blade. It's also hard to see where the weight came from. Saws this heavy generally deliver more punch, but the 440's power scales nicely to the jobs it's expected to handle, not middle-sized to big trees. It's also clear that the weight didn't come from body design. This saw doesn't have a very durable feeling about it, which is not good for something that will get used in hard environments.

Husqvarna 440 – A Quick Look
Pros
Ergonomic
Fuel-efficient
Able to deliver cuts with precision
Cons
Heavy for its maximum blade size
Loud
Specifications
Brand: Husqvarna
Model: 440
Engine power: 40.9 cc
Power output: 2.4 hp
Weight: 15.1 lbs.
Max. length: 18 in.
Max. power speed: 9000 rpm
Fuel capacity: 12.5 fl.oz.
Sound level: 112 dB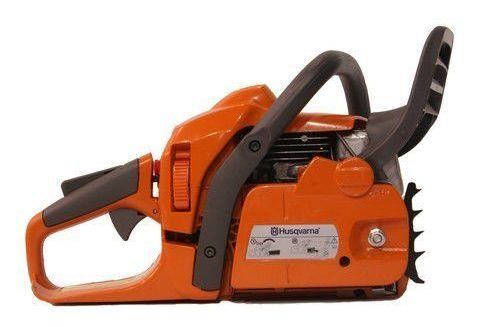 Sips rather than gulps
Chainsaws look and sound like something that not only tears through trees but also eats fuel. Rather than being sleek and elegant, they are brutish-looking and make a lot of noise. One of the 440's most surprising features is that it sips fuel rather than gulping it. That can be credited to Husqvarna's X-Torq engine, which maximizes the efficiency of fuel usage.
Reducing fuel use doesn't just reduce the effect on your wallet. It also reduces exhaust fumes. That's good for the environment, and even if you're not an environmentalist, it's good for you in terms of cleaner operating air.
Easy starts
Husqvarna has fitted out its 440 with a combined choke/stop control and its Smart Start system to ease the process of getting this chainsaw up and running. With fewer moving parts, it also reduces the chances of flooding out the engine. Since all these factors are most likely to affect people who are new to chainsaws, they make the 440 a much more attractive starter chainsaw.
Durable engine build
The forged three-piece crankshaft and the air injection system are both intended to extend the 440's operational life by reducing wear and tear. The air injection system catches large pieces of debris, a constant wherever chainsaws are operated before they can get to the air filter. This reduces maintenance time and also time of operation where the engine is stressed by lack of oxygen. The forged crankshaft is simply a stronger, more durable piece of machinery than predecessors., so it'll last longer.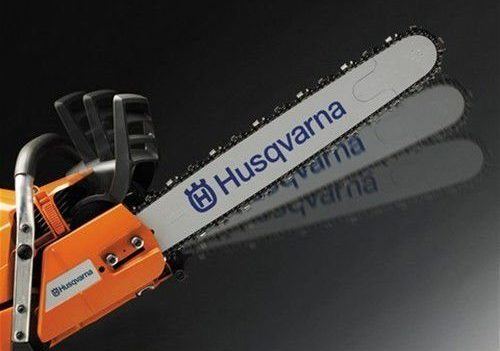 FAQ
How good is the warranty that comes with this model?
Husqvarna offers a standard two-year warranty on all its chainsaws for basic, non-professional use, with the option to extend it at time of purchase.
What is the proper plug gap on the Husqvarna 440?
0.2.
How does it start right out of the box?
It is highly recommended that people who purchase this saw read the instruction manual very carefully for the proper fuel blend and how to adjust the carburetor. Many users say this tool has difficulty starting right off.
Is this a good starter chainsaw?
Husqvarna's 440 chainsaws is designed with user simplicity in mind. It has features intended to make it easier to start, and to reduce wear and tear on the operator. It also has safety features to help minimize the risk of accidents often caused by inexperience. Many of the saw's drawbacks require an experienced operator to notice. All in all, if you primarily need light work and pruning done, this is a good candidate for a starter chainsaw.
What the Users Say
We certainly have our opinions on the 440, and in this case it appears that we're a bit on the outside. When reviewing a tool, we like to get as much input from other users as possible, because we operate from the perspectives of people who have years of field experience with these tools. If you're reading an online review to help guide your purchase, odds are that you don't.
People who used this saw usually liked what we liked about it — it's comfortable to operate and can give you precise cuts where you need them. People bought the 440 for close-in work where a larger saw would be a hazard, and it didn't disappoint.
The things we didn't like about this tool didn't appear to bother most other users. Although we found scattered mention of the weight and durability of construction, neither appeared to be much of a dealbreaker for anyone. On top of that, fewer people reported problems getting the 440 started compared to many other Husqvarna chainsaws.
In the case of the Husqvarna 440, you can either take our word for it or the Internet's word. Your fellow novice users liked it more than we did and were much more forgiving of its faults than we were.
Conclusion
Husqvarna's 440 is a perfect example of a tool that average homeowners and experienced hands regard differently. People who spend a lot of time around chainsaws will probably notice that its weight and power are mismatched. People who don't won't notice that and don't seem to care. For them, it delivered where it matters most, in the ability to deliver a precise cut where it's wanted. We're hard-pressed to say that one is better than the other, and people looking for a chainsaw should consider which side they probably fall on. If you are likely to notice the poor weight-to-power relationship, you'll want to decide accordingly. If you're not likely to notice and don't need a chainsaw for professional-grade work, this is probably a more viable option.
Related Reads: