10 Best Professional Chainsaws in 2023 – Reviews, Top Picks & Guide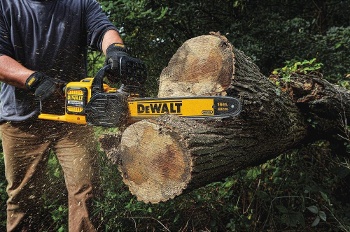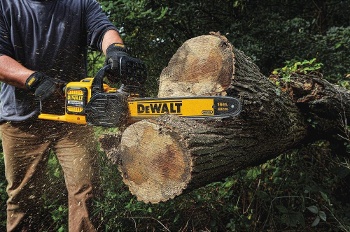 Many chainsaws are available, but the difference between a professional and light-use chainsaw can't be measured in sawdust. If you will be using your saw often for heavy-duty cutting, you need a professional-quality product. This doesn't necessarily mean you're going to start a tree-cutting business.
Professional chainsaws have more power, excellent safety features, and the ability to work day in and day out without burning up. To help you select the ideal model, we compiled a list of the 10 best professional chainsaws with detailed reviews and a buyer's guide
---
A Quick Comparison of Our Favorites (updated in 2023)
Rating
Image
Product
Details

Best Overall

Husqvarna 460 Rancher 20″ Chainsaw

Powerful tool
Great safety features
Easy to clean air filter
CHECK PRICE

DeWalt DCCS670X1 Professional Chainsaw

High level of safety
Maintains optimal performance
Strong and powerful
CHECK PRICE

Best Value

HUYOSEN 4518L 18″ 46cc Gas Chainsaw

18-inch bar
Comes with self-sharpening chain
Strong motor offering maximum power
CHECK PRICE

Premium Choice

Makita EA7901PRZ1 79cc Chainsaw

Brushless motor
Anti-kickback bar and chain
CHECK PRICE

Poulan Pro PR5020

Fuel efficiency
Low emissions
Easy to start
CHECK PRICE
The 10 Best Professional Chainsaws
1.

Husqvarna 460 Rancher 20″ Chainsaw – Best Overall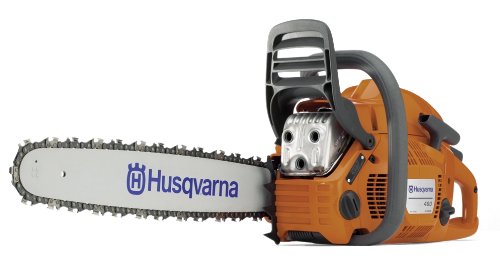 The Husqvarna 460 Rancher comes highly recommended by novices and professionals. The 460 Rancher 20-inch is powered by a two-cycle 60.3cc motor that delivers 3.4 Nm of max torque with X-Torq technology that improves fuel efficiency. The signature HAVS system shuts down the blade if there's any indication that an injury has occurred.
That applies if the saw hits solid items, such as hard objects stuck in a log. We love the side-mounted chain tensioning option on this saw. You can quickly tighten the chain while working without stopping, grabbing tools, and prolonging your project. Also, this Husqvarna comes with an internal air-cleaning system that keeps dust and particles away from the air filter. The air filter quickly comes off and is easily cleaned.
The 460 Rancher can run on octane, ethanol, and Aspen. If there's a downside to this saw, it's maneuverability. The tool's larger bar size and overall weight will be difficult for novices to manage at first. This is probably the definition of a professional chainsaw. However, once you get used to the Rancher 460, you probably won't want to use another saw. It's that good. Overall, we think this is the best professional chainsaw of the year.
Pros
Powerful tool
Great safety features
Easy-to-clean air filter
Cons
Large bar size has a learning curve
---
2.

DeWalt DCCS670X1 Professional Chainsaw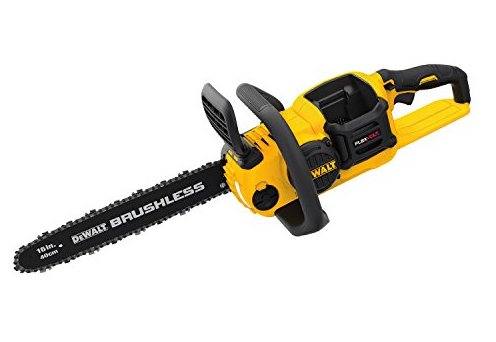 The DeWalt DCCS670X1 might not look like much, but this practical, robust chainsaw proves that looks are deceiving. It gets the job done without any of the added features. What sets the DeWalt apart is FlexVolt technology. It maintains the battery at its optimal state so that performance isn't interrupted and drains only a small amount of battery life.
The DeWalt has a low kickback 16-inch bar and chain that should work for almost any project you have in mind. This saw is auto-oiling, so it should stay lubricated the entire time you work.
Safety is also a top priority because it has an automatic chain brake safety mechanism. Another part of the safety package is a safety guard on the front handle so those splinters won't be a problem again. Also, you can't ask for anything better than the 60V battery output. It's as much power as you're likely to need.
Pros
High level of safety.
Maintains optimal performance at all times.
Strong and powerful.
Cons
Hard to change the chain oil.
A lack of an added protective casing.
---
3.

HUYOSEN 4518L 18″ 46cc Gas Chainsaw – Best Value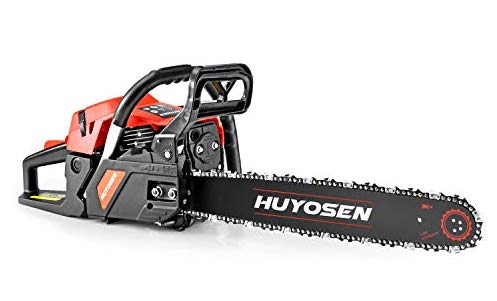 Gas-powered chainsaws can be intimidating for first-time users who would rather have something that plugs into a wall or uses a battery. Electric chainsaws just feel safer, as if they don't mean business. The HUYOSEN 4518L is the Goldilocks of the list; it's one of the more user- and beginner-friendly gas chainsaws we've encountered. Its 18-inch bar, 45cc motor, and 8500 RPM have just the right combination of size and power that won't scare people off but enough muscle to tackle almost any task.
The auto-sharpening chain couldn't be any easier to activate. Just hold the lever, and a sharpening stone inside the chainsaw will sharpen the chain in just a few seconds. This will prolong the life of your chain and ensure that you never have to compromise on results. At 18 pounds, the saw is on the lighter end of the spectrum, and again, it's just heavy enough.
After you see the extras (tool kit, fuel mixing bottle) and top-notch instruction manual, you'll do a double-take when you see the price. With so many features in such an affordable package, the HUYOSEN 4518L is our best professional chainsaw for the money.
Pros
18-inch bar
Comes with a self-sharpening chain.
Strong motor offering maximum power.
Cons
Frustrating auto-oiling system.
Difficult to handle because it's so heavy.
---
4.

Makita EA7901PRZ1 79cc Chainsaw – Premium Choice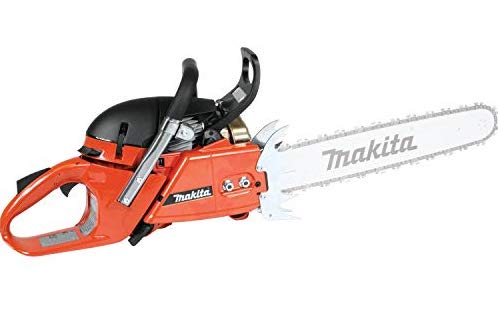 We know it looks like a toy from this angle, but don't let that picture above fool you; it is a 20-inch behemoth of a chainsaw. When we say the Makita EA7901PRZ1 is our premium choice, we mean it. This saw costs much more than our best-value option. If the price does not matter to you, there are some great features that Makita has to offer.
With this saw, Makita thought of everything. The handle on the chainsaw is heated to help in cold weather conditions, and a heavy-duty air filter system keeps the air filter clean and lasting longer. For as powerful a chainsaw as it is, it starts up very easily.
This saw runs at about 13,000 RPM; you should have no trouble easily cutting through thick trees. If you look closely at the head of the saw, you will also see a large metal spike used to make it even more productive.
The price includes only the powerhead, and you will have to buy the chain and the guide bar separately. This saw could be a good investment if you are a professional or working on a large project in cold weather conditions.
Pros
Brushless motor
Anti-kickback bar and chain
Cons
Heavy
Tensioner screws strip and allow plastic to hit chain
---
5.

Poulan Pro PR5020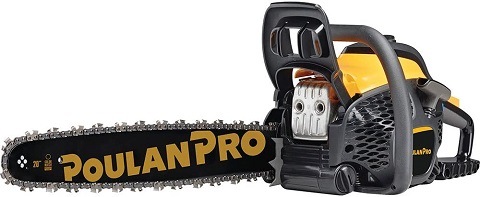 If the pricing on the Makita had you laughing at us, we are back down to reality with this Poulan Pro PR5020. With a powerful 50cc engine and a 20-inch bar, it has just enough muscle to deserve its "professional" tag. But it is also better for the environment than other brands. This chainsaw has about 70% fewer emissions than comparable saws and about 20% lower fuel consumption.
The Poulan Pro is easy to start and has technology in place to keep you from flooding the engine. This is a reasonably priced and decent cutting chainsaw; however, there are a few downsides. The parts used to make the Poulan chainsaw are not of the same quality that you will see with a saw like the Husqvarna, which is why the PR5020 is offered at half the price.
It appears to be made of cheaper materials. If you want to save money upfront when purchasing the saw, go for it. Be prepared that you may be replacing this chainsaw sooner rather than later. Also, we've heard some users had trouble with warranty claims when their saws were returned.
Pros
Fuel efficiency
Low emissions
Easy to start
Cons
Very unreliable long-term
Parts are not high-quality
Some had trouble with warranty when contacting the company
---
6.

Husqvarna 450 Series II Chainsaw
Next, the Husqvarna 450 Series II Chainsaw is the second Husky on our list. You may wonder how much difference there is between the 460 and 450 Ranchers. They almost seem like the same saw. On closer inspection, they're a class apart.
The 450 Rancher has the same X-TORQ fuel efficiency, SmartStart system, and a 20-inch bar, but that's where the similarities end. The 50cc engine is a step down in power, and the 11-pound weight difference gives this a less-than-professional feel. The upsides to the scaled-down output are low fuel consumption and reduced emissions. Another minor but still valuable feature is the visible fuel level.
This saw has a max of 9,000 RPM, which should give you some good power for cutting through even a large block of wood. We don't have too many bad things to say about Husqvarna products in general, but let's be honest: this is a very good saw for home use with a higher price tag based on the Husky reputation. Other models available could save you a few dollars and work just as well.
Pros
Powerful tool
Great safety features
Easy-to-clean air filter
Cons
Pricey for what it offers
Not for serious pro-use
---
7.

Makita XCU02PTX Chainsaw
The Makita XCU02PTX is one of the most affordable 16-inch chainsaws on the market, and that's the only reason it's on our list. We couldn't place it in our "Best Value" slot simply because it lacks certain features, like professional-grade power. It's a relatively simple chainsaw that gets the job done and little else.
The handles of the Makita have a special sweat-proof grip for those long cutting sessions. It's also easy to handle as it's lightweight compared to other chainsaws on our list. We also like the tool-less adjustments. The step-down voltage transition manages and controls the battery consumption so you can cut for longer.
The fast safety feature is the most annoying thing about this saw. Theoretically, it should work, but unfortunately, you have roughly 5 seconds before turning on the saw and touching the wood before it shuts itself off. Frustrating, to say the least!
Pros
Utilitarian
Sweat-proof grip
Good battery life.
Cons
Annoying safety disarm feature
No special features
---
8.

Greenworks 16-Inch Cordless Chainsaw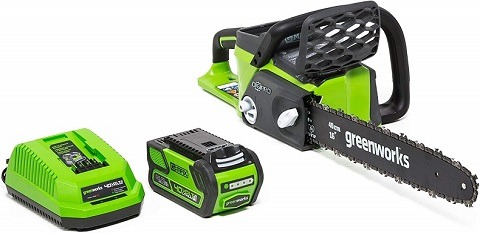 Combining the convenience of battery power plus the efficiency of brushless motors, this chainsaw from Greenworks can make 100 cuts on 4×4 lumber on a single charge. It's pretty light at 10.4 pounds, though the battery adds additional weight. While this saw is quite efficient, our battery had a problem fresh from the factory.
The charge indicator light didn't work, so we never knew how much power was left. Greenworks could benefit from more robust quality control on this tool. The electronic chain brake helps stop accidental kickbacks, and it was a safety feature that we appreciated. It also features an automatic oiler that reduces heat and friction, improving the service life of the saw.
Although this is a great feature, on this particular model, it seems to result in the saw leaking oil. After leaving it in the garage for a few days, it had accumulated a small puddle, something we were disappointed to see.
Pros
100 cuts on one charge
Brushless motors
Cons
Battery charge indicator didn't work
Leaks oil
---
9.

WORX WG384 Cordless Chainsaw
This WORX chainsaw uses two 20V batteries to power its brushless motors.  Luckily, the charger has room to charge two batteries simultaneously. The WORX saw is quite powerful and easily cuts through an 8-inch tree. The automatic chain oiler and auto-tension chain system make this little chainsaw easy to use.
However, the chain tensioner isn't anything to write home about. Our chain required nearly continuous tightening, and a few times, it came off completely. Additionally, its short length of only 14 inches may not be adequate if you need to cut through thick logs. At 11 pounds, it should be one of the lighter chainsaws, but once you include both batteries, it's closer to 15 pounds.
Cons
Uses two batteries
Chain tensioner needed constant adjusting
Chain may come off
---
10.

Remington RM4620 Gas Chainsaws
Equipped with a 46-cc 2-cycle gas engine, the Remington RM4620 Outlaw is a portable and powerful beast. The five-point anti-vibration system makes it very comfortable to use. Thanks to the spring-assisted quick-start mechanism, pull starts should be no problem, a common annoyance with gas-powered chain saws.
However, it was still quite a pain to cold-start this saw. The quick start was great when the saw was warm, but not before she was warmed up. Although it features an auto-oiling mechanism, the one on our chainsaw got clogged and stopped oiling the chain. This resulted in the saw overheating and shutting off.
Also, the torque at full throttle leaves something to be desired, slowing down noticeably on thicker logs. Despite being a 20-inch saw, it was outperformed by some of the smaller ones that ranked higher on this list.
Pros
Powerful gas engine
Quick start mechanism
Cons
Difficult to start when cold
Not the best torque at full throttle
Auto oiler got clogged
Saw can overheat
---
Honorable Mention – Husqvarna 120 Mark II Gas Chain Saw
Husqvarna's 120 Mark II is a capable saw that outperforms many of its competitors, which is why it's earned an honorable mention on this list. This saw is powerful and had no problem cutting through a 10-inch tree. It also has important safety features, such as the built-in safety brake, which helps reduce kickback. At 9.3 pounds, it's light, which is probably its best feature.
Despite claiming to start up easily, it doesn't like to start when it's cold. Expect to be yanking on the cord repeatedly. It doesn't want to stay primed at all, and once you finally get it started, it wants to die. Once warmed up, it runs fine, but it's not pleasurable getting there. Also, the carburetor needed adjusting just to make it run properly.
Pros
Powerful gas engine
Lightweight
Cons
Difficult to start
Doesn't stay primed
Takes a long time to warm up
Carburetor needed adjusting
---
Buyer's Guide – Purchasing the Best Professional Chainsaw
Now that you are ready to pull the trigger on your new chainsaw, we don't want you to be disappointed when it arrives in the mail…and you can't use it. You will need a few items to operate your chainsaw on Day One. Make sure you add these to your purchase so your project won't get postponed.
What Else Do I Need?
Bar & Chain Oil
Bar and chain oil
will keep the chain and the bar on the chainsaw well-lubricated the entire time you are cutting. Without bar and chain oil, you could create friction when cutting, use much more fuel, and eventually burn up your brand-new chain saw. It is definitely is worth purchasing.
2-Cycle Oil
Your chainsaw will very likely be a two-stroke engine needing two-cycle oil. You can often pour the two-cycle oil directly into the gas tank on a chainsaw.
Personal Protective Equipment (PPE)
You should not be using any type of chainsaw without the proper PPE. Choose from dedicated chainsaw helmets, gloves, and chaps.
TR Industrial Forestry Safety Helmet and Hearing Protection System (Orange)
5 in 1 safety helmet comes with helmet, adjustable/removable earmuffs, plastic visor, and mesh visor, providing dynamic protection for...
Provides the protection you need when using chainsaws, brush cutters, and trimmers, ideal for forestry type work.Noise Reduction:SNR...
Secures firmly on head and convenient dial knob makes it easy to adjust the circumference 20 - 24.5 inches (52-62 centimeters)
Chain & Bar Guide
If you are considering the Makita saw, it is sold as a powerhead only. You must purchase the chain and guide bar for this saw to work.
Makita E-00094 16" Guide Bar, 3/8" LP, 043"
Laminated body commercial guide bar
Slim contour for less weight and increased maneuverability
Small radius sprocket nose reduces potential for kickback compared to standard-size noses
---
Chainsaw FAQ
Before you fire up your new chainsaw for the first time, read through our most frequently asked questions.
Do I Have Enough Power?
A 12-15-amp motor (for electric models; 20-30cc for gas-powered) is all you need to get the most out of your chainsaw. This will allow you to cut even the toughest pieces of lumber. Anything under this will restrict you when cutting certain materials, thus warranting a different type of chainsaw.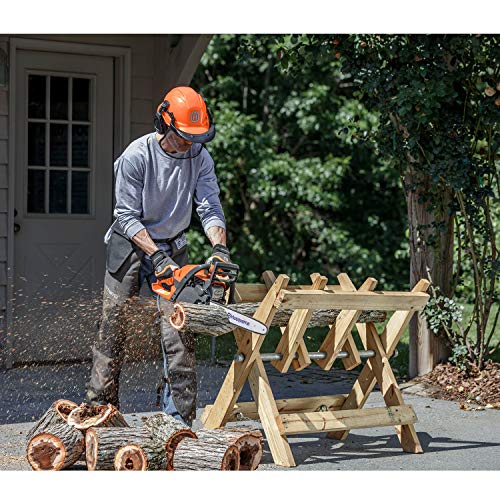 How Tough is the Chainsaw?
Don't settle for anything less regarding the toughness of your chainsaw. When we say this, we mean that the casing of your chainsaw should be able to withstand punishment.
Dealing with such a dangerous tool means the casing shouldn't crack or break, even after prolonged periods. That's why we recommend only buying from a brand with a full long-term warranty on their chainsaws.
Does it Come with Safety Features?
As we mentioned, chainsaws are some of the most dangerous tools around. The latest chainsaws always come with additional features to minimize the risk of a severe accident. For example, most premium chainsaws have safety timers. If the chainsaw isn't in contact with wood for a certain period, it switches off.
Other chainsaws will automatically shut down if there's a problem with the battery to stop overheating.
How Easy is it to Handle?
Ergonomics are always important when handling a chainsaw. Make sure the chainsaw isn't too heavy. It's also important to check for grips. Your wrists and hands shouldn't be twisted into unnatural positions. Furthermore, grips should defend against sweat so you don't accidentally drop the saw.
Always be aware of how close the blade is to your body. Some chainsaws are designed to make sure that it's nearly impossible for you to accidentally cut yourself, regardless of the way you twist and turn.
Is a Case Really Necessary?
An often-forgotten part of buying a chainsaw is the case that it comes. Many times, the case is sold separately. But is it worth it? Yes. Unequivocally, yes. You must have a place to store your chainsaw, so a novice can't get their hands on it.
Imagine if your child accidentally flicked a switch when you weren't in the house, and the chainsaw began to cut.
A strong case with a lock on it is essential. Thankfully, most manufacturers understand this need for safety and provide solid storage options for their chainsaws.
Is it Value for Money?
---
Conclusion:
We think that the best professional chainsaw overall is the Husqvarna 460 Rancher for its power and versatility. It utilizes the latest technology to excel in performance without compromising safety and accepts several fuel types. A close second is the DeWalt DCCS670X1 for its high level of performance. It doesn't have the same features as the Rancher, but any professional would be glad to have one.
Finally, our best professional chainsaw for the value pick is the HUYOSEN 4518L. This chainsaw does the job and does it without the high price tag. It's strong, safe, and includes a self-sharpening chain. We hope our reviews and guide help you select the ideal professional chainsaw.
See Also: