HVLP vs Airless Paint Sprayer: Which to Choose? (Pros & Cons)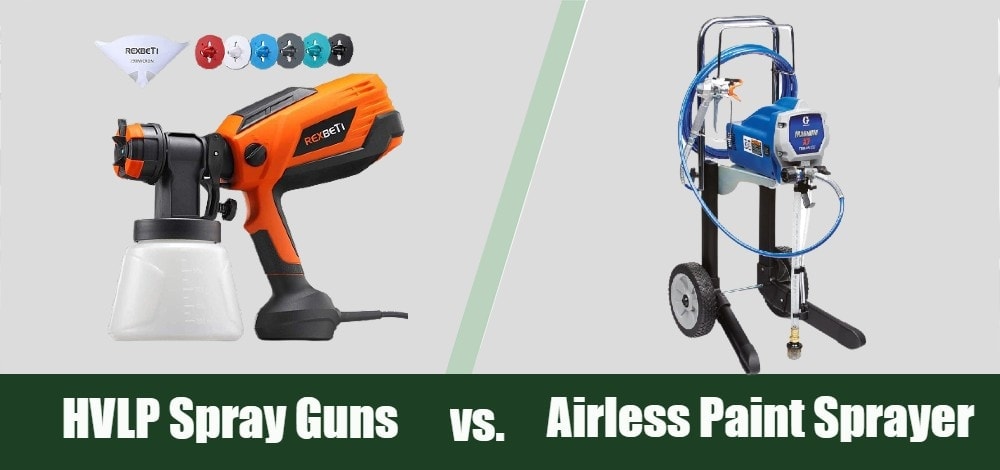 When looking for a paint spray system, most shoppers are going to find it immediately apparent that there are a lot of factors that go into the decision.
Forget for a moment that there are loads of options out there. There are also just different system types that you are also going to have to worry about.
Specifically, you are going to have to decide between the HVLP or Airless paint spray systems. Considering how obvious it will be in the results if you get the wrong thing, you definitely want to make an informed decision.
The Differences Between HVLP and Airless Paint Sprayers
So, what makes these two types of tools different? While they may look almost identical, there is actually a big difference in the context that they are used for.
Airless Paint Sprayers:
Generally speaking, the airless sprayer is going to be used for big jobs, like painting a house or fence, or something of that nature.
It's a high-volume tool. The final result is going to look good, of course, but it doesn't have the same level of refinement that one looks for in smaller jobs.
HVLP Paint Sprayers:
That's exactly where the HVLP comes into play. This paint spray system is going to be used to take care of smaller, more personalized jobs, like painting shelves or furniture.
This is the sort of spray system that you might consider if you are a carpenter or woodworker that wants to make sure their final product looks as good as possible.
---
Technically speaking you can use the systems interchangeably, but you won't want to. Both the HVLP and the airless paint sprayers have their own specialty. Respecting this fact will ensure that you enjoy the best results possible.
And that is that. Now that you know what these two tools are capable of, read on for a look at some great HVLP and airless spray systems so you can decide which is right for you.
Our Favorite Airless Paint Sprayers
Rating
Image
Product
Details

Best Overall

Graco Magnum X7

Portable
High volume work
Ideal for multi-story homes
CHECK PRICE

Best Value

Wagner Flexio 590

Indoor/outdoor capable
Fine finish nozzle
Spray unthinned materials
CHECK PRICE
Graco Magnum 262805 X7 – Best Overall
Graco Magnum 262805 X7 Cart Airless Paint Sprayer, Gray
CONTROL PAINT FLOW: Fully adjustable pressure to give you ultimate control of paint flow for any project size; RAC IV SwitchTip allows...
SPRAY PAINT UNTHINNED: Stainless Steel Piston Pump allows you to spray paint unthinned at high pressure
SPRAY DIRECTLY FROM PAINT BUCKET: Flexible suction tube allows you to spray directly from a 1 or 5 gallon paint bucket
The Graco Magnum X7 is a top-tier, almost professional quality spray system that equips you with everything that you need to deliver a high-quality, consistent spray job.
It may be pricey, but for your money, you get a high-pressure pump, an easy clean, hose flush mechanism, and the capacity to run a hose up to one hundred feet in length for complete access to the second and even third stories of a home.
Wagner 0529010 Flexio 590 – Best Value
Wagner Spraytech 0529010 FLEXiO 590 Handheld HVLP Paint Sprayer, Sprays Most Unthinned Latex,...
PERFECT FOR A VARIETY OF PROJECTS: The Flexio 590 paint sprayer is great for applying a superior finish on furniture, walls, ceilings,...
TWO NOZZLES INCLUDED: iSpray nozzle is ideal for spraying larger jobs and Detail Finish Nozzle is great for small projects and fine...
SPRAY MOST UNTHINNED MATERIALS: X-Boost turbine delivers the power to spray most unthinned interior and exterior paints and stains....
On the affordable side, we have the Wagner Flexio 590. This sprayer is a little bit more basic than the last option that we looked at, but it still comes with enough features to help you get most basic jobs done.
Precision is the name of the game of this sprayer. The fine touch nozzle is optimized for handling the nuance required for smaller jobs, while the adjustable nozzle and pattern rings further increase your ability to control your spray patterns.
In short, it's the perfect tool for tackling small household paint jobs.
Our Favorite HVLP Paint Sprayers
Rating
Image
Product
Details

Best Overall

Fuji 2203G Semi-PRO 2

Extremely durable
Fully adjustable
25-foot-long hose
CHECK PRICE

Best Value

HomeRight C800766

Affordable
Easy to spray
Easy to clean
CHECK PRICE
Fuji 2203G Semi-PRO 2 – Best Overall
In the top pick for the HVLP slot, we have the Fuji 2203G. Like most HVLP systems the name of the game with this tool is refinement. The Fuji specializes in painting furniture, cabinets, shelving, or really anything that you want to be able to apply as much detail to as possible.
It accomplishes this refinement through quick change turbine filters, dedicated fan pattern control, and a 1400-watt two-stage motor.
This unit is also a little bit pricey but for the hobbyist that wants professional results, there is no beating it.
HomeRight Finish Max C800766 – Best Value
HomeRight C800766, C900076 HomeRight Finish Max Paint Sprayer HVLP Electric Spray Gun, 1 Nozzle...
BETTER THAN A BRUSH OR SPRAY CAN: The HomeRight Finish Max paint sprayer is an easy-to-use electric paint sprayer that applies a smooth...
ADJUSTABLE SETTINGS, EASY TO USE: You can adjust the air cap to spray horizontal, vertical, and round. You can also adjust the material...
SPRAY A VARIETY OF MATERIALS: Spray a variety of materials such as thinned chalk type paint, milk paint, latex paints, enamels,...
Last but certainly not least, we have the HomeRight Finish Max. There is a lot to like about this unit, not the least of which is the price.
Like the Fuji, this is going to be best for furniture and other smaller pieces. The HomeRight is optimized for the beginner. It is simple to use, lightweight, and affordable enough to make it worth investing in even if you don't have much experience.
You might also be interested in: 10 Best Paint Sprayers – Reviews & Top Picks
Conclusion
And that is that. As you can see, different sprayers are right for different jobs. Remember, if you have a large job to tackle, like painting a house, fence, or something else that requires quality but not necessarily refinement, go with the airless spray system.
These units are optimized to quickly and professionally handle large-scale jobs.
On the other hand, if you are needing to paint furniture or shelving, you will want to take a hard look at some HVLP systems which are designed to deliver high-quality, refined finishes every single time.
Of course, if you are extremely serious about your painting, you will probably want one of each!
.. and here's a great video on the topic that we also recommend watching: