23 Clever DIY Jute Rope Craft Ideas You Can Make Today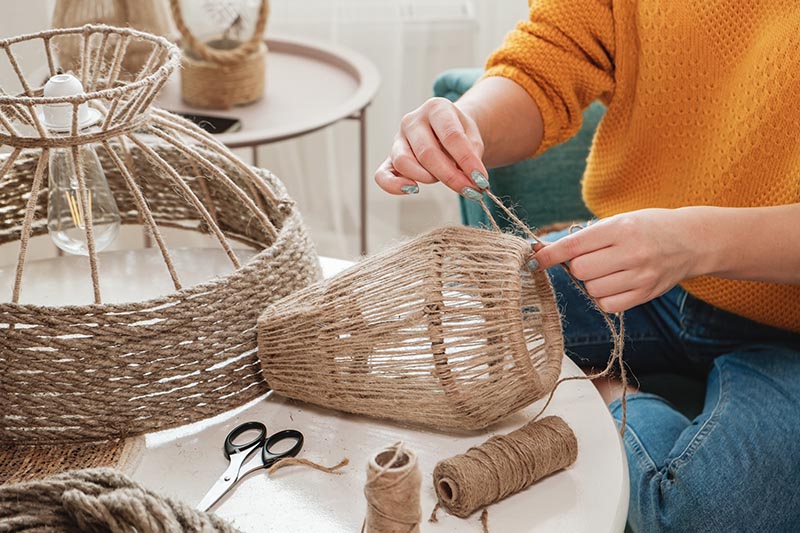 Jute rope is made from natural fibers taken from the jute plant and woven together. As a craft material, it is inexpensive, strong, and surprisingly flexible. It can naturally be wrapped around other items, so it can be used to make almost any shape or object or to tie or tether items together.
Below are 23 clever jute rope craft ideas, ranging in difficulty and application.

The 23 Jute Rope Craft Ideas
1.

Simple DIY Twine Orbs by Buzzfeed
| | |
| --- | --- |
| Materials: | Jute twine, balloons, wood glue |
| Difficulty: | Easy |
One of the benefits of jute twine is that it is flexible. This simple DIY twine orb tutorial uses that flexibility. Wrap glue-coated twine around an inflated balloon, let the glue dry, and then pop and remove the balloon.
The twine becomes hard and rigid because of the glue, and the orbs can be used as year-round decorations or turned into festive baubles. Inflate balloons to different sizes to create a set of orbs in non-uniform sizes.
---
2.

Stonegable Easy Peasy Jute Coaster DIY
| | |
| --- | --- |
| Materials: | Jute twine, hot glue |
| Difficulty: | Easy |
These easy peasy jute coasters really are easy to make and result in rustic-looking coasters. All that's needed is jute twine and some hot glue. Each coaster takes approximately 4 feet of twine. Having a hairdryer to help speed up the drying process will make the DIY process even simpler.
---
3.

Stylish Twine Coasters from The Craftaholic Witch
| | |
| --- | --- |
| Materials: | Felt, jute twine, hot glue |
| Difficulty: | Easy |
If the easy peasy jute coasters above are too basic, these stylish twine coasters use the same basic principle and a similarly simple technique, but they add embellishments that take the coasters to the next level. The tutorial also uses a backing for the coaster that helps keep the twine in place and can help create a more uniform finish.
---
4.

City Farmhouse Pottery Barn-Inspired DIY Jute Placemats
| | |
| --- | --- |
| Materials: | Jute twine, hot glue |
| Difficulty: | Easy |
A placemat is, effectively, just a large coaster and these Pottery Barn-inspired DIY jute placemats use the same technique as the coasters above but create a placemat large enough to hold plates and bowls. The process is simple and the result is effective.
---
5.

Jute Placemats by RoyalBengal Jute
| | |
| --- | --- |
| Materials: | Jute twine, darning needle |
| Difficulty: | Medium |
Making jute placemats can be as simple as rolling a length of jute cord and fixing it with hot glue. These jute placemats use jute twine but, rather than gluing, the twine is stitched firmly into position. They also have inlaid patterns that add a little more decoration than the simple circular finish.
---
6.

Ecectic Momsense Jute Wrapped Monogram Letter
| | |
| --- | --- |
| Materials: | Chipboard, jute, hot glue |
| Difficulty: | Easy |
Letters are great ornaments for a room and they can be personalized and attractive. These jute wrapped monogram letters are easy to make, although they do benefit from some time and care to ensure that the jute wraps around the chipboard backing just right. Embellishments come in the form of flower decorations, for this design, but are entirely optional.
---
7.

Rope Plant Hanger from That Knot Place
| | |
| --- | --- |
| Materials: | Jute twine, fabric scissors, measuring tape |
| Difficulty: | Easy |
Jute is a natural fiber, which means that it naturally works well when combined with plants. It is also more than capable of holding the weight of a plant and the pot it lives in. This rope plant hanger is easy to make, and finished in just five steps, and you can customize the size of the hanger to the size of the pot you want to hang.
---
8.

DIY Jute Rope Basket from Lizzy and Erin
| | |
| --- | --- |
| Materials: | Thick jute, mod podge, hot glue, plastic wrap, bowl, paintbrush |
| Difficulty: | Moderate |
One of the great things about jute is that it is so flexible. It can be rolled and placed around almost any object. And, if you use hot glue on the rope, you are left with a firm, attractive-looking ornament. This DIY jute rope basket uses the hot glue technique that we've seen a lot to create a decorative bowl that would look good on mantelpieces, tables, and other display areas.
---
9.

Windmill Protea Cute DIY Rope Basket on a Budget
| | |
| --- | --- |
| Materials: | Bucket, jute rope, hot glue |
| Difficulty: | Easy |
Baskets are good-looking and really convenient to have around the house. They can be used as laundry baskets, to hold bed linen, or even as ornaments. It all depends on the size and shape of the item you use as the base. This cute DIY rope basket plan uses a wastebasket or bucket, and because the wastebasket stays in place, the finished basket has greater rigidity and strength to hold more weight.
---
10.

Make Your Own DIY Basket From a Cardboard Box by Living Well Mom
| | |
| --- | --- |
| Materials: | Box, jute rope, hot glue, fabric |
| Difficulty: | Easy |
The flexibility of jute means that you can wrap it around objects of different shapes. As well as making round baskets, you can cover boxes to turn an ordinary, ugly cardboard box, into an attractive storage box. This plan uses a cardboard box, some jute rope, and a piece of fabric to make a DIY basket from a cardboard box.
---
11.

The Shabby Tree DIY Jute Storage Box
| | |
| --- | --- |
| Materials: | Brown box, jute, scissors, hot glue, paint sticks |
| Difficulty: | Moderate |
This DIY jute storage box uses the same wrapping and gluing technique as a lot of other plans, but it combines it with some basic weaving to create a more detailed and exciting finish. You use paint sticks to create the weaving frame.
---
12.

DIY Jute Footstool Makeover from Kenia Rae
| | |
| --- | --- |
| Materials: | Jute rope, hot glue, fabric, staple gun, hinges |
| Difficulty: | Moderate |
Giving an old piece of furniture a new lease of life is not only a great way of upcycling and saving money, but it's also deeply satisfying. Especially if you've become attached to the furniture. This DIY jute footstool makeover uses some tired suede footstools and covers them in jute rope to make new-looking and functional furniture for your home.
---
13.

DIY Jute Flower by The Shabby Tree
| | |
| --- | --- |
| Materials: | Jute rope, scissors, fabric, hot glue, buttons |
| Difficulty: | East |
With some cutting, measuring, and gluing, this DIY jute flower tutorial turns some jute rope and buttons into stunning-looking crafty flowers. They are quick and easy to make and because they use basic inexpensive items, making your own jute flowers is a lot more cost-effective than buying them from the shop.
---
14.

Make Your Own Large Boho Jute Rug by The Crafty Lumber Jacks
| | |
| --- | --- |
| Materials: | Doormats, duct tape, jute rope, scissors, adhesive, caulking gun, twine, stencil, acrylic paint, stencil brushes, wall stencil |
| Difficulty: | Moderate |
Everything you need to make your own large boho jute rug can be bought from hardware and dollar stores, which means that it costs a lot less than buying a stylish jute rug from the store. The process isn't that difficult, and the use of stencils and stencil paint really adds character to the finished piece.
---
15.

Blissful Domestication DIY Twine Heart Decoration
| | |
| --- | --- |
| Materials: | Heart balloon, twine, scissors, fabric stiffener, old bowl |
| Difficulty: | Easy |
Possibly the most difficult aspect of this DIY twine heart decoration will be finding the heart-shaped balloon. But the balloon and the fabric stiffener can be bought from Amazon or from other stores. The process involves stiffening and gluing twine around the inflated balloon and then popping and removing the balloon.
---
16.

Jam's DIY Twine Lantern
| | |
| --- | --- |
| Materials: | Twine, balloons, scissors, newspaper, glue, petroleum jelly, spray paint, string lights |
| Difficulty: | Moderate |
Balloons are a really useful tool when making twine decorations because the twine is soft enough that it won't burst the balloons, but they can be easily removed once you've finished. These DIY twine lanterns use balloons to create what is essentially a large twine bauble. You can then weave string lights into the twine ornaments to make the lanterns.
---
17.

Twine-Wrapped Light fixture from So Much To Dew
| | |
| --- | --- |
| Materials: | Pendant light fixture, twine, ball, mod podge |
| Difficulty: | Easy |
This twine-wrapped light fixture looks good during the day, when the light is off, as a hanging feature. But it really comes to life at night, when the twine encasing throws shadows around the room that invoke memories of a darkened forest.
---
18.

Bits n Odds Jute Feather
| | |
| --- | --- |
| Materials: | Jute string, skewers |
| Difficulty: | Easy |
By tying some jute string to a skewer, and then brushing the string to rough up the edges, you can create what looks like a large feather using just skewers and jute. The jute feather is actually a lot easier than you might think and it gives a surprisingly effective end result.
---
19.

Creative Budget-Friendly String Christmas Tree
| | |
| --- | --- |
| Materials: | Cone, jute twine, craft glue, saran wrap |
| Difficulty: | Easy |
The budget-friendly string Christmas tree can be made using virtually any type of string, but the natural and somewhat rugged finish of jute twine makes it an especially good choice. Use a cone bought from the craft store, or just make your own using a piece of rolled-up card.
---
20.

Twine Tree Tutorial from Hometalk
| | |
| --- | --- |
| Materials: | Cardboard, popsicle sticks, scraps of wood, twine, glue |
| Difficulty: | Easy |
This twine tree tutorial makes a more two-dimensional tree but its use of a scrap of wood of a tree gives it a very effective finish. It's easy to make and it can be adorned with a star or other ornament as a tree topper to give it a real holiday feeling.
---
21.

DIY Twine Star by Mother Thyme
| | |
| --- | --- |
| Materials: | Tinsel star, nautical rope, hot glue, scissors, wire cutters, fabric, button |
| Difficulty: | Easy |
The DIY twine star looks amazing and, other than a tinsel star or other wire or metal star, the materials needed are similar to any of the other projects on this list. By combining the jute, you can create a shabby-looking thread that gives the twine star an almost cushion-like finish. Great for Christmas but beautiful all year.
---
22.

String Star Ornaments from Creative
| | |
| --- | --- |
| Materials: | Cling wrap, cork board, pins, star template, glue, jute yarn |
| Difficulty: | Easy |
Homemade Christmas tree ornaments can save a ton of money and give a really homely feel to the tree. It's also a good way to get the kids involved with a festive activity before they overindulge and enjoy the spoils of the festive period. Using a star template and some jute yarn and glue, create these string star ornaments. You can also paint some to give a little more excitement to the decorations.
---
23.

Home Road DIY Jute Carrots
| | |
| --- | --- |
| Materials: | Orange jute twine, card stock, hot glue, faux greenery |
| Difficulty: | Moderate |
Thankfully, jute isn't just for Christmas. In this case, it can be used to create DIY jute carrots that make a great-looking Easter decoration or that can adorn your home during the Springtime to celebrate the season. It's a similar design to that of the Christmas tree but with a very different-looking finish.

Conclusion
Jute has many uses. It is popular for tying gifts and as a natural tie for use outdoors and indoors, but its flexibility and reasonable strength, as well as its natural looks, also make it a good material for home DIY and crafts. Above are 23 great DIY rope craft ideas, most of which are really simple to make and many of which can be modified or adjusted to your needs and the supplies you have at hand.
---
Featured Image Credit: perfectlab, Shutterstock