Kobalt vs. Ryobi (2023 Comparison): Which Power Tool Brand is Better?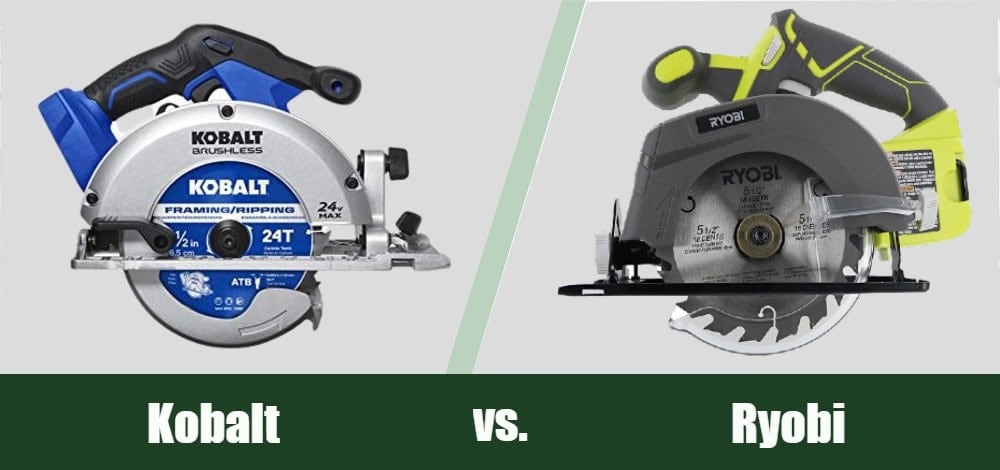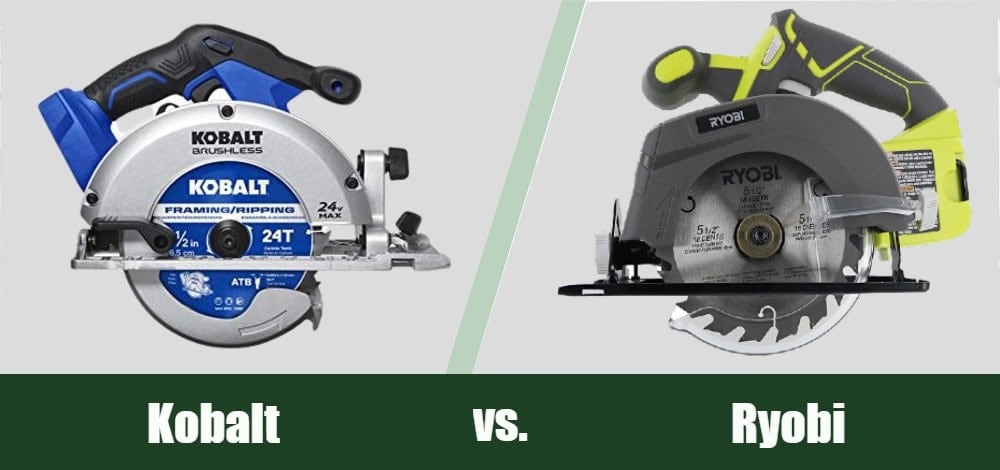 Both Kobalt and Ryobi are well-known power tool brands. Neither of them is precisely a high-end brand, but they aren't incredibly cheap brands either. If you're looking for a mid-range tool, then one of these brands may be what you're looking for.
However, choosing between these brands can be difficult. On the surface, they can seem remarkably similar. Luckily, we're here to help you out. We will look at both of these companies, including things like their production location and warranties. Hopefully, this information will help you figure out which brand is best for you.

A Quick Comparison
Image
Product
Details

Kobalt

Established: 1988
Headquarters: United States
Product lines: Power tools
Parent company/ major Subsidiaries: Lowe's Companies Inc.
CHECK PRICE

Ryobi

Established: 1943
Headquarters: Japan
Product lines: Power tools
Parent company/ major Subsidiaries: Techtronic Industries
CHECK PRICE

Brief History of Kobalt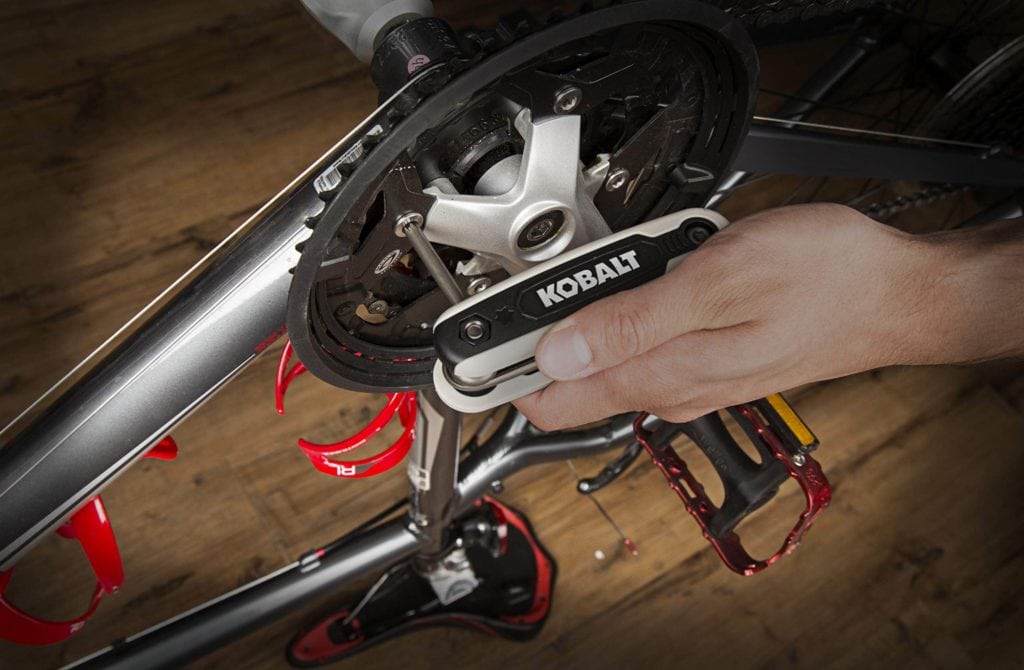 As far as tool companies go, Kobalt isn't that old. Lowe's launched this off-shoot brand in 1998 through a partnership with J.H. Williams. Kobalt was supposed to be a competitor against other retailers like Sears and Home Depot, who both had their own tool brands at the time.
Eventually, Danaher Corporation began producing the majority of Kobalt power tools in 2003. In 2011, that arrangement ended, and Lowe's switched to different suppliers for its hand tools. However, different tools were then made by different companies—not any one major manufacturer.
In 2011, the company also expanded to include cordless power tools, which are manufactured by Chervon. Rexon Industrial Corp. manufactures their current miter saws, as of 2020.
---
Brief History of Ryobi
Ryobi is a Japanese company that makes all sorts of things including cars, electronics, telecommunications, and printing equipment. This company also produces a line of power tools, which we will focus on in this article.
This company was founded in 1943 and initially sold die-cast products. In 1961, they began making printing presses. The production of power tools didn't begin until 1968. The Ryobi tools brand was listed in North America, Europe, Australia, and New Zealand. One World Technologies, Inc. manufactures all of Ryobi's power tools. This company also manufactures the tools for Milwaukee, AEG, and a few other power tool companies.
Today, in the United States and Canada, Ryobi power tools are mostly sold through Home Depot and the internet. In Australia and New Zealand, you can only find them at Bunnings Warehouse.

Kobalt vs. Ryobi: Manufacturing
Kobalt
Most Kobalt mechanic's tools are made in the USA. However, the power tools are made in either Germany or China. The company seems to be shifting more and more of their production to China, so expect more and more power tools to come from there as time progresses.
Generally speaking, however, the Chinese production does not seem to affect the quality of the Kobalt power tools. In many cases, they don't seem low-quality.
Over time, Kobalt has sourced from many different places, so we wouldn't be surprised if they switched again in the future. Since many Kobalt tools are made by different people, the exact quality will differ from one tool to another. They aren't all made by the same person, so manufacturer warranties and that sort of thing might be different as well.
New power tools are going to be made by Chervon tools currently, which is based in Germany. However, much of this brand's production is done in China.
Ryobi
In the past, Ryobi tools were made in the USA. Today, they have 12 different facilities spread over six different companies. Some are made in one country, while other tools are made in a different company. They currently only have one facility in the US, which is located in Shelbyville, Indiana. For this reason, most of their tools are not made in the US.
Back in the 1980s, most of their tools were made primarily in the US. Some of that has carried over to today, with many people assuming they're still a US company. However, their tools are now primarily made in China.
Currently, their one US plant only makes accessories for some of their tools. No actual power tools are made there. Therefore, you can assume that all of their power tools are made elsewhere—mainly in China.
We expect that they will continue to manufacture their tools in China in the future.
---
Kobalt vs. Ryobi: Product Line
Kobalt
Kobalt currently makes a line of hand tools, power tools, and tool storage products. They are mostly designed for consumer use, and the quality and cost mirrors this. They are most well-known for their power tools, which is what they started making initially. However, their hand tools are becoming increasingly popular.
They also make some accessories for their various tools. They also manufacture some larger accessories, like air compressors.
Generally, they make all of the power tools that you might expect. They have drills and drivers, as well as batteries and saws.
Ryobi
Ryobi is best known for their tools, but they also make a variety of other products. The larger company they are a part of actually makes many different products, including die-cast products and printing equipment.
On top of the electric power tools, Ryobi also makes lawn and garden equipment. They make leaf blowers and that sort of thing. They focus heavily on electric tools, so most of them are battery-powered.
They also make tools and equipment for builders and construction workers.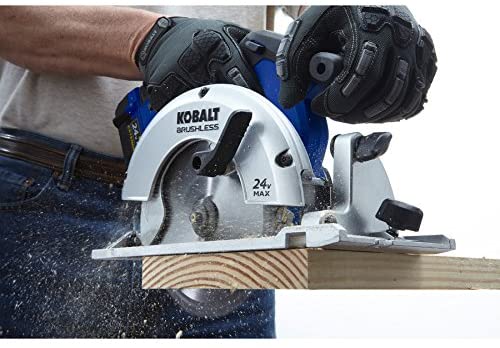 Kobalt vs. Ryobi: Price
Price is an essential consideration for most buyers. Most people don't have hundreds to spend on power tools, especially if you're just a homeowner.
Kobalt
Generally, Kobalt is considered to have a low to medium price point. Many of their products are far cheaper than high-end brands. They market most of their tools to the average homeowner, who usually doesn't have hundreds to spend on a drill.
Ryobi
There isn't a significant difference between the Ryobi and Kobalt price. Of course, some of their products are going to be mismatched, price-wise. However, in general, these are both middle-tier companies with middle-tier prices.
---
Kobalt vs. Ryobi: Warranty
Before purchasing a tool, you should consider its warranty. You should look at the warranty's specifics, such as how many years it covers, what it covers, and how easy it is actually to use the warranty. An unusable warranty isn't going to be worth much.
Kobalt
Kobalt offers a 5-year tool warranty and a 3-year battery warranty on most of their power tools. This warranty only covers defects, not damage due to normal wear, abuse, or improper maintenance. Because of this, the Kobalt warranty is a bit difficult to use.
The accessories Kobalt makes with their tools sometimes come with a satisfaction guarantee. Some of their tools come with a 1-year risk-free guarantee, which allows you to get your money back within the first year after purchase.
Ryobi
Ryobi will repair faulty quality or defective parts within 90 days of purchase. However, they do not have a warranty per se.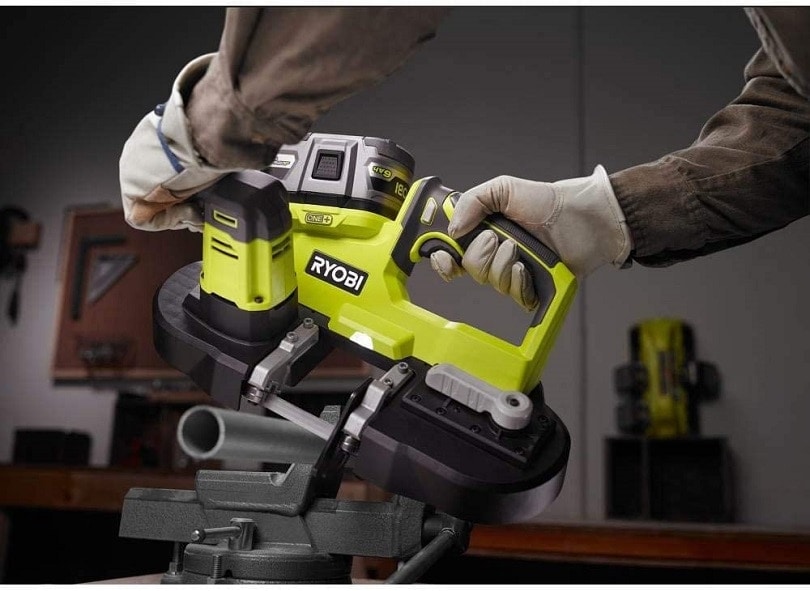 Kobalt vs. Ryobi: Customer Service
Customer service is one of the few things that each company has direct control over. Since many companies outsource their product manufacturing, they can't always control their tool's quality. However, customer service is entirely up to them.
Kobalt
There are many complaints involving using the warranties attached to Kobalt tools. Many people had difficulty returning a tool that had come defective. Quite a few people claimed that the hassle wasn't worth the cost of their tool. Many of these complaints seem to focus on Lowe's in particular, as you often have to return your tool to one of their stores.
Ryobi
In our research, we found that Ryobi tools don't always hold up as you'd expect. This leads to many customers seeking to return the tools, especially if they break within the 90-day window. However, Ryobi doesn't always see the breaks as defects and doesn't always accept the returns.

Head-to-Head:
Kobalt vs. Ryobi 4-tool Combo Kits

Both of these companies have a 4-tool combo kit. If you're looking to get started in home DIY, then one of these kits can help you get started relatively quickly.
The Kobalt cordless combo kit does include four tools – kind of. It comes with a power drill, circular saw, LED light, and a charger. As you can see, half of the tools included are hardly tools at all. The Kobalt power drill also works as an impact driver and is a pretty high-quality tool.
The circular saw is another decent inclusion. But it only has a 6.5-inch blade, not the standard 7.25-inch blade. Keep this in mind when purchasing it. The other two "tools" are an LED light and a charger. We'll let you decide if those are tools or not.
On the other hand, the Ryobi combo comes with four products: a power drill, circular saw, reciprocating saw, and an LED light. A charger is also included, but they don't count it as a tool. The Ryobi kit is the better value, as it comes with four tools.
Our verdict: Ryobi

Head-to-Head: Lawn Mowers
Kobalt 21″ Electric vs. Ryobi 20″ Battery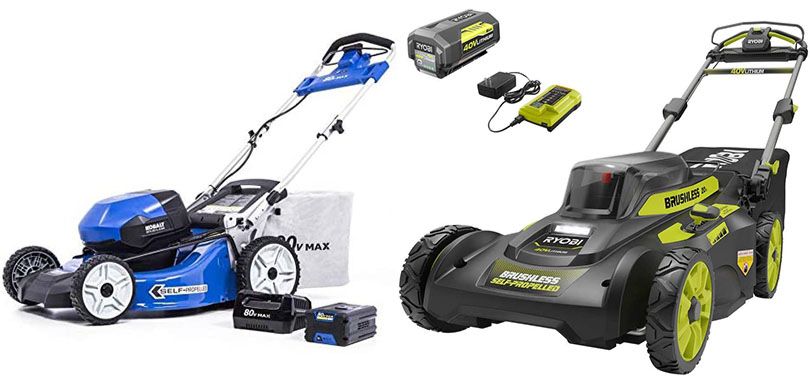 On top of power tools, both of these companies are well-known for their construction of lawn equipment, including lawn mowers. They both have a battery-powered electric lawnmower, which is what we're going to be looking at here.
The Ryobi lawn mower includes a brushless motor and is extremely easy to operate and maneuver. The cutting height is adjustable to 7 different levels, and you can use it to mulch if you purchase different accessories. The 40V battery can run the mower for up to 48 minutes. However, it will take four hours to charge.
On the other hand, the Kobalt lawn mower is a bit more expensive than the Ryobi—sometimes twice as expensive, depending on where you're shopping. It is slightly bigger, but not by enough to matter. For the increased cost, you get only 30-minutes of recharge time, which is one of the shortest on the market.
On one charge, you also get 80-minutes of runtime. The motor is also brushless.
Our verdict: Kobalt

Head-to-Head:
Kobalt vs. Ryobi Sliding Compound Miter Saws
Both the Ryobi and Kobalt sliding compound miter saw appear to be nearly identical on the outside. Therefore, they're an excellent tool to compare between the two companies.
The main difference between these two saws is the warranty. Kobalt offers its standard 5-year warranty, while Ryobi offers a 3-year warranty from the manufacturer. For this reason, you may decide to go with the Kobalt just for the increased warranty.
In general, both of these tools are very similar. But the Kobalt has a better warranty, so we had to rate it a bit higher.
Our verdict: Kobalt

Overall Brand Reputation
Performance
Edge: Kobalt
Generally, Kobalt tends to have slightly better tools than Ryobi. This isn't always true, though, so don't assume one particular tool is better than another just because it is a Kobalt.
---
Price
Edge: Ryobi
Ryobi tends to be less expensive than Kobalt. In many cases, they do have very similar prices, though. It seems to be the particularly more expensive items where Ryobi wins.
---
Durability
Edge: Kobalt
Kobalt tools seem to hold together better, as does their lawn equipment. Plus, even if their tools break, they offer a company warranty, which Ryobi doesn't.
---
Design
Edge: Tie
When looking at all of their tools, we can't rate one company above the other, just based on their design. Sometimes, Ryobi wins. Other times, Kobalt wins.

Kobalt vs. Ryobi – In Conclusion
From a birds-eye view, we don't feel comfortable ranking either of these brands over the other. Kobalt has a much better warranty, but tends to be a bit more expensive. In some cases, Kobalt makes better tools. In other cases, Ryobi is the way to go—especially when it comes to saving money on higher-end products.
For this reason, we recommend comparing these two companies on a tool-by-tool basis.