14 Home Invasion and Burglary Statistics in the UK (2023 Update)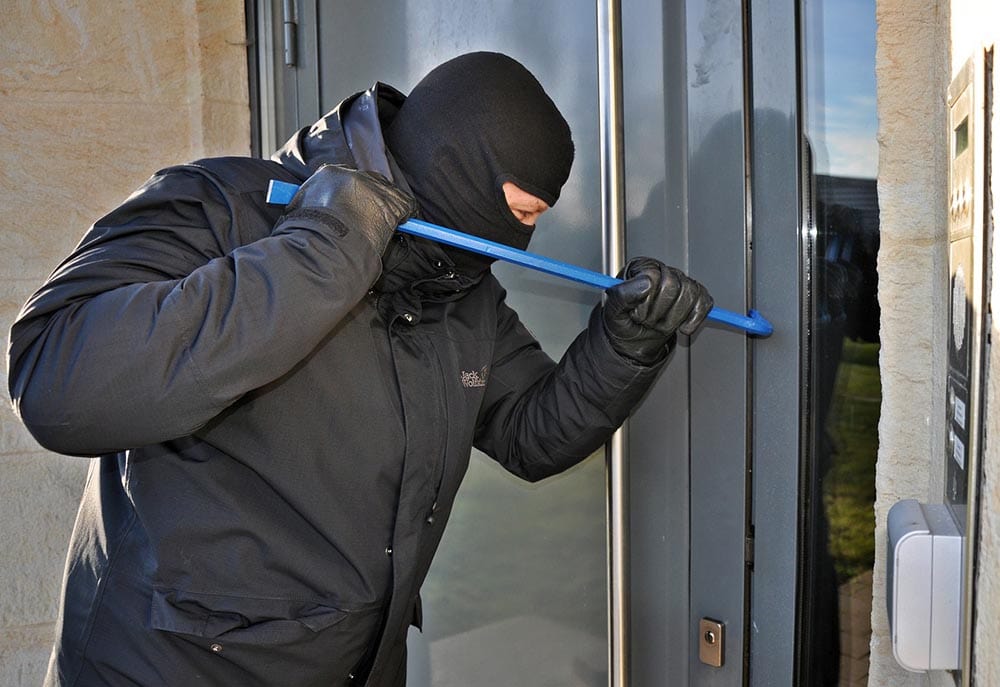 Note: This article's statistics come from third-party sources and do not represent the opinions of this website.
Every year, hundreds of thousands of homes across the U.K. fall victim to home invasion and burglary. It's a scary thought and a scary event, but what do the numbers actually tell us about this criminal behavior?
There's a large amount of data out there about home invasions and burglaries in the U.K., so here are 14 of the most important statistics out there. Whether you're looking to keep yourself safe or just want to learn more about local crime, you're in the right place.
The 14 Home Invasion and Burglary Statistics in the U.K.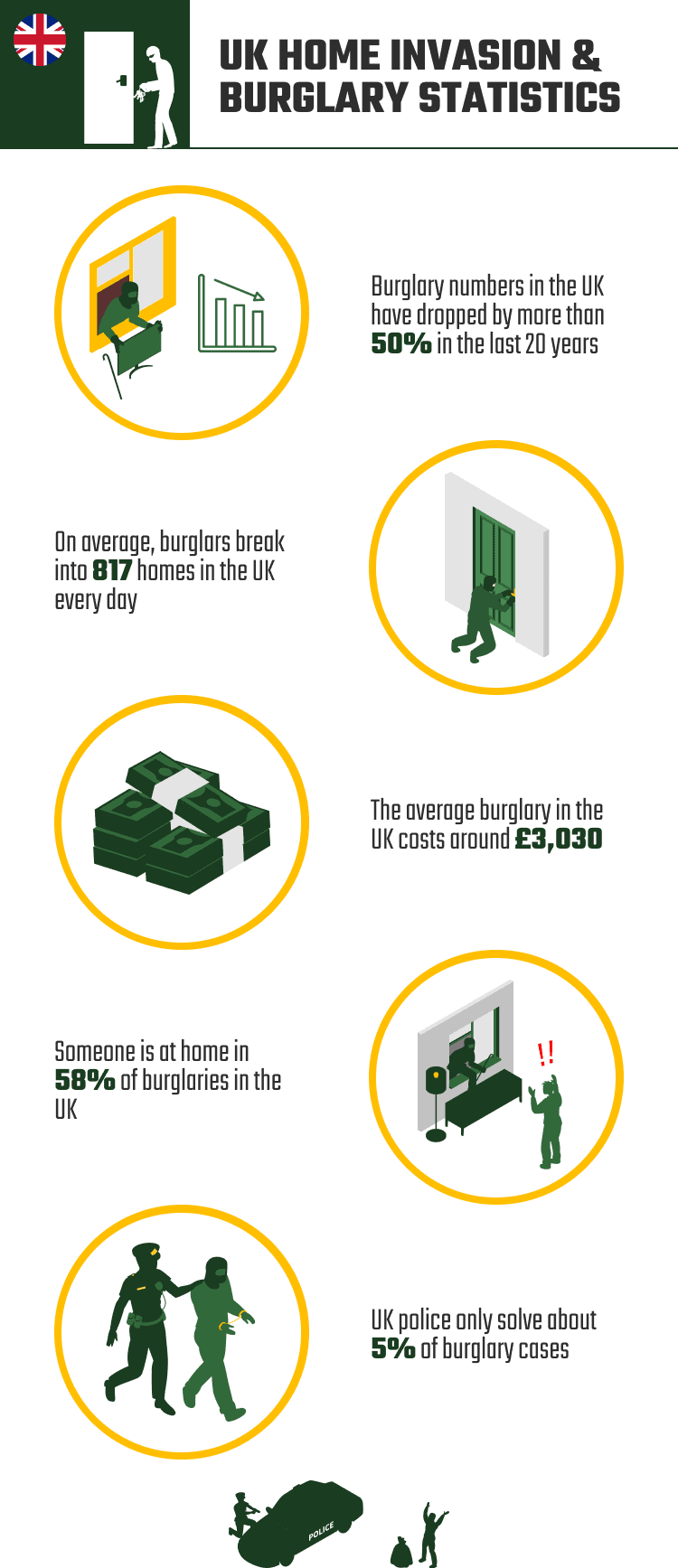 How Common Are U.K. Burglaries
1.

Burglary numbers in the U.K. have dropped more than half since 2002.
(Statista)
While burglaries are still a problem in the U.K., there's no doubt that the country as a whole is trending in the right direction. Burglary numbers are clearly going down, well under half as high compared to just 20 years ago.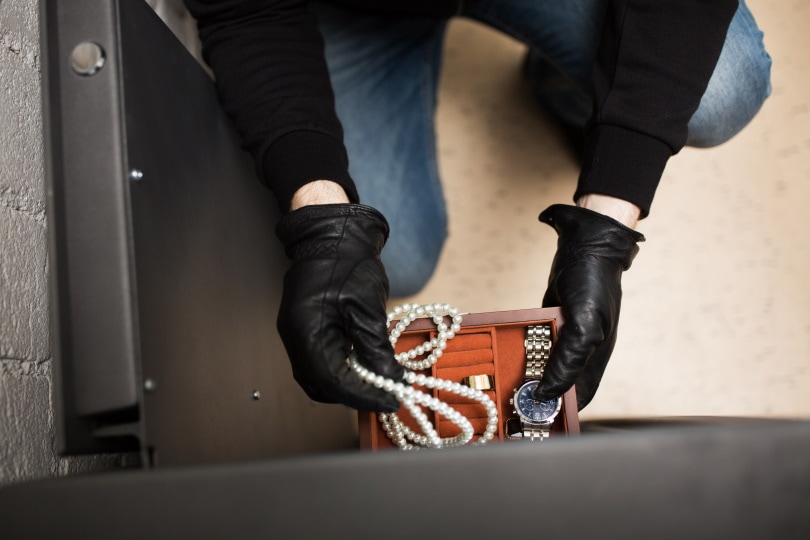 ---
2.

West Yorkshire has the highest burglary rate by county.
(Office for National Statistics)
If you're looking for the county with the most burglaries in the entire U.K., that infamous distinction falls to West Yorkshire. There's a 0.83 risk of a residential burglary each year there. While that's a low number, it's much higher than the 0.15 risk in Devon and Cornwall.
---
3.

There were 296,150 burglaries from April 2018 to March 2019.
(Office for National Statistics)
Numbers don't mean much without context, but this is still an important statistic to know. While burglaries are becoming less common in the U.K., there are still just under 300,000 burglaries in a single calendar year.
---
4.

On average, burglars break into 817 homes in the U.K. each day.
(Office for National Statistics)
296,150 is a large number to try to wrap your head around, but when you break these burglaries down by day, that's 817 homes a day. Those are many burglaries for police to respond to, and it's hard for them to keep up.
---
5.

A burglary occurs in the U.K. every 106 seconds on average.
(The Eco Experts)
If we break down the numbers a bit further, it means that a burglary happens every 106 seconds in the U.K. This is a startling statistic, but it's important to remember that certain times are more likely to involve a burglary than others. A burglary every 106 seconds is just an average.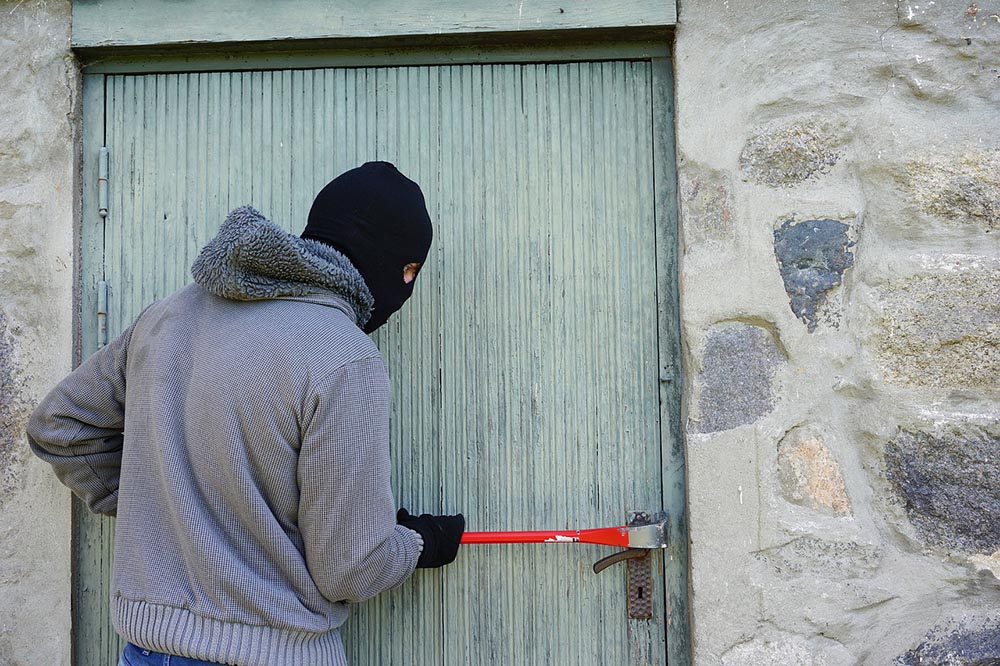 What Burglars Take and Whom They Take From
6.

The average burglary in the U.K. costs £3,030.
(Home Office)
While most burglars are not stealing £3,030 worth of stuff, when you combine the property damage with what they actually steal, this is the average. That's almost £900 million in damages and theft each year.
---
7.

London loses three times more money to burglaries than any other U.K. county.
(The Eco Experts)
While living in London doesn't put you at the highest risk of a burglary, it does mean if a burglar breaks in, they tend to get away with more stuff. The annual cost of burglaries in London exceeds £181 million, which is twice as high as the next closest county.
---
8.

Young people are the most likely to experience a burglary.
(Office for National Statistics)
When we think of people getting burglarized, our minds tend to jump to the elderly, but statistically, that's not true. Those under the age of 24 are twice as likely to be the victim of a burglary in the U.K.
---
9.

Rural areas experience fewer burglaries than urban areas.
(Department for Environment Food & Rural Affairs)
When people think of burglaries, they typically think of urban environments, and that stereotype holds true. Those out in rural settings face a significantly lower risk of burglary, while those in an urban area are twice as likely to become a victim.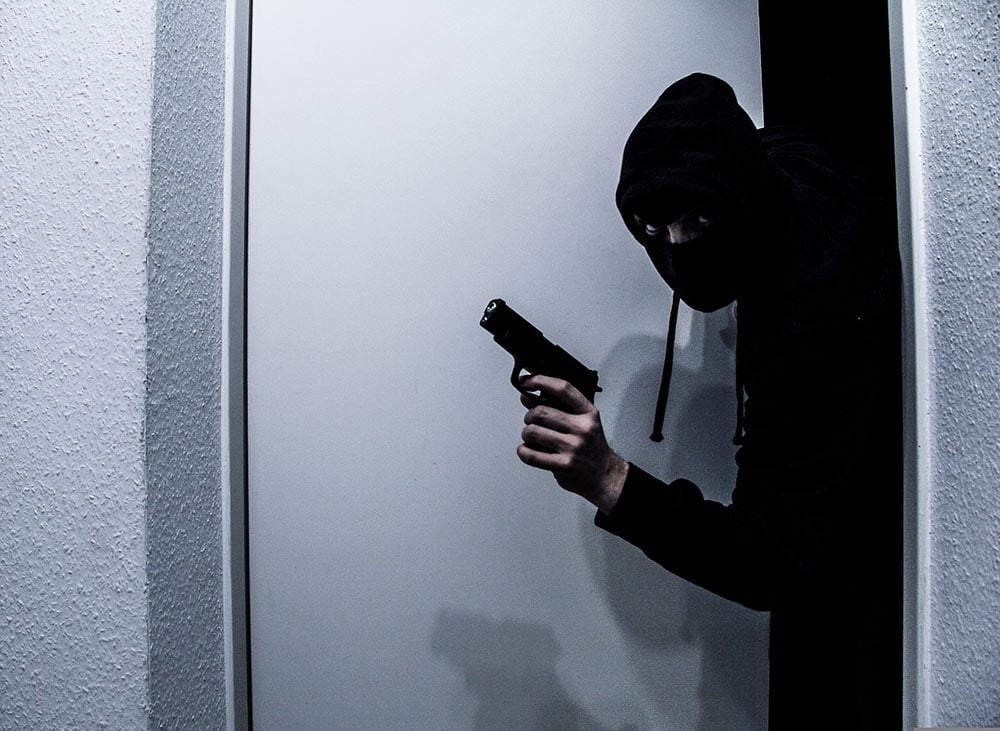 Other Burglary Stats
10.

Someone is home in 58% of burglaries in the U.K.
(The Eco Experts)
We tend to think of burglars sneaking around to break into homes and take stuff, but most burglaries in the U.K. occur when someone is home! Some burglars even resort to violence to get what they want.
---
11.

32% of U.K. homes have a security system.
(The Eco Experts)
One of the best ways you can prevent yourself from becoming the victim of a burglary is to have a security system in your home. But right now, only about 32% of UK homes have such a system.
---
12.

43% of burglars know their victims.
(The Eco Experts)
While a burglar certainly isn't your friend, you might think that they are one. People are more likely to burglarize someone they are familiar with, which is why 43% of all burglars know their victims. This decreases the chances of getting caught, and it enables them to scope out the area before heading in to steal.
---
13.

3 p.m. and 5 p.m. are the most common times for burglaries.
(Country Living)
Another stereotype associated with burglars is them coming in the middle of the night. While that can happen, it's not the most likely scenario. It's actually in broad daylight! Burglars will try to break in when you're not home if they can, and between 3 p.m. and 5 p.m. seems to be their sweet spot.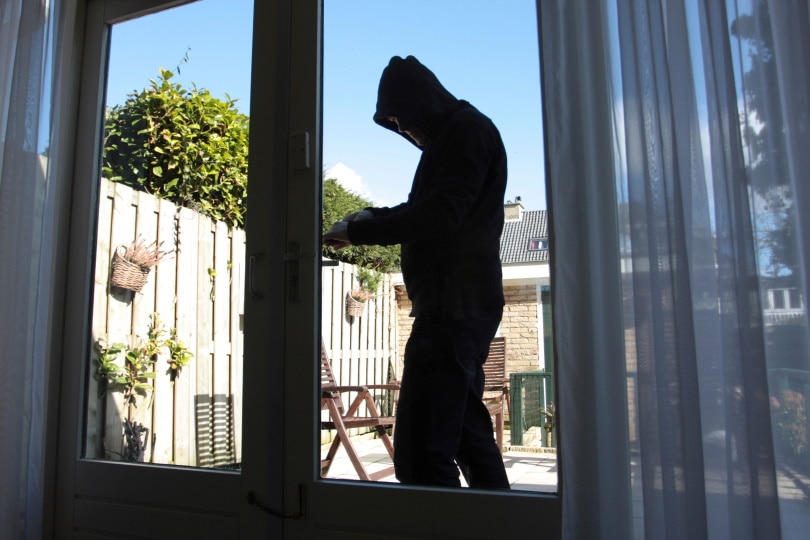 ---
14.

Police only solve about 5% of burglary cases.
(The Times UK)
While nobody wants anyone to break into their home, it would at least be reassuring if the police could catch the criminals. But by and large, that doesn't happen. In fact, only about 5% of all burglars in the U.K. actually face any prosecution. Police simply don't catch most burglars, especially the first time around.

Frequently Asked Questions About Home Invasion and Burglary in the U.K.
Now that you know the statistics surrounding home invasions and burglaries in the U.K., it's only normal to have a few questions, so here are the answers.
What's the difference between theft, robbery, and burglary?
While all these things might sound similar, they refer to different scenarios. Burglary happens when a criminal breaks into a property, robbery occurs when the criminal uses force, and theft simply refers to taking something from someone else anywhere, not necessarily from their home or a building.
(Sentencing Council)
What are the most common ways that burglars enter homes?
Do burglars sneak around to the back or smash out a window to get into a house? No, most of the time, they go through the front door. In fact, 34% of burglars simply walk inside the home.
(ADT)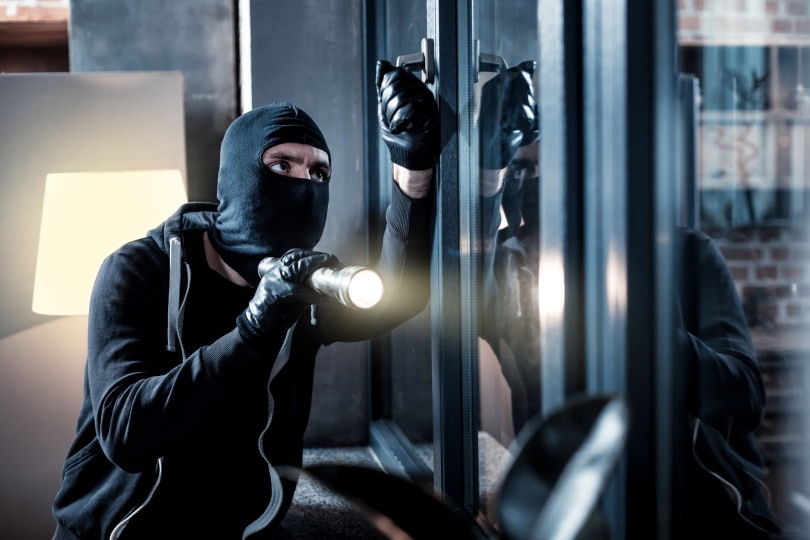 Do cameras scare burglars?
The short answer here is yes. Homes with cameras are 300% less likely to become a victim of a burglary. Cameras help cops find criminals, and the criminals don't want the cops to find them. If you put up a camera in your home and the burglar knows about it, they're less likely to try and break in.
(ADT)
How long do burglars stay in a house?
Burglars don't want to stay in your home for long. They want to grab the valuables and get out. That's why most burglaries only take 8 to 12 minutes. It's a blink of an eye and then they're gone.
(API Alarm)
Who is most likely to commit a burglary?
Stereotypes hold true here. Most burglars are males under 25 years old, and most of them don't have much money. Many burglars are simply desperate, and desperate people are willing to take more risks, like breaking into homes to try to get money or things to sell.
(Alarms.org)

Conclusion
Now that you know more about home invasions and burglaries in the U.K. it's up to you to take the necessary steps to protect yourself and your belongings. Devices like security systems and cameras go a long way in protecting your home, and the cost of these systems are dropping by the day.
See also: 7 Car Theft Statistics in the UK
---
Featured Image Credit: Steffen Salow, Pixabay