Kohler Santa Rosa Toilet Review 2023 – Pros, Cons & Verdict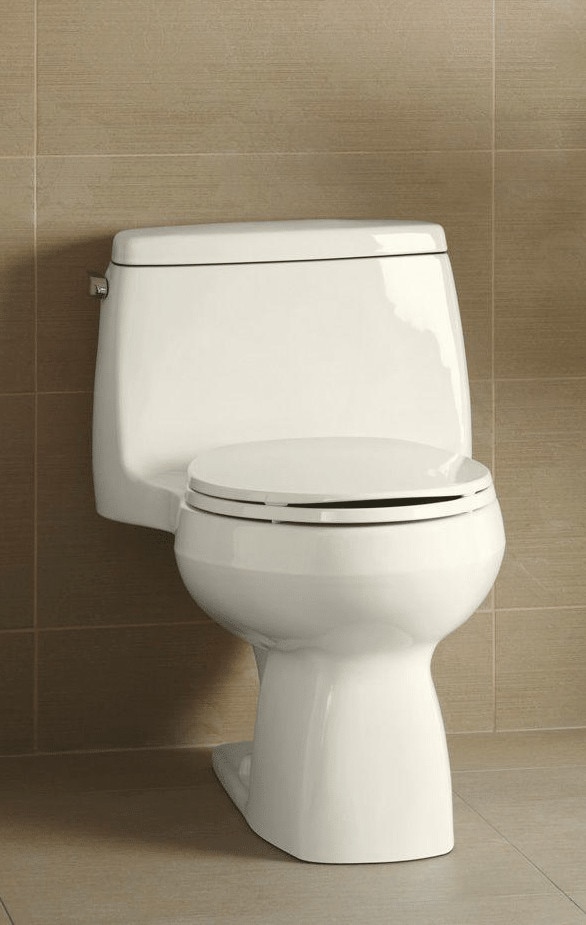 We give the Kohler Santa Rosa Toilet a rating of 4.5 out of 5 stars. 
Build Quality: 5/5
Power: 4.5/5
Features: 4.5/5
Price: 4/5
The Kohler Company started in 1873 before most homes even had a toilet and has been going strong ever since, with several well-known models produced for homes throughout America. The Santa Rosa model features a uniquely modern look and a one-piece design.
The Santa Rosa line is known for its comfort height, which brings the seat higher than standard toilets, and the reduced water flush, saving hundreds of gallons of water every year.
 Kohler Santa Rosa – A Quick Look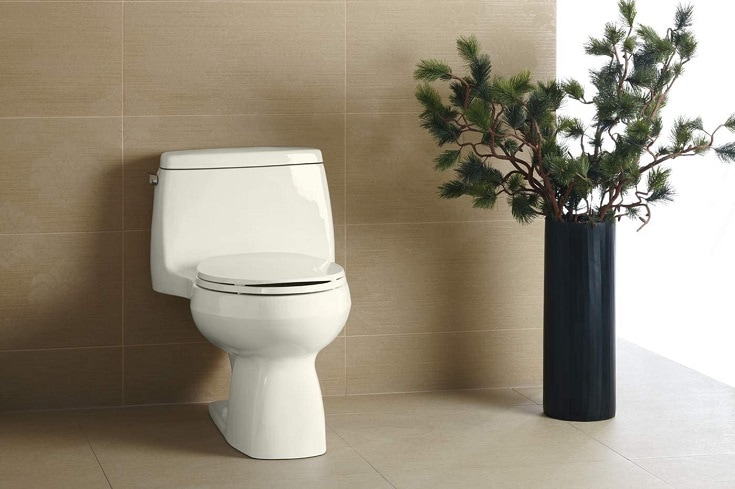 Specifications
Brand Name: Kohler
Model: Santa Rosa K-3811-96
Height: 31"
Width: 75"
Length: 29"
Weight: 109 pounds
Shape: Oblong
Water Consumption: 1.6 GPF
Pros
6-gallon flush (GPF)
17" seat height
One-piece design
Quiet close seat
AquaPiston canister flush system
Comfort Height
The traditional toilet has a seat about 15 inches above the floor. The Kohler Santa Rosa increases the seat height by another 2 inches to 17. A 17-inch high toilet seat is much easier to get up from, especially if you have a bad back. It's also better for people above 6 feet tall since they sometimes feel uncomfortable on a standard seat.
Water-Saving
Traditional toilets use 3 to 5 gallons to create enough suction to evacuate waste. The Kohler Santa Rosa toilet reduces the water used to 1.6 GPF, saving you hundreds of gallons each year, especially if several family members use it. In most cases, you will notice a decrease in your water bill.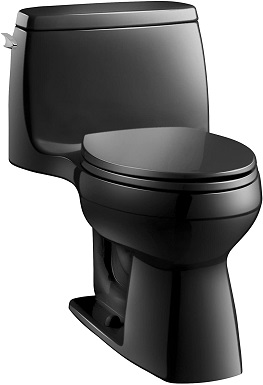 AquaPiston Canister Flush
The AquaPiston Canister Flush provides several benefits to the user. When you initiate the flush, it allows more water to flow into the drain than a traditional flapper, so you get a stronger flush. Less of the seal's surface area is in contact with the water, so there is less chance of a leak and less maintenance required over time.
Single Piece
The single-piece design of the Kohler Santa Rosa is modern and sleek, with no hidden or hard-to-reach surfaces, so it's easy to wipe down and keep clean. It's attractive, available in several colors, and is well suited to minimalist designs.
…but Heavy
One thing about the Kohler Santa Rosa that may not be for everyone is that they are a little heavy due to the one-piece design, especially if you need to install it on a second floor or in an apartment building.
---
FAQ
Does It Come With a Slow Close Toilet Seat?
Many models come with a slow-close toilet seat, but there are a few that don't. The addition of the slow-close toilet seat may also be dependent on the seller. However, each model will have a seat allowing you to use the toilet immediately without any additional purchase.
Some Models Say 1.6 GPF, but Others Say 1.28, Which Is Correct?
Only the Kohler Santa Rosa model K-3810 features the 1.29 GPF. All other models feature a 1.6-gallon flush.
What Is the Comfort Height in Inches?
With the soft close seat attached, the seat is 17.5 inches above the ground.
Is It a Quiet Flush?
While no dB rating on the package gives us a scientific measurement, we found these toilets much quieter than other brands that use the canister flushing system but are slightly louder than traditional flaps.
How Long Is the Warranty?
The warranty may vary depending on who is selling it, but in most cases, it's a 1-year limited warranty.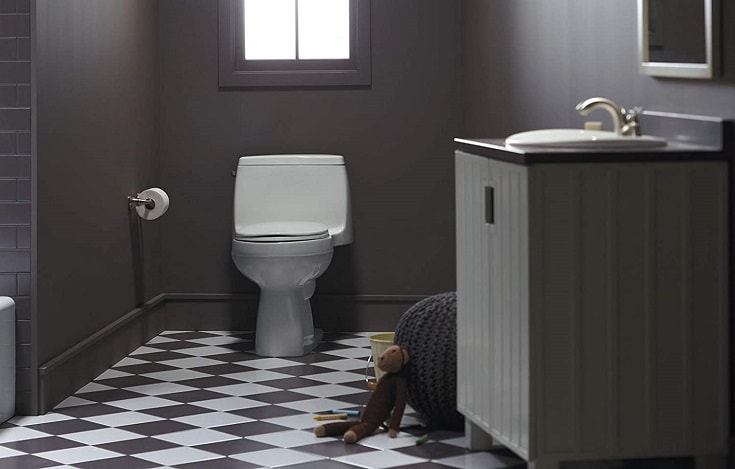 What the Users Say
We searched the internet to find out what people were saying about the Kohler Santa Rosa.
Many people say it works well.
Many people commented they did not get the soft-close lid.
Most people found it easy to install.
Most people like the price.
Some people commented that it has a bigger footprint than the traditional Kohler toilets.
Some people commented on its strange, flushing sound.
A few people complained the higher tank requires a longer water line to the tank.
A few people complained that it requires frequent cleaning.
A few people complained that it clogs on occasion.
---
Conclusion
We hope you enjoyed reading over our look at the Kohler Santa Rosa line of toilets and have decided to pick one up for your home. The comfort height is perfect for taller people and those with back problems because it is significantly easier to get up when you finish using it. If you have been using a traditional toilet, the water savings you will experience in the first year alone will help pay for the toilet.
If we've helped you learn more about this environmentally-friendly toilet and answered your questions, please share this guide to the Kohler Santa Rosa on Facebook and Twitter.